Top Picks for 2023: The Best CRM Scheduling Software Solutions
In a world where time is money, managing both effectively is paramount for businesses of all sizes. How can a company coordinate appointments, manage tasks, and oversee projects without losing track of the details? How can human errors be minimized, productivity enhanced, and customer relationships strengthened? The answer lies in leveraging Customer Relationship Management (CRM) scheduling tools.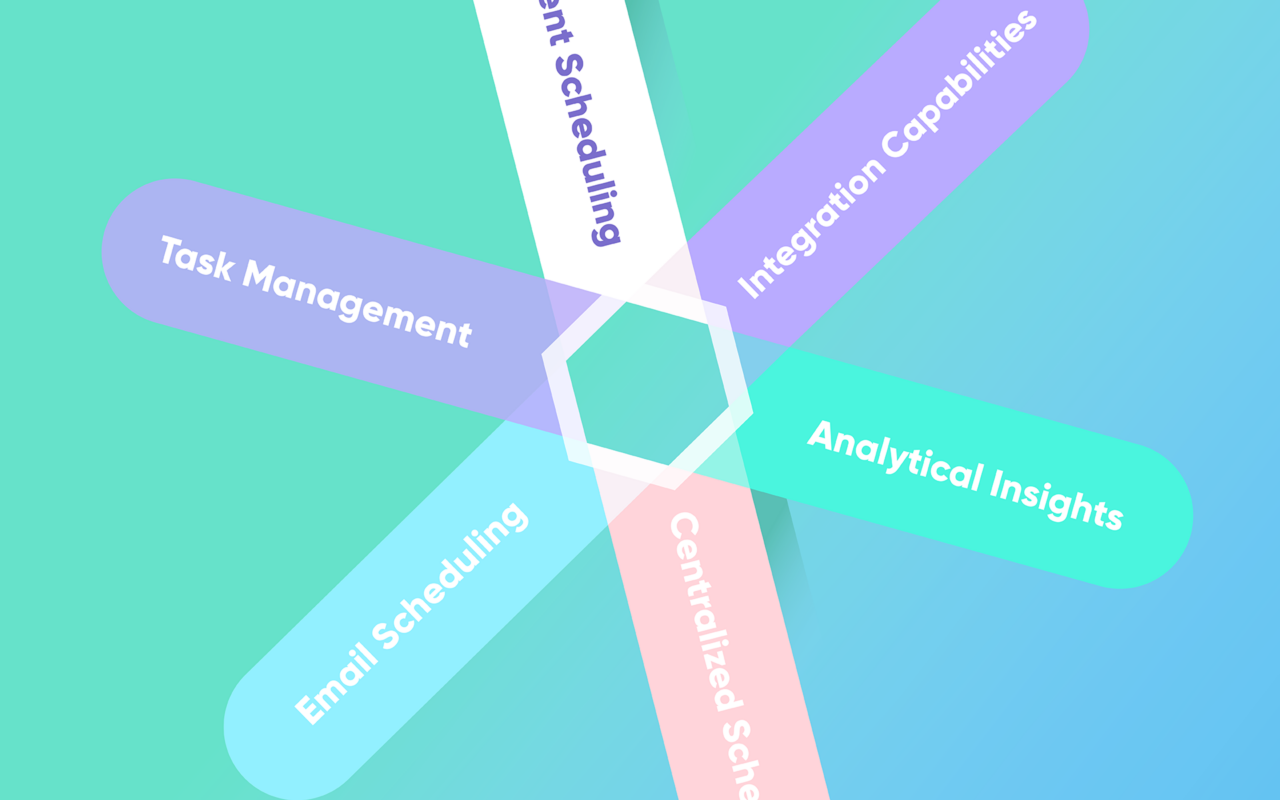 CRM scheduling is not just another function; it's a strategic investment that integrates calendars, appointments, tasks, and resources into one centralized system.
This integration is vital in today's competitive market. Missing a meeting or forgetting a task is simply not an option. A comprehensive CRM solution helps businesses stay ahead of their schedules and respond proactively to customer needs.

So with a number of options on the market to choose from, what makes a good CRM and scheduling software?
Let's look at essential scheduling features that modern CRM software must have and provide an in-depth review of the top 8 CRM scheduling software solutions for 2023.
We will also compare how eWay-CRM emerges as a leader in this regard, with easy-to-use scheduling features that are tailored to fit different business needs.
Table of Contents:
The Importance of CRM and Scheduling Software
Let's start by delving into the essential scheduling features that CRM software should offer.
Centralized Scheduling
Centralized scheduling is the backbone of any CRM software. This unified view of all appointments, tasks, and events eliminates scheduling conflicts. A good CRM scheduling tool should offer shared calendars, automated reminders, and easy rescheduling options to ensure smooth operations.
Task Management
The ability to assign, track, and manage tasks is critical in CRM and scheduling software. This feature should offer the flexibility to categorize tasks by priority, status, or project, provide notifications for deadlines, and allow for seamless collaboration among team members.
Customer Appointment Scheduling
Streamlining customer interactions is a crucial aspect of CRM scheduling. The software should offer easy booking of meetings, automatic reminders for customers, and integration with calendars – such as in Outlook. This reduces the chances of missed appointments and enhances the customer experience.
Analytical Insights
The ability to generate reports and provide analytical insights is a must-have feature in CRM scheduling software. It should provide valuable data on team performance, resource utilization, and customer behaviour patterns. This helps with making informed business decisions and improving operational efficiency.
Integration Capabilities
Lastly, CRM scheduling tools should integrate seamlessly with other business functions like project management modules, sales and communication apps – like Microsoft Teams. This ensures a unified workflow and greater collaboration.
Email Scheduling
Within a CRM, an email automation tool enables users to plan and control complete email marketing campaigns up to a month ahead of time. This facilitates regular communication with customers and provides the chance to craft content that's more personalized and aligned with individual preferences and needs.
As we move through 2023, these features form the crux of what businesses should look for with regard to CRM scheduling.
In the next section, we will evaluate the top 8 CRM scheduling software solutions, focusing on how well they incorporate these essential features, and also how they stack up against eWay-CRM.
Top 8 CRM with Scheduling Solutions for 2023
1. eWay-CRM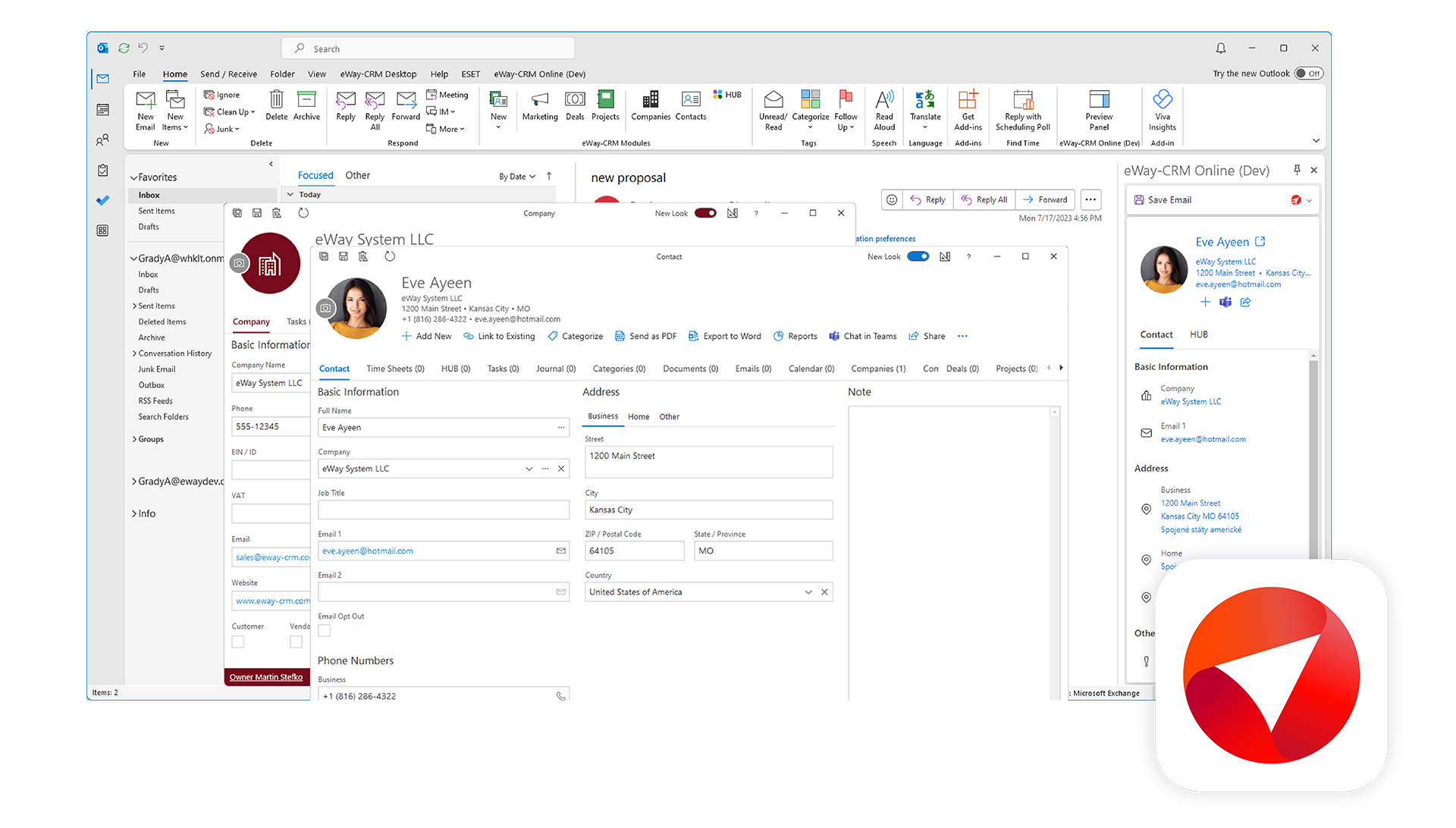 eWay-CRM is known for its blend of functionality, customization options, and user-friendliness. eWay-CRM's intuitive design allows businesses to streamline their scheduling which elevates productivity and fortifies customer relationships.
It integrates appointments, tasks, and reminders into a single comprehensive system, eliminating potential scheduling conflicts.
One of eWay-CRM's most compelling features is its seamless integration with Microsoft Outlook. This integration offers a familiar, intuitive interface, eliminating any significant learning curve and enhancing overall productivity. Users can set appointments, schedule reminders, and even assign and manage tasks – all without leaving the Outlook environment.
The task management capability of eWay-CRM shines with its ability to categorize tasks by priority, status, or project. Additionally, tasks can be assigned to team members, allowing for better organization and task tracking.
Finally, eWay-CRM's seamless integration with various business tools, including project management and communication apps, promotes a unified workflow.
This integration boosts productivity by reducing the need to switch between different applications. With its competitive pricing, extensive customization options, and broad feature set, eWay-CRM holds a prominent position in the CRM landscape.

Key Highlights of eWay-CRM:
Seamless integration with Microsoft Outlook offers a familiar interface.
Ease-of-use means functions are properly utilized and this results in enhanced productivity.
Powerful task management capabilities with easy task assignment to team members.
User-friendly customer appointment scheduling with automatic reminders.
Efficient integration with other business tools via Zapier promotes a unified workflow.
2. Salesforce
Salesforce, a well-recognized entity in the CRM industry, offers a suite of tools that include scheduling features. Salesforce Scheduler enables businesses to centralize their scheduling and task management processes.  The product simplifies the scheduling process, making it easy for any resource or customer to schedule, modify, and cancel appointments.
Inbound scheduling also provides customers with a means to schedule their own appointments on a company's website.
While the pricing model of Salesforce is reflective of the software's comprehensive features and scalability, it may pose a challenge for small to medium-sized businesses.
In addition, Salesforce's primary target audience appears to be larger corporations. This focus could potentially leave smaller businesses wanting more attention and customization that other CRM platforms, such as eWay-CRM, may more readily provide.

Key Points about Salesforce:
Offers Salesforce Scheduler for centralized scheduling and task management.
Provides a scalable solution, suitable for businesses planning for growth.
The pricing model may be challenging for smaller businesses to accommodate.
Comes with a steeper learning curve and may not offer the same level of attention to smaller businesses as some alternatives.
3. HubSpot CRM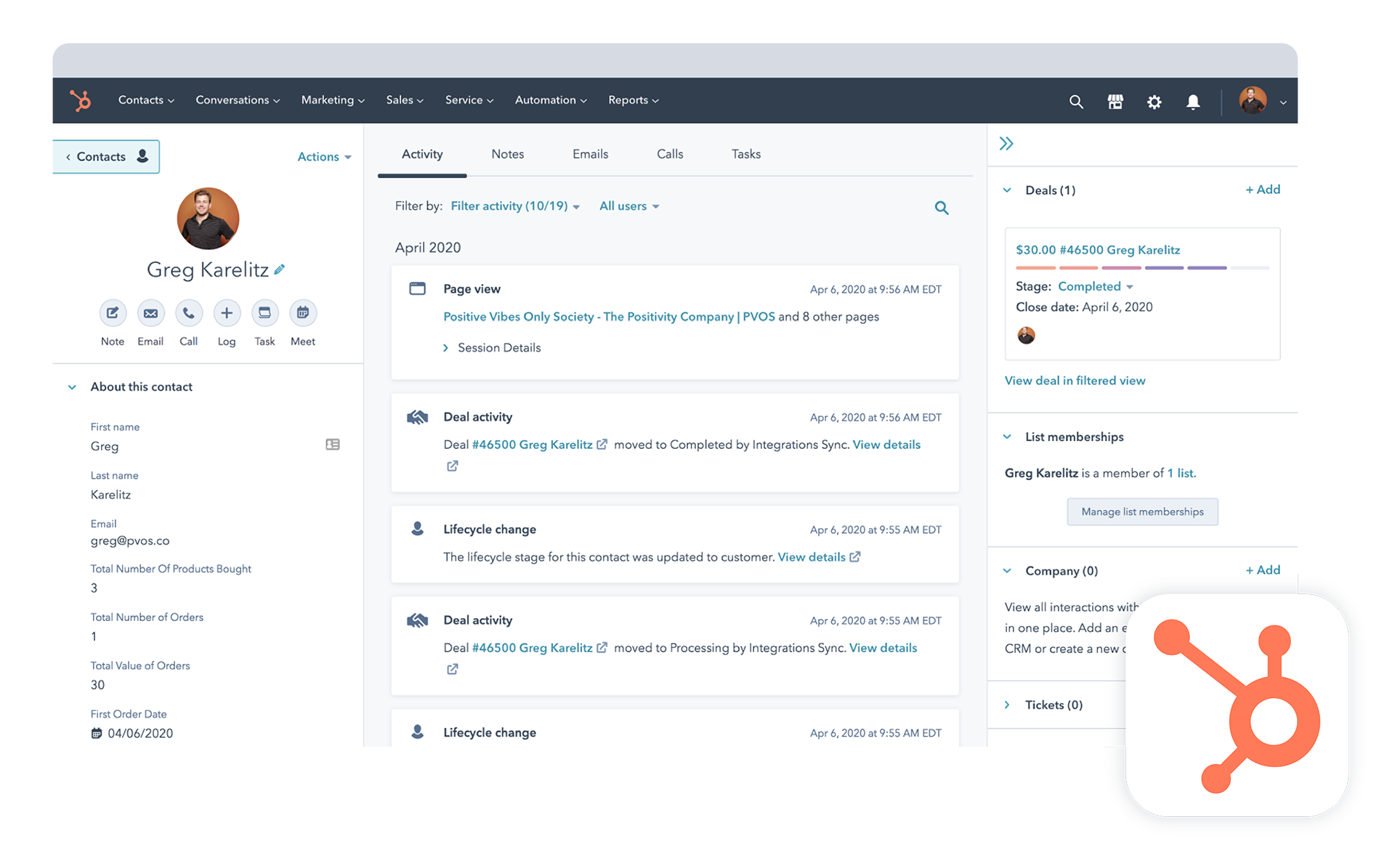 HubSpot CRM provides a variety of scheduling functions designed to support businesses in managing their daily tasks and customer interactions.
Its scheduling functionality includes easy-to-use appointment booking and task management tools. The software lets one book meetings with customers either via a shareable link or an embedded calendar on your website.
While HubSpot CRM offers a broad range of features, it's worth noting that some of these can be complex and might require a longer learning curve. This could potentially delay the implementation process and slow down productivity in the initial stages.
When compared to eWay-CRM, which offers a seamless experience within the familiar interface of Microsoft Outlook, the learning curve for HubSpot may be steeper.
In terms of pricing, HubSpot CRM can be a significant investment, particularly for businesses seeking to leverage its more advanced features. The cost associated with HubSpot's comprehensive feature set may pose a challenge for budget-constrained businesses.

Key Points about HubSpot CRM:
Offers solid marketing automation capabilities, in addition to scheduling functions.
Provides an easy-to-use interface for scheduling and task management.
Some of its more complex features may require a longer learning curve.
The basic package offers somewhat limited functionality and the cost for advanced features can pose a challenge.
4. Microsoft Dynamics 365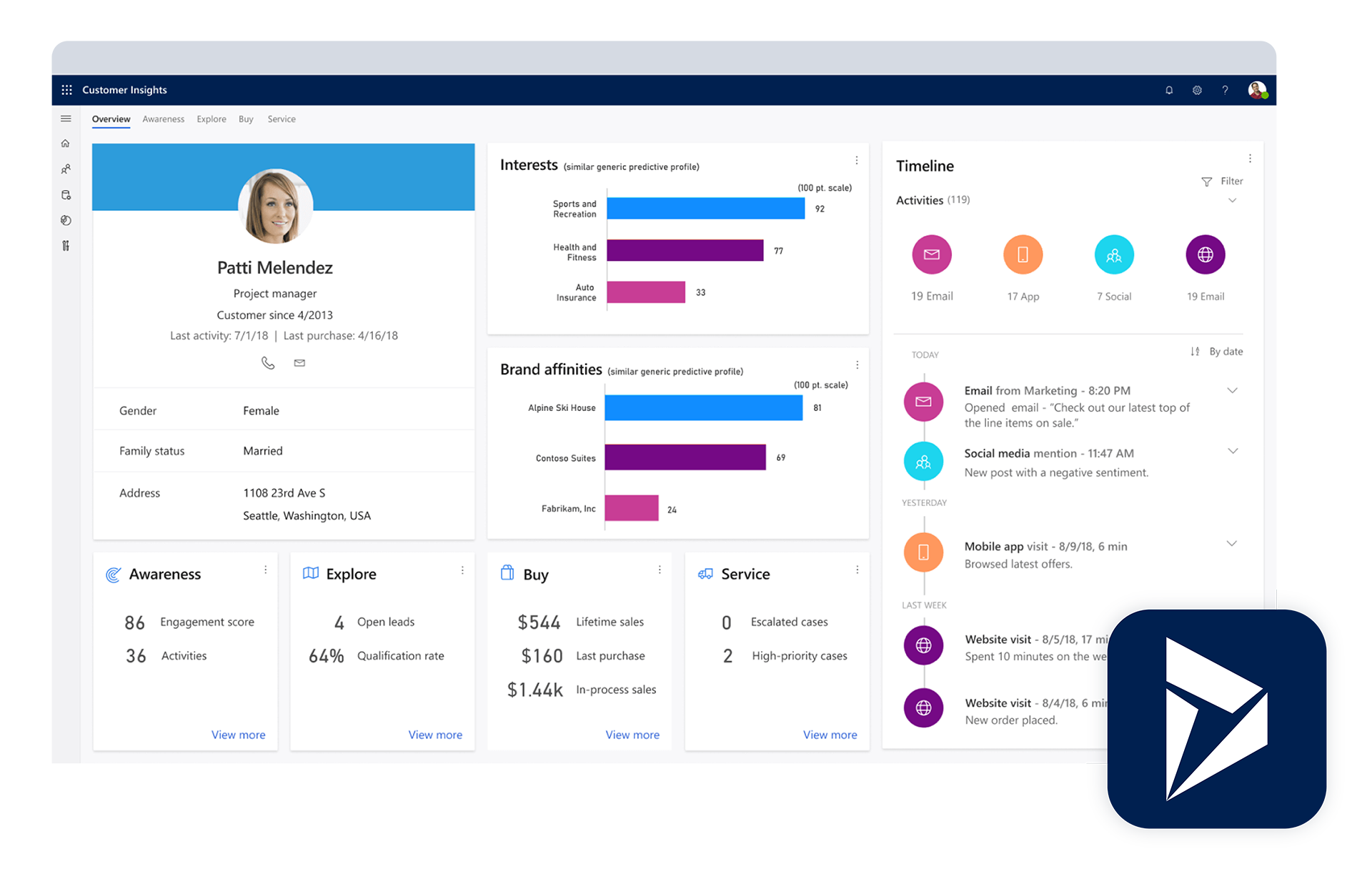 Microsoft Dynamics 365 is a suite of business applications that integrates CRM and ERP capabilities. Known for its versatility, Dynamics 365 encompasses a wide array of functions including sales and customer service. Among these, its scheduling features offer centralized task management and appointment setting.
One of the striking characteristics of Microsoft Dynamics 365 is its adaptability. Its range of features can be tailored to specific business needs, whether it's for small businesses or large enterprises. This flexibility, however, may lead to complexity, which could pose a challenge for users unfamiliar with the system.
When compared to eWay-CRM, Microsoft Dynamics 365 presents a robust but more complex system. The simplicity of eWay-CRM within Outlook makes it an attractive alternative for businesses seeking a user-friendly CRM solution without sacrificing functionality.
Customer service for Dynamics 365 is also sparse, meaning a skilled IT department would need to be enlisted for any troubleshooting.
Additionally, eWay-CRM tends to offer a more budget-friendly option, especially for smaller businesses, without compromising on essential features.

Key Points about Microsoft Dynamics 365:
Comprehensive integration of CRM and ERP capabilities, including robust scheduling functions.
Offers adaptability across various business needs but can be complex for new users.
Compared to eWay-CRM, may have a steeper learning curve and higher cost.
5. Zoho CRM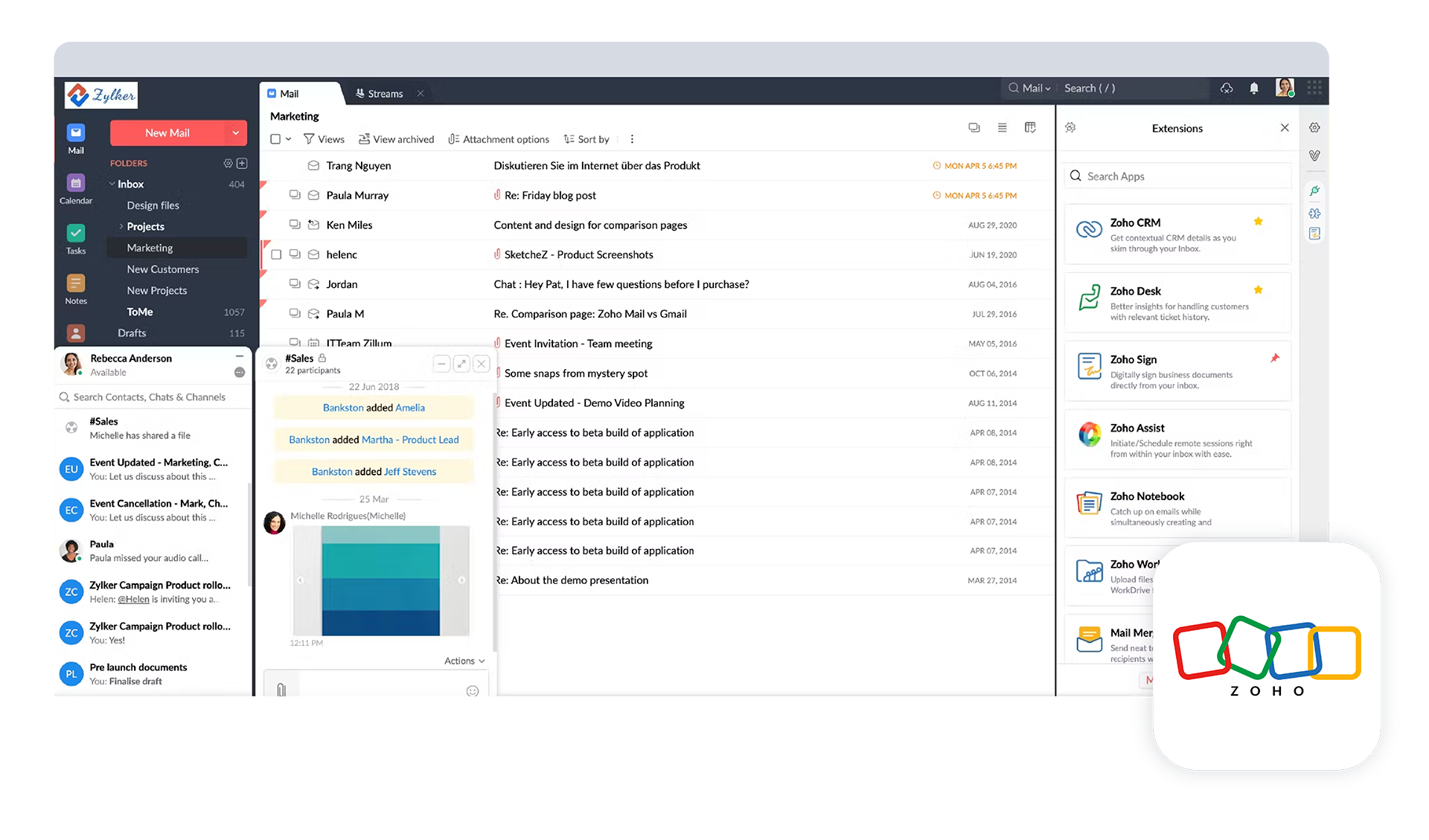 The scheduling features in cloud-based Zoho allow businesses to easily coordinate appointments, tasks, and activities. This involves the ability to set and track appointments with reminders, integrate with calendars, and manage events.
Zoho's scheduling tools are designed to facilitate collaboration among team members, making it simple to share schedules and synchronize appointments across different users and departments.
The centralized system offers a comprehensive view of customer interactions and schedules, making it easy to manage and maintain connections with clients.
When compared to eWay-CRM, Zoho offers notable features but lacks the seamless integration with Microsoft Outlook that eWay-CRM offers. eWay-CRM's familiar Outlook environment leads to a more intuitive user experience, while Zoho might require some adaptation.

Key Points about Zoho CRM:
Offers robust scheduling capabilities and a wide array of features.
May require more adaptation compared to the intuitive interface of eWay-CRM within Outlook.
6. Pipedrive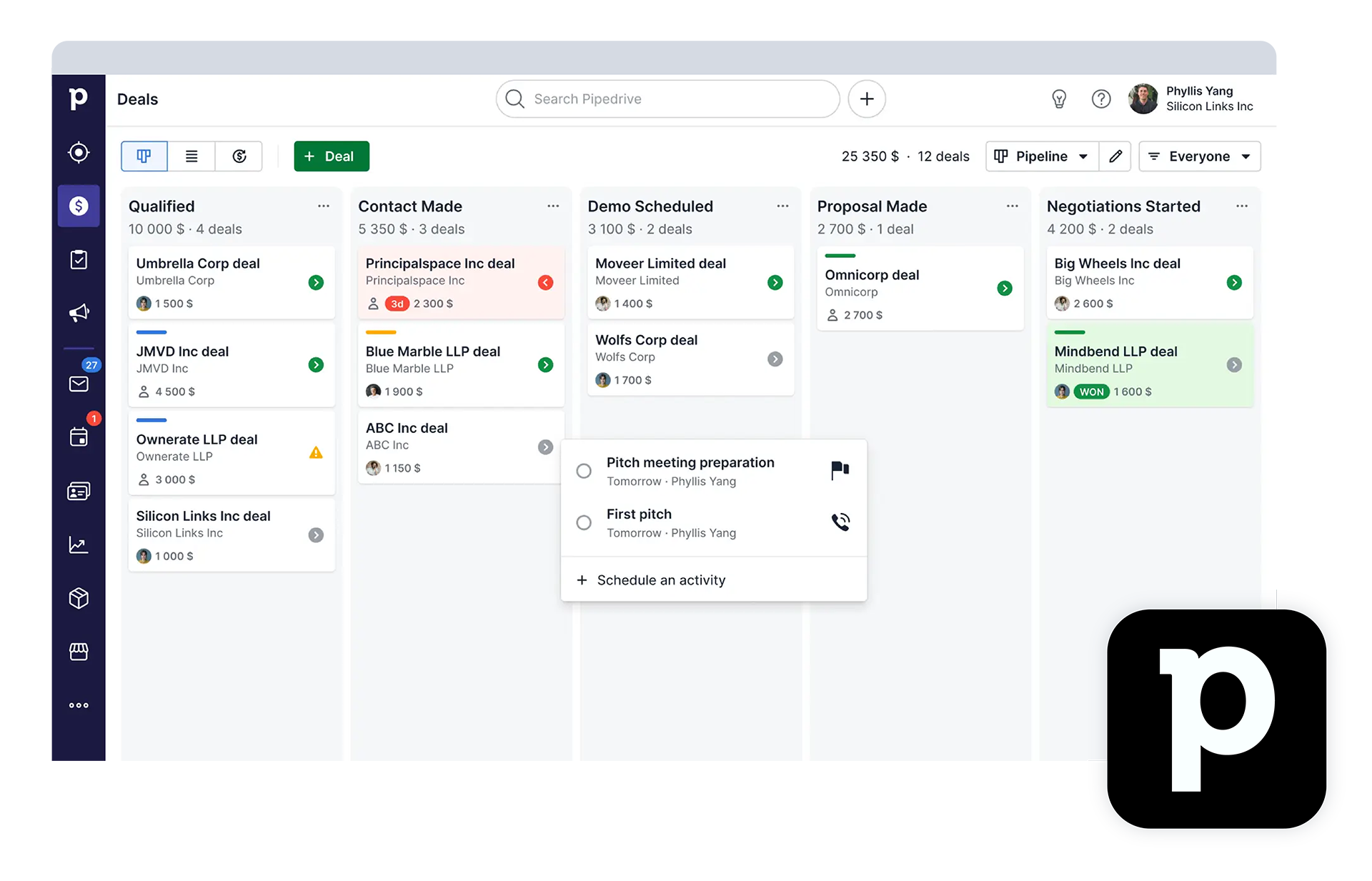 Pipedrive, a tool particularly developed for sales management, provides a visually attractive and user-friendly CRM solution. One of its standout features is the focus on scheduling capabilities designed to suit the dynamic needs of sales teams.
Within this scheduling framework, Pipedrive offers a refined appointment-setting system that streamlines the process of scheduling meetings with clients and leads. Users can customize their availability, allowing prospects to book meetings directly, thereby minimizing tedious back-and-forth communication.
Furthermore, Pipedrive's task management tools assist sales teams in tracking, managing, and prioritizing their daily responsibilities. Tasks can be organized, assigned deadlines, and monitored closely, ensuring that opportunities are never missed.
The interface design is the main area where Pipedrive and eWay-CRM differ. Pipedrive is known for an uncluttered interface that appeals to those looking for a straightforward CRM system.
eWay-CRM, on the other hand, may offer more adaptability with its customized functionality, which can be more suitable for businesses needing deeper integration with their existing toolset.

Key Points about Pipedrive:
Focused on sales management with scheduling capabilities.
Offers a clean and straightforward interface.
Lacks eWay-CRM's seamless integration with Outlook and specialized functionalities.
7. Freshsales (by Freshdesk)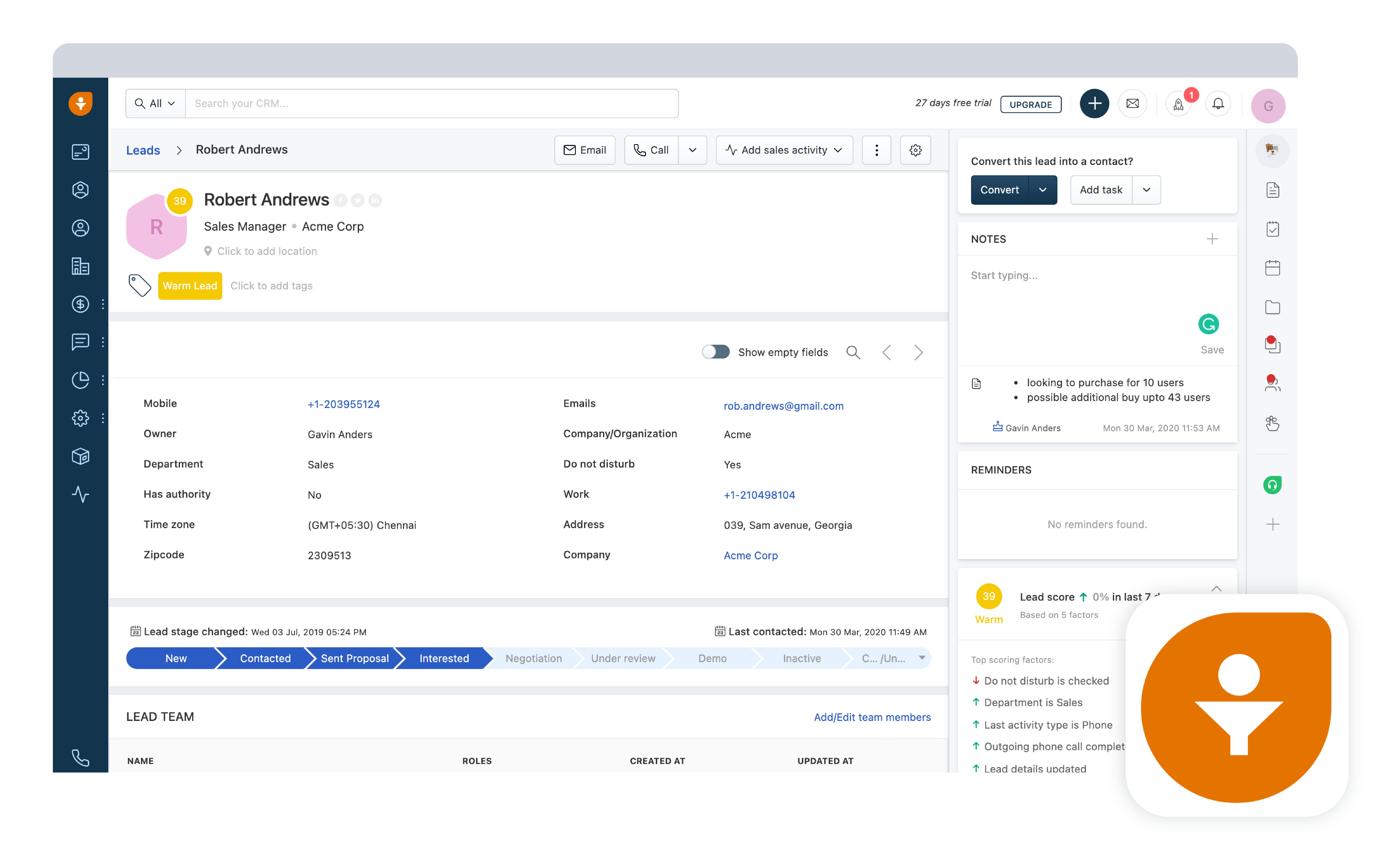 Freshsales, developed by Freshdesk, is a CRM platform designed to provide sales automation, email tracking, and lead scoring, among other features. Its scheduling tools enable businesses to manage appointments and tasks efficiently.
When compared to eWay-CRM, Freshsales offers a different approach to CRM, focusing more on lead engagement and less on the seamless integration with email and Outlook that eWay-CRM offers. The simplicity and user-friendliness of eWay-CRM within Outlook might make it a more attractive solution for businesses prioritizing integration and ease of use.

Key Points about Freshsales:
Offers sales automation, email tracking, and scheduling tools.
Focuses more on lead engagement and may lack eWay-CRM's Outlook integration.
Different approach compared to eWay-CRM's simplicity and user-friendly nature within Outlook.
8. Nimble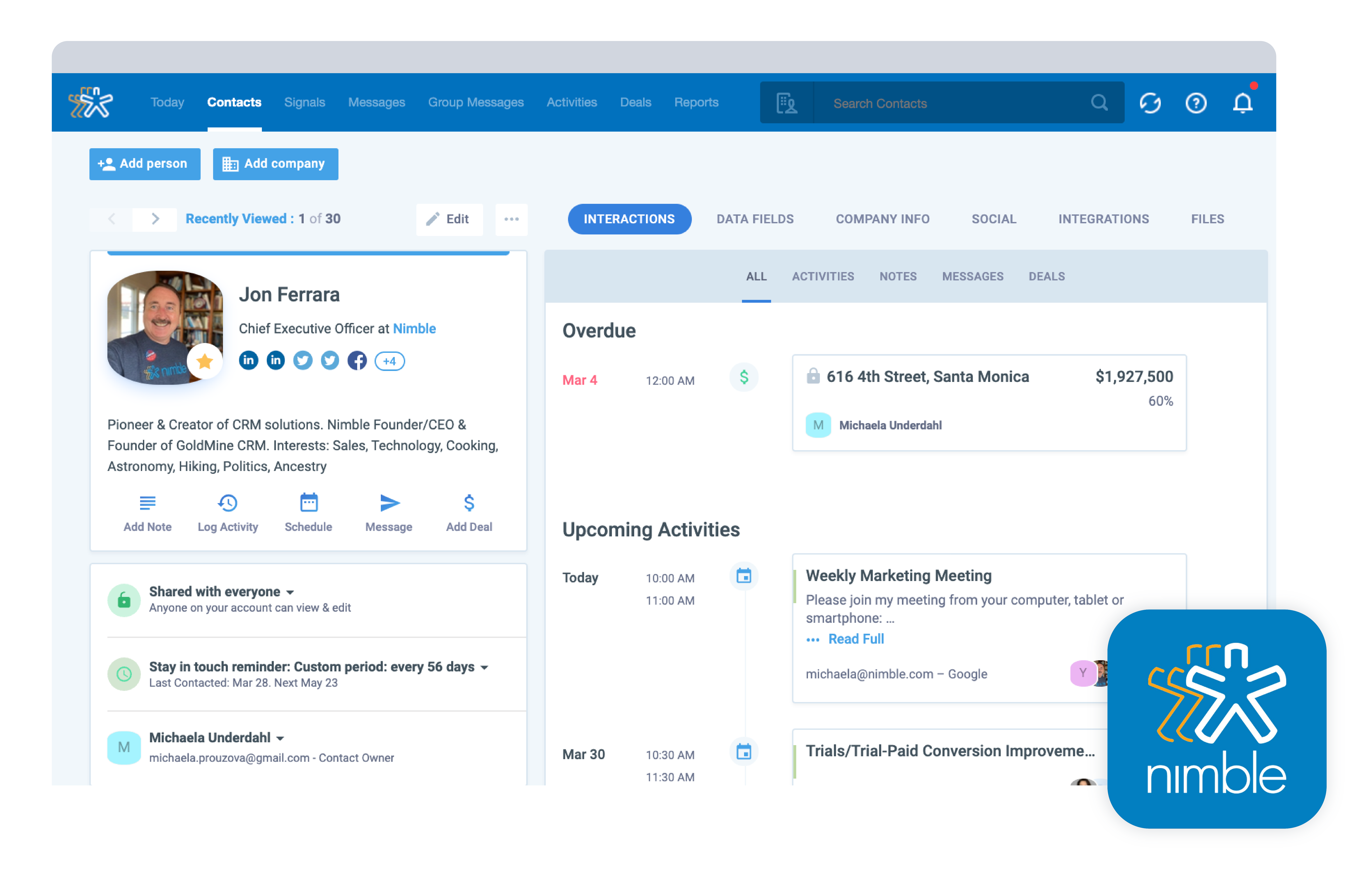 Nimble is a social CRM with particular attention to scheduling features that enable businesses to efficiently manage appointments and tasks. By integrating social data, Nimble not only assists in scheduling but also provides insights that allow businesses to better understand and engage with customers.
One of the defining aspects of Nimble's scheduling features is the ease with which it handles appointment management. Through its intuitive calendar system, businesses can schedule, track, and manage meetings and appointments seamlessly.
Additionally, task management within Nimble is adept at offering a clear view of daily, weekly, or even monthly responsibilities. Users have the ability to set reminders, assign deadlines, and prioritize tasks. The integration of social media profiles further adds to Nimble's uniqueness, allowing users to gather insights into customer behavior.
While Nimble offers these scheduling capabilities with a unique focus on social interaction, it's worth noting that it might not match eWay-CRM in terms of Outlook integration.
eWay-CRM's platform, with its strong emphasis on an Outlook-centered experience, offers considerable advantages that are specific to businesses relying heavily on Outlook. On the other hand, Nimble's strengths lie more in the integration of social data and engagement with customers.

Key Points about Nimble:
Social CRM with scheduling features, focusing on relationship management.
Offers a unique approach but might lack eWay-CRM's seamless integration with Outlook.
eWay-CRM may provide a more specialized and intuitive solution, particularly for businesses heavily using Outlook.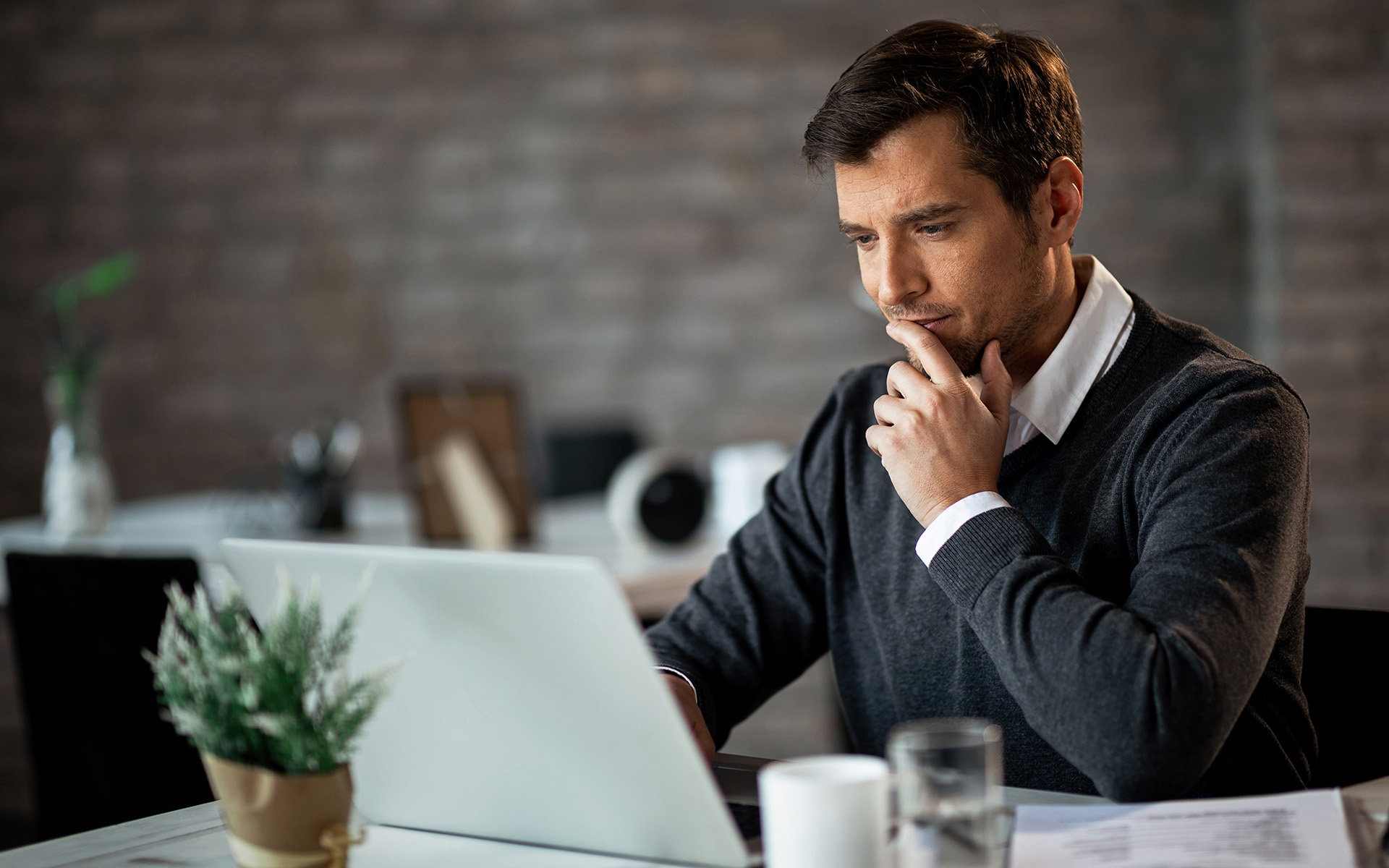 Making the Smart Choice for Your Business
The goal with CRM scheduling software is to ensure that you are not just keeping pace with the future, but actively shaping it.
When considering different CRM platforms that offer scheduling functionality, it's essential to weigh their unique features and evaluate them against the following critical factors:
Complexity: Is the system over-complicated, leading to a steep learning curve? For example, a more intuitive interface, like that offered by eWay-CRM, can enhance efficiency just by being user-friendly.
Cost: Are you paying for features you don't need, or is the platform too expensive for your budget? A CRM that offers affordability without compromising essential functionalities is a notable advantage.
Analytics: How accessible and understandable are the analytics provided? A CRM that offers clear insights can drive better decision-making.
Learning Curve: Will the system require extensive training, or is it user-friendly? Consider the accessibility of the platform for your team.

The comparisons in this article provide insights into the top options available, but it's always wise to evaluate them in the context of your specific needs. With the future at your fingertips, the right CRM scheduling software, like eWay-CRM, can pave the way to a more organized, efficient, and successful business.
Discover the power and ease of a CRM that sits right inside your Outlook!