eWay-CRM sits right inside your Outlook 365
Along with your contacts, emails, calendar, and tasks. Just open your Outlook and get your CRM.
eWay-CRM ads a set of buttons that turn your Outlook into a fully-fledged CRM. You can quickly access your customers, deals, and projects. You can easily organize all emails, meetings, or tasks. All within your Outlook.
Having just one software makes life much easier.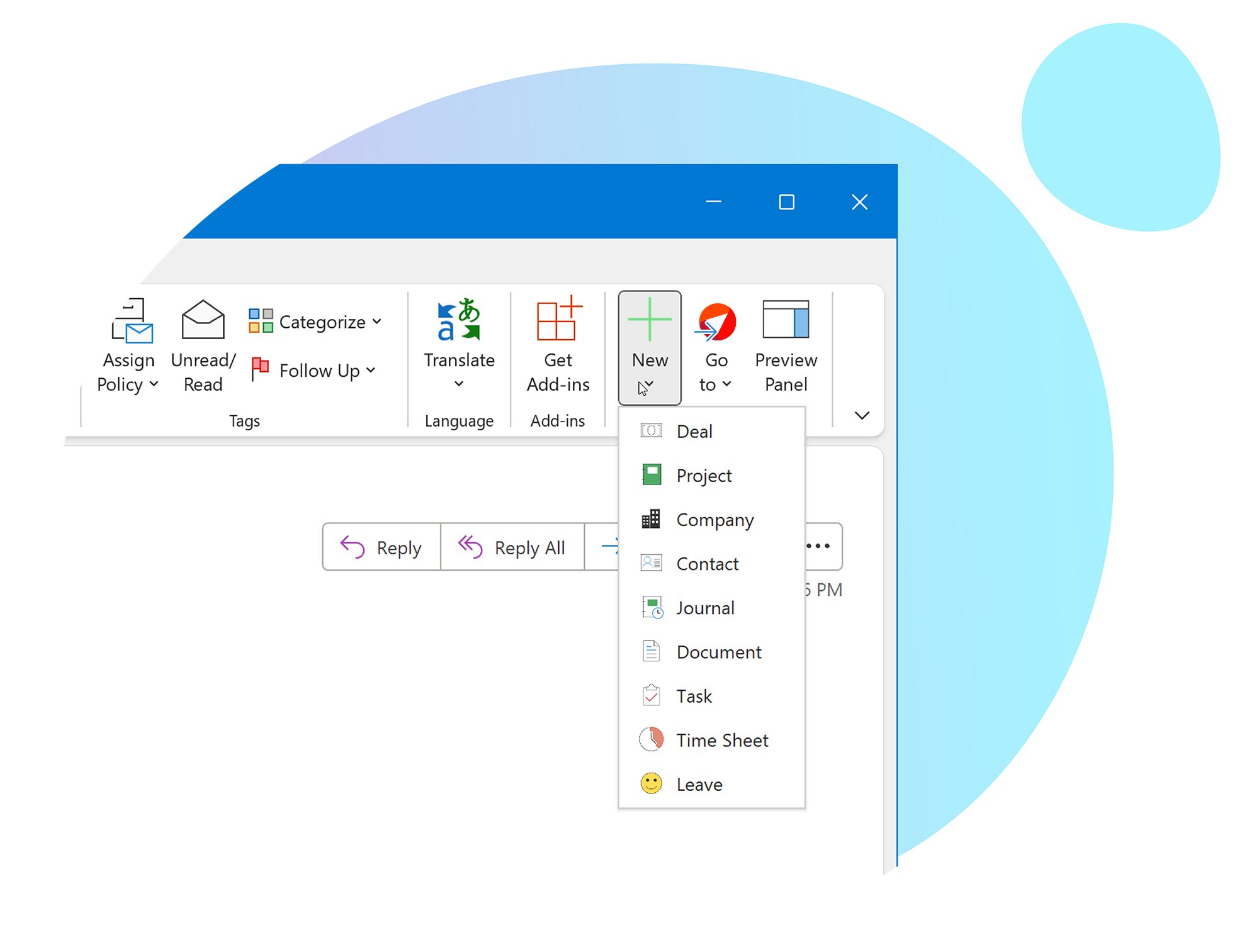 Any Outlook? Yes! 
eWay-CRM Online runs inside any Outlook. It doesn't matter if you are on Mac, mobile, PC, or web. eWay-CRM is always with you.
Activate eWay-CRM Online and be effective anywhere and anytime.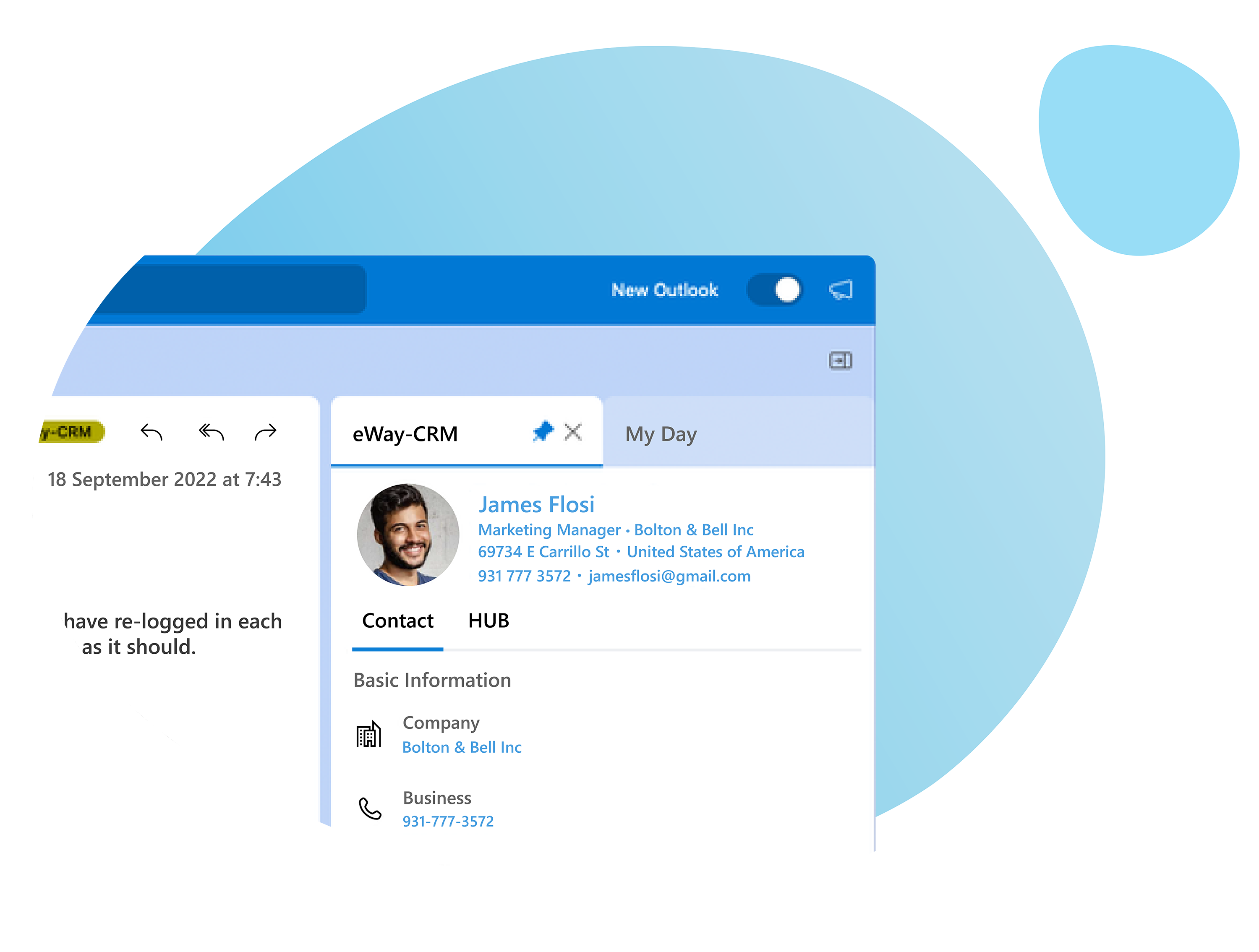 Stay in software you already know
eWay-CRM looks and works exactly like Outlook so you don't need to learn anything new.
We want to offer you a single environment you work with. Don't get disturbed by switching between various apps and interfaces.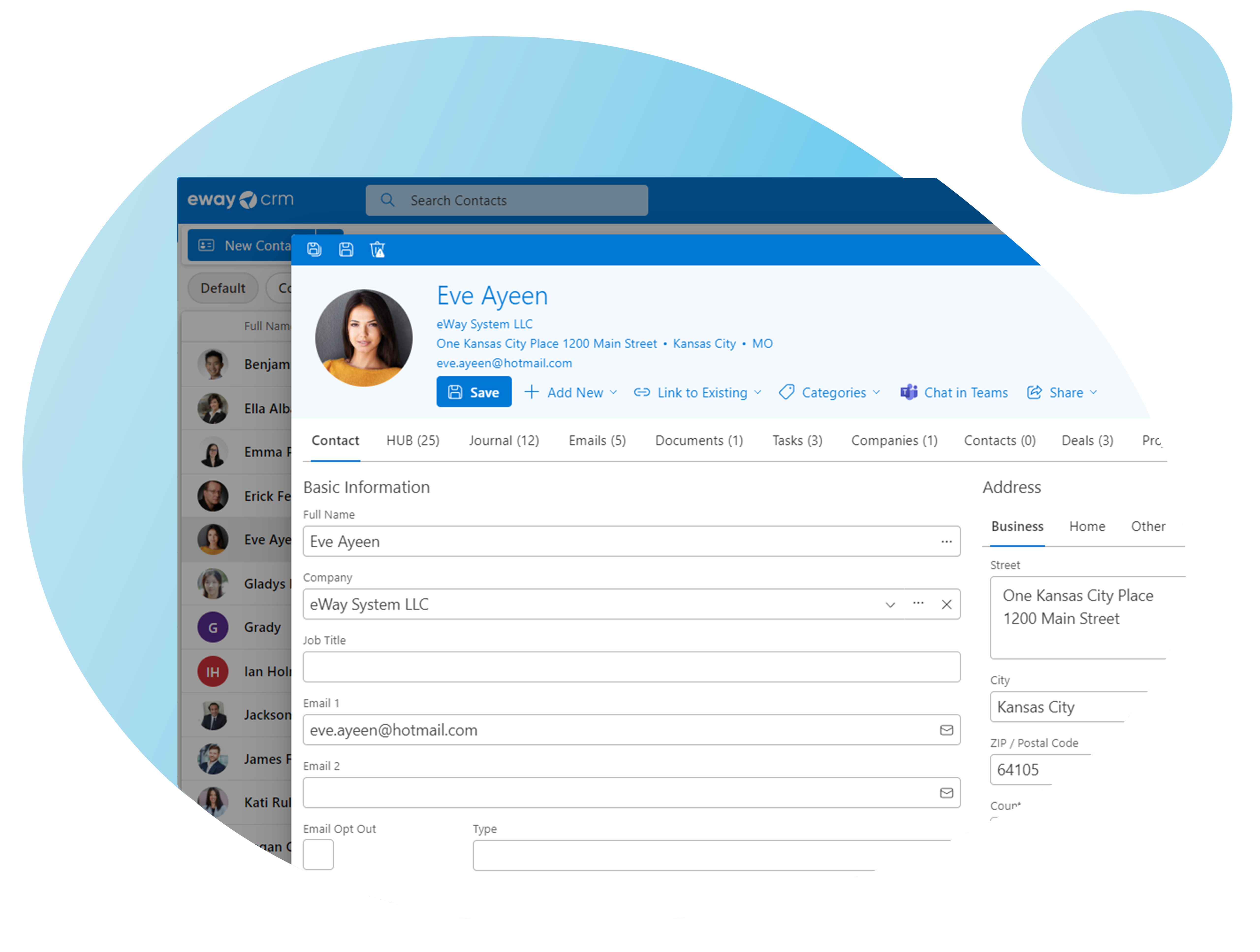 Get the complete picture. Instantly
Select an email and get a complete picture of the person you are writing to. Activate our Preview Panels.
Read the most recent emails from you and other team members. Find out if somebody else is already in charge. Work efficiently.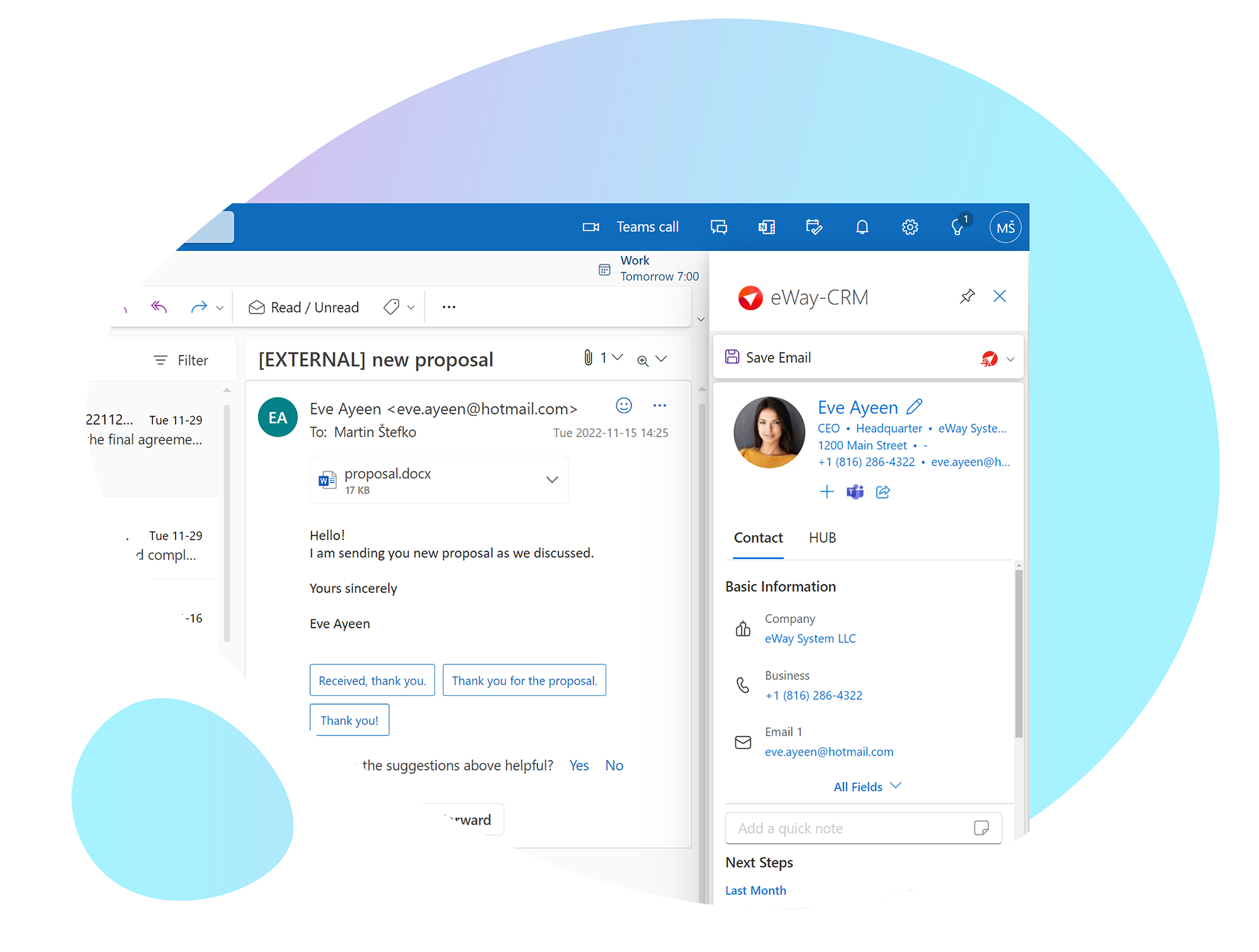 Save important emails. From mobile, Mac, web, or PC
Reading an important email? Save it to eWay-CRM and share it with the rest of your team.
Since eWay-CRM Online sits inside all Outlooks, the email saving feature is available anywhere and anytime.
Just click Save Email. Simple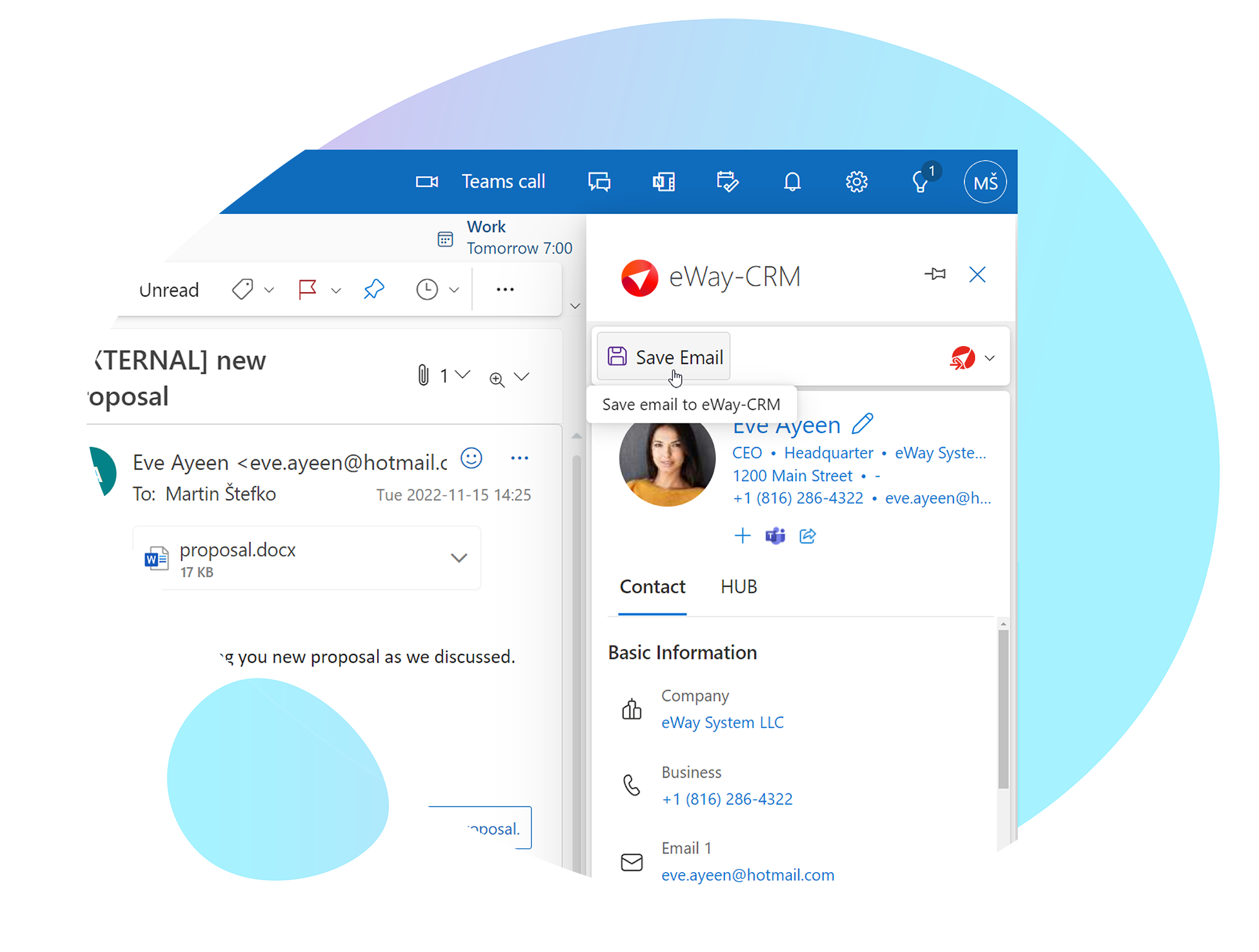 Convert emails to Contacts, Deals, Tasks, and more
Use our "Convert to" feature and turn an email into a contact, deal, task, project, or journal. Work efficiently.
Received an inquiry from a customer? Convert it to a deal or a task. Others can instantly follow up.
Can't be any simpler.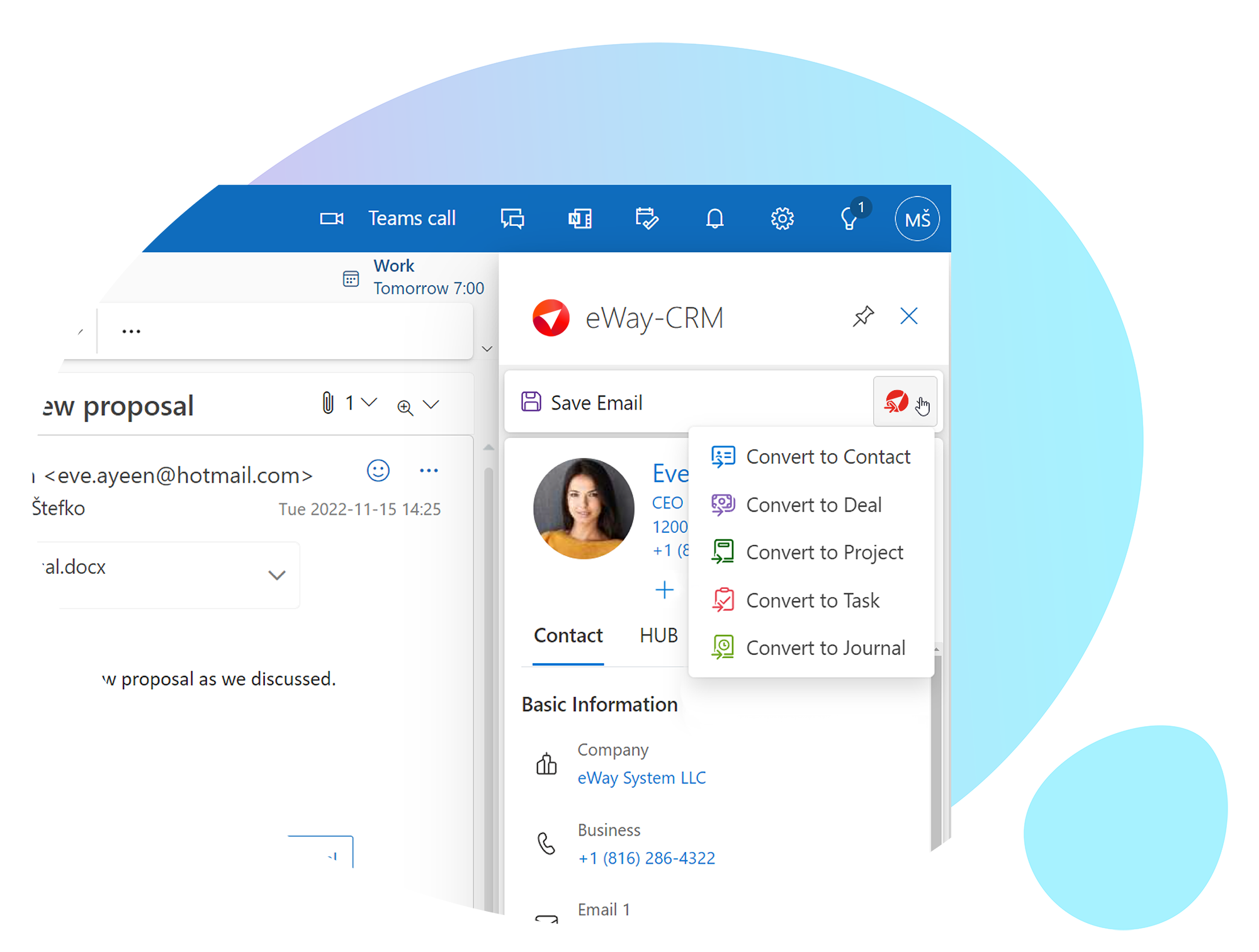 Share contacts and companies with your team. Collaborate
Data is most useful when shared with others. This is why you can easily import your contacts and companies to eWay-CRM.
By putting them into eWay-CRM, you can share them with the rest of your team and collaborate. Whenever somebody adds or edits a contact, your database will be changed as well.
Also, by keeping your contacts and companies inside eWay-CRM, they will be automatically available on all your devices.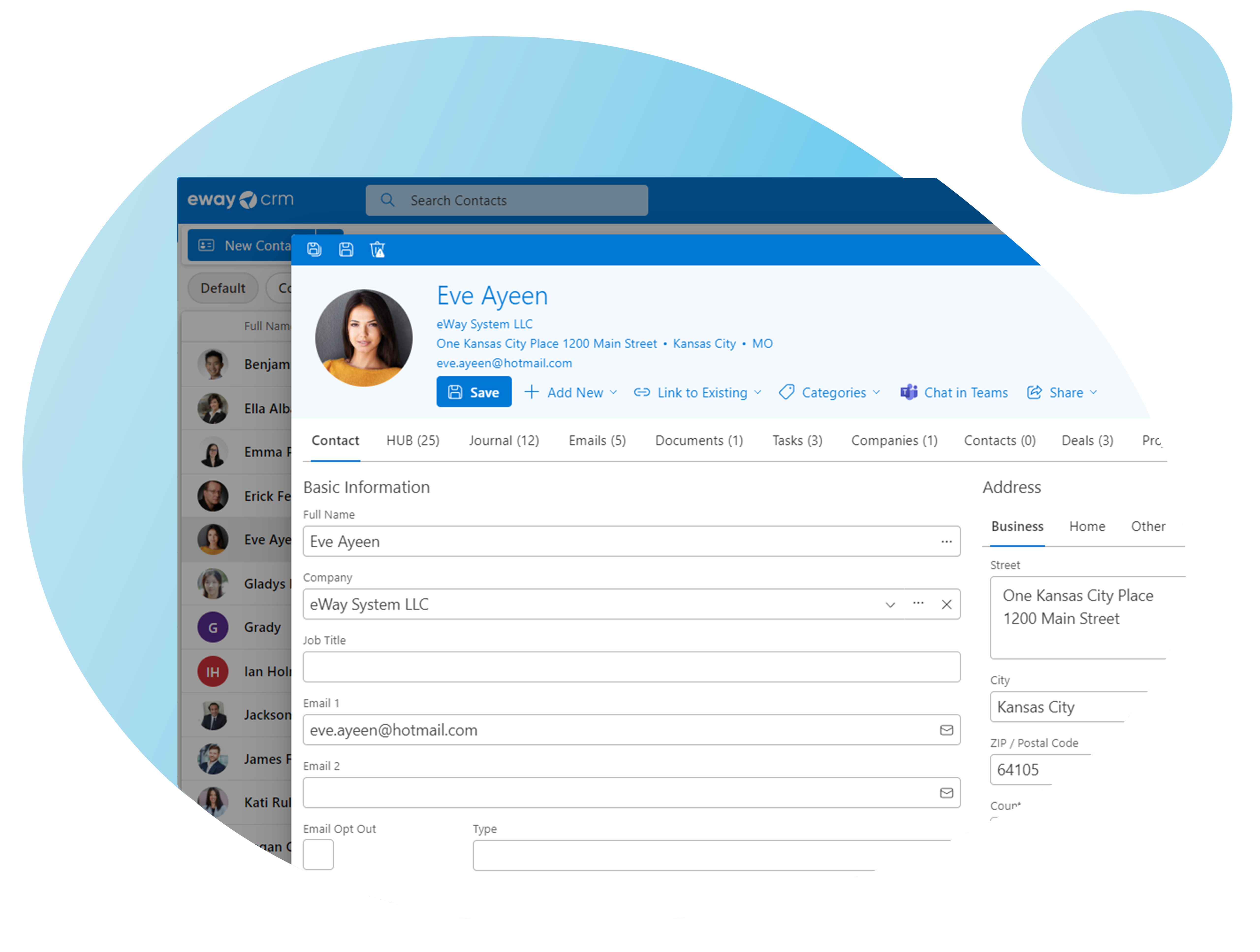 Organize your sales
Keep your leads and opportunities organized. Use workflow to automate recurrent tasks. Streamline your sales.
Use our Deals module to keep track of all leads and opportunities. Attach communications, and set follow-ups. Sell.
Projects a part of your CRM? Sure
eWay-CRM has an in-built project management module so you can keep track of all your jobs. Why should you use another software? Stay in eWay-CRM.
Plan tasks, take notes, and attach documents, and all emails. eWay-CRM has all it takes to help you with organizing communications on a project.
Enjoy!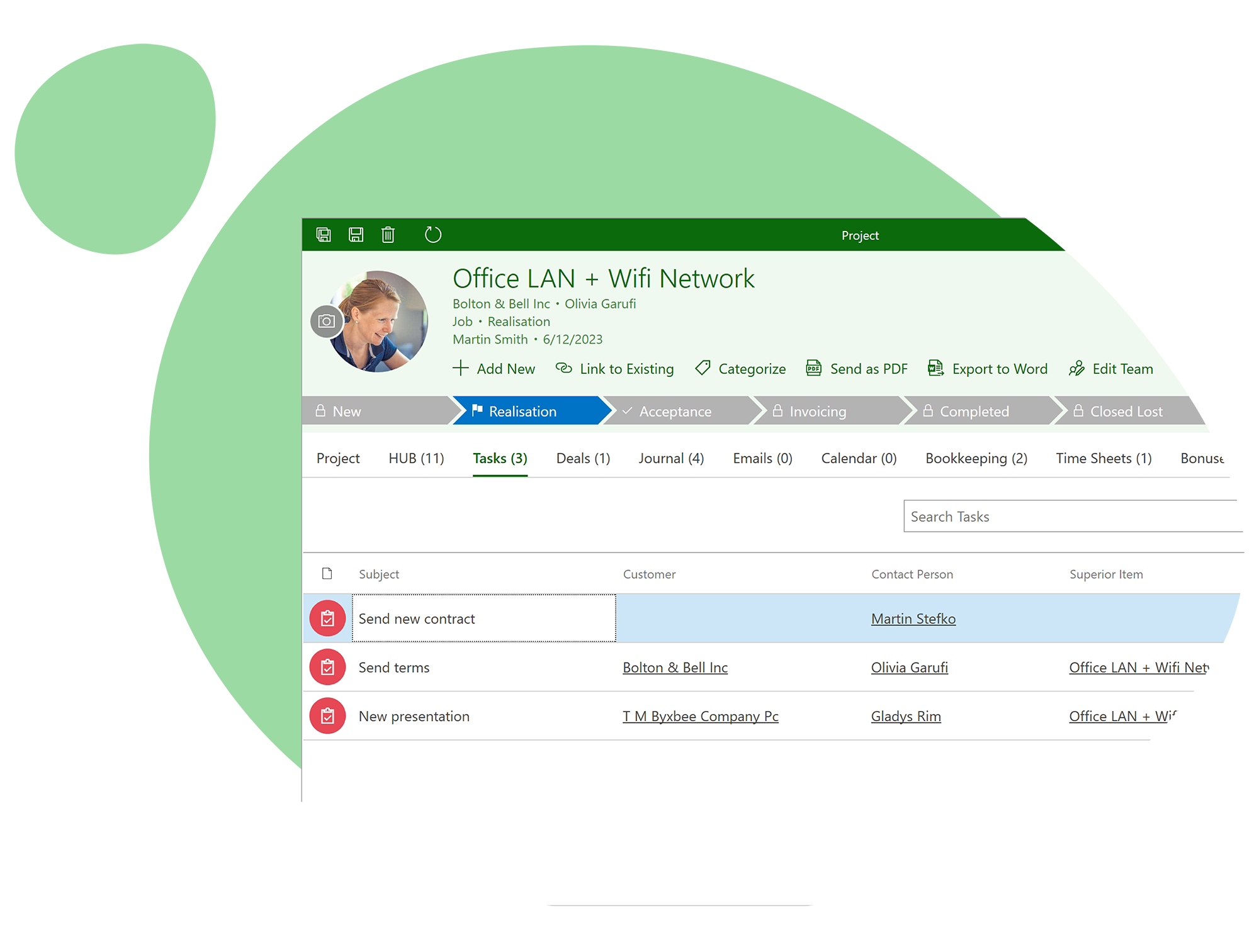 Working with PC? Try eWay-CRM Desktop
Need all features? Install eWay-CRM Desktop and get all eWay-CRM can offer.
Email Marketing, Quotes, Invoices, Form Designer, and Offline Mode. These are just a fragment of what you can get when you install eWay-CRM Desktop.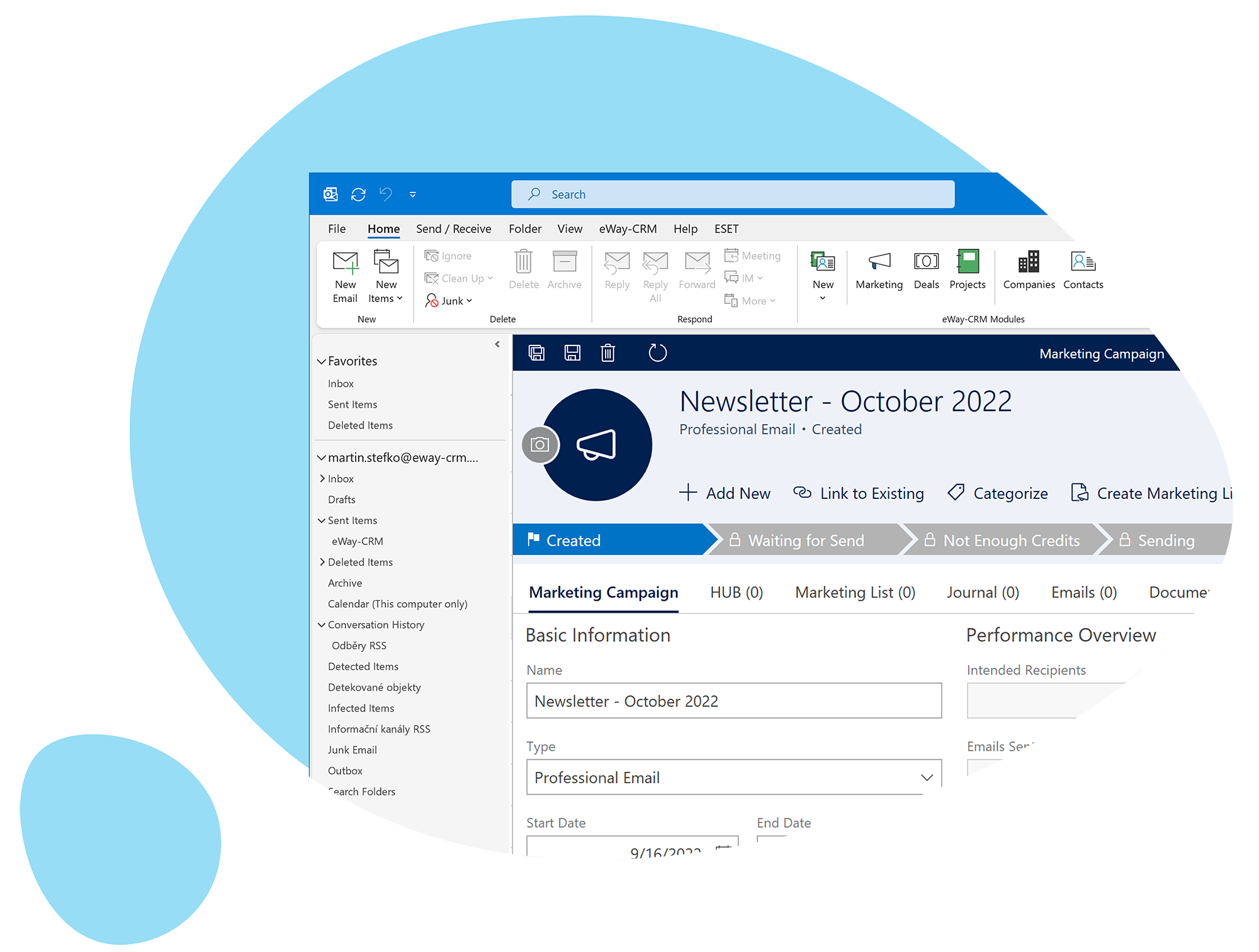 Need to work on the go? Get eWay-CRM Mobile
Make sure you get eWay-CRM for Android or iOS. They will help you keep your data always with you. Even without an internet connection.
eWay-CRM Mobile is a great tool that helps you access your contacts, companies, deals, and projects. Including the complete history of communications and tasks.
It's a must-have for all who work in the field.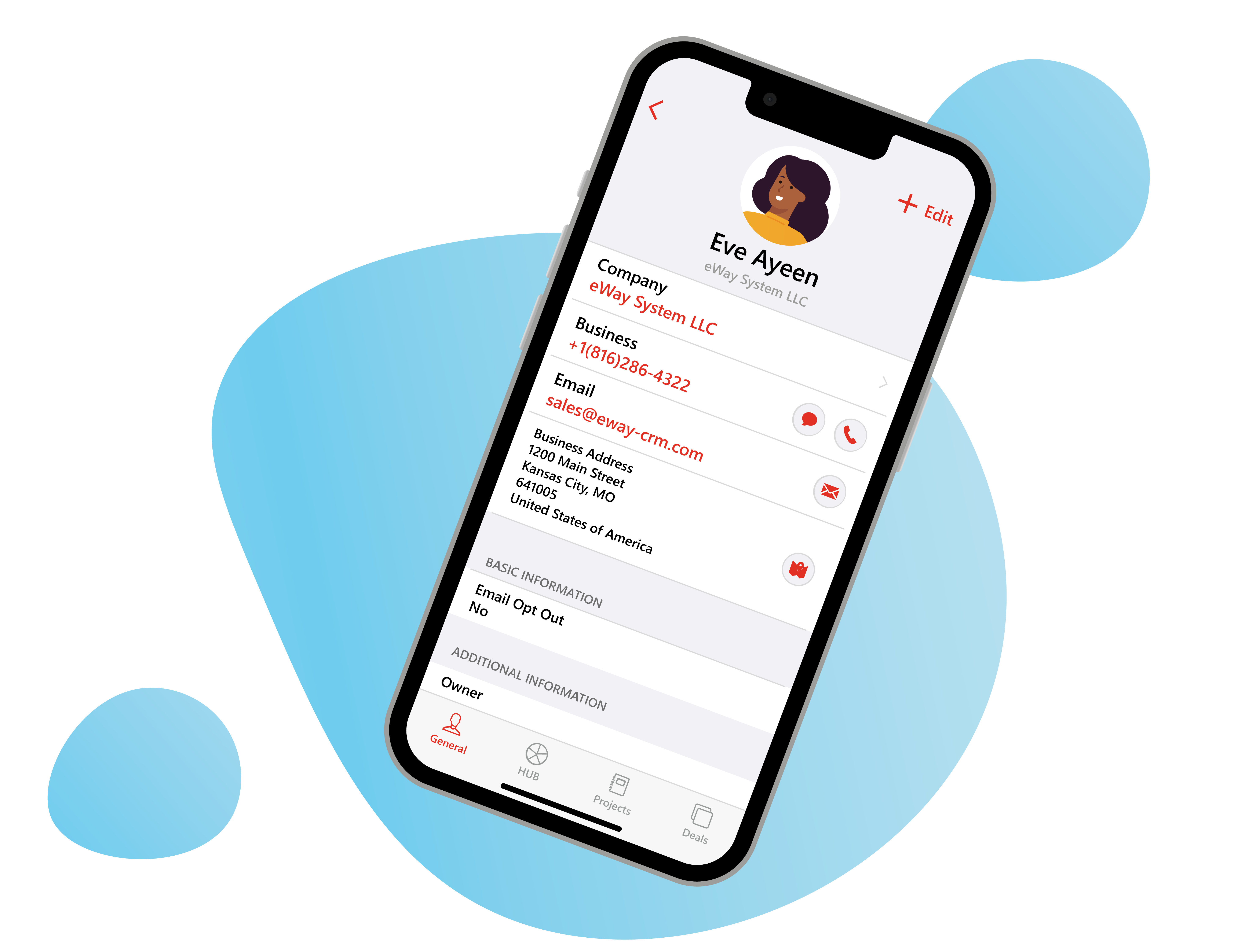 Start using for free.
Open an account and enjoy the ride. You can also book our consultant. We will make a demo just for you.