CONTACTS
eWay-CRM has its own Contacts module different from Contacts in Microsoft Outlook and allows you to track much more details than Outlook itself. Apart from linking emails (automatically or manually), you can write down notes from meetings and calls, create tasks and calendar events, attach documents and link contacts with opportunities and projects.
You can also synchronize contacts between eWay-CRM, Outlook and your mobile phone to see who is calling you or to quickly find a contact and notes on the go.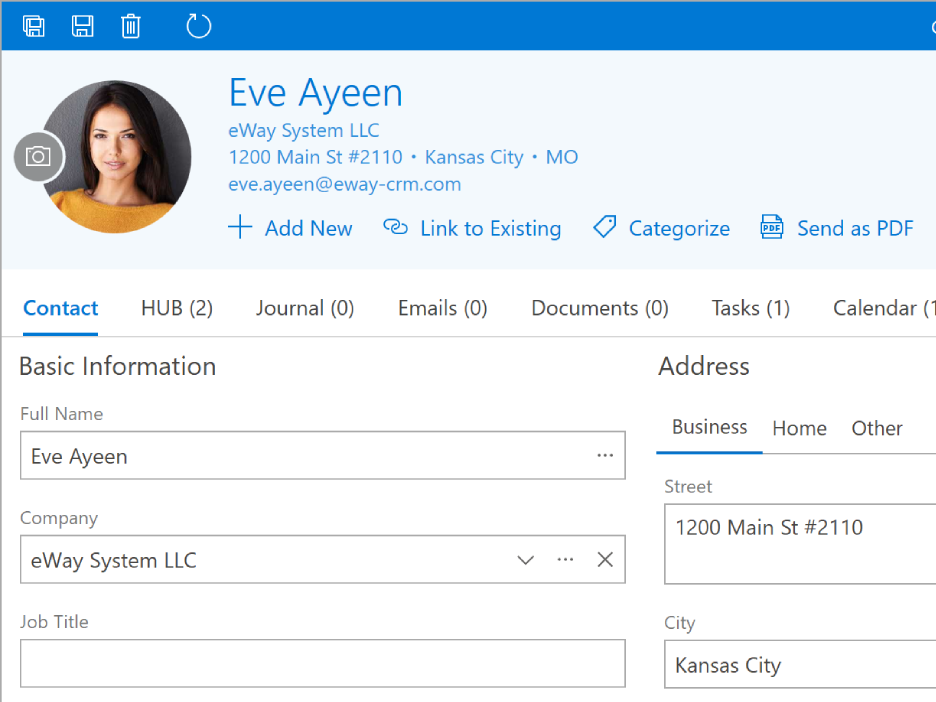 COMPANIES
This is a database of your customers, suppliers and business partners.
The company card displays all related contacts, as well as opportunities (leads) and projects. On the Contacts tab you can specify all people related to this company. Emails, journals, tasks and other items you create for these contacts will automatically appear on the company card. In this way, Companies give you the overview of all your activities with a company, not only with a particular contact.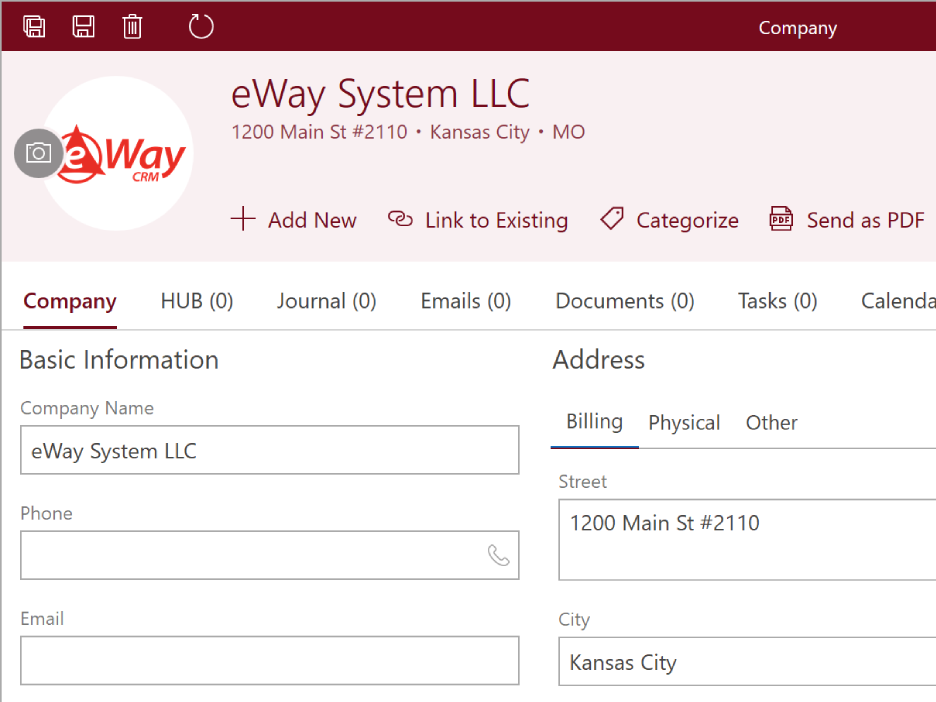 DEALS
The Deals module is used for opportunities. It has a workflow (or separate workflows for different types of opportunities) so that you could move your leads through the sales pipeline from initial contacts to closed deals.
Workflows are customizable and have advanced options (e.g. triggering of automated tasks after clicking on a status). Leads can be converted into Projects, Companies and Contacts.
eWay-CRM allows you to group and filter leads by statuses and create new leads right from emails.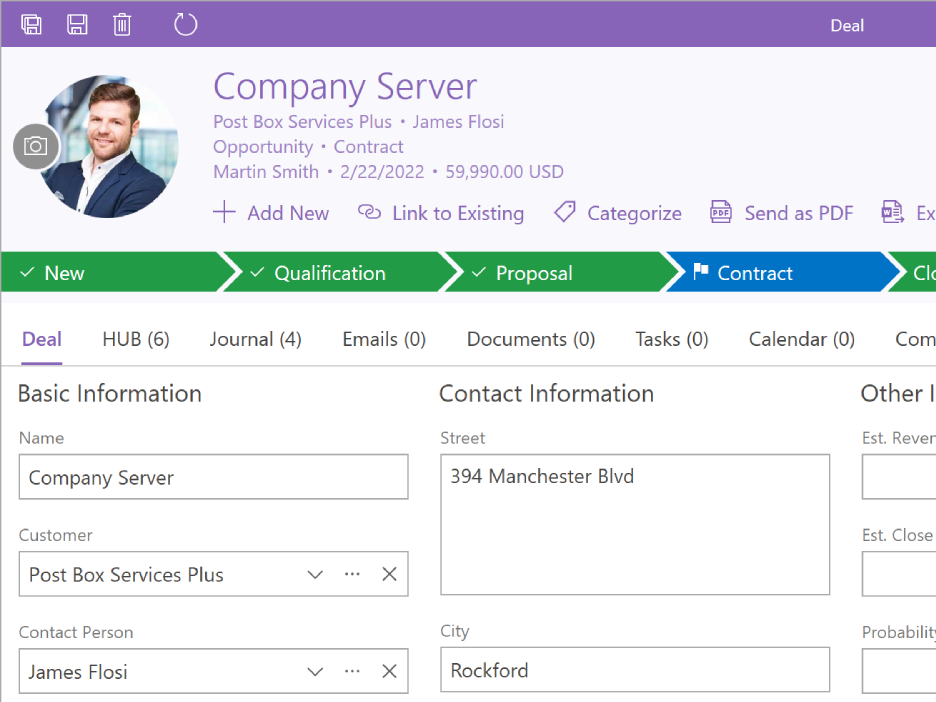 PROJECTS
Projects will help you track the delivery of your products or services in case the process takes a considerable amount of time and can be divided into stages. You can either create them manually or by converting leads and emails.
Similar to leads, projects have customizable workflows and will help you to make sure that internal company's procedures are effectively upheld and deadlines are met.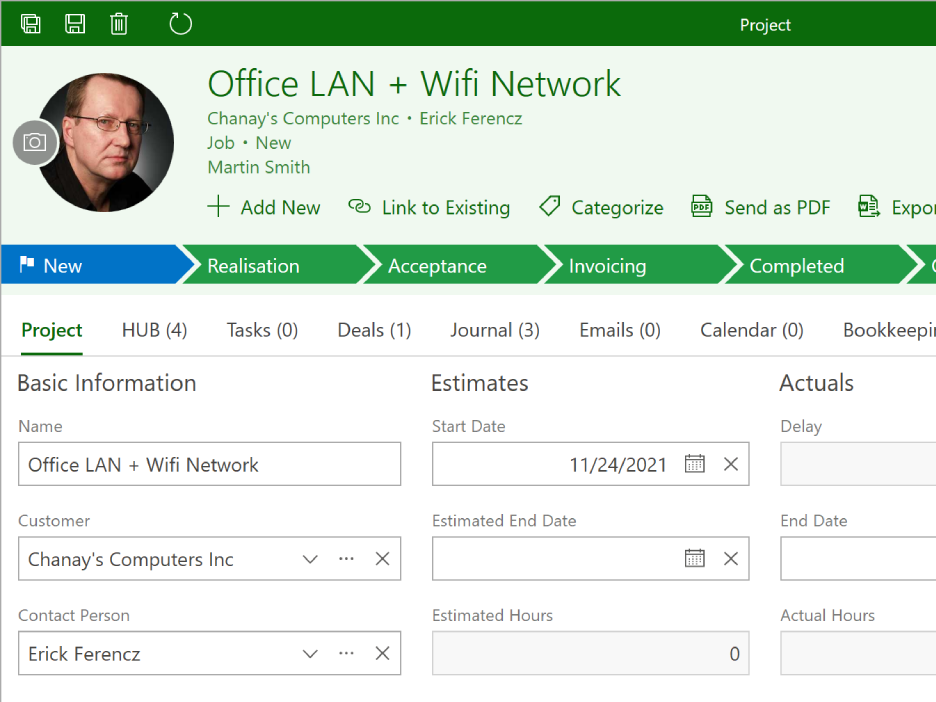 MARKETING
The module Marketing allows you to send personalized bulk emails to either leads or existing customers in a professional manner. In addition to personalization, you can
Send attachments
Collect statistics and see who clicked on your link
Send emails even if your Outlook is closed
Link your campaigns with Google Analytics
Set up delayed sending
Use opt-out option
Track unsubscribe reasons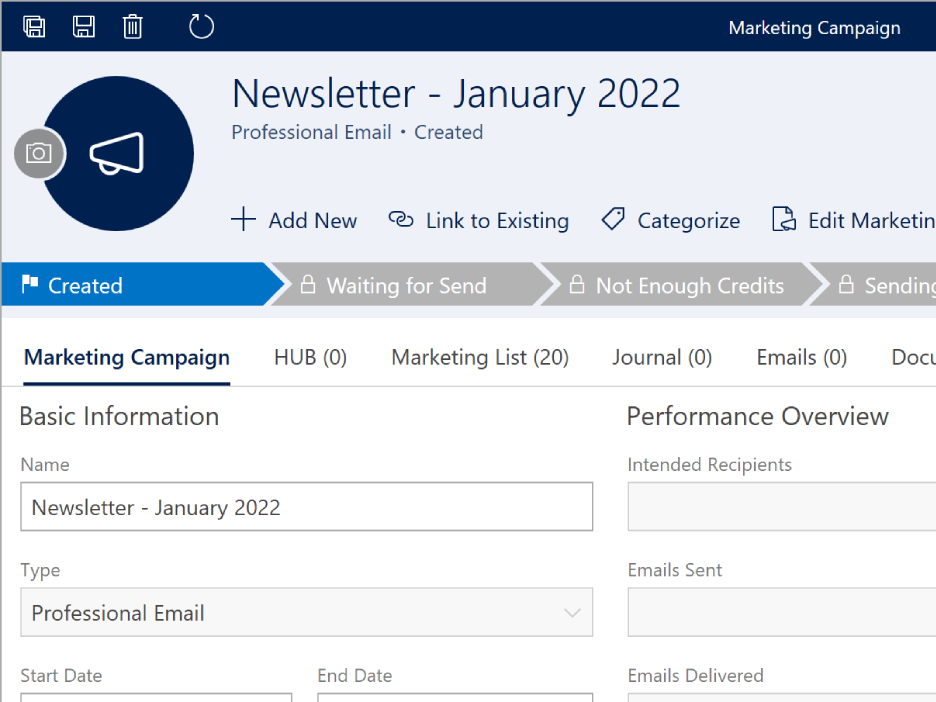 JOURNAL
Journal is used to keep track of all notes, meeting minutes and phone calls. Journals are always linked with contacts, companies, leads or projects so that you can easily review interactions on item cards.
After you jot down notes, you can create a follow-up task right from a journal which will synchronize with your Outlook task list.
It's also possible to automatically notify other users about new journal created for a lead or a project.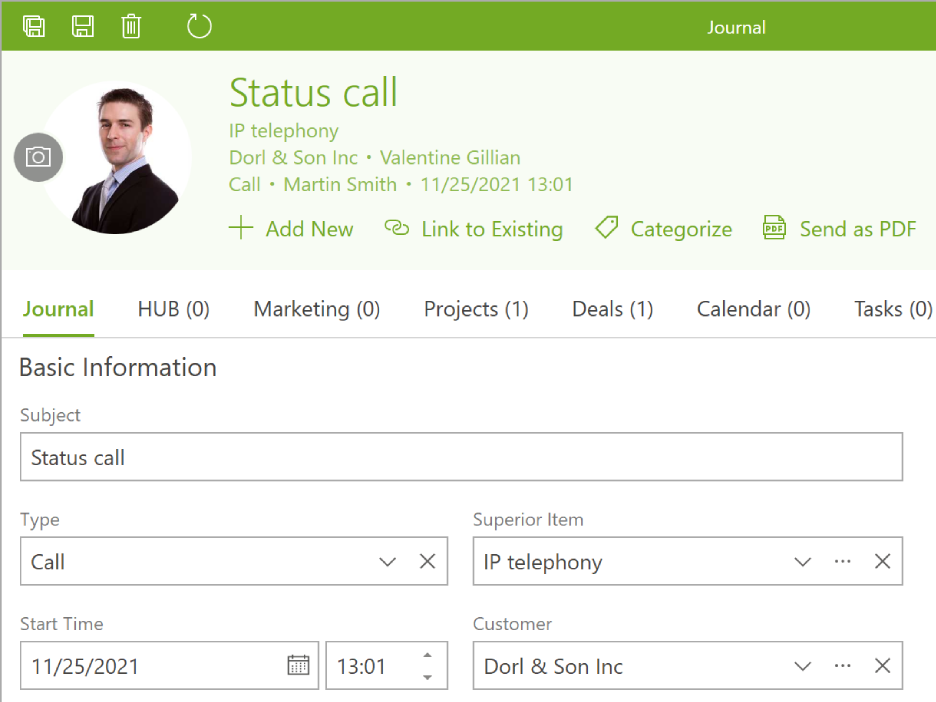 DOCUMENTS
The Documents module can be used as a shared storage for all type of documents—quotations, proposals, contracts, specifications, invoices, images, etc. Any document can be linked with any item card and opened right in eWay-CRM.
You can save email attachments with a couple of clicks or drag and drop files right on the item cards in eWay-CRM.
Documents have workflows and the versioning option in case there is an approval process and automated notifications and tasks are required.
EMAILS
Both incoming and outgoing emails can be saved to eWay-CRM automatically or manually. eWay-CRM duplicates emails and stores them in the server database (in our cloud or in your server).
Emails are linked to contacts, leads or projects and easily accessable for any team member even if original emails have been deleted from the mailbox and Microsoft Outlook account has been deactivated.
You can save your time and convert emails to contacts, leads or projects with just two clicks.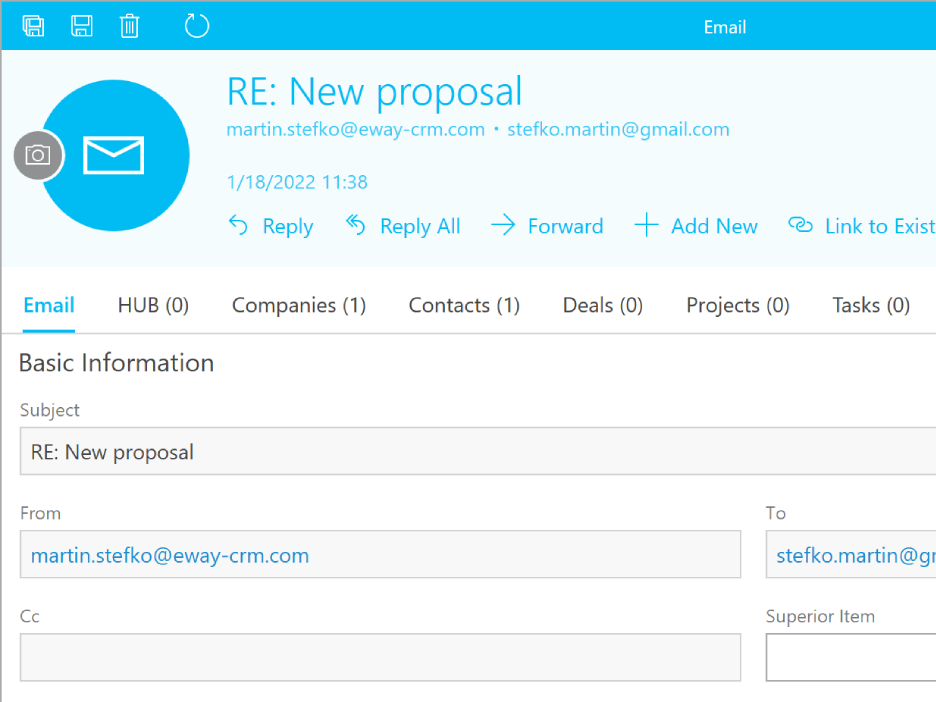 TASKS AND CALENDAR
eWay-CRM synchronizes both tasks and calendar events created on the item cards with the Microsoft Outlook Task and Calendar. This is a two-way synchronization, so if the time of a task or a meeting changes in the Microsoft Outlook, it will be also automatically updated in eWay-CRM and vice versa.
After a meeting or a call, you can convert a calendar event into Journal to write down notes and set up a follow-up task.
Tasks can be assigned to team members, and eWay-CRM allows you to see other people's tasks without sharing calendars.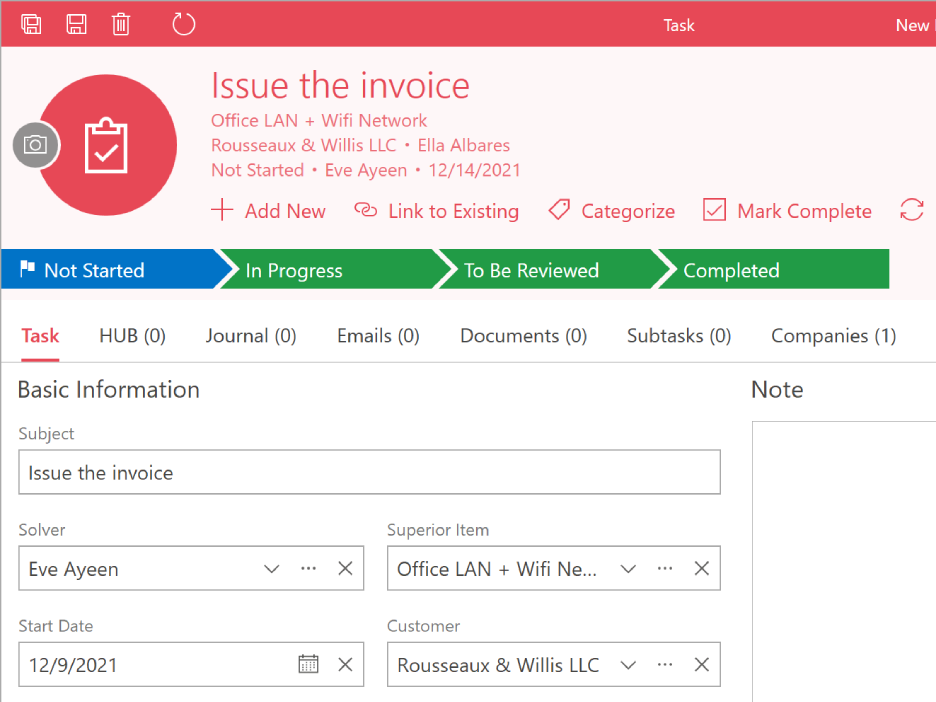 REPORTING
The Reports module consists of a set of predefined reports, which show data from different perspectives, e.g. user attendance, sales team performance, projects timeline, leads without a next step planned and others.
With just a few clicks, the Reports module can show you total costs of a project, turnover per customer or all work reports of a particular employee by month.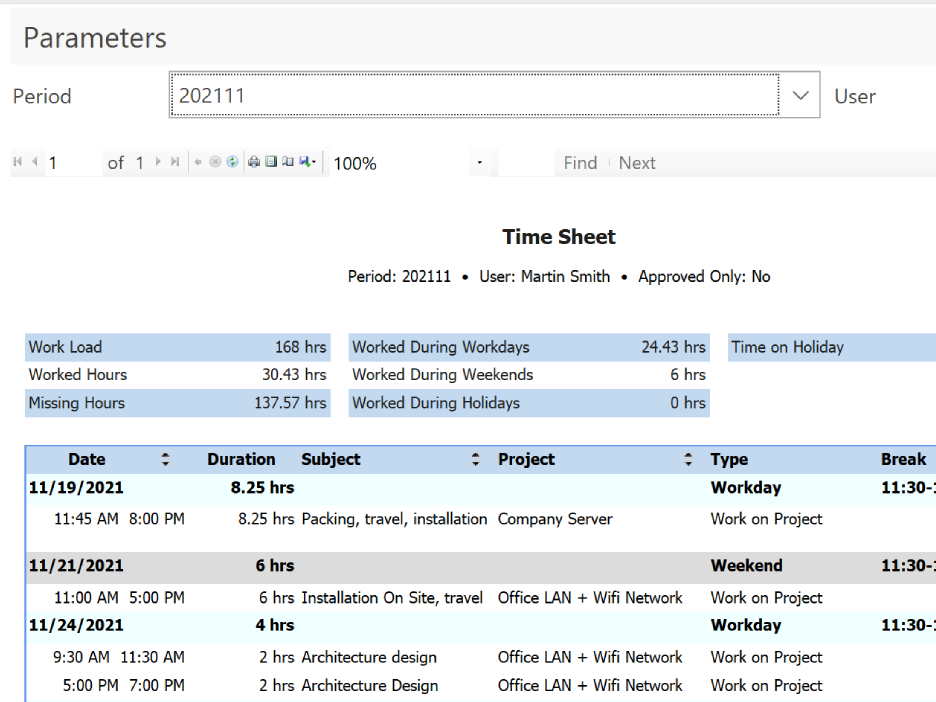 Try now!
Click the button below and download eWay-CRM for free.
You can also book our consultant. We will make a demo just for you.