Use Sales Statuses
To Build a Sales Force Automation Tool.
Workflow represents a set of steps everybody needs to follow in order to close a sales opportunity or finish a project. It corresponds to a company's standard internal processes and allows users to automate them to ensure that everyone follows the same steps. Workflow can automatically generate tasks, send email notifications, check for mandatory fields or make sure all proper documents are attached. In eWay-CRM, you can set up your own workflows in Deals, Projects, Documents and other modules.
The workflow panel is displayed on the top of a dialog box.

The different colors give different meaning to individual statuses:
| | |
| --- | --- |
| | Blue background: the current status of the item. |
| | Green background: available statuses you can click on. |
| | Grey background: not active. |
| | White background: the new status you clicked on before saving. |

To change a status, click on any green status where you want to move to (status turns white) and hit the Save button. The status will become blue (this is the current status) and next statuses will be activated automatically (become green). Confirm by clicking the Save button.
Create a custom view to group or filter deals by statuses like in the example below.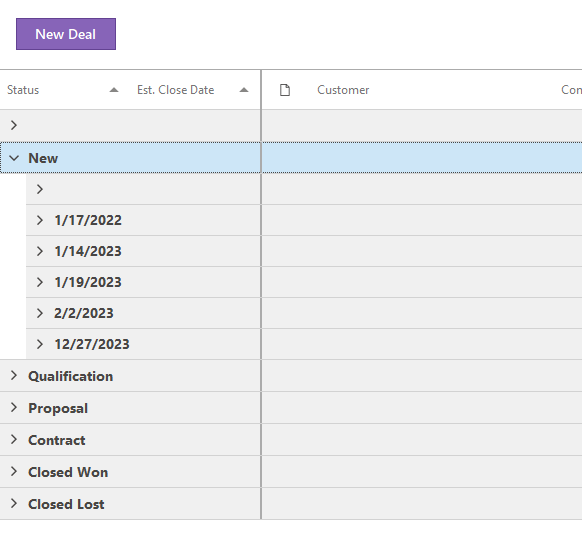 You can create your own types and workflows in the Administration Settings. Learn more here.
eWay-CRM is able to
Do you have questions? Our consultants have answers.
Do not hesitate to contact us.
You can also book our consultant. We will make a demo just for you.