Send Bulk Emails
Need to send a message to several contacts at once quickly? Here is how.

You can send bulk email to contacts, companies and deals.
Click Contacts, Deals or Company on the eWay-CRM ribbon.

Find required deals, contacts or companies by filtering and/or grouping records. Learn more in 

User

 v

iew

s.

Select items – when you press SHIFT on your keyboard, you can select the group of items, when you press and hold CTRL, you can select a different items by clicking. Right-click on selected items and select Send an Email.

The new Email window will open and the To field will be automatically pre-filled with the email addresses of all selected contacts.

If you do not want to show all email addresses to individual contacts:
Click the Cc field, right under the To field in the Email window.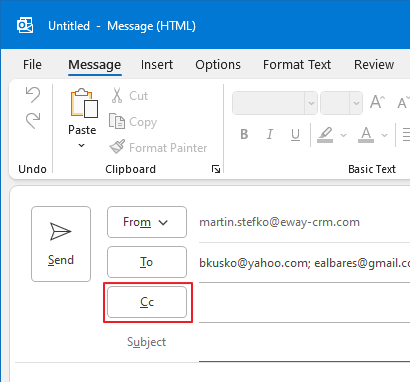 In the opened dialog box, move all email addresses from To to Bcc.

Click OK.
This method has limitations in filtering (it is based only on contacts, not their relations), in tracking of reactions and in individual responding, in this case, it is better to use Professional email or Word Mail Merge.