Install eWay-CRM Outlook (video included)
For those who prefer written guide
Click the Download button on our website. An installation file will be downloaded on your computer. Run it.

When the installation of files is complete, launch Microsoft Outlook. Click Create Account in the splash screen.

Select the type of the edition–Free or Premium.

Fill in the data in the registration form.

Choose if you want to create a sample data or keep the database blank.

Choose what modules you want to have in your eWay-CRM Outlook. You can always reactivate modules by following this article.

On the next step, you can specify:
your company's address for proposals
whether you want to synchronize contacts between eWay-CRM and Outlook (available if you selected a blank database on the step 5)
whether you want to create companies automatically while importing/synchronizing contacts
whether you want to save emails from/to contacts automatically,
whether you want to notify other users linked with a contact/company/deal or project about a new email, document or journal.
Click Start in the Success window.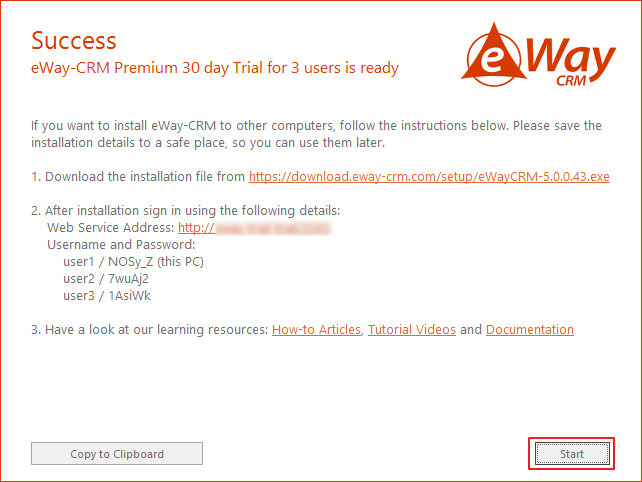 eWay-CRM tab will appear in your Outlook ribbon.

Learn how to get started here.