Import Contacts from Microsoft Outlook
For those who prefer written guide
Open the contact list in Microsoft Outlook.

Select all contacts that you want to save to eWay-CRM (you can use Ctrl+A to select all). Right click on them and select Save to eWay-CRM.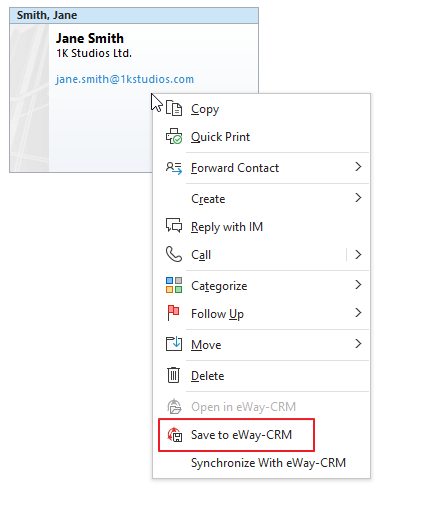 Or click Save to eWay-CRM on the eWay-CRM ribbon in the top right corner.

Now you can create new contacts directly in eWay-CRM.
Alternative for experts: You may want to create contacts in Microsoft Outlook and synchronize only part of them with eWay-CRM. Moreover, if you want to synchronize your contacts with a mobile device or if you want Microsoft Outlook suggested names and email addresses as you begin to type them, you can use the automatic synchronization between eWay-CRM and Microsoft Outlook.
Tip for experts: During the importing contacts from Microsoft Outlook to eWay-CRM, companies can be also created automatically. To turn on this option, go to Administration Application/Global Settings/Category: Contacts. Double-click Create New Company While Importing Contact and mark the check box in the dialog. More here.
Please pay attention to companies' names. The name of a company should be the same for all contacts that are related to it to avoid duplicates in eWay-CRM (e.g. "GE" and ""General Electrics").
Do you have questions? Our consultants have answers.
Do not hesitate to contact us.
You can also book our consultant. We will make a demo just for you.