Make a Field Mandatory in Deals and Projects
If you want to make sure that you and your coworkers don't forget to fill in important values (e.g. estimated revenue or close date) and your reports are complete, eWay-CRM is able to control whether a field has a value when you are trying to move a deal or project further.
For example, if a deal has a Qualification status and you try to save it as Proposal without putting in a value in the Est.Revenue field, eWay-CRM won't allow you to save the status and will mark the field in red.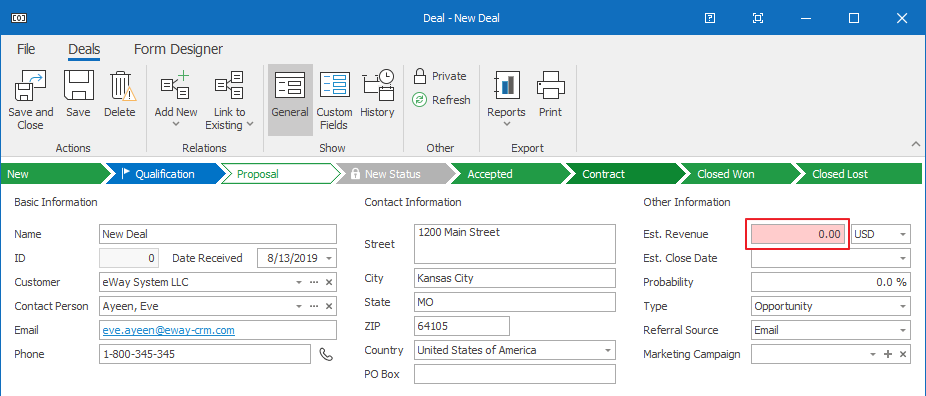 To set up such a rule, follow the instructions below.
Press SHIFT and click Administration Center on the eWay-CRM ribbon to go to old administration settings.

Select Module Settings > Workflow Diagrams> Deal – Opportunity (or Project). You will see the workflows on the right side under two columns – Parent Status and Child Status.

For example, you want to set the field "Est. Revenue" as mandatory when you move a deal from Qualification to Proposal. Double click on the row Qualification–Proposal and in the opened window click Next.

Select Actions Before and click Add Action.

Select Database Field Is Not Empty and click Next.

Type in the word "Price" into the Database Field.


Note: You can make any field mandatory. To find out the right name of a field as it's used in the SQL database, click on it on the item card and press Left Alt+F1.

Clicking the Next and Finish buttons will finish the wizard.

Wait 30 seconds for automatic synchronization or synchronize changes manually. To do that, right-click on the eWay-CRM agent in the system tray and select Synchronize.
If you need assistance with customization or want us to do it for you, contact us at [email protected]
Do you have questions? Our consultants have answers.
Do not hesitate to contact us.
You can also book our consultant. We will make a demo just for you.