How to Get Processing Consents
How to Start Using eWay-CRM » GDPR » How to Get Processing Consents
In order to obtain consents, we will use the Professional Email function, available within the Marketing module. Generally speaking, we will send a bulk email requesting for the subjects' consent. The consent will be granted by clicking on a hyperlink sent within the email. If the subject clicks the link, his/her consent will be automatically registered at contact level, in the fields we have created in the last chapter. Meanwhile, a journal note will be created and linked, helping us recognize from which campaign the consent is derived from.
It is advisable that when clicking the hyperlink, the subject receives an auto-response similar to the following, "Thank you for providing consent". We strongly recommend preparing such a lading page on your web site.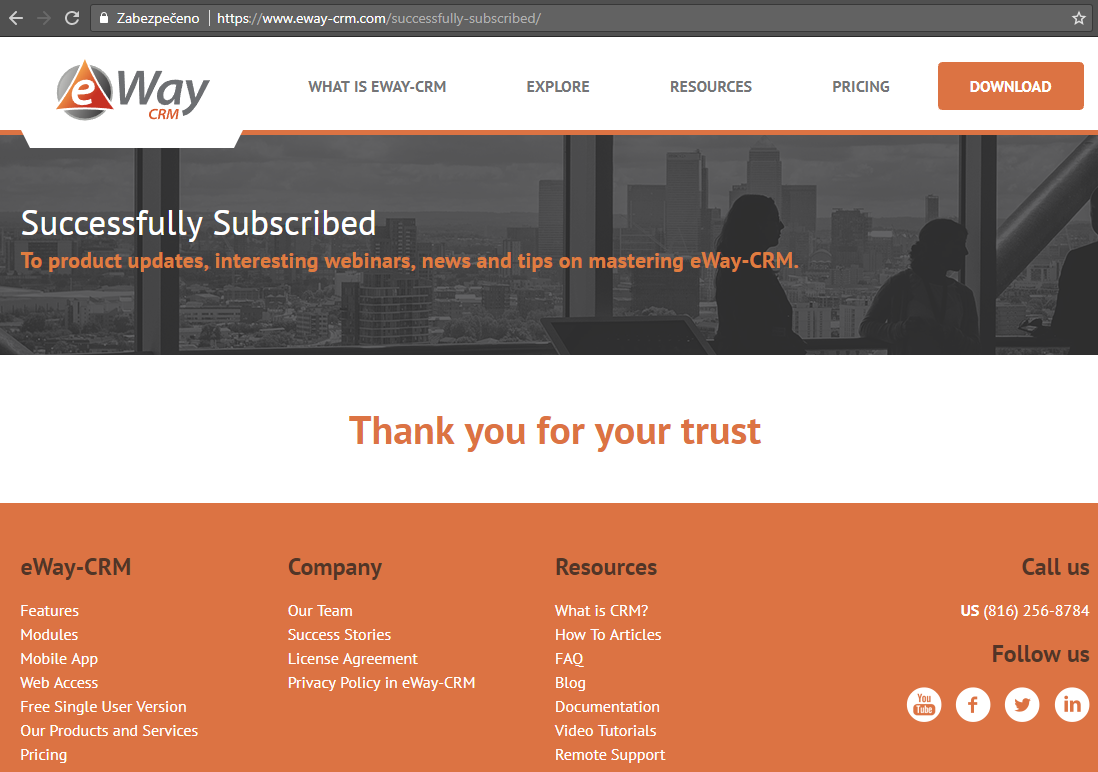 Preparing User Fields in Marketing Module
In How to Record Processing Consents, we have learned how to create a set of fields for consents register. Therefore, we have one or more fields defined within the Contact, Company or Deal card.
We shall now create fields within the marketing campaign card.
Write down the field name. Please, be very careful and make sure the field name on the Marketing Campaigns card corresponds to the field name on the card of a Contact, Company or Deal only with a "URL –" field name.
If you have created a field on the Contact card Date of consent for marketing purposes received in the How to Record Processing Consents article, then name the field URL – Date of consent for marketing purposes received.

Press OK.
Repeat steps 4-6 for each processing purpose individually.
Creating and Sending Marketing Campaign
Insert the resulting website URL the subject will see in case the user clicks on your hyperlink consent, into the new fields URL – Consent… Make sure the hyperlink is complete (including http://, OR https://). We recommend you to open the website in a browser and copy the link into the field using Windows box.

Then process the campaign the way you are used to. Just to make sure, we attach instructions.
Verifying Results
The moment the campaign gets the status Sent, you can start looking for the first consents.
Open the marketing campaign through which you asked for consents.

Using the Column Chooser, add the Note column to your view.

Filter all records containing URL of the website subjects will see when they click I agree, in their Note.

Double-click one of the journals in order to open it.

By clicking on the icon with three dots, you will open the Contact, Company or Deal that the journal is linked to.

The journal is, of course, linked to the item, therefore details can be found any time.
Do you have questions? Our consultants have answers.
Do not hesitate to contact us.