Filter Items
you have three options how to filter items:
General Search
For quick search, for example when you know the name of the project, you can just click into search field in the top part of the list.

In the list, you will see only those items that contains searched string in some column.
Column Filter
Turn on/off Column Filter
Click three dots icon in the top right corner of the list. Now, select Hide Column Filter, if you want to turn off column filter.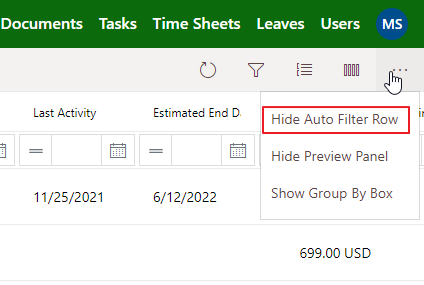 Or Show Column Filter, if you want to turn it on.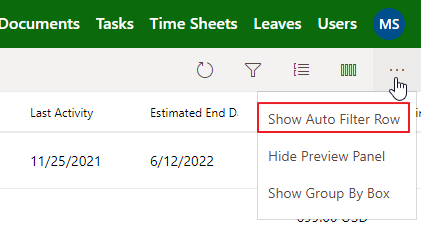 Filter Options
To row under the column header, you can type string that will be searched only in this column. Only items that fulfill this condition will be displayed.

The button left to the search field allows you to change the operator of the condition.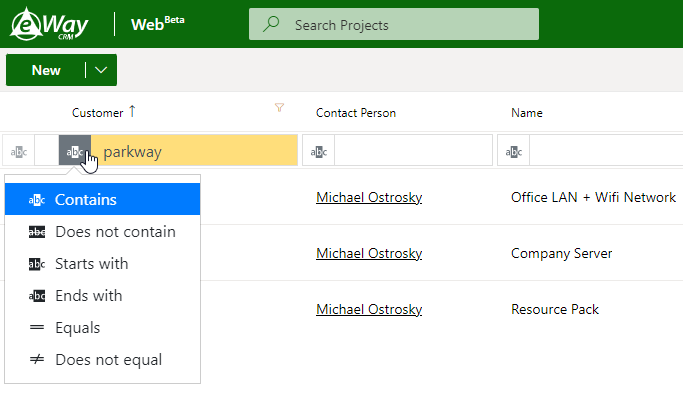 Filter Editor
For more complex filtering, you can use filter editor, that can be opened by clicking funnel icon in the top right corner of the list. Then click Edit Filters.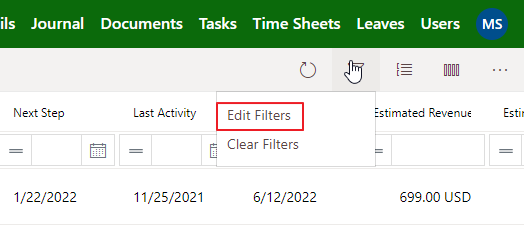 In the filter editor, you can set any filter you need, even with more than one condition. For example: User wants to see only active projects where the projects manager is named Smith.
Add new condition by clicking + sign.

Select Status. (Note: In the filter editor, you can filter only by columns that are currently displayed in the list.)

Select Is none of as operator.

Insert Completed and Lost values (second value can by add by clicking + next to first value).

Click Apply. In the background, you can see that filter is used.

Click + to add second condition.

Set condition for the Project Manager field where you select for those items that contains name Smith.

Click OK, only items that fulfills both conditions will be displayed in the list.
Do you have questions? Our consultants have answers.
Do not hesitate to contact us.
You can also book our consultant. We will make a demo just for you.