Auto-Populate Probability in Deals

When you customize workflow or create a new one, you may want the Probability field be populated with a percentage automatically while you move a deal from one stage to another.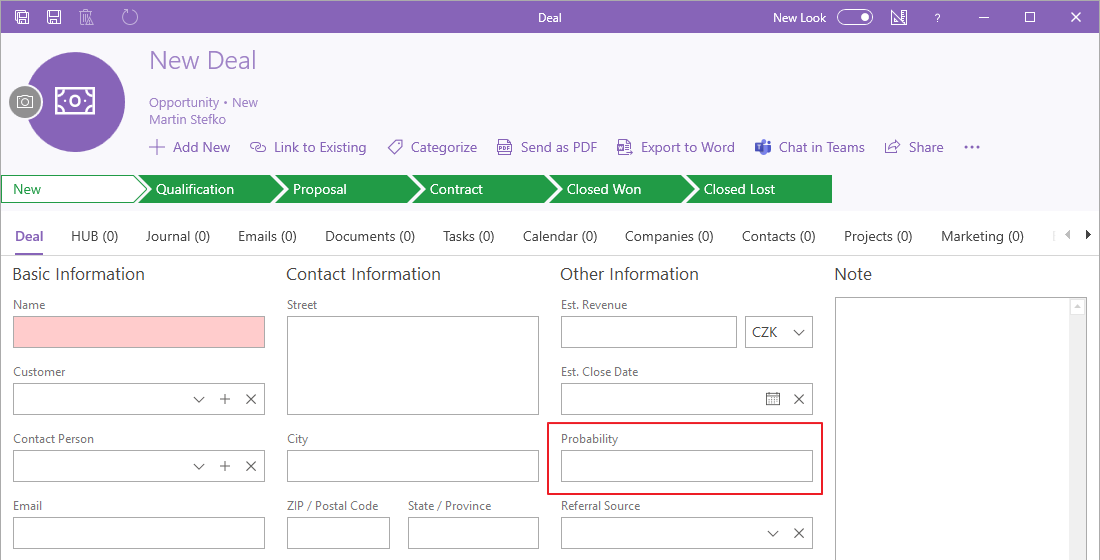 For example:
0% New
20% Qualification
50% Proposal
80% Contract
You can put in probability manually, but if you want this to be populated automatically across the organization, follow the instructions below:
Click Administration Center on the eWay-CRM ribbon in Outlook. Alternatively, when you are using eWay-CRM Online, click the eWay-CRM icon in the email body and click Admin Center.

Go to the Workflow section and select the Deals module. Then, choose type of the deal where you want to set automatic filling of probability.

Fill in probabilities for different statuses. If you go to the Proposal status, 50 % will be set in the Probability field. The Closed Won status let on the value Closed Won that represents 100 %. When you make changes, save it.

In eWay-CRM Desktop, wait 30 seconds for automatic synchronization or synchronize changes manually. To do that, right-click on the eWay-CRM agent in the system tray and select Synchronize.
If you need assistance with customization or want us to do it for you, contact us at

[email protected]

.