Create / Import Contacts
Do you already have a database of your contacts that should be transferred into eWay-CRM? Or will you want to start with a blank sheet and enter data manually? Let's have a look at how to approach both of these options.
Contents
Creating Contacts Manually
Click New and select Contact.


Specify details (Name, E-mail Address, Contact Address, etc.) and click Save.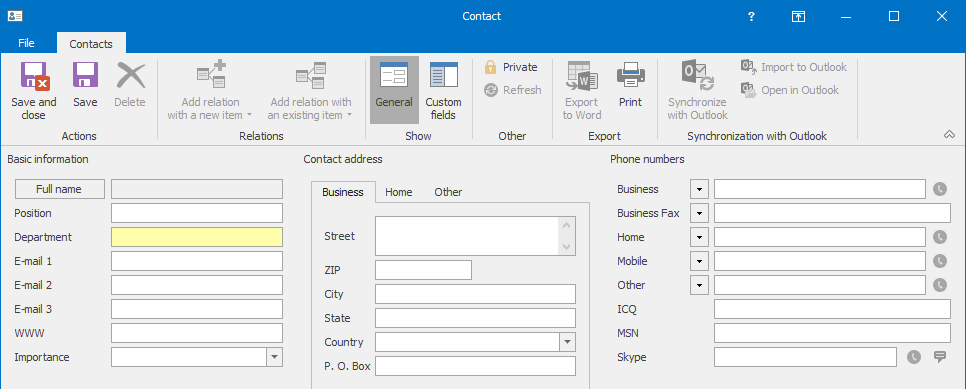 Importing Contacts from Microsoft Excel
The Import from Microsoft Excel option might be a very useful feature especially if you need to migrate from another CRM or if you have purchased a contact list and now you want to move these contacts to eWay-CRM and track communication with them.
Prior to importing contacts, you need to import Companies first.
Click on the Companies tab on the eWay-CRM ribbon. Customize the eWay-CRM view so it contains all the fields you want to import. You can use the column chooser feature to add additional columns.

Right click on any company and select Import data > Save template for import.


Open the saved Excel file and fill it in with your data. Save it.
On the eWay-CRM ribbon, click on the button From Excel, load the table and import data.

Now, click on Contacts in the eWay-CRM ribbon and follow the same steps.
Importing Contacts from Microsoft Outlook
Open the contact list in Microsoft Outlook.
Select all contacts that you want to save to eWay-CRM (you can use Ctrl+A to select all). Right click on them and select Save to eWay-CRM.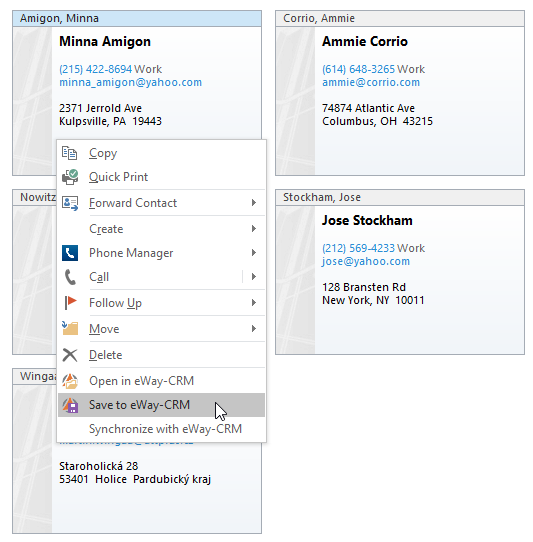 Or click the Save to eWay-CRM button in the eWay-CRM ribbon in the right top corner.
Now you can create new contacts directly in eWay-CRM.
Alternative for experts: You may want to create contacts in Microsoft Outlook and synchronize only part of them with eWay-CRM. Moreover, if you want to synchronize your contacts with a mobile device or if you want Microsoft Outlook suggested names and email addresses as you begin to type them, you can use the automatic synchronization between eWay-CRM and Microsoft Outlook.
Tip for experts: During the importing contacts from Microsoft Outlook to eWay-CRM, companies can be also created automatically. To turn on this option, go to Administration Application/Global settings/Category: Contacts. Double-click Automatically create new company while importing contact from Outlook if it does not already exist and type "1" into the field. More here.
Please pay attention to companies' names. The name of a company should be the same for all contacts that are related to it to avoid duplicates in eWay-CRM (e.g. "GE" and ""General Electrics").
Do you have questions? Our consultants have answers.
Do not hesitate to contact us.
You can also book our consultant. We will make a demo just for you.