Amazing Integration with Microsoft Outlook
eWay-CRM is embedded right into Microsoft Outlook.
One app for everything. With eWay-CRM, you transform Microsoft Outlook into a full project management software with a customer database and the ability to track business leads.
Stay in a familiar user interface. Why learn new software? eWay-CRM works within Microsoft Outlook.
Integrated tasks / calendar. Since eWay-CRM is integrated with Microsoft Outlook, tasks and meetings are automatically synchronized. Because you sync Outlook with your smart phone, data goes there too.
Automatic e-mail tracking. Do you write e-mails with your customers? What a silly question. eWay-CRM can automatically save it and sort it by projects. So simple.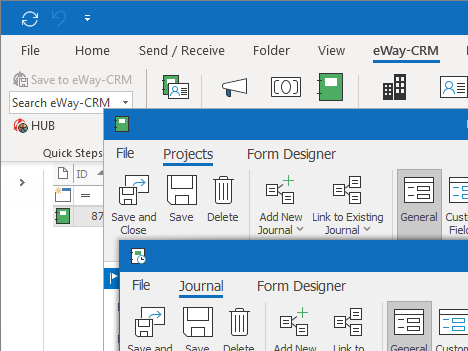 Workflow for Better Automatization
Different project types with different workflows. Set up various project types and various workflows so it corresponds with your company processes.
Workflow will guide you. With workflow, you make sure all your employees follow the same procedures. They follow the steps and rules you predefined for them.
Automatic tasks. In every project phase, workflow feature can automatically generate a list of tasks so everybody knows what to do.
Project consistency. eWay-CRM verifies that the project requirements you define are met.
Tasks
Create tasks in Microsoft Outlook or eWay-CRM. Assign tasks and subtasks to your team. Monitor their progress. View tasks by projects or by customers. Create a sense of ownership in the project by letting your team see what you see.
Attach notes and documents to tasks. Keep all important details in the right place.
Time management. Use eWay-CRM to Get Things Done.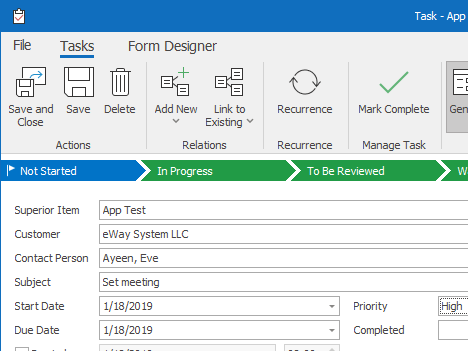 Finances
Connect your accounting software to eWay-CRM. View invoices by projects. Monitor payments by customers.
Timesheets will help you track people costs. Use eWay-CRM to help you stay informed of a project's time costs and expenses.
Receive notifications when a project's actual profit varies from what you expected.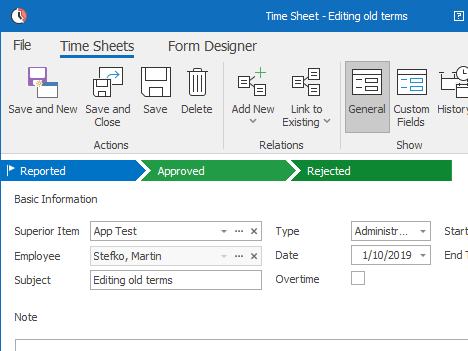 Data available in your pocket
Keep your eWay-CRM data on the fly. Access them whenever you want, wherever you are. Enjoy our iOS / Android apps.
Search the history of communications, read notes and emails, open documents. They are all in your smart-phone.
Make photos, notes, plan follow ups. eWay-CRM Mobile has it all.
Learn more about eWay-CRM Mobile
...and online
eWay-CRM Web is an online app that runs inside a web browser. You can use any device that's by hand to access your data.
eWay-CRM Web contains all the important modules and features. Contacts, Companies, Deals, Projects, Communication History and Tasks. Custom Fields, Workflows, Permissions and much more.
It's the best options for those who use Mac or need to use a home PC from time to time.
Learn more about eWay-CRM Web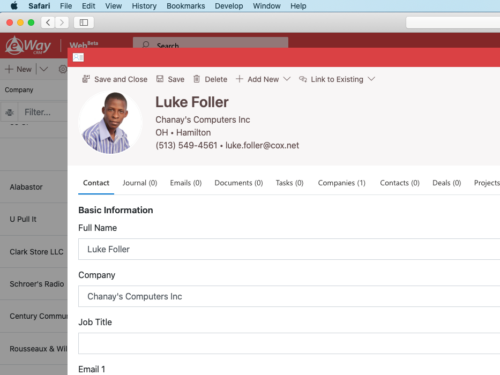 Watch our Introduction Video
Having just 15 min to make a decision? Watch this video to understand the basics of eWay-CRM.
Try now!
Click the button below and download eWay-CRM for free.
You can also book our consultant. We will make a demo just for you.