How to Send Professional Bulk Emails
Contents
eWay-CRM has a professional mass mailing and response tracking feature embedded right in it.
With Professional Emails, you can:
Personalize your emails with names and salutations.
Send attachments.
Collect feedback and track responses.
Send emails even if your Outlook is closed.
Link your campaign with Google Analytics.
Track unsubscribe reasons.
Set up delayed sending.
To start using professional emails in eWay-CRM you need to create an account first.
Creating a Professional Email Account
Click Administration Settings on the eWay-CRM ribbon.

Go to General Settings > Global Settings > Category: Marketing and double click on Professional email account.


Click on the Registration tab, specify your email address and password. The account is created. The email address is just for the purpose of registration, it is not an address actually used for sending emails.

Wait for 30 sec for automatic synchronization or synchronize changes manually. To do that, right-click on the eWay-CRM agent in the system tray and select Synchronize.
Creating a New Marketing Campaign
Click New on the eWay-CRM ribbon and select Marketing.


In the new window specify the Name and Type – Professional email. Click Save.


To create a list of recipients, click the Edit marketing list button.

Select a target group, create filter and click Apply. You may use the filter editor to choose just the data you want. To learn more click here.

The list of recipients will appear. Click Add.
Click Action and select Start mail merge.

In the first window, specify the Subject, Sender's email and Sender name. It is also possible to fill in fields for personalized salutation. A recognition mechanism figures out gender by recipient's first name.
To create an email message, you can:
In the second step, you can add attachments and specify other additional options (Track Link Clicks, Google Analytics, Send Date, Unsubscribe Reasons).

You can use Smart Delivery function in this step. On the basis of vast amount of data such as days and hours when emails are opened, clicks, holidays and other data that are not primarily related to marketing campaigns (e.g. current weather or time zone) Professional email will decide when emails will be sent to users for its best efficiency. You just set time period when emails should be sent. For the best function of Smart Deliver, it is best to set periods longer then few hours, best results are in days. Click Save and continue.
Note. You can send 1000 emails for free. After that, you can buy credits (one credit per email) additionally with your credit card.
In the final step, you can review the summary and if everything is OK, click Save and Finish.
Advanced: 
Some email service providers now often require valid SPF (Sender Policy Framework) records. Because of an absent or incorrect SPF record your emails may end up in your customers' spam folders.
The SPF is a TXT type record that specifies that emailkampane.cz (our email service provider) may send emails on behalf of your domain. 
On your domain provider's website, you should add a new DNS record (TXT):
v=spf1 include:spf.emailkampane.cz ~all
To check out your SPF record, you can use this free on-line tool.
Tracking Responses
Responses are tracked and updated automatically. First numbers will be available in 30-60 minutes, but it pays off to wait for several days.
Click Marketing on the eWay-CRM ribbon.

The list of marketing campaigns will appear.

Open the marketing campaign and check the total number of emails sent, delivered, viewed and people unsubscribed.

You can also check the result for each email address separately. You can use the filter to get just people who unsubscribed or clicked on a particular link.

Types of reactions can be as follows:
Email sent is created just as you send a campaign.
Email delivered will be created for all recipients from whom there where no other answer (such as Mailbox not found).
Mailbox not found / Domain not found / Mailbox full / Antispam / Message size limit exceeded.
Temporary error / Permanent problem with delivery – one of these errors occurred while delivering the message.
Email viewed – email was opened.
Email link opened – created when addressee clicks on any of the links that the message contains. In column Note is specified which of the links is the information related to.
Marked as SPAM.
Unsubscribed – if you have specified reasons, a respondent may choose one of the options. Reason will be specified after a hyphen in the title of a reaction.
You can group responses by titles.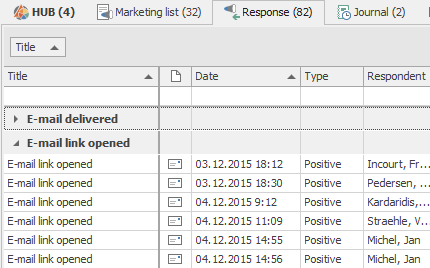 Or you can create a filter to show only the title, for example "E-mail link opened".
Learn more how to filter, group and search data here.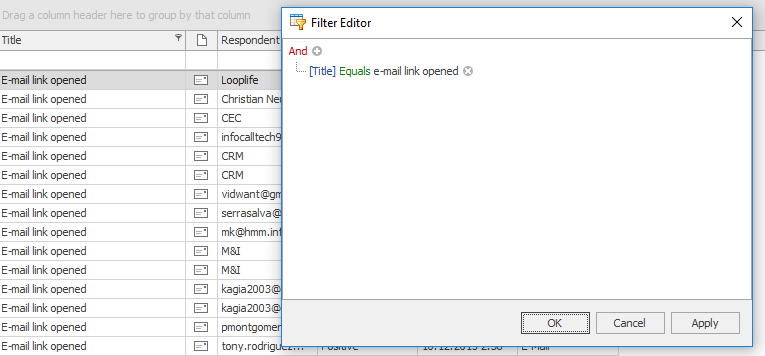 You can also see history records for each of the contact. Double-click on a field with Responses to open them.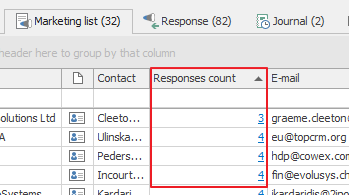 Here you can see responses for a specific respondent.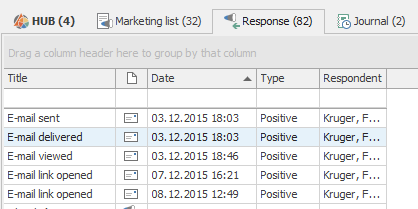 You can also generate a Marketing report, which describes and summarizes the result of the marketing campaign.
Do you have questions? Our consultants have answers.
Do not hesitate to contact us.