Insurance CRM Software
eWay-CRM is the

best CRM tool for insurance brokers and agencies

. It helps them manage contacts, contracts, renewals, communications, and follow-ups. Since

eWay-CRM sits right inside Microsoft Outlook

, it's easy to save emails and plan meetings with a single click.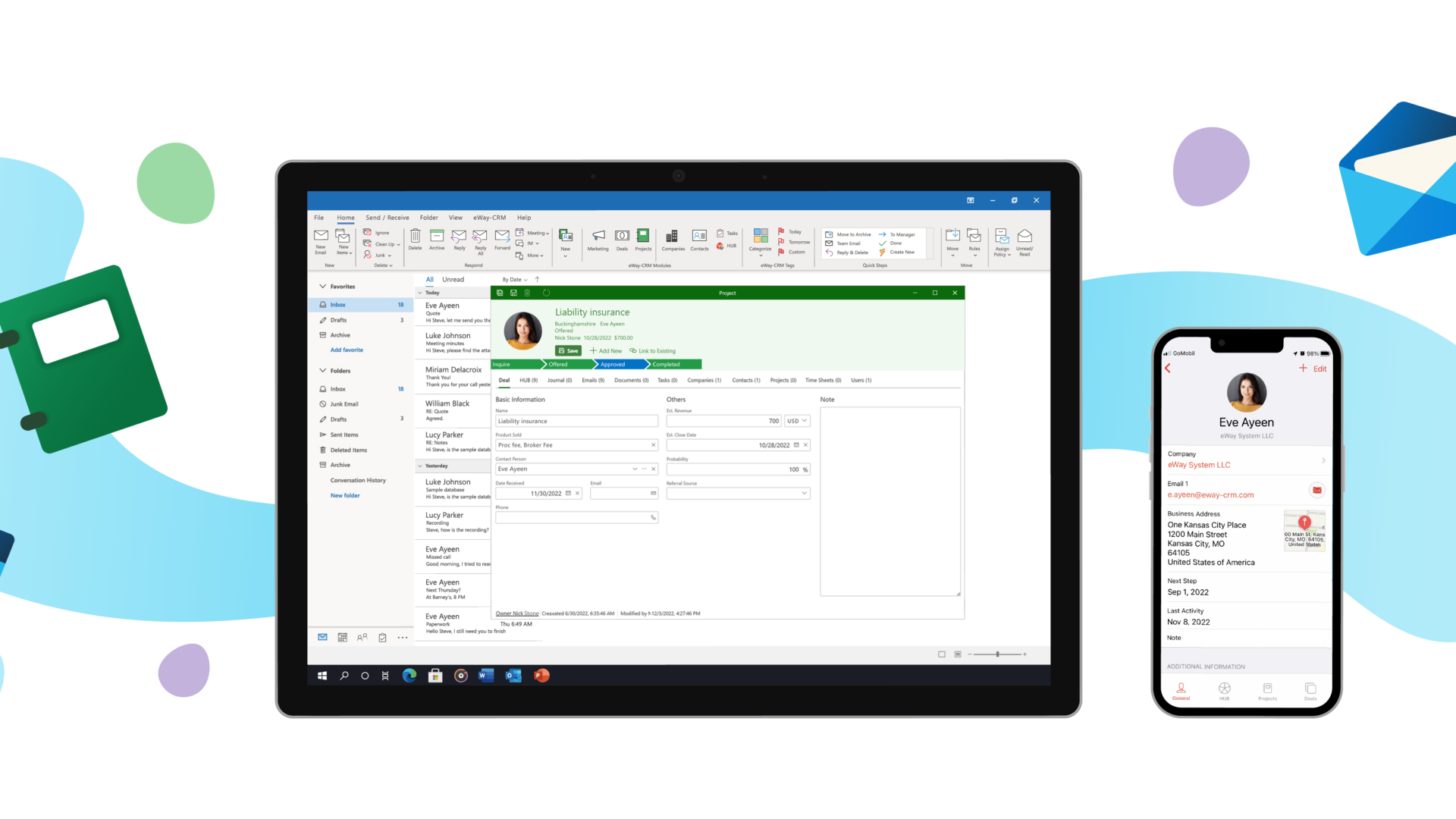 What is a CRM for insurance brokers?
Insurance CRM software (customer relationship management) allows teams and individuals to track customers, their products and services, and all related communications (emails, notes, documents, etc). Its goal is to help them organize all customer data, share it across the entire team and improve sales processes to close more deals.
Contacts and Companies
Keep all contacts and companies inside eWay-CRM. They will be available anywhere and anytime – from your PC, Mac, and mobile. These items will be also shared with the rest of your team.
Your first step to excellent customer experience starts with stunning contact management.
Contracts and Renewals
Use our module Projects to track all contracts. After all, each contract is a kind of project, right? Attach emails, journals, and documents. Set up reminders to let eWay-CRM notify you about an expiring due date.
Automate.
Emails and Notes
Save emails by contacts, companies, or projects. Everybody can follow up on your communications and vice versa. Allow people to help you.
Share.
Tasks and Calendar
Plan follow-up tasks and meetings. Our stunning integration with the Outlook calendar makes it extremely easy. Everybody can open a contact or a project and see that you are already in charge.
Keep your TODO list tidy.
Custom Fields and Forms
Use our custom fields to gather the information that's useful for you. Customize the layout of our forms with the form designer to make eWay-CRM look exactly as you need.
Make eWay-CRM your CRM.
Workflow
Set up our workflow to automate routine tasks. eWay-CRM will automatically ask for mandatory fields, important documents, and generate tasks for the rest of your team.
Let eWay-CRM do the boring things.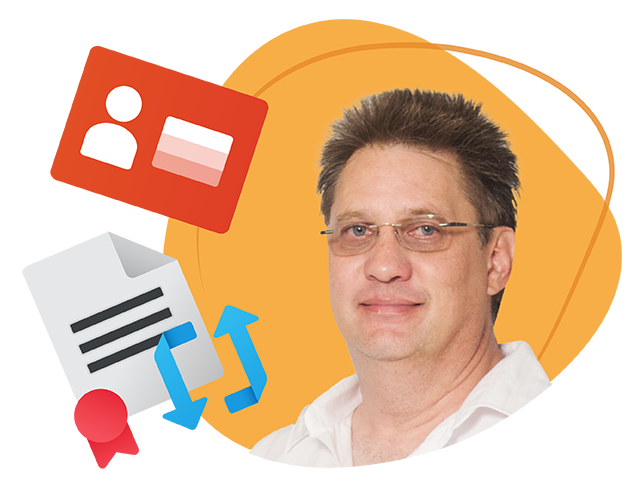 Minutes after watching eWay-CRM videos, I knew this was what I was looking for.
It is customisable in every possible way. I could set it up to do everything I needed and so much more. As I started using it I learned more and more features and thought of more ways to customise it to suit my needs.
The interface is easy and logical so anyone can use it, importing my data from our previous CRM was quick and easy.
Johan V/D Walt,
president at Wico Insurance Brokers
Why do insurance brokers love CRM inside Outlook?
Most insurance businesses communicate by Microsoft Outlook. Outlook keeps their emails, organizes meetings, and manages the list of all contacts. eWay-CRM turns Outlook into a fully-fledged CRM software. It allows people to seamlessly share important data, automatically save emails, integrate with the calendar, and much more. Additionally, eWay-CRM looks exactly like Microsoft Outlook, so your team doesn't need to learn anything new.
TRUSTED BY 1,500+ COMPANIES WITH OUTLOOK

How to set up eWay-CRM for Insurance firms?
If you need CRM software for insurance agents, start with eWay-CRM Free or eWay-CRM Enterprise 14-day free trial. You can choose the preferred version during the sign-up Ince you create your account, follow these steps to set up eWay-CRM for you.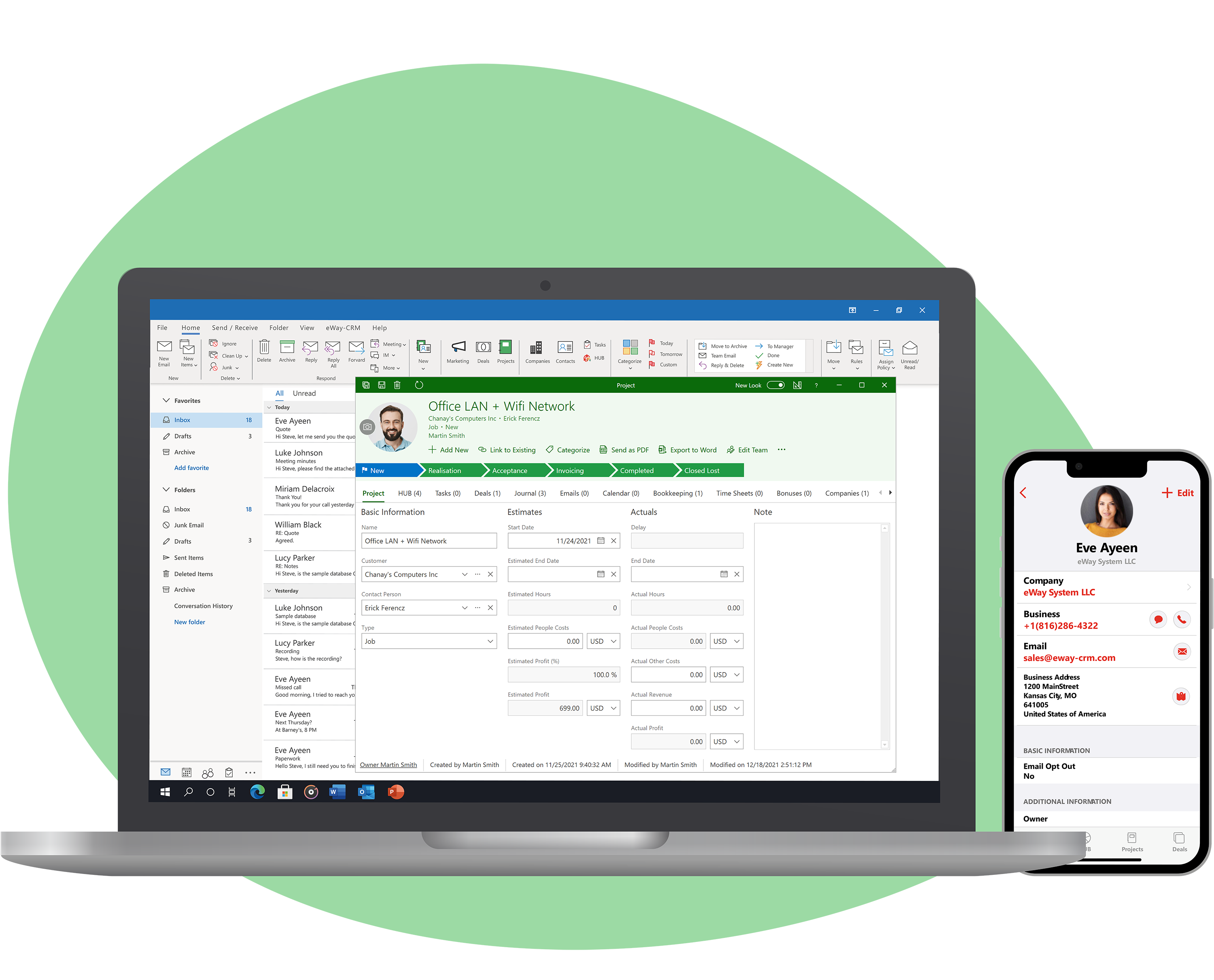 Start with eWay-CRM Free
Click the button below and sign up for eWay-CRM Free. You can also book a demo with one of our consultants. We will show you how eWay-CRM works.