Best CRM for Manufacturing Organizations
Get a complete picture of your customers. Clear and organized.
eWay-CRM is a unique CRM that integrates into Microsoft Outlook. It helps you track all emails, meetings, tasks, and contacts and share them across your team. People from the manufacturing industry love eWay-CRM because they don't need to learn anything new. eWay-CRM just takes what they already work with and turn it into a complete CRM platform.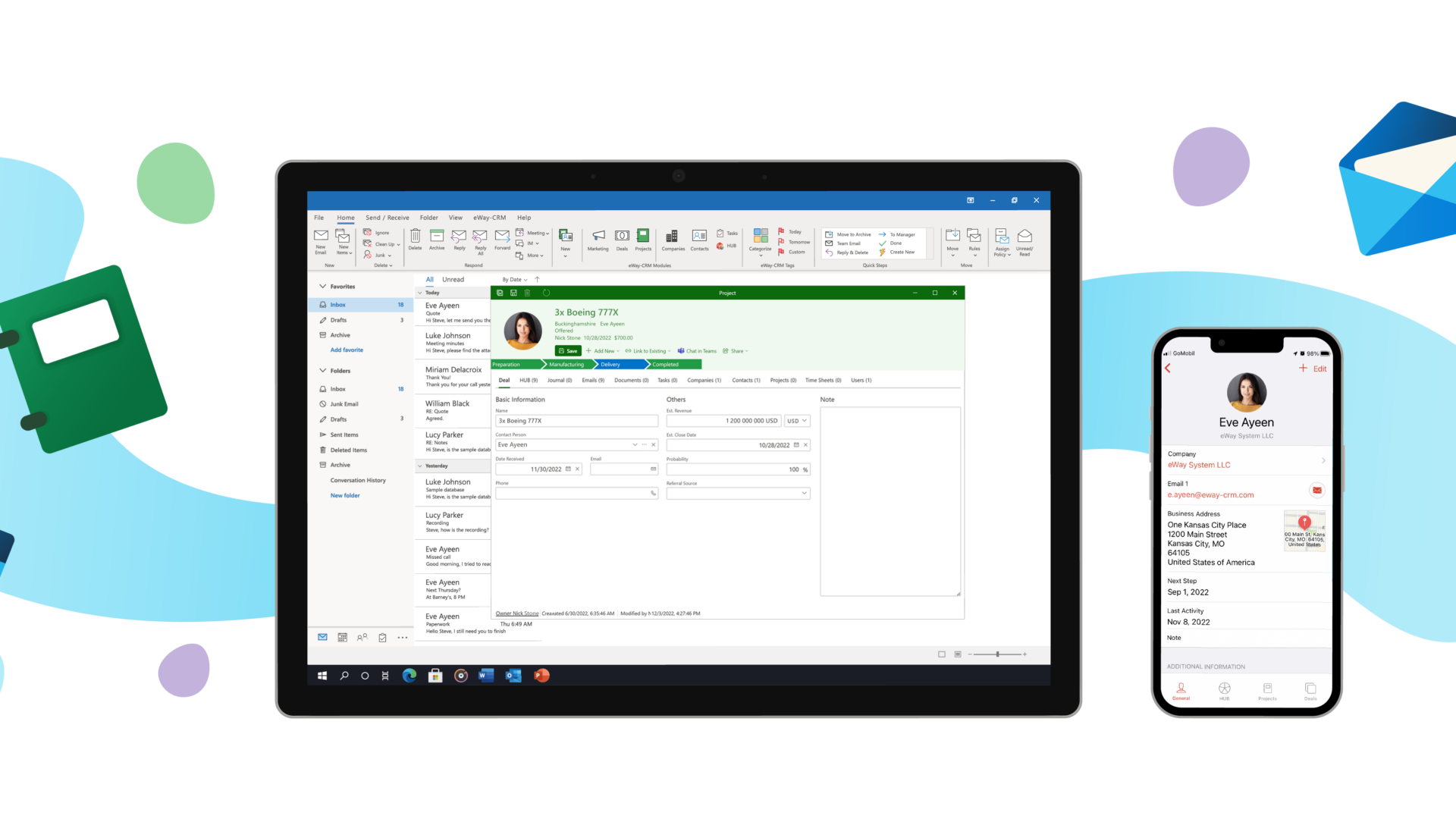 What is CRM for Manufacturing?
CRM for manufacturing (customer relationship management) is a tool that helps manufacturing organizations extend customer satisfaction and stay in control of all communications and activities related to their customers, individual jobs, and business opportunities.
It helps individual team members quickly discover where previous colleagues left off the customer and what needs to be done next. Since most companies work tightly with Microsoft Outlook, it makes sense to use a closely integrated CRM.
Contacts Integrated with Outlook
Synchronize everybody's contacts from Outlook to eWay-CRM and put them all together.
Your customer-centric strategy starts with building a shared list all people can use.
Organize your contacts by categories, statuses, and your own criteria.
All Jobs Well Structured
Make sure all jobs are in eWay-CRM and keep them updated. Include emails, notes, tasks, and all important documents.
Use our module Projects to build a single database everybody can use to get an instant view of what we are working on.
Sales Pipeline Under Control
Make sure your sales team keeps track of all business opportunities in our module Deals.
Organize them by products, statuses, territories, or your own criteria.
Once you win a deal, you can convert it into a project and get the job done.
Activities and Communications
Save important emails to contacts and projects with two clicks. Make them available to the rest of your team so they can help you. See who communicated with the customer last time and what they agreed on.
Tasks and Reminders
Plan tasks to keep things under control. eWay-CRM will automatically remind you about the important due dates.
Provide first-class customer service by keeping your tasks structured.
Documents
Make sure that all important documents are in CRM. Turn eWay-CRM into the information HUB where you and your team will always find all data.
Integrated Email Marketing
Approach your potential and existing customers with personalized bulk emails and marketing automation. No need to export contact lists to Mailchimp. eWay-CRM has it all.
Workflow Automation
Streamline your delivery and sales processes with workflows. Set up various actions to automate routine tasks.
Save yourself time on delegating boring things to eWay-CRM.
Power BI Reporting
Use the PowerBI connector and build your interactive dashboards and reports. Access your data real-time anywhere and any time.
Pay attention to our free Sales Executive Dashboard and CFO Dashboard.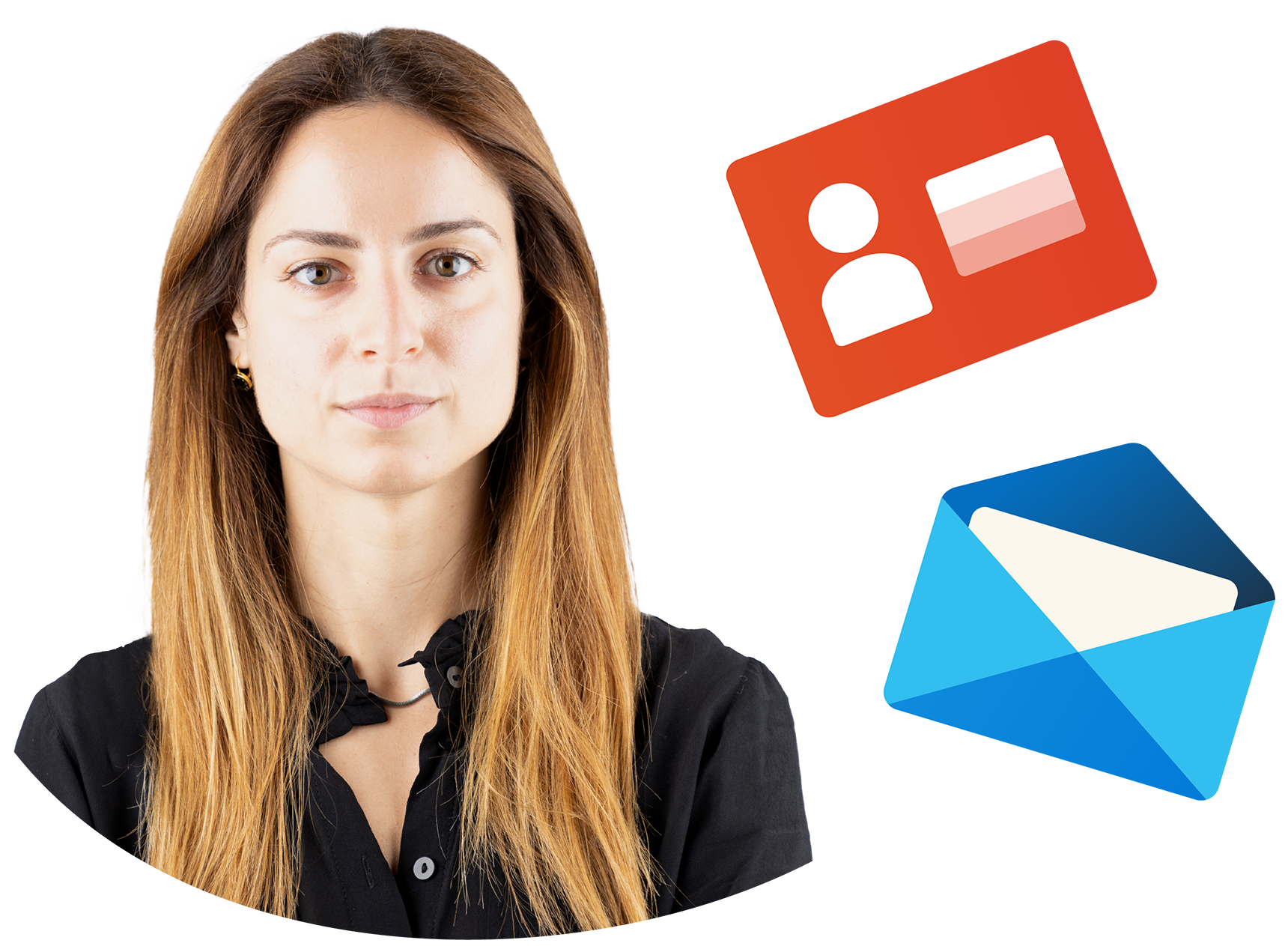 eWay-CRM is a complete CRM platform that contains all the tools for our fast growth as a worldwide group of companies!
Francisca Cateto
Marketing Manager at POYNTING
Why do Manufacturing Businesses love CRM inside Outlook?
Most people communicate with their customers using Microsoft Outlook. They do most of their work through emails. They use Outlook for managing contacts, planning meetings, and sometimes for keeping their TODO lists.
We at eWay-CRM want to take what you already work with and turn it into a fully-fledged CRM. Don't use something outside Outlook if you can have a CRM system that lives inside your Outlook!
ALL ABOUT A CUSTOMER RIGHT IN FRONT OF YOU
Select an email to get complete data about the person you are writing to. Refresh your memory by reviewing your past communications. Make sure you are not answering an email somebody else already answered.
Be effective.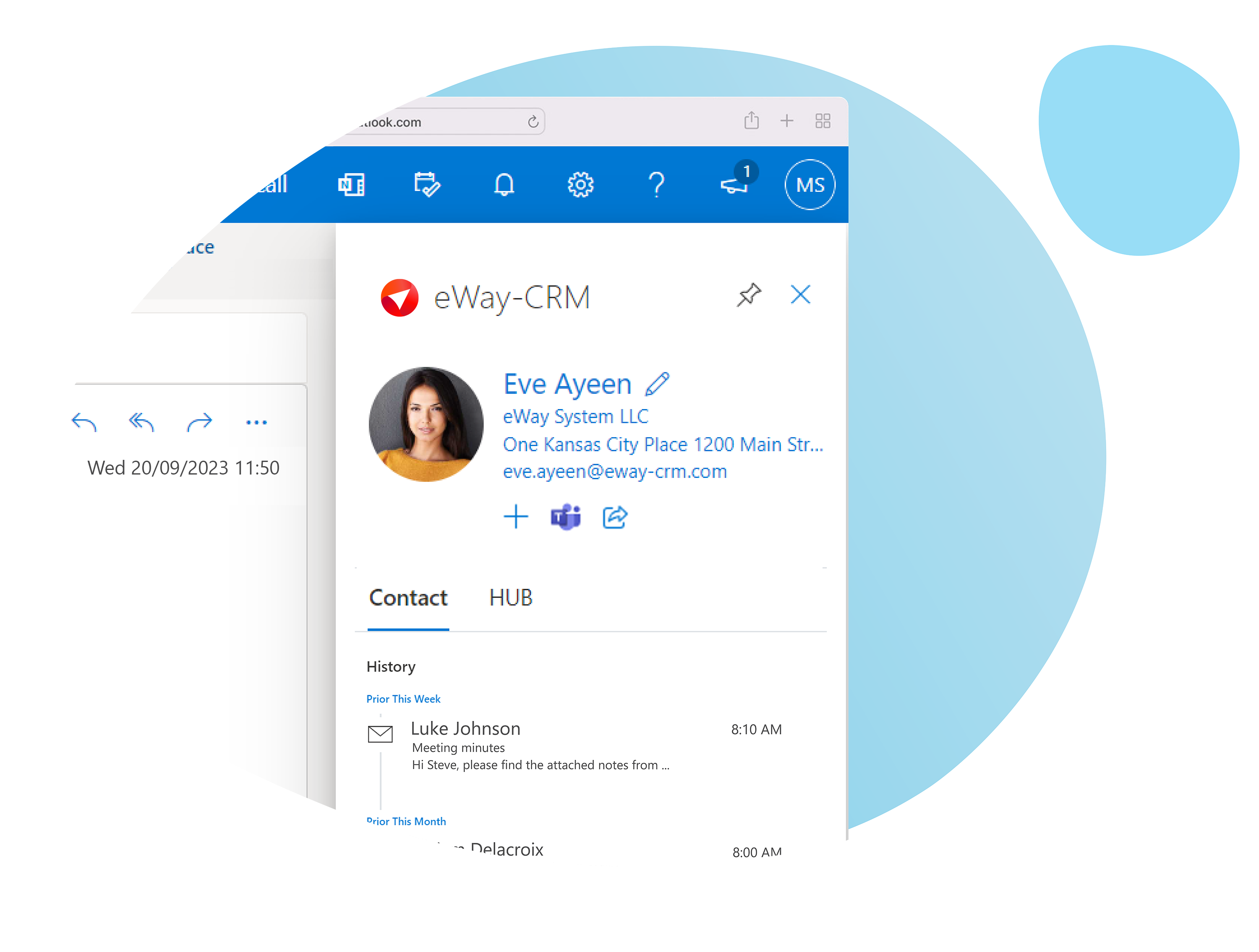 SAVE AND ORGANIZE EMAILS. IT'S REALLY EASY
Save emails to eWay-CRM (even on your cell phone) and organize them by deals or projects. It's just three clicks.
Even better. Activate the automatic email tracking and let eWay-CRM do it for you.
Can't be any simpler.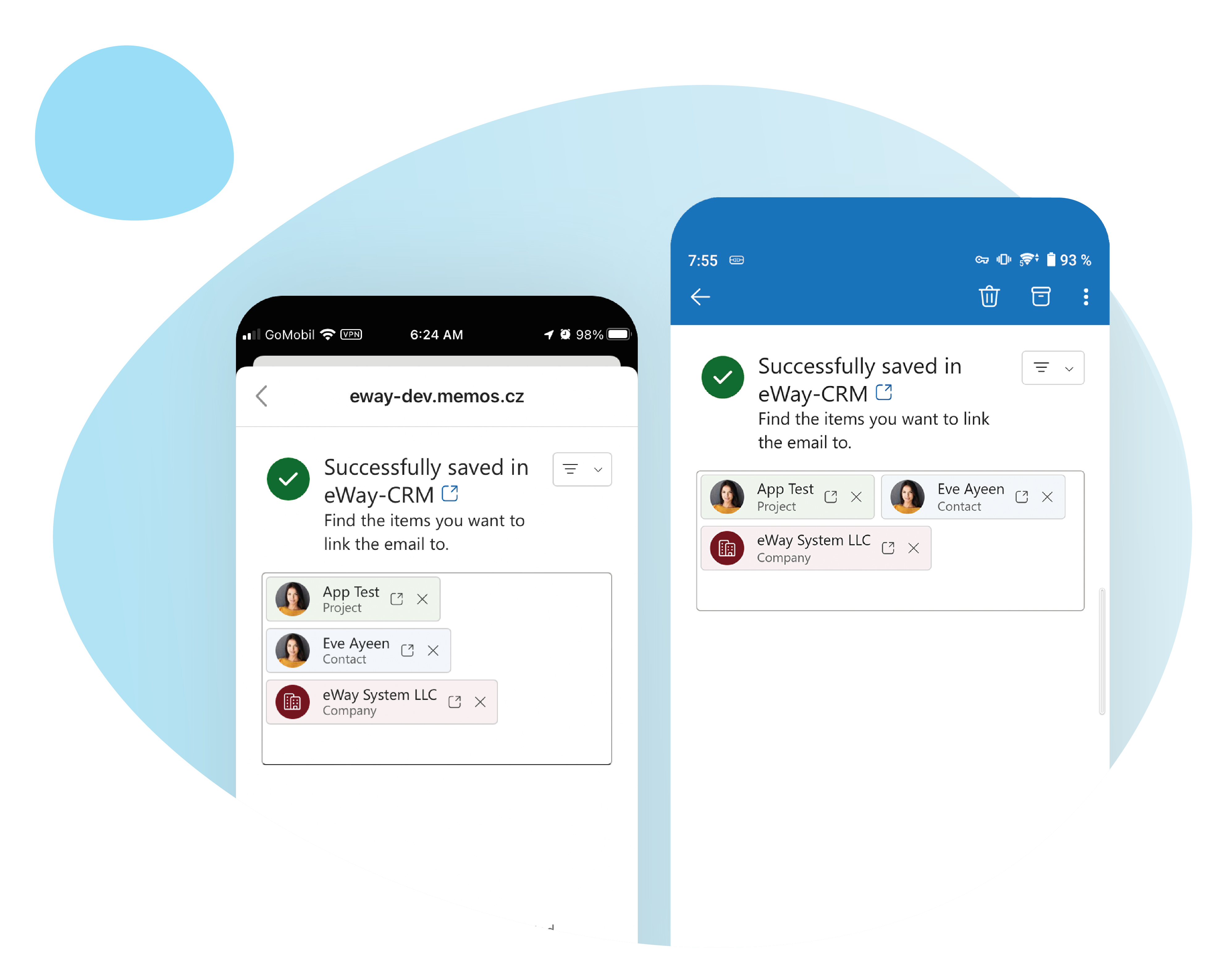 INTEGRATE YOUR CALENDAR
When planning a meeting, select a project or deal. The meeting will be automatically related to the item so everybody knows that you are about to talk to the customer.
Let others know you are already in charge.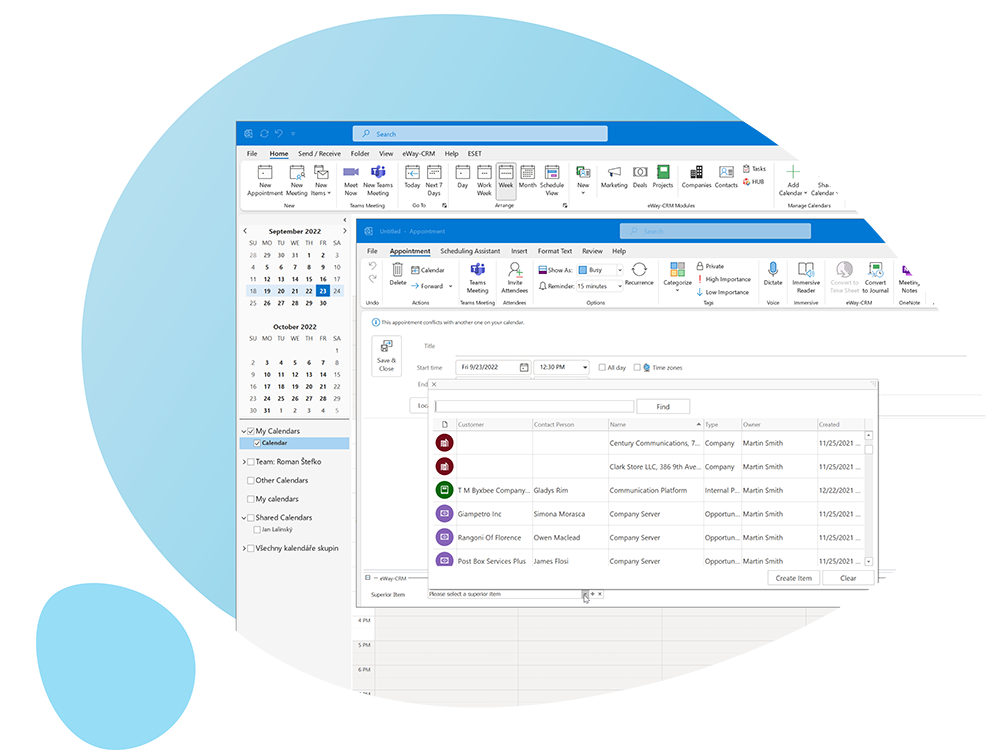 CONVERT EMAILS TO DEALS OR PROJECTS
Have you received a new inquiry? Convert it to a deal or project. eWay-CRM automatically fills in all the important fields and you can start working right away.
Don't retype anything manually.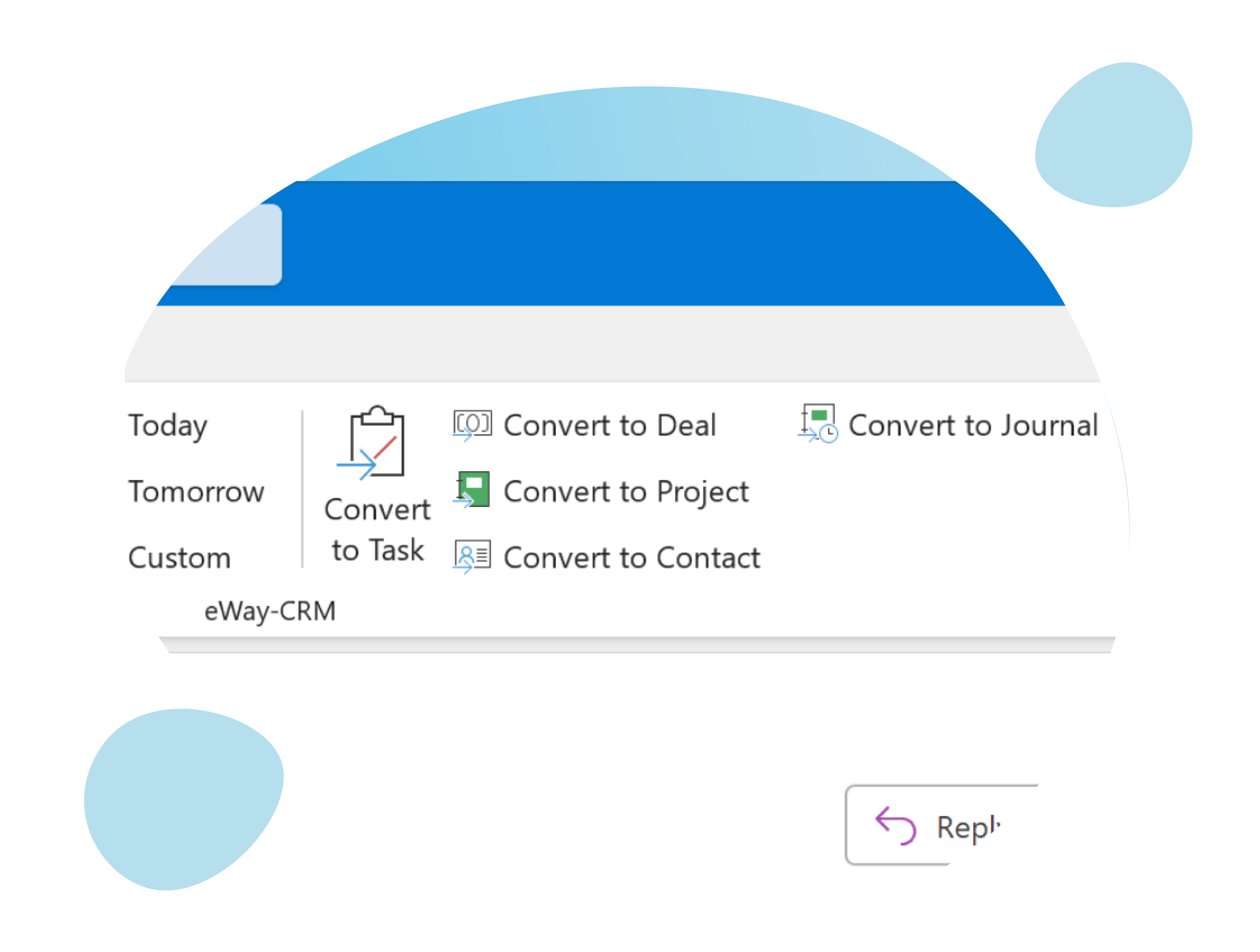 CHAT IN MICROSOFT TEAMS
Need to coordinate your steps with somebody who is not around? Click Chat in Teams and get connected.
eWay-CRM will automatically send a link to open the project so your colleague knows what you want to talk about.
Work smart.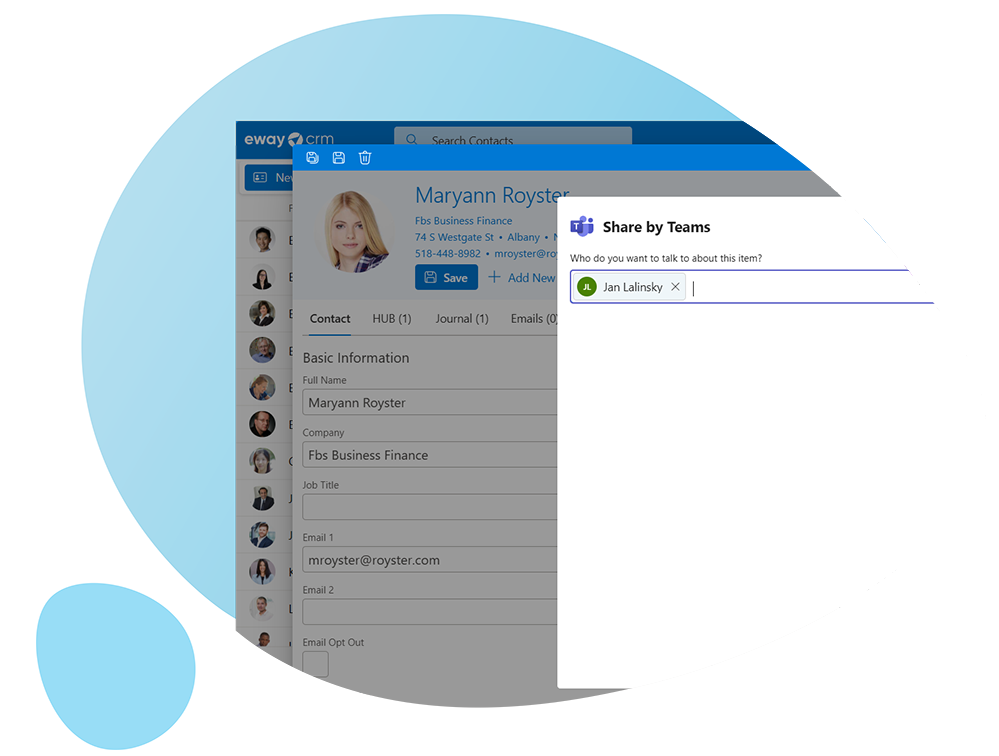 TWO-WAY CONTACT SYNC
Do you have contacts in Microsoft Outlook? Keep it that way.
Turn on the two-way sync with eWay-CRM so they can be available to the rest of your team. If someone updates a contact or adds a new one, the changes will be automatically synchronized with your Outlook.
AVAILABLE ANYWHERE AND ANYTIME
It doesn't matter if you are on a PC, Mac, or mobile. eWay-CRM works in any Outlook.
Activate eWay-CRM Desktop, eWay-CRM Online, and eWay-CRM Mobile. They are all included.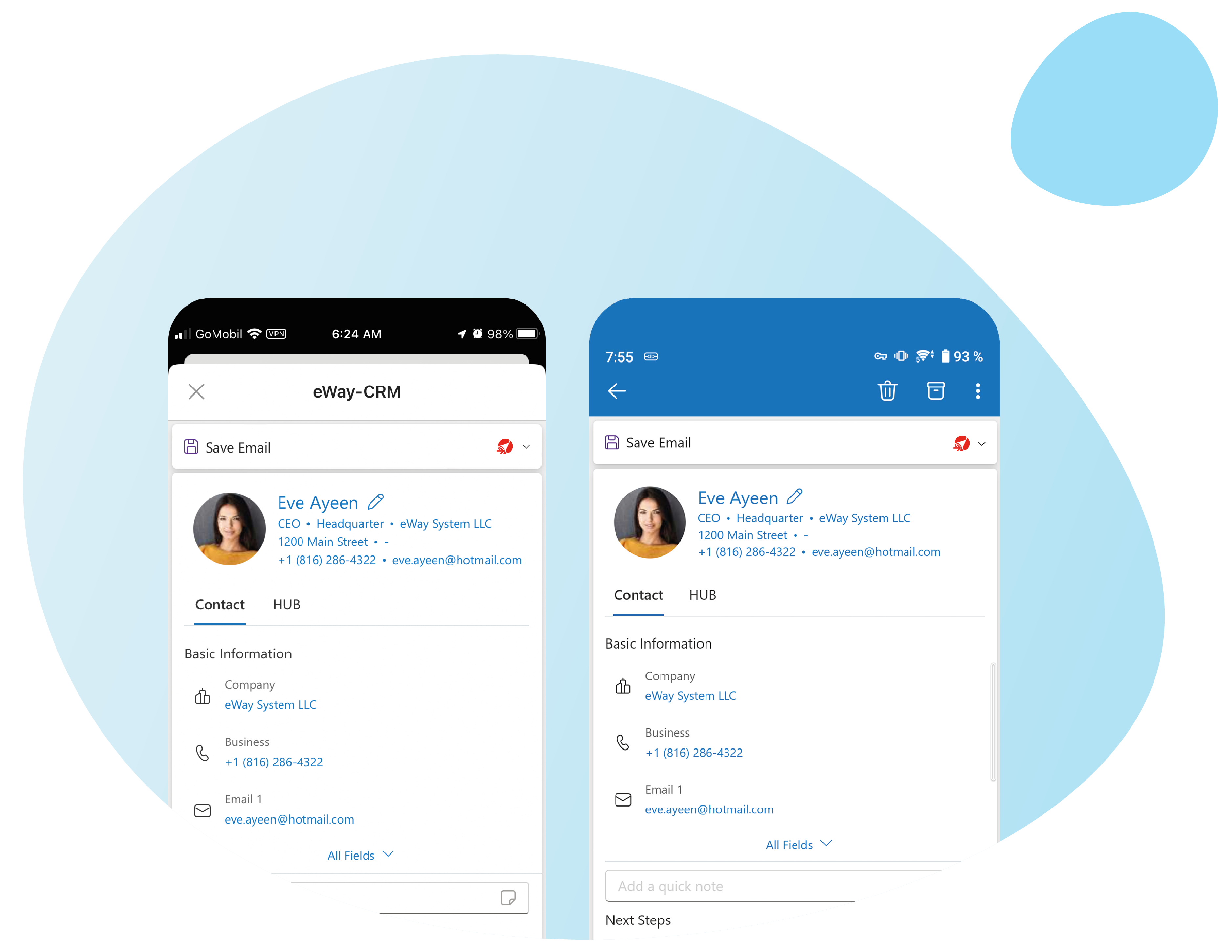 EWAY-CRM LOOKS AND WORKS EXACTLY LIKE OUTLOOK
eWay-CRM looks and works exactly like Microsoft Outlook. We don't want you to switch between apps, or learn a new interface. Just take what you already know and use it with eWay-CRM.
Be effective. With eWay-CRM.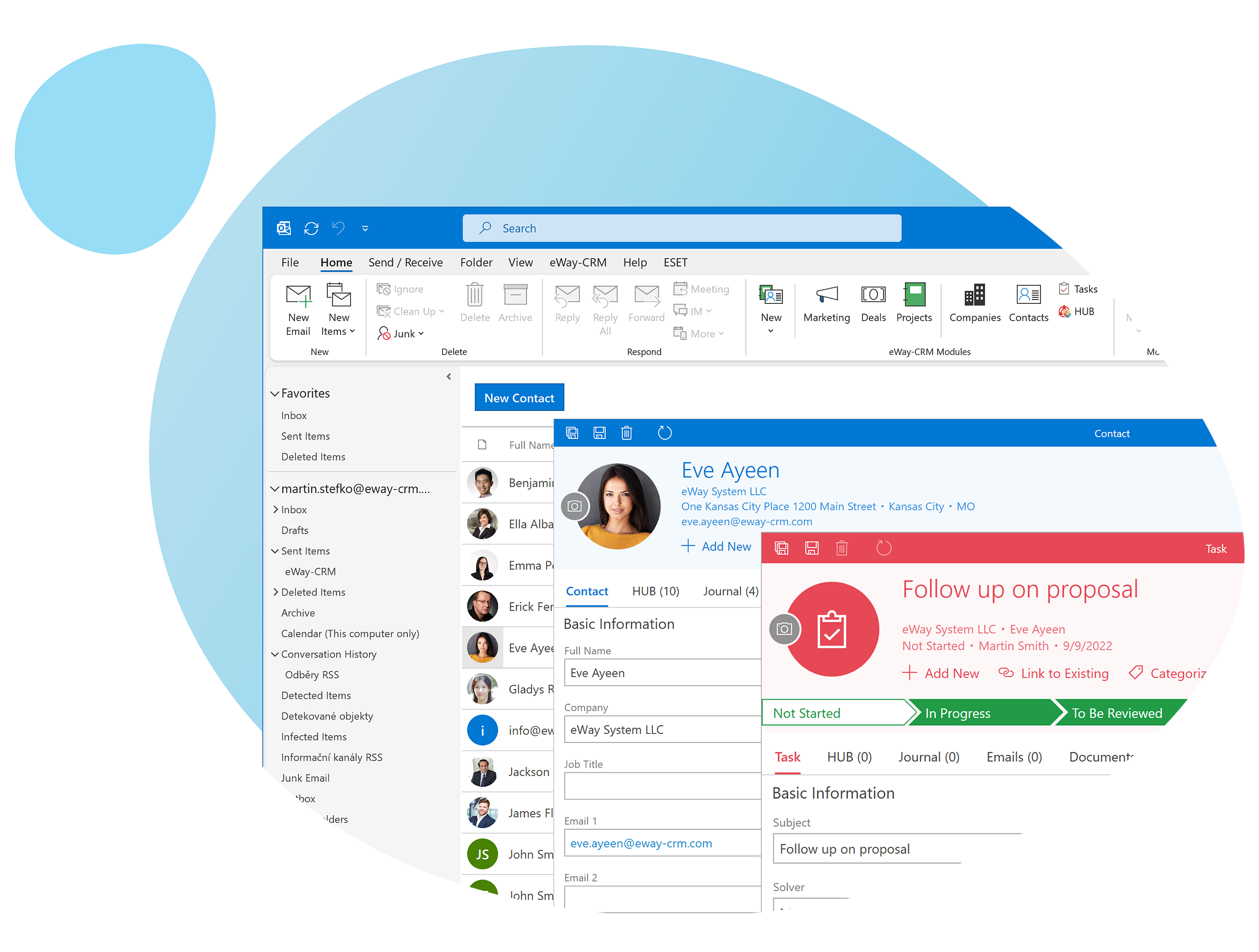 TRUSTED BY 1,500+ COMPANIES WITH OUTLOOK

HOW TO SET UP EWAY-CRM FOR CONSULTING BUSINESSES?
If you need the best CRM software for manufacturing companies, start with eWay-CRM Free or eWay-CRM Enterprise 14-day trial. You can choose the preferred version during the sign-up. When you create your account, follow these steps to set up eWay-CRM for you.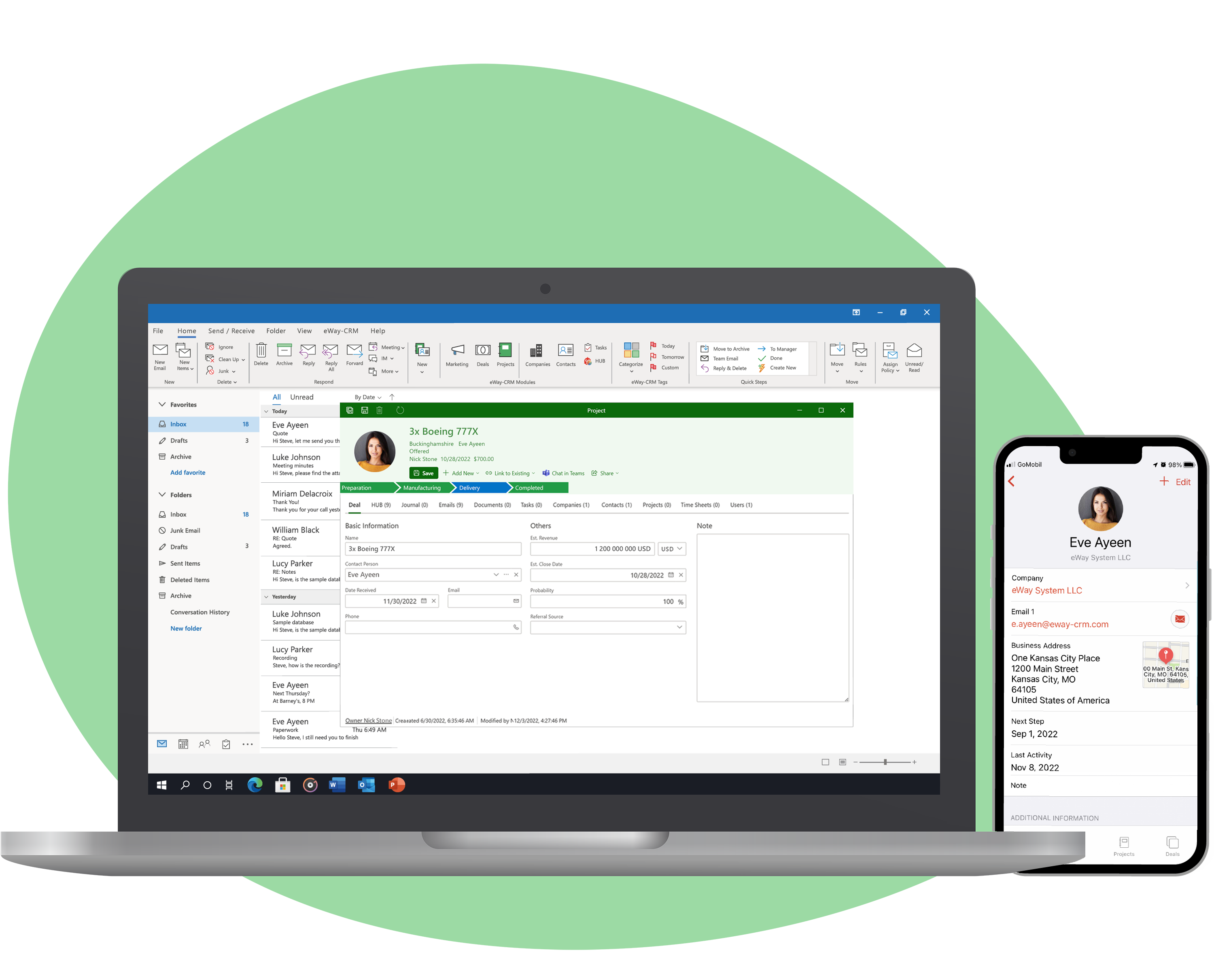 START WITH EWAY-CRM FREE
Click the button below to create an account for eWay-CRM. If you only have 30 min, book a demo with our consultants. They will take you through.