How to Set Up User Permissions
How to Start Using eWay-CRM » Administration / Customization » How to Set Up User Permissions
eWay-CRM offers flexible user permissions that allow you to restrict or limit access to any field or module for a specific user group.
Setting Up Permissions for Fields (Columns)
Select Column Permissions and a user group you want apply permissions for. If you want to change permissions for all groups of users, select System.

In the column Caption you will see all fields available for the selected module (including custom fields).

For each field you can select one of the following permission levels:
Users Hold Full Control Over This Column.
Users Hold Control Over Columns of Their Items.
Users See This Column But They Can't Edit Values.
Users Don't See This Column.
Users Don't See This Column nor Can Work With It.
Learn more about column permissions here.
Setting Up Permissions for Modules
For each row under the Module column you can select the folowing options:
For the View, Edit and Delete columns:
All Items
Items Related to My Projects, Deals, Companies and Contacts
Items From the Same Group as I Am
Items Related to Me (Note: You are either the owner or you are specified under User or Team tab)
Only My Items
No Items  (Note: In the View column it means to hide module completely)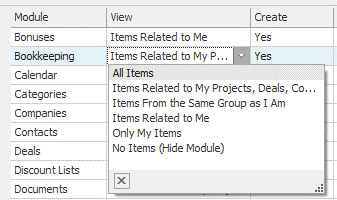 For Create and Export columns:

Learn more about module permissions here.
Do you have questions? Our consultants have answers.