How to Get Started with Tasks
To Build One Single Place for All Your Reminders
How to Start Using eWay-CRM » Tasks » How to Get Started with Tasks
Since eWay-CRM is a CRM for Microsoft Outlook, eWay-CRM tasks benefit from Outlook tasks. Everything you know about Outlook stays the same. But with eWay-CRM, you can do more. With eWay-CRM, you can assign tasks to projects, leads or customers, make them available to your team members and share notes and documents with them.
Contents
Task List
Tasks can be accessed from both eWay-CRM and from Microsoft Outlook. It depends on how you want to see them.
Tasks in Microsoft Outlook
Tasks in Microsoft Outlook give you the complete view of tasks you are interested in—you are a solver or a delegator. It is your complete TODO list.
To get it, click Task in the Menu bar of Microsoft Outlook (left button) to get a list of all tasks related to you. You can double-click on a task to see details or edit it. The list shows all tasks, even those that are not saved in eWay-CRM (your personal ones).
Tasks in eWay-CRM
With eWay-CRM, you can access the task list right from a dialog of any record (project, lead, company, etc). There, you will find tasks of all your team members associated with the particular item (tasks related to the very project, tasks related to the very company etc).

You can find out the subject, due date, delegator, solver and much more. To open the task, just double click on it.
Note that eWay-CRM allows you to customize task list in different ways:
Select and change columns, their order and size
Sort, filter and group items
Change user views, etc.
 Learn more about customization
here
.
Creating tasks
Creating a new task in Microsoft Outlook
In Microsoft Outlook, go to the Tasks module (left bottom menu).
Click the New Task button to create a new task. It will open the Task window.
Fill in all the necessary fields—Subject, Due Date. If you want to save the task in eWay-CRM, you have to choose Superior item. Superior item contains a list of companies, projects, leads, contacts, marketing campaigns and tasks from eWay-CRM. In case you leave the field empty the task will not be saved to eWay-CRM and will stay in Microsoft Outlook only. Nobody else but you will be able to access it.

As soon as you fill in all the required fields click Save and Close.
Creating a new task in eWay-CRM
Open a project or a company (i.e. the record which you want the task to be assigned to). Click Add relation with a new item and choose New task.

Fill in all the necessary fields—Subject, Due Date. Please notice the Superior item is already selected, therefore all tasks created from eWay-CRM go to eWay-CRM automatically and will appear in Microsoft Outlook, too.
Click Save and Close to save the record.
Alternative for experts: The option is also available in the context menu. Just right click to the blank space (as shown in the image below) to get the very same result.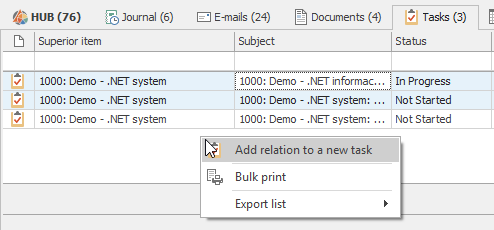 Task Assignment
Assigning tasks
If you want to delegate a task, click Assign Task in the Task detail dialog (as you are creating the task).

Type down an email address of the solver. The solver's email address has to be associated with a eWay-CRM user. Then, eWay-CRM will know who should be the new owner.
Click Send. This is different to making a task just for yourself. If you are sending a task to somebody else you have to click Send. In case you click Save and Close the task will not be assigned.
Note for experts #1: Make sure the option Keep an updated copy of this task on my task list is on. Otherwise, you will not be notified in case the new solver changes the task (new due date, task is marked as completed, etc.)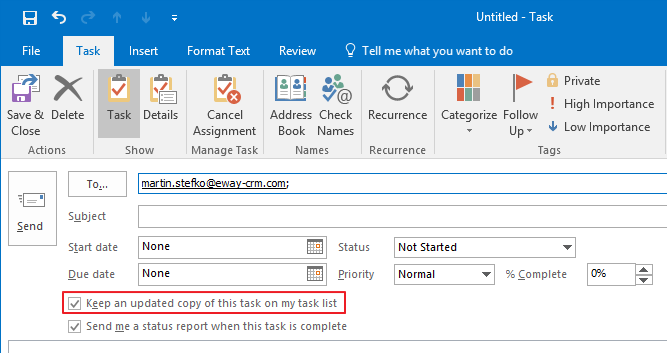 Note for experts #2: It's not recommended to assign a task to multiple users at once. The integration synchronization between eWay-CRM and Microsoft Outlook does not work well. One task should have only one solver.

Accepting/declining assigned tasks
If somebody else sends you a task you receive an email—Task request. You want to accept or decline it—do not delete it. Erasing of the message can set an incorrect status to the task.
Accept / decline the task right in the inbox


or by opening the task window (double-click the task message).

Once the solver accepts/declines the task an email notification is sent automatically to the delegator. If the solver declines the task, the delegator has to open the email about declining and click Return to Task List.
Note, that Microsoft Outlook has it's own limitations when IMAP protocol is used.
Forwarded tasks cannot be opened via IMAP.
The problem occurs when an assigned task is transferred from the solver to another user who is unable to open the task.
Restriction when using Microsoft Exchange with IMAP protocol
Sending tasks between a user with an MS Exchange account and a user with an IMAP account doesn't work. The task is delivered as an email message.
Synchronization with Microsoft Outlook
If you assign a superior item to an Outlook task, the task is saved to eWay-CRM, too. From that very moment it does not matter whether you work with the task through Microsoft Outlook or through eWay-CRM. Everything is automatically synchronized.In case you are looking at your TO-DO list in Microsoft Outlook you will probably want to see the associated Superior item, Company and Contact in the list.
Adding a column Company to the Microsoft Outlook tasks list
Right-click the name of any column in the Microsoft Outlook Task module and select View settings.


Choose Columns in the dialog window.

The Company column is marked as often used so you should see it under Frequently-used fields. Click Company in the list and then click the Add -> button. In the list on the right, you can determine what position you want this column to be placed on.

Confirm your choice with OK.
Now, the Company column is displayed in the Task list of Microsoft Outlook. If the task is shared with eWay-CRM, you will see the name of the company that was related to the task in eWay-CRM.
Adding columns Superior item and Contact to the Microsoft Outlook task list
Columns Superior item and Contact are user fields that you can enable in the similar way.
Repeat steps 1 and 2 from previous chapter.
In the Select available columns from: field, go to the User-defined fields in folder.


In the new list, select Superior item (eWay-CRM) and Contact (eWay-CRM) a click Add-> to move it to the right list. In the right list, you can determine the position you want these columns to be placed on.

Confirm your choice.
Now, the Superior item (eWay-CRM) and Contact (eWay-CRM) columns are displayed in the Task list of Microsoft Outlook. If the task is shared with eWay-CRM, you will see the name of the superior item and contact that were related to the task in eWay-CRM.
Attach Communications / Documents to an Existing Task
In case you want to share communications / documents on a task with your colleagues.
Open a task
In the bottom section, click on the tab

Journal to add a note, telephone call or a meeting minute.
Document to add a file.

In the Task ribbon, click on New journal / New document.
Fill on the record (click here to find out more about how to create a new journal or here to find out how to attach a document).
Save the task.
Now, if anybody opens the task he/she will see the communications / documents related to the task.
Do you have questions? Our consultants have answers.