How to Get Started with Leads
How to Start Using eWay-CRM » Leads » How to Get Started with Leads
If you need to track business opportunities or potential customers Leads is the right module for you. There, you can store all communications and documents related to the particular opportunity or plan follow-up tasks.
Contents
How to Filter Just Your Leads
Click the Leads icon on the eWay-CRM toolbar to open a list of all Leads that are saved in eWay-CRM.

You can filter data, modify columns or manage custom views. Let's say you want to find leads where you are specified as the owner. To do that, find the Owner column. Write your name in the search field to see your own leads only.
Similarly, you can filter items according to other columns. Learn more at https://kb.eway-crm.com/documentation/3-description/3-2-main-list
How to Create Leads
There are two major ways how to create leads in eWay-CRM: manually and from e-mails.
Manually
You may want to create a lead manually during a phone call or during a meeting with a customer.
Click New on the eWay-CRM ribbon and select Lead.

Fill in the most important information – lead name, customer (company), contact person, email, phone. Learn more about all fields available at Leads module Introduction.
Click Save.
From Emails
Right-click an email in your Microsoft Outlook and select Convert to lead.


Or open an email and click Convert to lead in the top right part of the email window.

eWay-CRM will try to find a contact with the same email address that sent you the email. If it is found, both contact and company will be automatically pre-filled in the lead.
If such a contact or company doesn't exist in the database, eWay-CRM will try to get the information out of the email address ([email protected]).

Name – email subject.
Customer – the domain name (Eway-crm).
Contact person – sender of the email (Elena Sozinova).
Contact email – email address ([email protected]).

The company and contact will be saved as text. You can put them to eWay-CRM database at any time by clicking "+" near to Customer and Contact person.
Alternatives for experts: You can also import your leads from an Excel file or integrate eWay-CRM with your website so that potential customers will appear in eWay-CRM automatically after completing a contact form.
How to Attach Task / Document / Journal to a Lead
Attaching Journals to a Lead
Open the lead.
Click Add relation with a new item.
Select New journal.

Fill in the Title and Type. You may also want to write couple of sentences that came out of the meeting / phone call. For that, you can use the Note field. As soon as you are ready hit Save.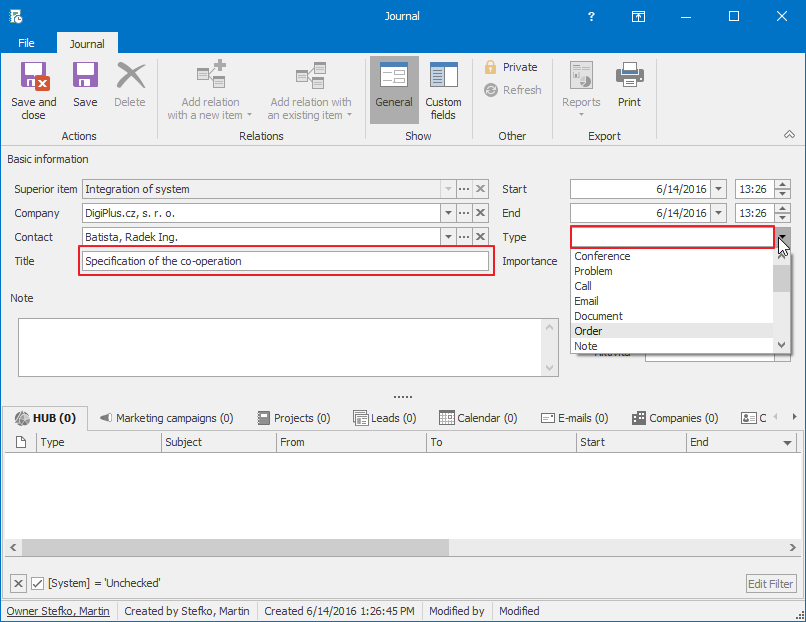 Attaching Tasks to a Lead
Open the lead.
Click Add relation with a new item.
Select New task.

Specify at least the Subject, Due Date and click Save.

Attaching a Document to a lead
Open the lead.
Click Add relation with a new item.
Select New document.

Specify the name and type of the document and click Save.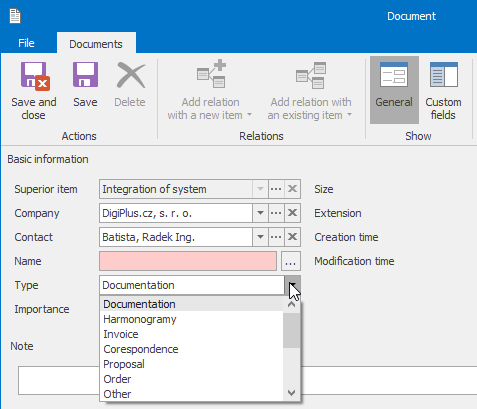 Alternative for experts: You can drag-and-drop one or more documents right into the lead window under the Documents tab

How to Change a Lead Status
In the top part of the Lead window, you can find the Workflow panel that contains a predefined list of statuses available in your eWay-CRM.

Based on the current settings, the green statuses represents phases where you can move the lead to. Gray statuses mean that you can't go there yet.

Click on any green status where you want to move (status turns white) and hit the Save button. The status will become blue (this is the current stage) and next statuses will be activated automatically (become green).

Confirm by clicking the Save button.
How to Convert a Lead to a Project
Some companies need to track projects/jobs/implementation after the contract is signed. eWay-CRM has the Project module
Click on the status Converted to project in the Workflow panel.

Small dialog will appear – click Yes.
eWay-CRM will automatically
Create a new project.
Move the communication history from lead to the project.
Change the status of the lead as Converted to project.
Depending on your use case, you can convert lead into a project, company and/or contact or leave it as is. Learn more.
Do you have questions? Our consultants have answers.