How to Get Started with eWay-CRM
Get Familiar with eWay-CRM Fast
How to Start Using eWay-CRM » Getting Started » How to Get Started with eWay-CRM
Contents
eWay-CRM is a CRM (Customer relationship management) tool for Outlook. It helps manage Customers, Leads, Projects and contains a professional marketing module. With eWay-CRM, you can share emails, tasks, calendar, contacts, documents and other information across your organization. Outlook transforms into your one-stop shop for all of your CRM needs.
First Look
Once you have installed eWay-CRM, run Microsoft Outlook and you will see the new tab named eWay-CRM on the Microsoft Outlook ribbon.

Also, in the Microsoft Windows system tray area, a new icon will appear–eWay Agent.

The icon's color changes based on the status of eWay-CRM synchronization.
| | |
| --- | --- |
| | All items are synchronized. Displayed data are accurate. |
| | The synchronization of items with the server is running or eWay-CRM is just now connecting to the server. |
| | The connection to the server is not available at this time – as soon as connection is restored, synchronization will run automatically. |
| | eWay-CRM is offline at the moment – you can cancel this setting by right-clicking the eWay Agent icon and cancelling the Work offline option. This mode allows you to work with your data even without connection to the internet or to the server. |
Where else you can find eWay-CRM
eWay-CRM can be found everywhere across your Outlook as well as in your Microsoft Word and Excel programs.
Integration with Outlook Emails
Right click on an incoming email. You will find four new options: Save to eWay-CRM, Save attachments to eWay-CRM, Convert to lead and Convert to contact.


Open an email, you will find new buttons for these options there as well.
Notice that at the bottom part of your emails a small toolbar—Superior item —will appear. It will allow you to link emails to leads or projects
Integration with Outlook Calendar
You can convert a calendar event to work report (timesheets) or to journal and tie it with a contact, company, lead or project.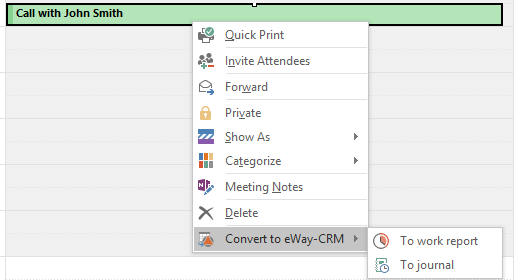 Integration with Outlook Contacts
In your Outlook contacts you can find three new buttons: Save to eWay-CRM, Synchronize with eWay-CRM and Open in eWay-CRM.

Integration with Outlook Tasks
eWay-CRM is integrated with tasks in Outlook. Tasks created in eWay-CRM will automatically appear in the task list in Outlook. Note two new buttons at the top right corner—New … and Existing… (the name depends on what tab you clicked on in the bottom part of the task window).
The bottom part will allow you to link a particular task to any other item in the eWay-CRM.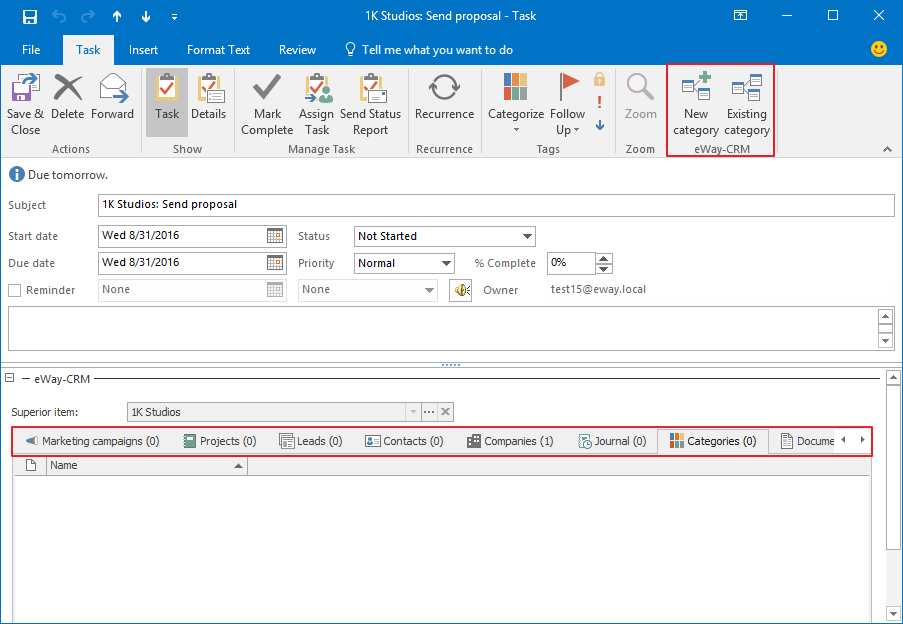 Integration with Microsoft Word / Excel
eWay-CRM integrates with Microsoft Word and Microsoft Excel. Pay attention to a new button: Save to eWay-CRM in an open file.

Modules
eWay-CRM has various modules to meet a wide range of requirements, but we recommend that you pay attention to the most popular modules first:
Companies and Contacts are usually used for existing clients and partners.
The Leads module is used for opportunities and allows you to move your leads through your sales pipeline from initial contacts to closed deals. Leads can be converted into Projects, Companies and Contacts.
The module Project can be used by those companies who have to deliver/implement/produce, etc. after a sale as opposed to those companies who sell turnkey products.
The Marketing module makes it possible to send personalized bulk emails to either leads or existing customers and collect response statistics.

Have a look at the schemes and descriptions below and decide for yourself which of them is the closest one to your business model.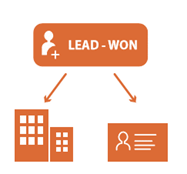 You have a relatively long sales cycle and need to move your opportunities through the sales pipeline while also differentiating opportunities by stages. Once you win a deal, you convert a lead into a new customer. If you don't win a lead, you mark it as closed lost. In eWay-CRM, you need to use the Leads module to track prospects/opportunities and all related communication. The lead workflow allows for converting leads into companies and contacts.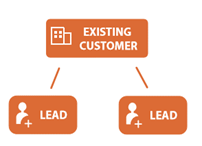 You have a number of existing customers and sell them your products/services repetitively. At the same time, each new deal may take some time and you need to follow certain steps to close it. In eWay-CRM, you can create/import companies and contacts in the first place and link new leads (opportunities) as soon as they turn up.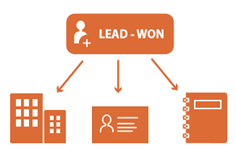 You have a relatevely long sales cycle and once you win a business, you need to deliver your products/services step-by-step. As in the first scenario, you need to use the Leads module to track prospects/opportunities and in addition to companies and contacts create projects while converting leads.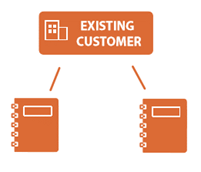 You have repetitve projects with existing customers with a relatively long delivery cycle. In eWay-CRM, you may want to create/import companies and clients first and create projects down the road right on the company or contact cards.
These scenarios are the most popular ones, but you are free to set up relations between items as you wish depending on your needs and preferences.
List of Items
Once you click on a module, you will see the list of items (provided that you have uploaded sample data or created your own items).

It has the look and flexibility of a spreadsheet. You can add and remove columns, filter and group data or create advanced filters. Once you created a custom layout, you can save it for future use. Learn more here.
eWay-CRM also allows you to use conditional formatting similar to Microsoft Excel. Colors, icons, data bars and color scales will make your data even more well-arranged.
Item Card
Each item card has sections for basic, contact and additional information as well as a special panel for collecting of history records. Let's have a look at the lead item card.
Add relation with a new/existing item buttons at the top of each item card allow you to make relations with new records/items (emails, tasks, notes, etc.) or already saved in eWay-CRM before.
Basic information such as names and contact persons.
Contact information.
Additional information.
Notes fields can be used for general or most important information you always want to keep an eye on.
You can create unlimited number of custom fields. Some of them will be displayed right here. If there are many custom fields, they can be found on the special "Custom fields" layout. Learn more about custom fields here.
All activities related to this specific items will be displayed under the special panel with tabs.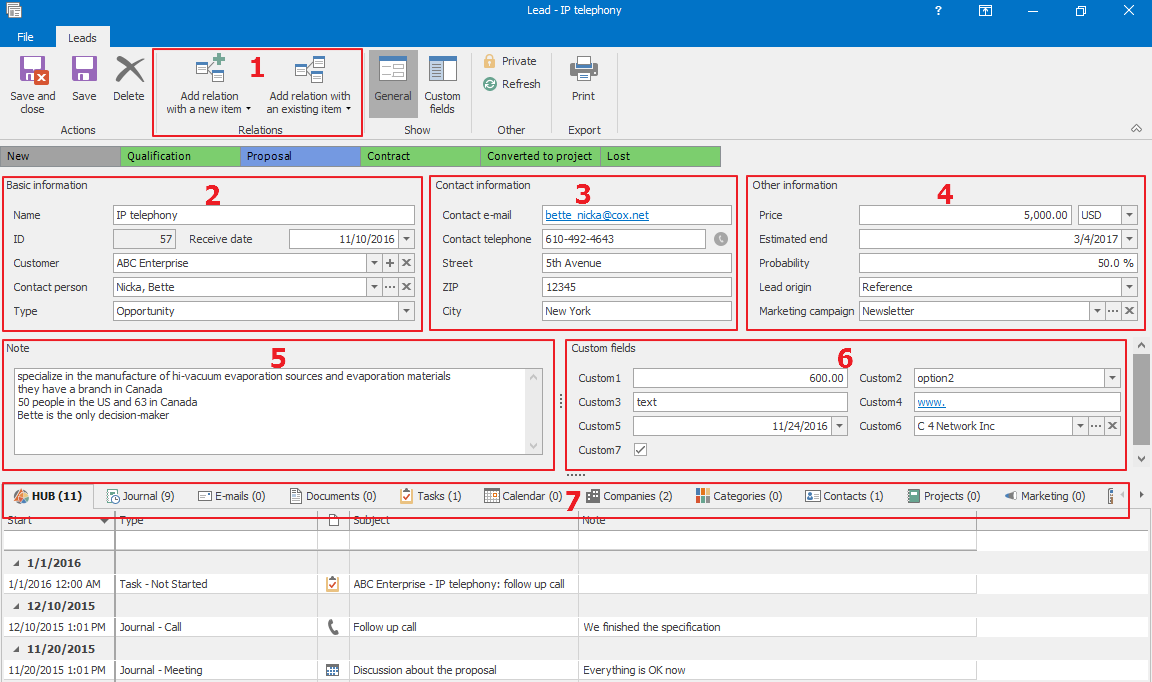 Data Entry
There are different ways for you to put data into eWay-CRM. You can:
Import your Microsoft Outlook contacts into eWay-CRM,
Upload sample data during the installation*.
While saving emails and documents, eWay-CRM copies items into the shared database hosted in eWay-CRM Cloud or on your server. In this case, data stays in the database even if you delete it from your local computers or deactivate Outlook accounts.
* You can delete sample data manually. For that, just select the rows in each module using Ctrl+A, right click on them and choose Delete. Alternatively, contact us at [email protected] and we will delete data for you.
Settings
eWay-CRM offer two types of settings – eWay-CRM Settings (applies to a particular user only) and Administration Settings (applies to all users).
Users have options to synchronize contacts in Outlook with eWay-CRM and automatically save emails from/to contacts.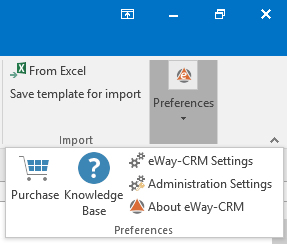 Administrator has a full control over eWay-CRM account and can create users accounts and set up permissions, create custom fields and categories, customize drop-down menus, create new workflows and much more.
Do you have questions? Our consultants have answers.