How to Create New Tasks
Make one single TODO list for yourself in eWay-CRM
How to Start Using eWay-CRM » Tasks » How to Create New Tasks
eWay-CRM is closely integrated with the Task module in Microsoft Outlook. You can either
create tasks right in eWay-CRM or
create tasks in Outlook first and link them to eWay-CRM items.
Tasks will appear in both eWay-CRM and the to-do list in Outlook and will be automatically synchronized.
In eWay-CRM, tasks can be found on item cards under the Tasks tab.

Creating New Task in eWay-CRM
Click Save and Close to save the record.
Creating New Task in Microsoft Outlook
In the Task window, fll in all the necessary fields—Subject, Start date, Due date, etc.

Choose Superior Item (company, project, deal, contact, etc.) in the bottom part of the window. In case you leave the field empty the task will not be saved to eWay-CRM and will stay in Microsoft Outlook only.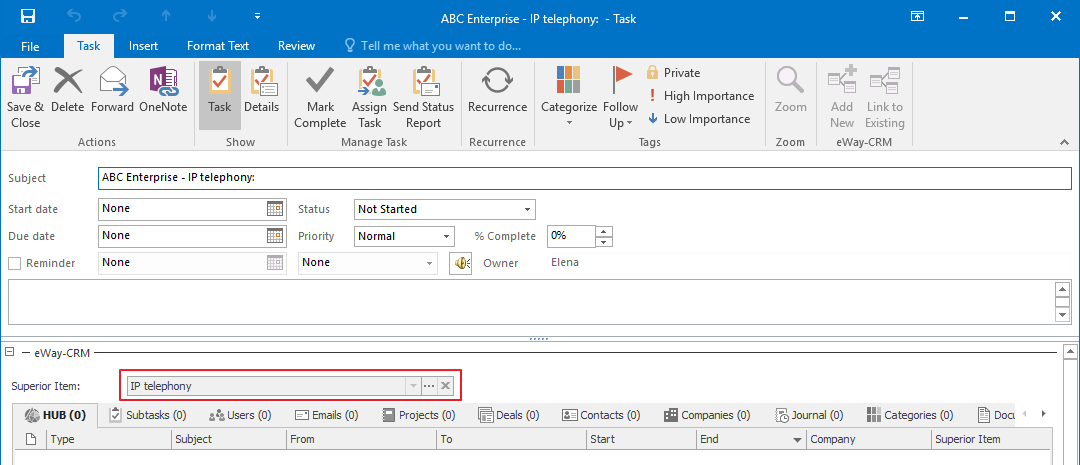 As soon as you fill in all the required fields click Save and Close.
Do you have questions? Our consultants have answers.