How to Add a Journal in eWay-CRM Mobile
Jot down notes on the go
How to Start Using eWay-CRM » eWay-CRM Mobile » How to Add a Journal in eWay-CRM Mobile
Option 1.
Open a record (contact, company, lead or project) and click on the plus sign in the bottom right corner.
Option 2.
After an incoming call (as well as after an outgoing call, if a recipient answered the phone) eWay-CRM will try to find the phone number in the database. If there is no contact with such a phone number, eWay-CRM will search among Companies and, finally, among Leads.
You will see a notification asking you to create a Journal.
Tap CREATE JOURNAL and follow the instructions above.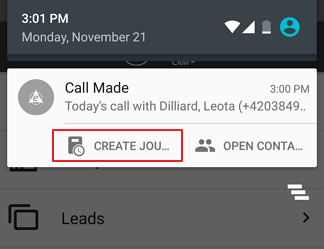 If you need to edit or delete a journal, you can do it on your computer or tablet within the eWay-CRM Outlook plug-in.
Do you have questions? Our consultants have answers.