Integrate DocuSign and Adobe Sign with CRM and Make Signing Your Documents Easy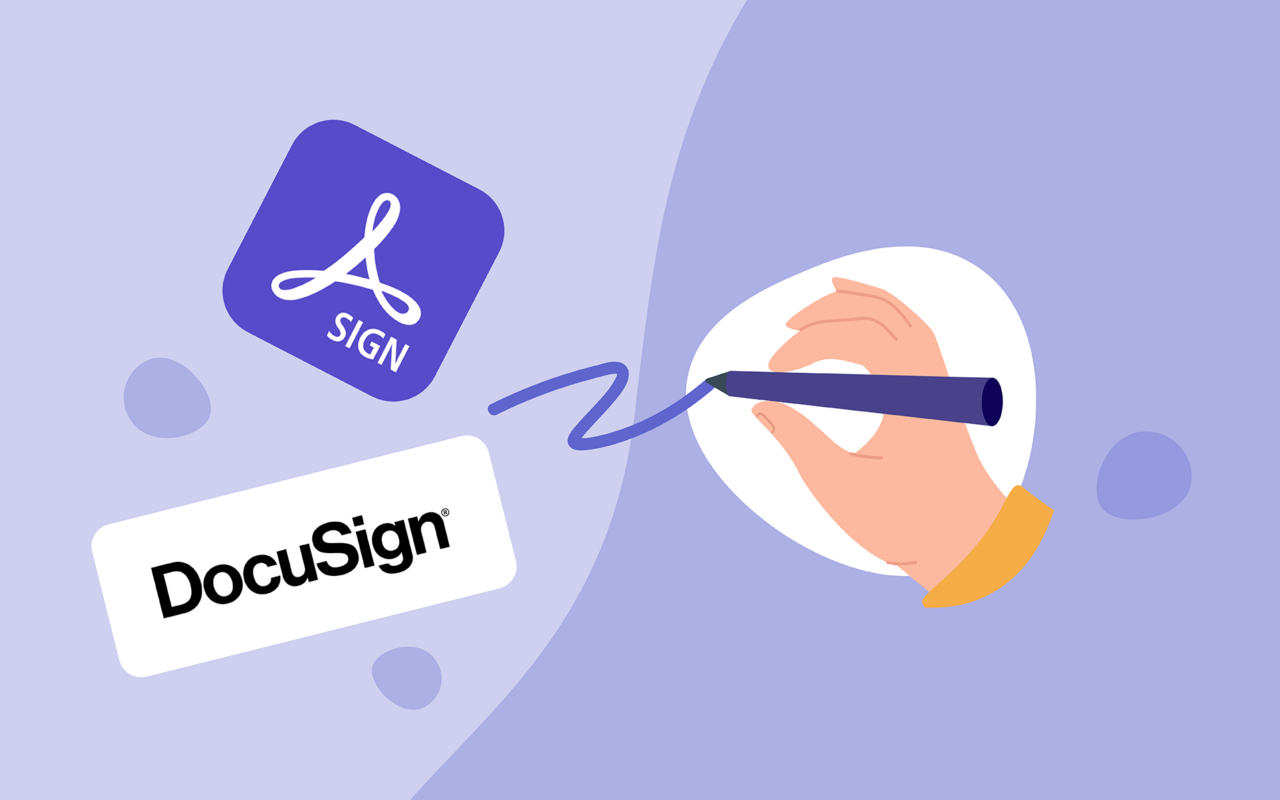 Does it take too long for your customers to send you back documents properly signed? Sure it does. They need to read it, print it, sign it, scan it and then send it back. It's no wonder they are putting it on hold. Yet there are solutions that make it easier for you and your clients to sign digital documents.
Your CRM generates many types of documents that require the signature of both sides - contracts, acceptance protocols, or project assignments. Sending each other documents by post is old-fashioned nowadays, but is the electronic way more convenient?
Thankfully, printing and scanning document is no longer necessary. It's difficult for clients to find the time to sign, and it ends up holding you back perhaps even more. Consider how you organize your documents, how often you send out reminders, how many deadlines you carry around in your head, and how many projects are waiting for one signature.
Efficient ways of digital document signing are already available to even the smallest companies or freelancers. You can try Adobe Acrobat Sign or DocuSign. Let's see how it makes signing documents easier.
Benefits of Adobe Sign or DocuSign
Signing documents digitally with Adobe Sign, DocuSign, or other similar applications is not only more convenient, but it also brings a number of other benefits:
Two-way control over document content
Do you ever worry that in a multi-page printed document, someone may switch pages without the signature? Or do you have a problem completing a document when a client emails you only the last page that was signed in a different format than the one you sent them?
Apps such as Adobe Sign or Docusign have a huge advantage for both parties as the document is always signed in full and no further changes can be made to the document after signing.
An e-signature app saves you two of your most valuable commodities - time and money. The first thing most of us probably think of is saving money on paper, shipping costs, or saved storage space. But you can also use the time spent reminding clients who can't find the time to print and scan a document.
In the distant past, ecology would only rarely have played a role in the decision to purchase a corporate tool. But today, most companies are not indifferent to the fact that by reducing the amount of paper they use, they can stop contributing to the huge amount of paper waste.
Do you know why it's better to sign for the courier's receipt at the mobile terminal? The advantage is not only in the paper saving. As soon as the client signs the document, a confirmation arrives within moments, and the signed document is sent to the supplier at the same moment. And Adobe Sign works the same way.
Your client doesn't have to print, scan or send anything. You don't have to deal with incomplete documents, scan quality, or reminding your client. It's convenient for both sides, plus you will look professional. We have a win-win situation.
Document management
Do you know what it's like when a document comes to you personally, and then you have to forward it to others in the company? Let's take a look at a solution that makes sharing signed documents easier.
If you use a CRM system in your company, you will find it easier to manage and share documents. In CRM, you can save documents for individual customers, business opportunities, or projects, which can then be accessed by everyone in the company who needs them.
How electronic document signing and sharing works
What will we need to simplify the signing of electronic documents? Adobe Sign (or Docusign), eWay-CRM and Microsoft Word. And the following guidelines:
1. To sign our first document, we will first install the Adobe Sign add-in into Word. So, open any Word document, click Insert and Get Add-ins. In the opened window, search for Adobe Sign add-in and click Add.

2. The add-in will now appears active in your Word. If you don't already have an Adobe account, create one and let's get started.
3. In eWay-CRM, generate the document you need to sign. If you right-click on the project and go to Export to Word, you can select, for example, Acceptance protocol.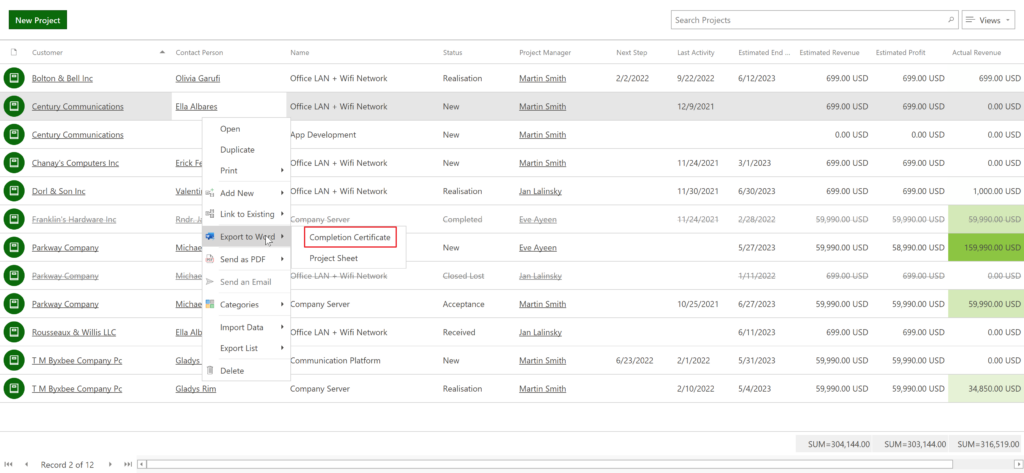 4. To use the Adobe Sign add-in, first save the document in "*.docx" format. Then select Send for signature on the Home Next, in the window on the right, type the email address of the person you want to sign the document from in the Recipient field and click Continue.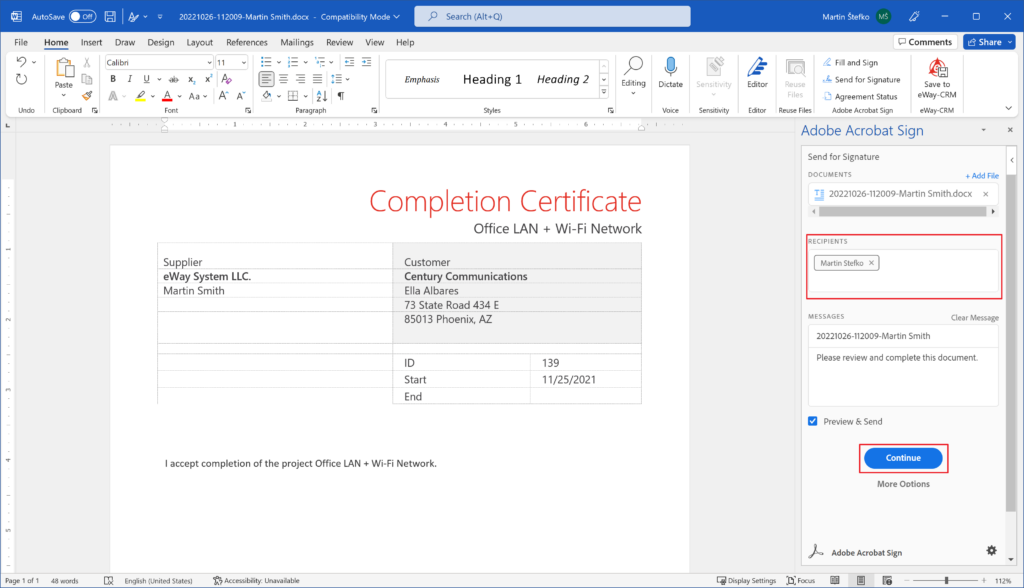 5. In the meantime, a new window will open where you can grab the Signature field on the right and drag it to any location in the document. When you're done, click Send. A copy of the document will also be emailed to you as you sent it to the client for signature.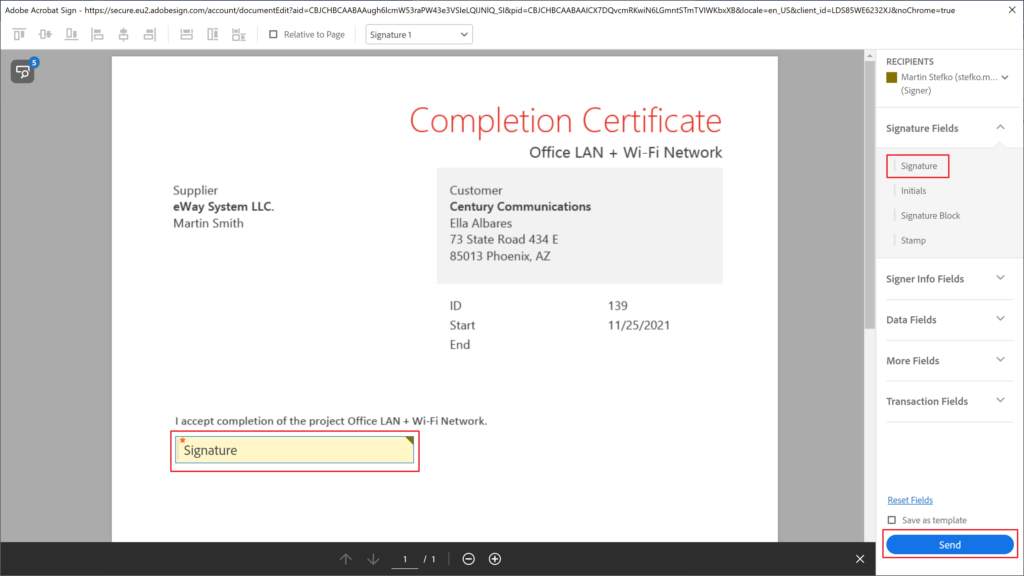 6. In the next step, the recipient will receive an email with instructions and a document to sign (no registration required). All they need is to click on the document, select the type of signature and confirm it.
7. Shortly after signing, an email will appear in your inbox with the completed PDF document. Just right-click on the email and select Save Attachments to eWay-CRM. A new window will open where you just confirm the save by clicking Yes.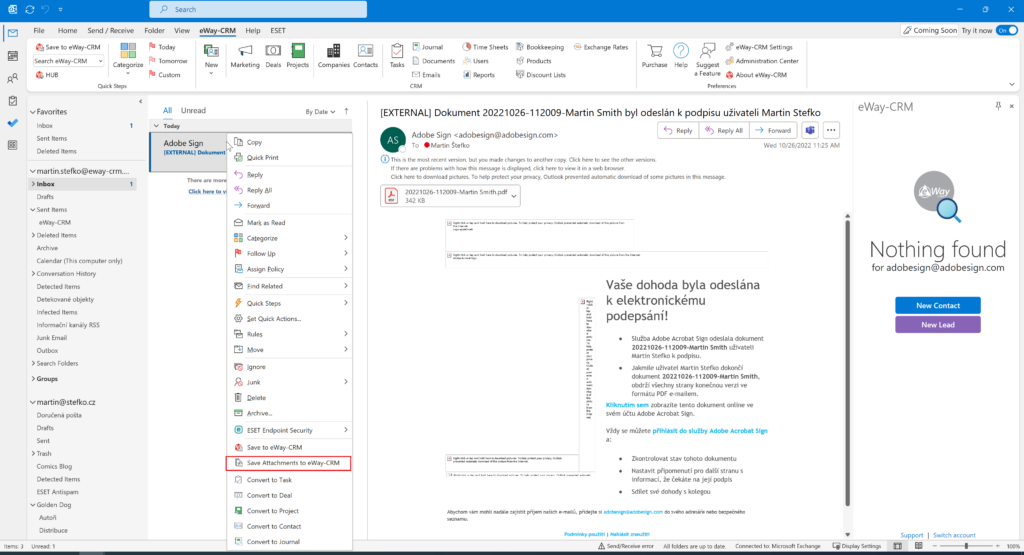 8. You will now open the document tab directly in eWay-CRM. As a final step, select the relevant project to which the signed document should be saved. Click on Superior Item, select the project and save the document.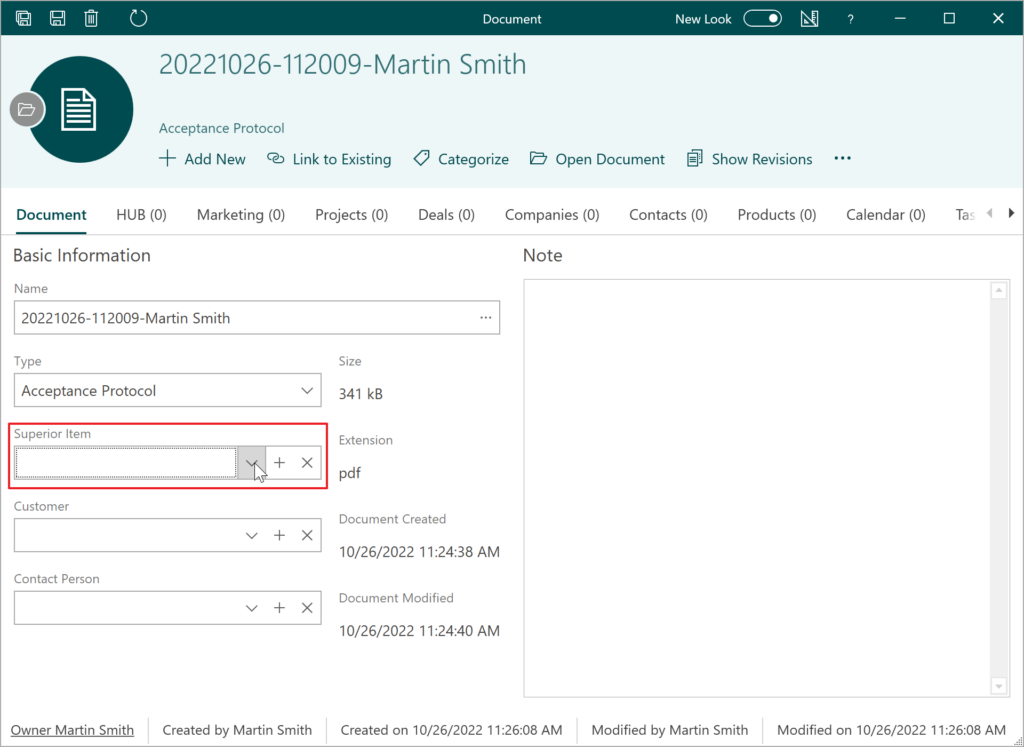 9. In the Project card, you will see this attached and signed document from the client in the Documents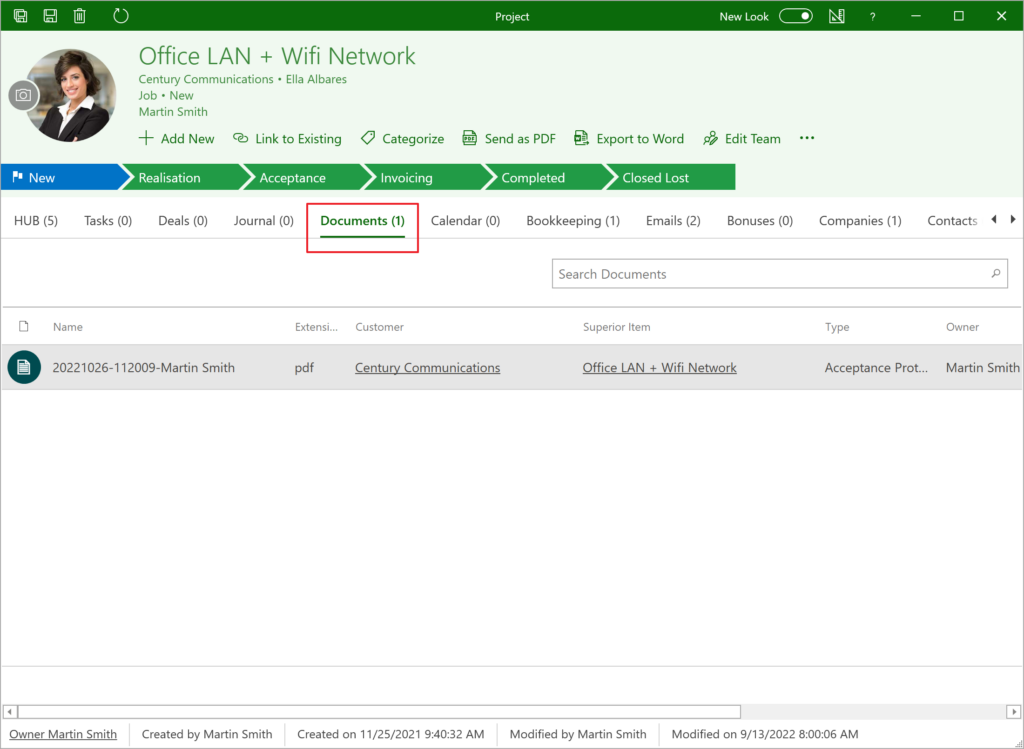 For those who prefer video tutorial
Would you like to streamline your document management? Contact us.
We'll help you get your templates ready for Adobe Sign.