Turn Your Webchats to Business Deals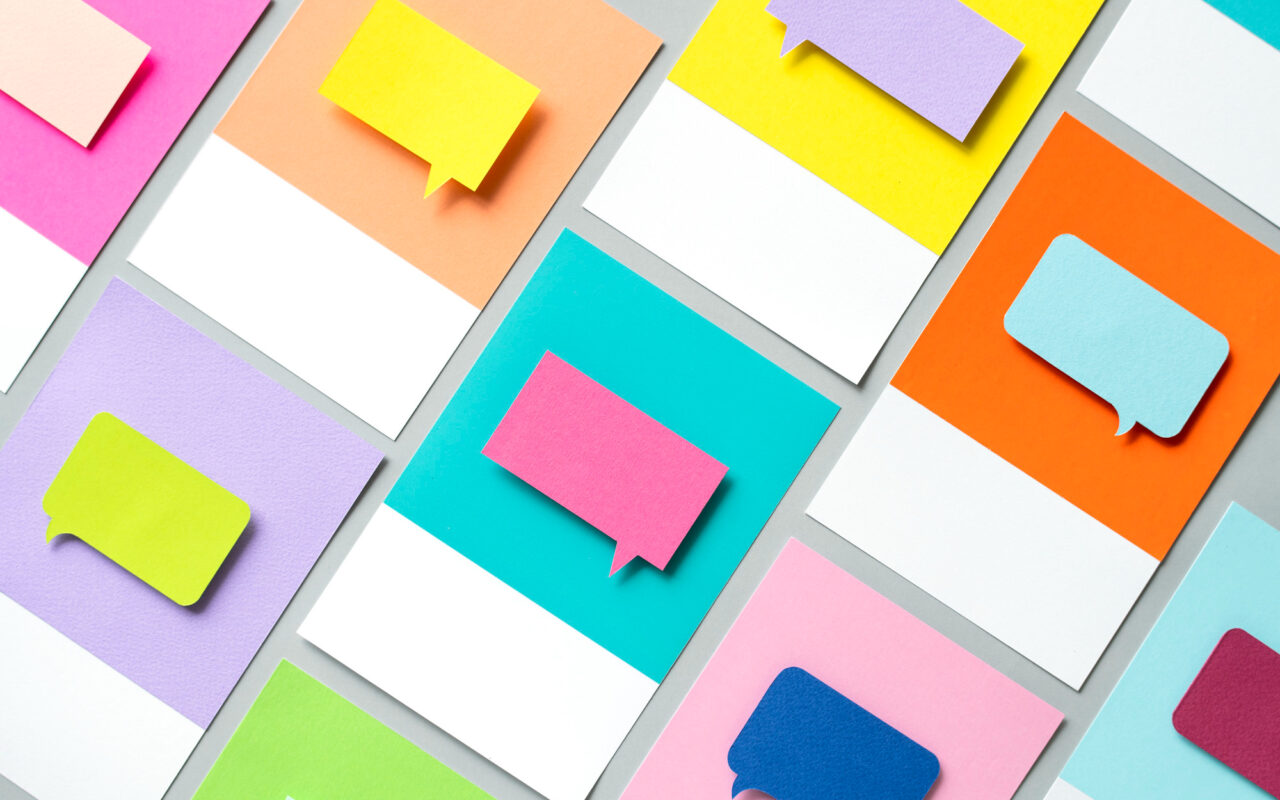 When a potential customer appears on the website, chatbox is the easiest way to communicate with them immediately and keep them interested. But the end of a chat with a customer isn't always the end of a business opportunity. It is important to follow up on the communication and make sure that the client has everything they need to complete the order, and a CRM system is perfect for this. So, let's see how connecting a webchat app and a CRM system can help you.
Webchats are becoming more widespread and increasingly popular among customers. This trend should continue to grow. And it's no wonder, customers can receive an answer to their question in the chat much quicker, often in a matter of seconds. In addition, you do not have to search for a contact page or contact form, chat can be available on every page of the website.
There are many reasons for implementing live chat on the website, but being available to customers at all times can be time-consuming, and such an effort should result in successful sales. Sometimes, however, the customers need to take some time to evaluate their options. In this case, it often pays to follow up the customer later. But how do you manage all those conversations? And how do you communciate with them further?
Business opportunities in CRM
If more than one employee takes care of business opportunities, there is always room for misunderstanding. In the user environment of chatbox services, such as Tawk.to, Zendesk and the like, it is possible to view the history of these conversations, but unfortunately it is not clear from this who continued to work this deal or whether or not they actually did.
To manage business opportunities, it is more efficient to choose a professional tool such as a CRM system. In the CRM, a designated solver is responsible for a specific deal. Plus all the sales reps are able to see the deals including contacts, emails, documents, etc. Everyone has a perfect overview and it is almost impossible for any business opportunity to go unnoticed or for the customer to be contacted by two sales reps at the same time.
The key question that arises when using web chat and CRM is how to get deal from one application to another as painlessly as possible. Let's take a look at an example of connecting the chatbox service Tawk.to with eWay-CRM.
Setup without knowledge of coding
Creating a bridge between two applications has always been a relatively expensive project, requiring to hire a developer. However, connecting the chatbox with eWay-CRM is one of the less demanding integrations of any company system, which, thanks to new integration services such as Zapier, can be set up even by a intermediate user without programming knowledge. Let's see how easy it is.
TIP: You can set up a lot of similar one-way connections to eWay-CRM with other applications. For example, try automatic email conversion to opportunities. All emails that arrive to the inbox, such as [email protected], will automatically become a business opportunity in the CRM.
Step 1 - Set up automatic chat conversion to opportunity
The prerequisite for the automatic creation of opportunities once a chat with the customer on the website ends is registration on Zapier, the eWay-CRM Premium account (with the activated module deals) and the created chat in Tawk.to. If you haven't used web chat yet, the how to videos from Tawk.to Academy will help you with the settings. Setting up the integration of both applications is really a breeze.
Go to the list of recommended integrations with eWay-CRM on the Zapier website, find the line Generate eWay-CRM deals when chats end in Tawk.to and click on Try It.

A page with a simple table opens. Log in to your Tawk.to and eWay-CRM account. Just click on the appropriate line, select your account and then click on the Connect a new account Also select your web chat in the Property row.
The settings for converting chats to opportunities are pre-built, so once you're signed in to both apps, just click Turn on Zap and you're done.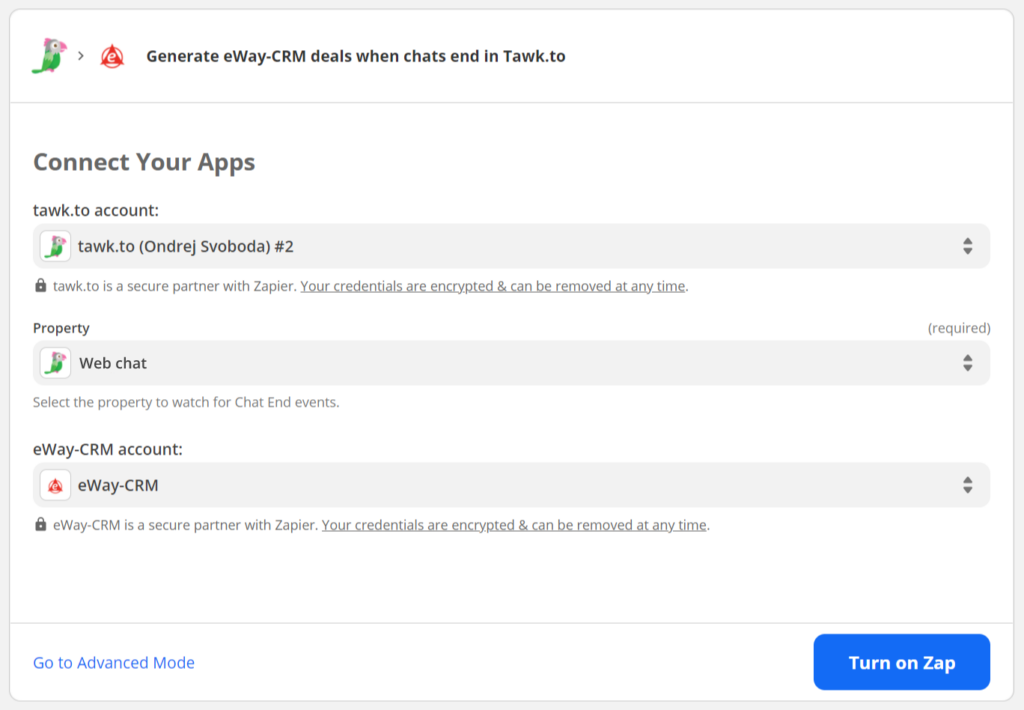 Step 2 – Assigning sales rep
All ended chats with customers will now become a deal in eWay-CRM named after your chat in Tawk.to. We therefore recommend naming it so that it is clear that web chat is the source of the business opportunity. At the same time, the customer's email and name will be filled in automatically.
The sales reps will now find a new opportunity in eWay-CRM among all deals from other sources. If they want to start managing a new deal from the chat, all they have to do is change the item owner. Thanks to this, it will be immediately clear to everyone who is in charge of the deal.
TIP: Outputs from Tawk.to chats are automatically sent to email as well. You can thus save the communication with the customer directly to a deal and close irrelevant deals immediately.
Even small improvements pay off
If you prefer another option than automatically converting chats to opportunities, you can create deals in eWay-CRM from Tawk.to email notifications and other web chat services manually, instead of integrating the two applications. In eWay-CRM, the sales rep takes over the opportunity again and can start working it. Everyone will see in the system who is in charge of the deal, along with the history of communication, or the necessary documents.
The manual procedure is almost as effective. The key advantage is still the effective sales management after converting a deal into the CRM. However, there is a chance for human error . If the sales rep who usually goes through the web chat outputs doesn't create a deal or is on vacation, the business opportunity may fall into oblivion or you may respond too late.
Even small automations are often a significant improvement. When using the Zapier integration service, connecting business applications is much more accessible, simpler, and more economical. While integrations used to be time consuming and the cost of a developer to program application integrations was high, today, automatic business management enhancements can be set comfortably, quickly and withou knowledge of coding. Although the possibilities are definitely not unlimited.