2022 Top Industries by Sales Performance (Benchmark)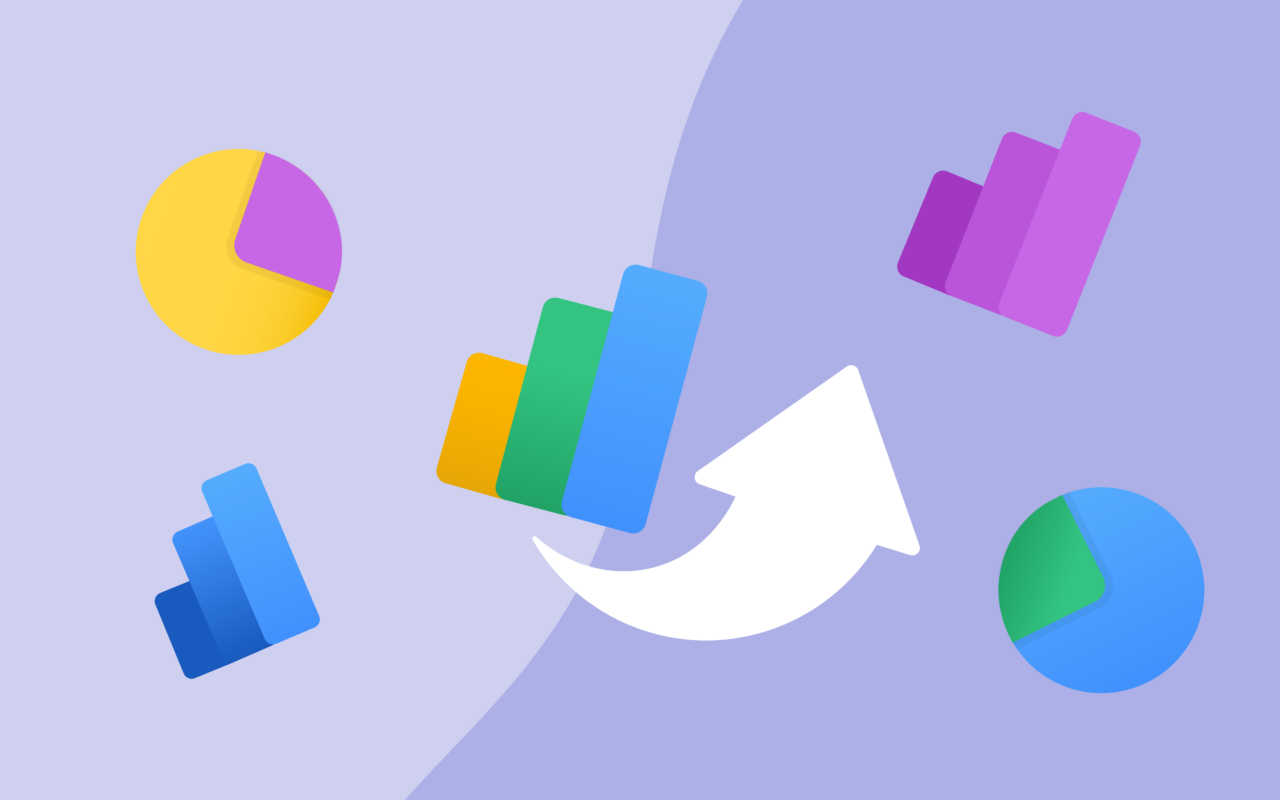 Every sales director dreams about building a winning team. They spend plenty of time finding the right members, training them, and keeping them motivated. But at the end of the day, it's all about whether the team's sales performance meets the goals – and this is where reports help.
We analyzed the performance of more than 500 sales teams all around the world and prepared this research. Find out what industries are the most effective and compare their results with your team.
To evaluate the sales team efficiency, we chose two metrics – Sales Cycle Length (an average number of days it takes to close a deal) and Sales Close Rate (percentage of successfully closed deals). We chose these two because they help predict future sales.
Sales Cycle Length
According to data we captured in the past few years, the sales cycle tends to be particularly long in B2B industries.
In Health Care, companies must be patient for a year on average until they close a deal.
On the contrary, the fastest sales cycle can be seen in Education and Training, where it takes just over a month to close a deal.
Most business opportunities can take 3-6 months to close.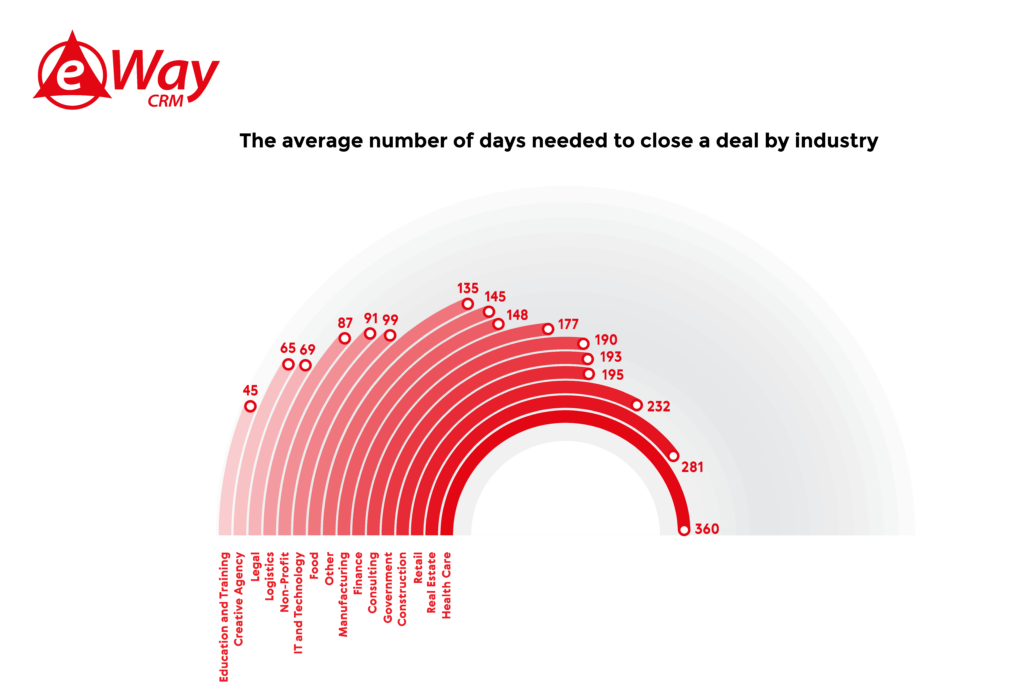 Calculate your Sales Cycle Length
Do you belong to any of the industries listed in our chart? Calculate your sales cycle length and compare it to the industry average. You can also use it to compare individual sales teams or even sales reps.
It's simple:
Select all deals closed in a specific period.
Sum the total number of days you worked on these deals.
Divide the total number of days by the number of deals.
For example, if you closed 10 deals in July, 2022 and spent a total of 920 days on them, the average number of days to close a deal in your business is 92 days.
TIP: You can easily get the sales cycle length in eWay-CRM. In the module Deals you will find the necessary fields "Date received" and "Estimated end". Just filter the deals from the selected period, export them to Excel, and do the math there.
How to read the sales cycle length statistics
The shorter the sales cycle length is, the better. If you've finished your calculations leaving the competition behind, congratulations! Otherwise, there are many ways to speed up the sales cycle.
You can also use the sales cycle length in your company in other ways. For business opportunities that are significantly behind your company average, you can motivate potential customers by offering a discount, bonus, or loyalty program, use other up and cross-selling tools, free training, webinar, or expert e-book. Or you can compare the company's average with the average of individual sales reps. If any of them are closing deals faster, try to find out what is their key to success is and pass on their experience to others.
Sales Close Rate
When it takes a sales rep a little more time but they are extremely successful at the same time, you probably won't mind. When it comes to close success ratio, a lot depends on the industry, not just the sales rep. Let's have a look at what we found out.
Legal, Education and Training are the industries that are the most successful in terms of sales close rate. From 2017 to mid-2022, these industries were the most successful ones and almost 20% of leads were turned to customers. Good job! There was a decline during covid that affected mostly Retail, Consulting, Finance and Logistics industries.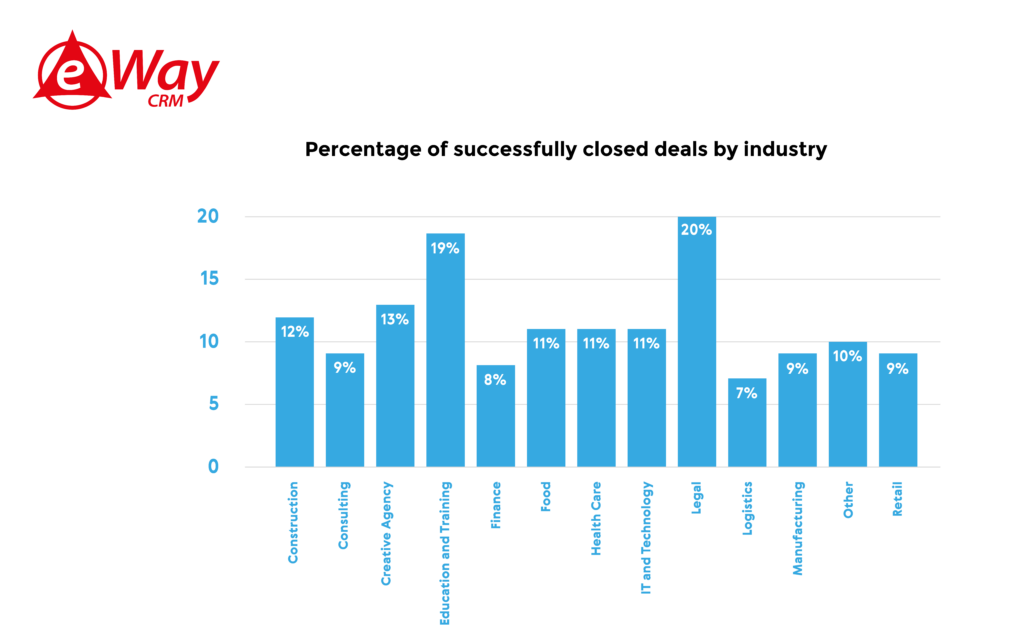 Calculate your close rate
The sales close rate calculation is much simpler than for sales cycle length. Just select the closed deals over a period and calculate what percentage of them were closed successfully. This way you will get a comparison with your competitors.
How to read the sales close rate statistics
As with the sales cycle length, there is no one-size-fits-all recipe for conversion rate. Breaking the statistics down by industry will offer you a far more accurate and meaningful comparison.
According to the statistics of companies that use eWay-CRM, the biggest challenge is business opportunities in the Logistics industry. It would be unrealistic to demand the same success rate as in companies from Legal or Education and Training.
So, compare yourself to competitors in your industry. See if you are making unreasonable demands on your business or if you need to improve. The question is, what can you improve in your sales department?
How to improve your sales
To be as successful as possible, break your business down into smaller parts, and improve them step by step. The easiest way to track and report these statistics is with CRM software that can be customized to match your sales pipeline.
For example, keep track of how many business opportunities result in a face-to-face meeting or phone call with the client, how many of them receive a contract proposal, or how many of them do not end up signing the contract. This will reveal possible weak points in your sales.