The Role Content Marketing Plays in the Buyer's Journey (+ examples)
Producing and distributing videos, images, and blog posts are some of the best ways for brands to reach, engage, convert, and retain customers and achieve a high ROI — no matter their position in the buyer's journey.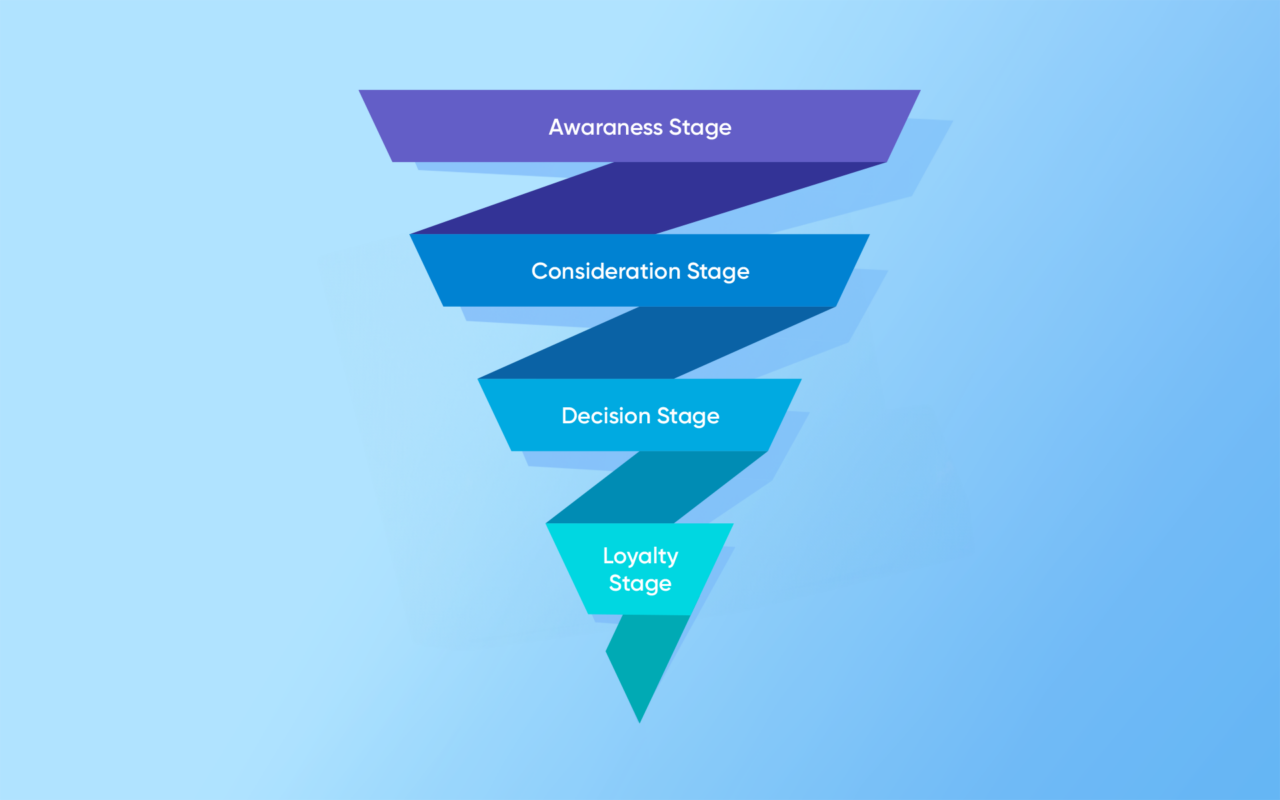 While high-quality posts (regardless of format) can effectively attract prospects in the awareness stage of the buyer's journey, there's so much more that content marketing can do for your business.
From nudging your leads through the entire sales process to ensuring customers stay loyal to your brand, great content can deliver multiple vital benefits.
Here's how well-planned content can benefit your business (and prospects) in each stage of the buyer's journey.
Awareness Stage
Using content marketing to reach prospects in the awareness stage is one of the best ways to invest in your brand's visibility. After all, data shows that 59.2% of people use the internet to find information. 48.1% go online to learn how to do things. And 43.2% use the World Wide Web for researching brands and products.
So, when individuals in your target audience experience a problem or an issue, they will go online to find instructions on how to solve their pain points.
Remember: these prospects aren't yet aware of the existence of your solutions. By producing and distributing ToFu content — insightful resources that make consumers aware of your brand — and aligning your product with their pain points, you can slowly start nudging them into the lower stages of the sales funnel.
Follow SEO Best Practices
One of the first things you must understand about using content to raise brand and product awareness is that even great content has no value if it doesn't generate organic traffic to your website. Unconvinced? Just consider that, for 40% of Gen Z, the shopping journey starts on search engines.
So, if you want your target audience to discover your posts and get the opportunity to introduce them to your products, you must ensure that your content ranks on SERPs. And the best way to do that is to follow SEO best practices.
When it comes to search engine optimization, there are a few tactics that will deliver the biggest bang for your buck:
Research and target relevant keywords. That way, your posts will rank for specific search terms, and you'll ensure they appear when consumers search for solutions to their pain points.
Develop topical authority by creating insightful content covering all aspects of a particular topic.
Build high-quality backlinks to boost your site's domain reputation and ensure prospects have a straight path to your website from as many related off-site pages as possible.
Optimize content page performance. Format blog posts for scanning and easy readability. Enrich pages with relevant images. And pay attention to technical SEO best practices like removing broken links, boosting page speed, and ensuring mobile-friendliness, which is crucial, seeing that almost 60% of all web traffic comes from smartphones.
Provide In-Depth Insights Without Sales Pressure
The one thing you must understand about consumers populating the awareness stage of the buyer's journey is that they're not ready to convert yet. Instead, they're just looking for helpful tips on how to solve their pain points.
With this in mind, when producing content for the top portion of the sales funnel, your primary goal should be to provide insights. And you want to do this better than your competitors.
To successfully attract and engage consumers in the top stage of the customer journey, do these two things:
Firstly, research the available resources discussing your targeted topic and pinpoint the main bits of knowledge offered to your audience.
Secondly, identify any potential gaps your competitors aren't addressing to uncover ways you can ensure that the information you offer is more valuable and unique than what's already out there.
For example, eWay-CRM produced an article about productivity hacks. There is no sales pressure. But when looking closely, the article does align with a CRM (Customer Relationship Management) product in these ways:
Prioritization - Just like the Eisenhower Matrix, a CRM helps businesses prioritize leads and customers based on various criteria, ensuring that the most important tasks get attention first.
Task Management - The 2-Minute Rule emphasizes quick task completion. CRMs often have task management features that allow users to set, track, and complete tasks efficiently.
Time Management - The Pomodoro Technique and Time Blocking emphasize the importance of managing one's time. CRMs often come with calendar and scheduling features that help users manage their time effectively.
Focus on What Matters - The 80/20 Principle is about focusing on high-impact activities. Similarly, a CRM can provide insights into which customers or leads are most valuable, allowing businesses to focus their efforts where they'll have the most impact.
Mindfulness and Customer Engagement - While mindfulness in the article is about personal focus, in the context of a CRM, it can be about being mindful of customer needs, preferences, and feedback to enhance engagement and satisfaction.
In essence, the productivity hacks mentioned in the article can be applied not just at an individual level but also at an organizational level using tools like a CRM to streamline processes, prioritize tasks, and enhance customer engagement.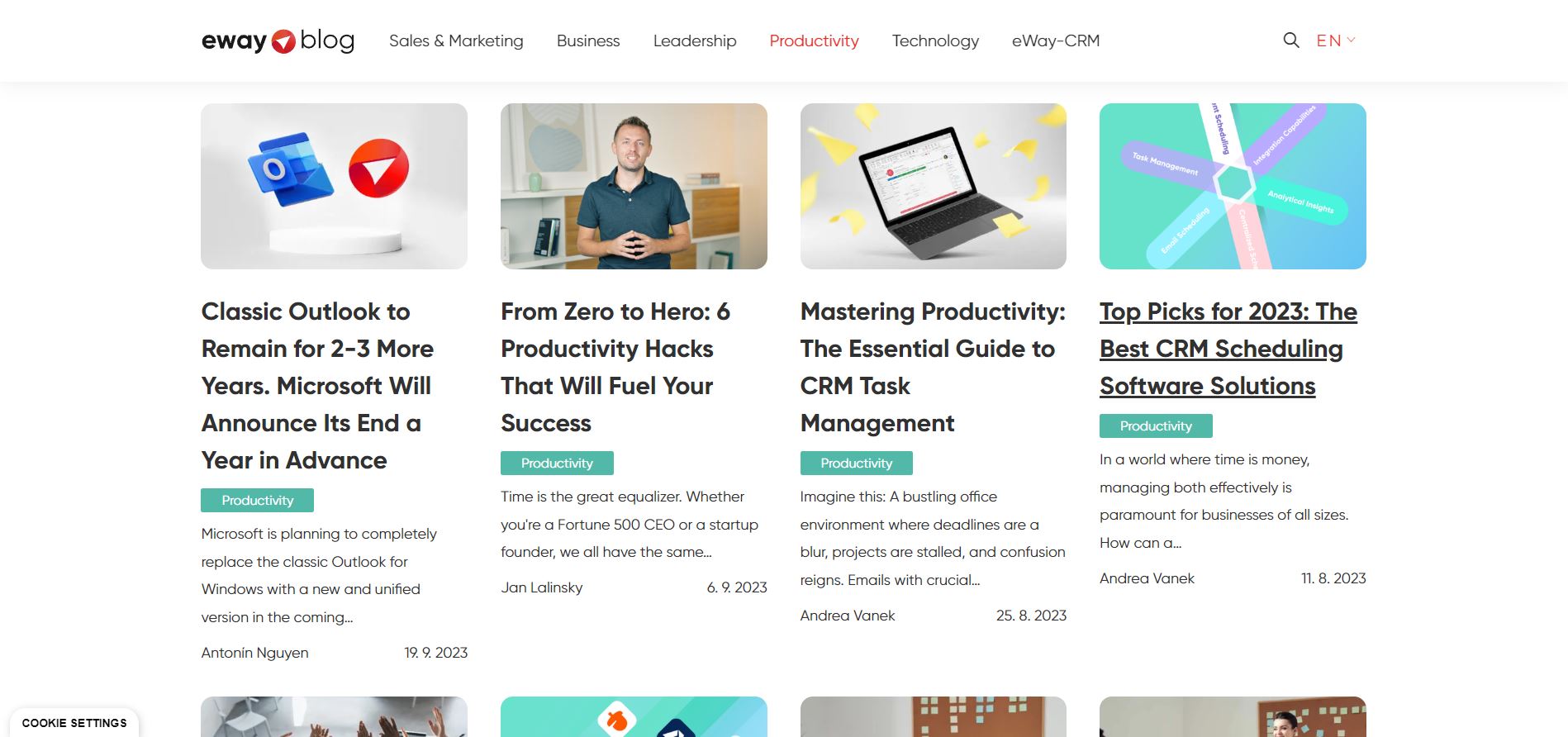 Generate Exceptional Visibility with Interactive Content
The age of one-size-fits-all content is over. In 2023 and beyond, consumers want customized information that helps them efficiently solve their pain points.
For this reason, when investing in awareness stage content, you must pay attention to personalization. According to McKinsey, 71% of consumers expect brands to deliver personalization. Furthermore, delivering a relevant (or even customized) experience reduces customer acquisition costs by as much as 50%.
With this in mind, when producing content for the first stage of the buyer's journey, it's a good idea to employ personalization. Give web visitors the best possible browsing experience, and differentiate your business from your competitors who tend to provide cookie-cutter answers to 99% of consumer questions.
One of the best formats for doing this is interactive content.
For one, interactive formats allow every one of your potential customers to get tailor-made answers that help them solve their pain points. Interactive content outperforms static alternatives in terms of engagement, which is a metric you should definitely try to boost in the awareness stage.
To find inspiration on how to wow prospects with interactive content, check out MarketBeat and see if you can emulate this organization's approach in your content marketing efforts. With the CD Calculator, this brand ticks several boxes. It:
Introduces novice investors to the concept of certificates of deposit (CD).
Provides them with trustworthy advice for maximizing value with this type of investment.
Gives readers a handy tool, allowing them to calculate their earnings in interest based on multiple factors they can customize to gauge their investment opportunities.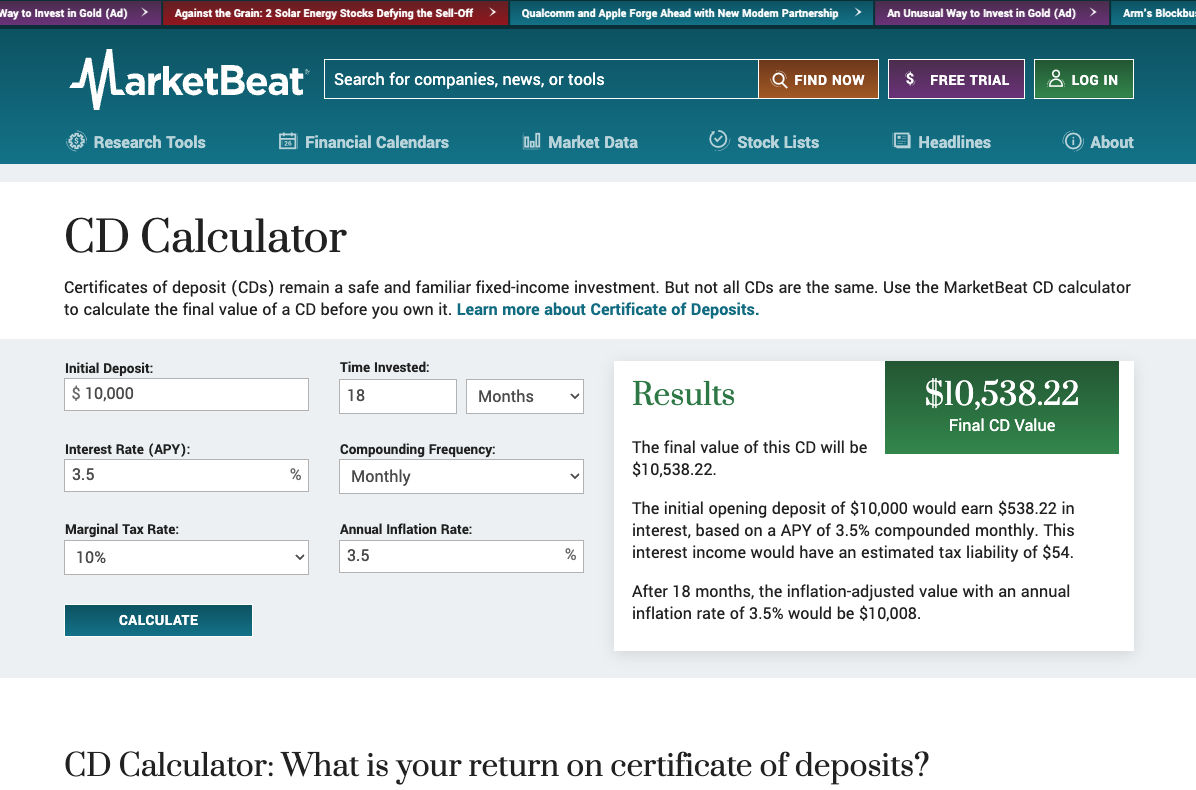 Frame Your Product as a Potential Solution in a Natural Way
One of the most common opportunities marketers miss with awareness-stage content is thinking that they can't (or shouldn't) mention their products and services when trying to appeal to prospects in the top sections of the sales funnel.
But this is a mistake. After all, consumers want potential solutions. That's why calling their attention to the fact that they could solve their pain points by investing in your products is an effective way to move them along the sales process.
When utilizing content to accomplish this goal, do your best to prioritize two things.
Never push your products at the expense of objectivity. This will position your brand as profit-oriented instead of showing that it genuinely cares about benefiting customers.
Don't lose track of the primary objective of your ToFu content, which is to help your readers with valuable information. Yes, you can mention your company and your solutions. But only if that mention is justified by showing how your offer answers your reader's questions and addresses their needs.
For instance, if you check out the "How to Use Google Flights to Find Cheap Flights" page on Going, you'll see that the resource mentions their service a few times. Nonetheless, the article maintains a strong focus on teaching readers how to use the Google search function.
They only point out that Going offers a subscription service in the context of how prospects could find even better deals by combining the power of the world's biggest search engine with Going's advanced flight alerts.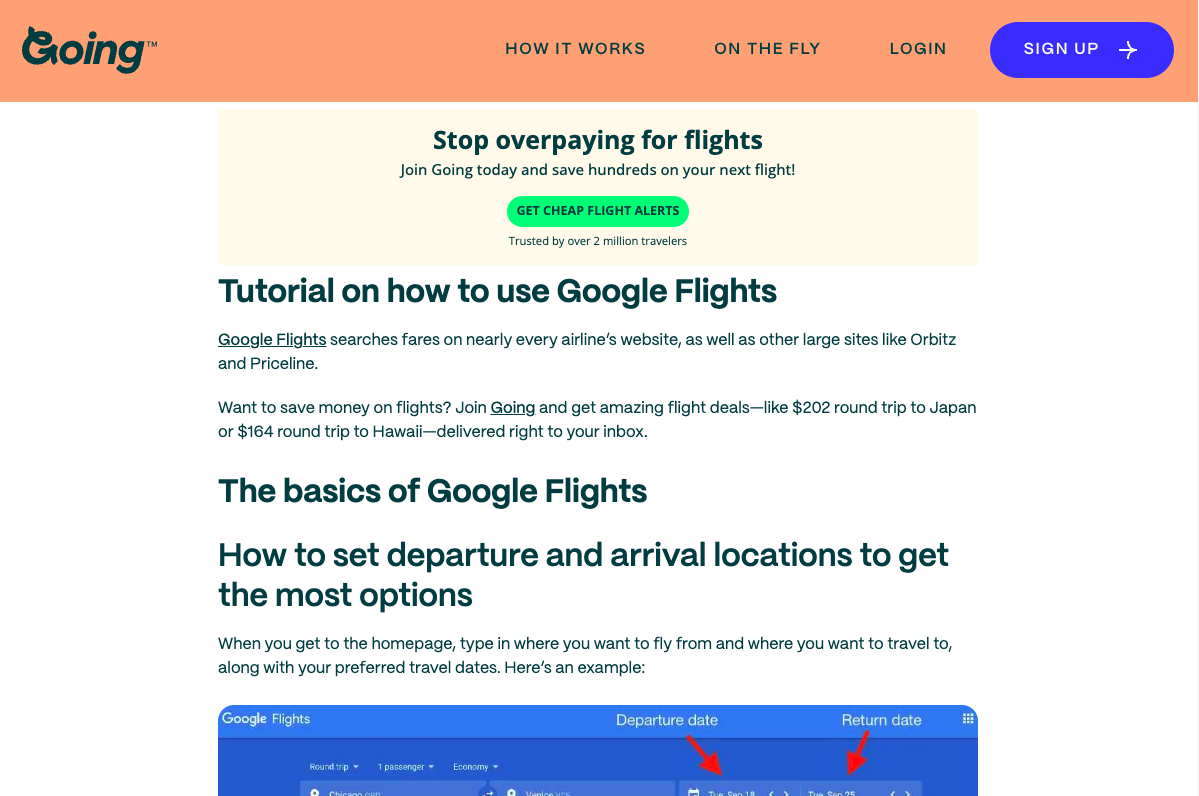 Establish Brand Credibility
As you explore tactics to use content marketing to appeal to consumers in the awareness stage of the buying journey, don't forget that you are operating in the age of misinformation. That means your audience may be skeptical of content trying to sell them something.
In its "State of Social & User-Generated Content", Tint discovered that 75% of consumers recognize when they are being advertised to (and they don't always like it).
With this in mind, when producing and publishing content meant to appeal to consumers in the top phases of the sales funnel, do your best to establish your brand's credibility, trustworthiness, and dedication to prioritizing customer needs.
One way to achieve this is to use trust signals, like Eachnight did in its "12 Natural Herbs for Sleep" blog post.
The resource employs several visual tactics to communicate authority and reliability. The top section features a "Fact Checked" badge. The brand lists the name of the person who medically reviewed the article. The author's credentials are visible at the top and bottom of the page. The page design also includes a clickable page element stating that the writer earned their sleep coach certificate from the Spencer Institute.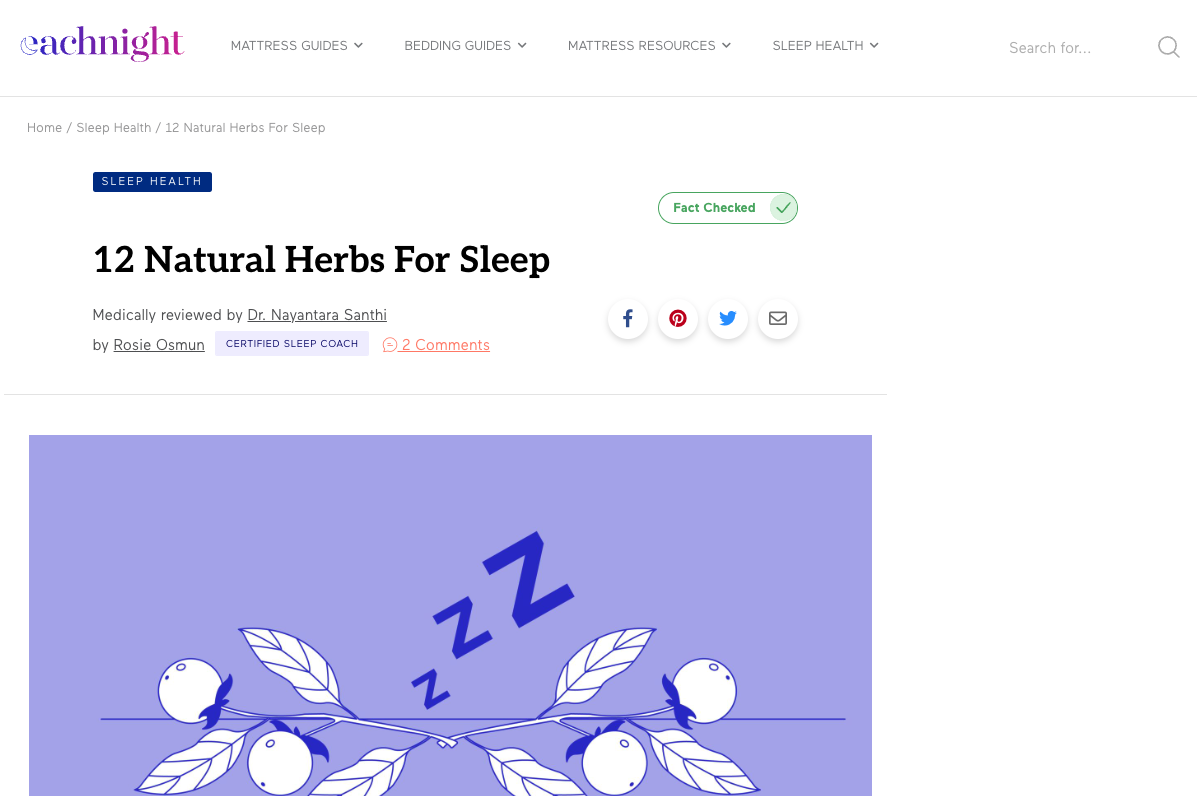 Consideration Stage
As you leave the top phase of the buying process and start investing in content for the consideration stage of the buyer's journey, you must remember that your audience's needs have shifted.
People in the consideration stage understand their problems. Moreover, they have a good idea of what solutions they can use to solve a pain point. However, before they take action (i.e., purchase a product), they want to evaluate their options to ensure they receive the best value for their money.
According to consumer behavior research, that value can be reflected in different things. Some buyers want convenience. Others want a good deal. And some buyers wish to support brands whose ESG values align with their own. But at the end of the day, when consumers enter the evaluation stage of the buyer's journey, they are comparing different brands.
Considering this information, when producing content for the consideration stage of the customer journey, your primary goals should be to showcase your solution in detail and establish your brand as the most desirable provider of products and services.
Align Product Features with Niche Pain Points
One of ways to convince people in the consideration stage of the buyer's journey is to delve into the finer points of your product.
Your prospects want to spend their money on proven-to-work solutions. Use content to show your audience exactly how your products will benefit them. Don't fall into the trap of advertising just features. Instead, explain how each of your solution's functionalities improves your customers' lives.
For instance, if you check out Fellow, you'll see that the Compare Kettles article presents Pro product features entirely from the user's point of view. Instead of just stating that the more expensive version of its product features a Schedule mode, Fellow points out that a feature like that could translate into a few extra minutes of sleep time.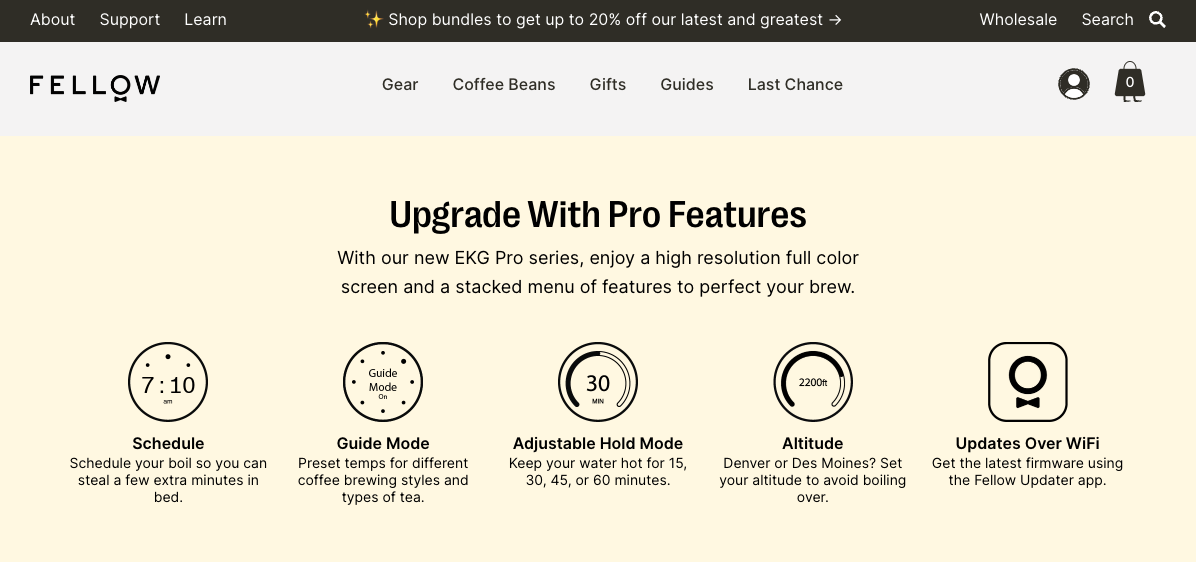 When trying to impress buyers in the consideration stage of the buyer's journey, it's not a bad idea to build an inventory of product update announcements. This is a marvelous way to show that your brand listens to its customers. And it's an even better opportunity to highlight your dedication to customer satisfaction, which is guaranteed to wow prospects.
Boldly Compare Your Product to Competitors'
When producing content for the mid-buyer's journey stages, it's essential that you (positively) differentiate your brand. This is the only way they'll perceive your solution as the superior option on the market.
One of the best ways to do this is to compare your product to your competitors'. Admittedly, many businesses shy away from this technique as they feel that even mentioning an alternative solution could drive buyers to their competition.
The truth is that every brand has distinct target customers. Thus, pointing out the benefits that set your product apart can help that audience make the best choice for their needs.
Keep in mind that data from PWC shows that 29% of consumers consult price comparison sites when collecting pre-purchase information. So, instead of allowing them to get buying advice from your competitors, invest in comparison content that lets you control the narrative around your products.
A great instance of a business employing this sales strategy comes from Smash.vc. Instead of shying away from comparisons, this brand produced "The Best Investing Newsletters in 2023" guide, which compares its newsletter to six other excellent resources available to entrepreneurs and investors.
What stands out about the approach isn't just the objectivity with which each bulletin is evaluated. More importantly, Smash.vc's content team also draws readers' attention to the unique value offered by each option listed, making it super-easy for readers to find the ideal investing newsletter and subscribe to the one (or ones) that fit their needs the most.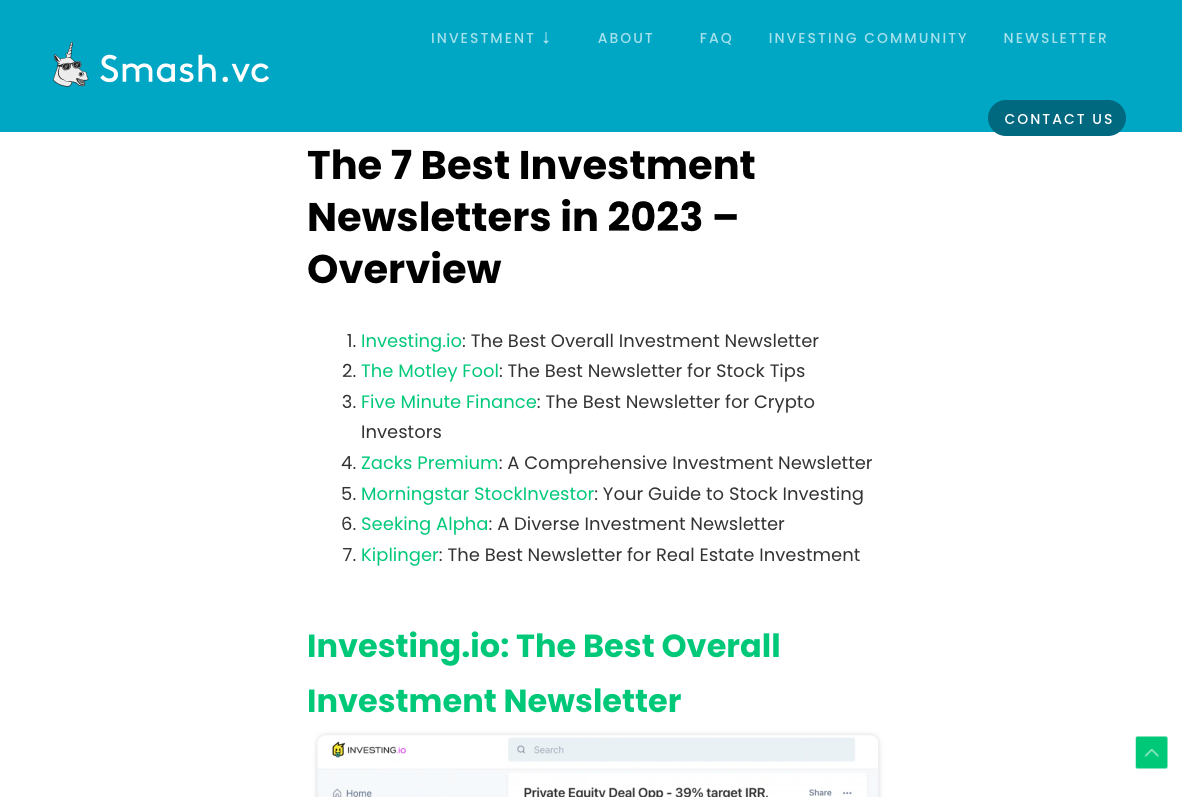 Promote Emotional Investment in Your Brand
Finally, as you explore content marketing strategies that will help you wow prospects in the consideration stage of the buyer's journey, don't forget that most people make buying decisions based on emotions, not (just) rational thoughts.
Considering this, use content to encourage emotional investment in your brand and to make it more relatable. Help your prospects see that you are committed to the same social issues they care about. And do your best to help readers see that your customer service team will do everything possible to make clients happy.
To see one way you could encourage a connection between consumers and your brand, check out Hey. This brand is an email service provider whose entire philosophy rests on the idea that email clients need to work for people, not the other way around.
The mission outlined on The HEY Way page is relatable, likable, and credible, resulting in content that highlights customer benefits. It also shows that, by subscribing to the service, prospects choose to support a company that truly has their best interests at heart.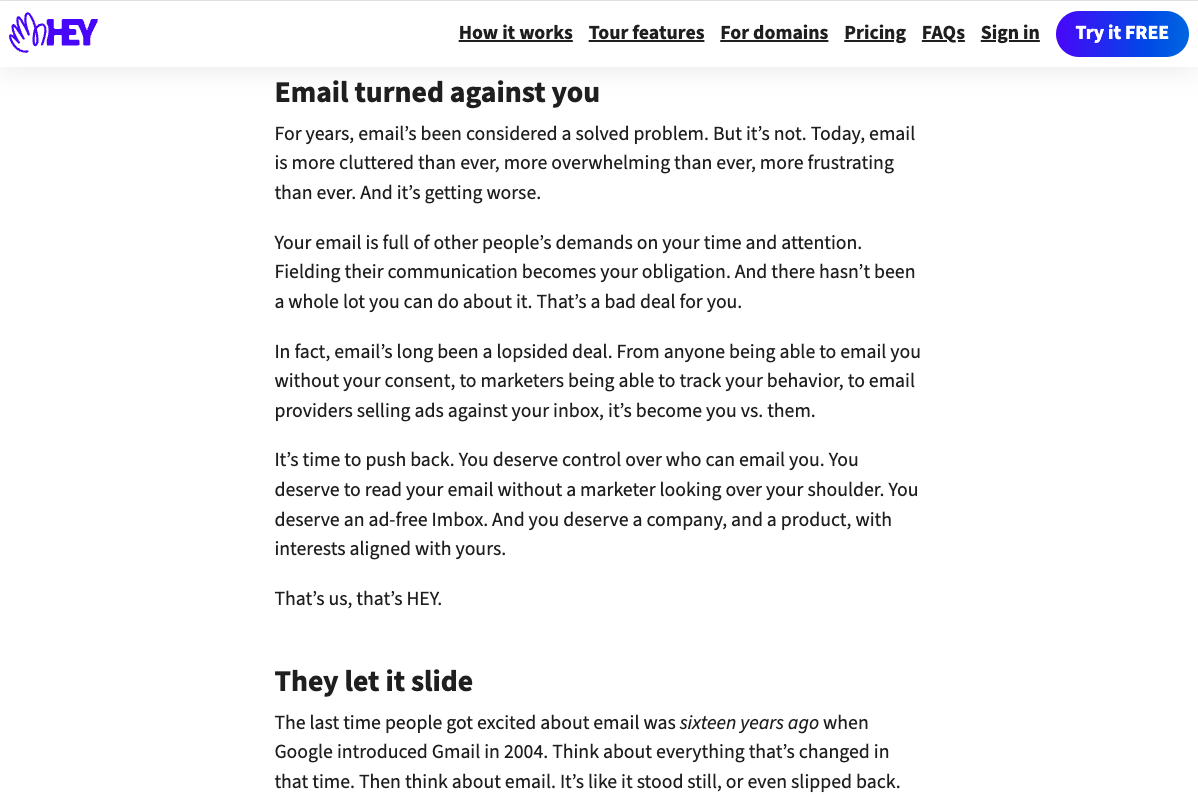 Decision Stage
You've captured your audience's attention and invested in content that positioned your brand as the best provider of products and services. Now, it's time to create content for the people populating the decision stage of the buyer's journey.
During this phase, your primary objective isn't to show prospects that your solution works. Instead, it's to convince future customers that becoming your client is the best way for them to solve their pain points.
By creating well-planned sales-oriented content, you can push buyers toward choosing your brand. But more importantly, investing in the right content at this stage helps speed up the sales cycle, helps better manage consumer expectations (and automatically boost customer satisfaction), and lowers customer acquisition costs.
Produce Product Demonstrations
Poor product understanding is one of the biggest conversion obstacles hurting your sales. So, you must create content that allows your audience to truly comprehend the benefits they'll unlock by converting.
According to research, video is the best content format for boosting consumer buy-in. In 2023, Wyzowl discovered that 96% of marketers consider video to increase product and service understanding. Even more interestingly, the same portion of end-consumers have watched explainer videos to learn about products and services.
For this reason, when trying to push your potential customers to finally make that purchase decision, consider whether an explainer video — or, better yet, a product demo — could help you increase conversions.
For instance, if you check out the Storyblocks homepage, you'll see how easily you can create a conversion-inspiring explainer video/product demo. This brand's approach shows a beautifully produced demo video.
Its main benefit isn't the production quality. Its power lies in its ability to help consumers imagine Storyblocks' product as a part of their workflow while also showing the brand's commitment to creating a solution that meets user needs.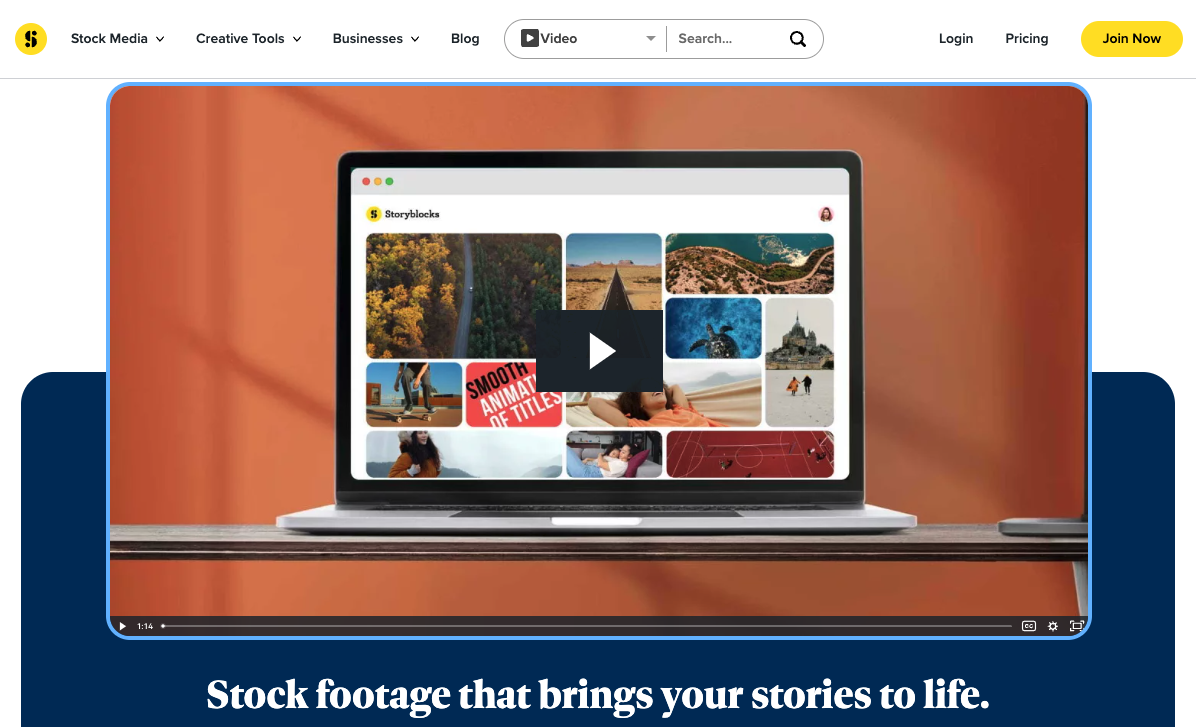 Tell Detailed Customer Stories
Social proof should be a must-do content format for any business trying to convert consumers in the decision stage of the buyer's journey. After all, data shows that 99.9% of online buyers read reviews before making a purchasing decision. So, the minimum you can do is feature reviews and ratings on relevant landing pages.
However, if you're aiming to invest in content that genuinely moves the needle, explore ways to tell more detailed customer stories.
When targeting B2B consumers, invest in case studies that illustrate the effectiveness of your solutions. Go into detail, highlight relevant metrics, and describe the specific methods your business used to help its clients reach their goals.
This is what eWay-CRM does with its "Success Stories" site section. It doesn't just present the challenges it helped clients overcome but also provides readers with real-world data regarding the results its solution led to.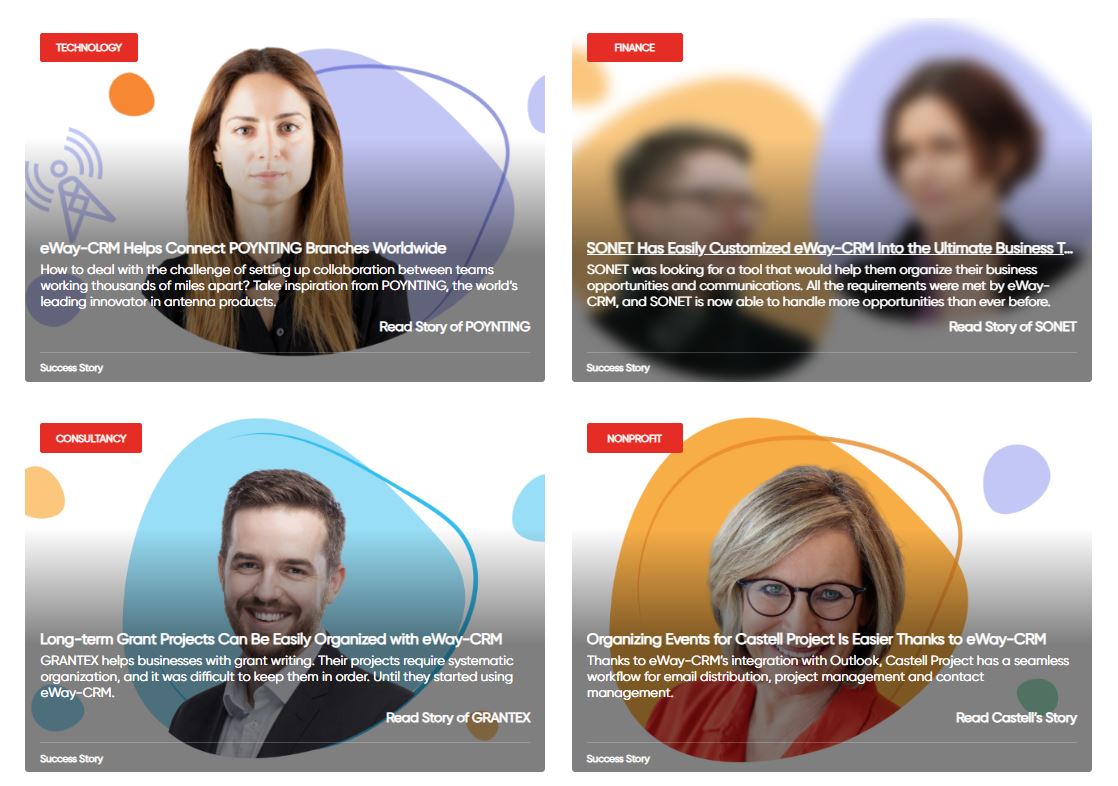 For the B2C sector, you can use social proof with similar results. However, by featuring more intimate testimonials, you'll intensify the emotional connection that your ideal customers already developed with your brand in the previous stage of the buyer's journey.
A great instance of this strategy in action comes from the Bay Alarm Medical homepage. By featuring customer interview videos in the social proof section of the page, this company effectively demonstrates how it has helped improve customer lives, allowing future clients to imagine themselves as (satisfied) subscribers to the business' service.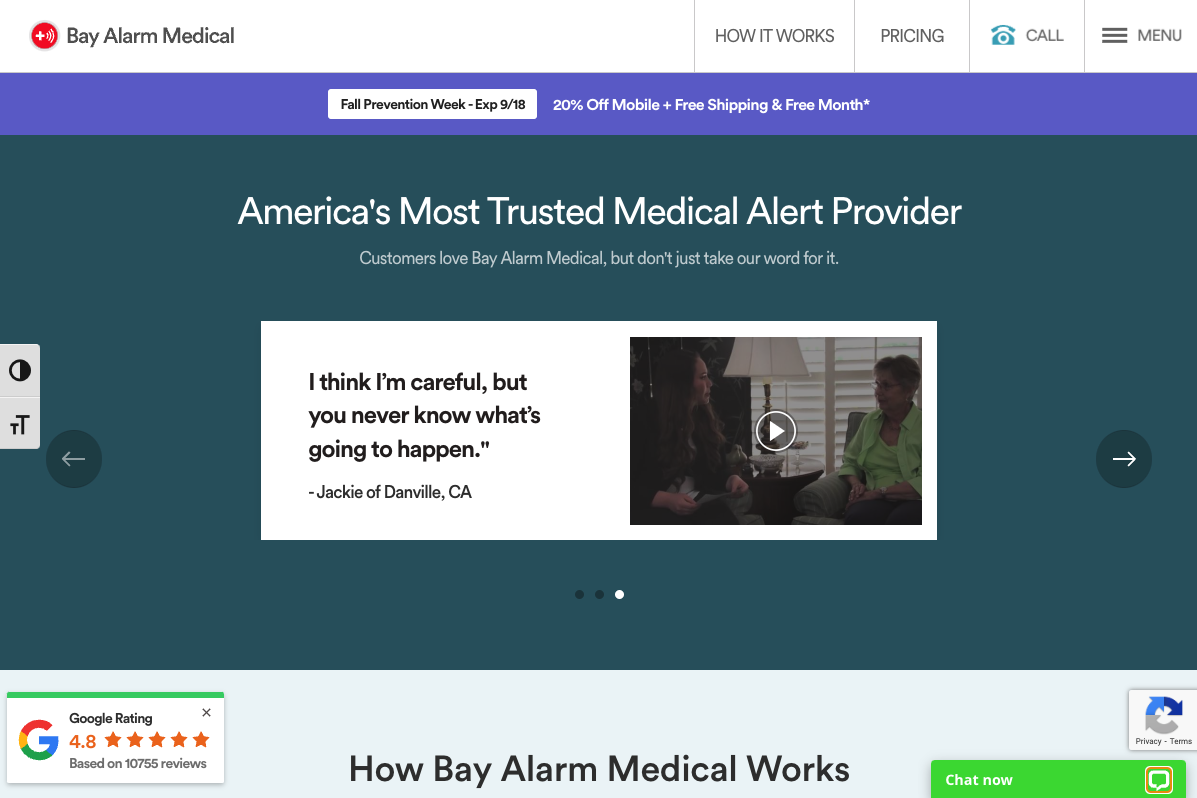 Enable the Lead to Choose the Right Option from Your Inventory
As you guide consumers toward their final purchase decision, remember that some buyers may feel overwhelmed by the number of options in your online shop. So, while offering a wide variety of solutions shows that your business has what it takes to meet consumer demands, it can also easily lead to diminished purchase intent.
One type of content that can help you overcome this sales objection is that which discusses and compares the options you offer.
The Best Pre-Workout guide on Transparent Labs is an excellent example of such a resource. It allows fitness enthusiasts to identify the best supplements (and supplement stacks) for reaching their fitness goals. Considering that you hold considerable expertise in your niche, you can easily create similar resources to aid your prospect's decision-making process.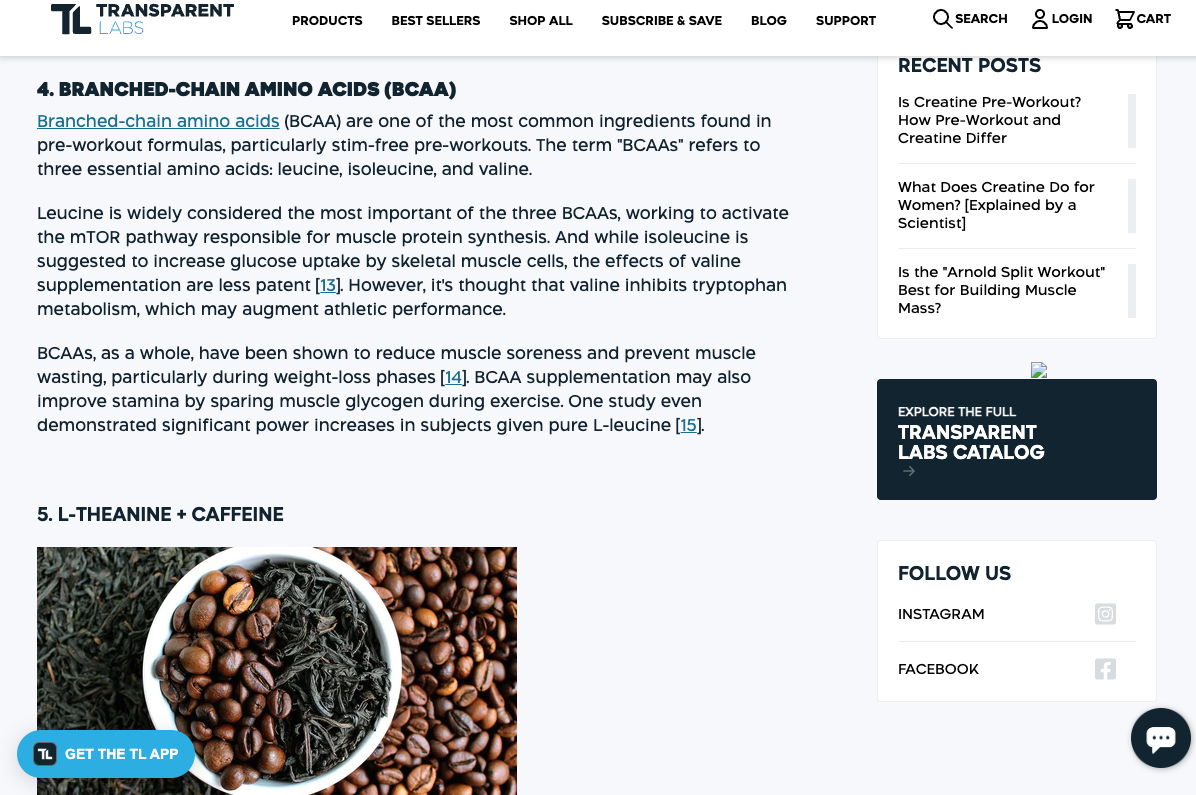 Loyalty Stage
As you explore the role of content marketing in shaping the buyer's journey, remember that the buying process doesn't end once you've converted a customer. After all, business success depends on retaining existing customers just as much as it does on acquiring new clients.
So, if you wish to use content to the maximum of its abilities, invest in resources that will generate repeat business.
Enable Customers to Get the Most Out of Your Product
One of the best ways to inspire customers to remain in the loyalty stage of the buyer's journey is to ensure high satisfaction rates.
By producing tutorials that allow your clients to have a positive experience with your product, you'll ensure that your users recognize the value they were promised in the pre-purchase buyer's journey stages.
For instance, by investing in educational content for your blog, you can generate content that helps consumers get a bigger bang for their buck.
ShopSolar does this with a ton of resources dedicated to educating consumers on the various aspects of choosing, maintaining, and optimizing their solar systems to guarantee that their needs are met and that they don't run into any preventable issues.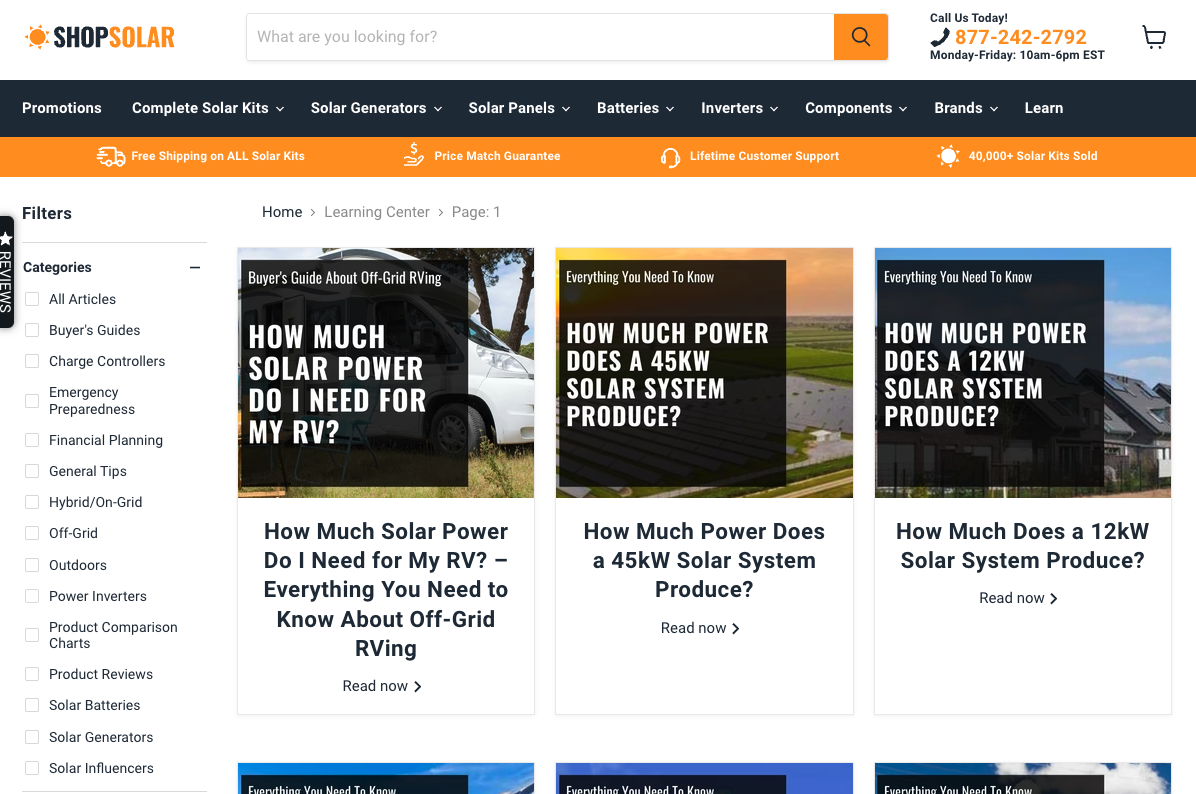 Do goals include boosting customer retention and customer lifetime value at the same time? In that case, you can create resources — blog posts or email newsletters — that educate clients in the loyalty stage of the buyer's journey about how to spend their money in a way that will deliver even more value.
A great example of such a blog post can be seen on Cafe Racers in the "5 Essential Motorcycle Accessories You Didn't Know You Needed" article.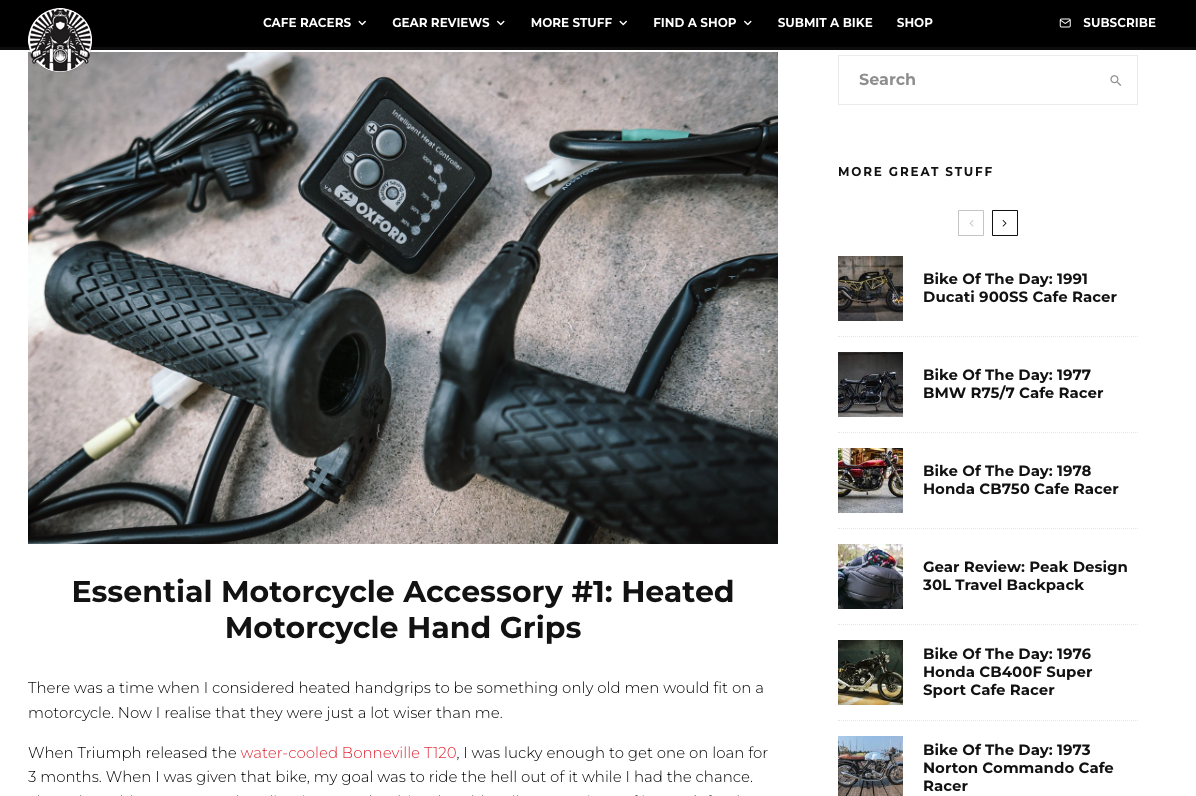 Great Content Always Pays Off
Using content marketing to engage and delight your audience is a great idea — no matter what stage of the buyer's journey you're trying to target.
Don't hesitate to experiment with the formats mentioned above. You might find that some work great for your business. And other options might need tweaking before they become super-effective at helping you reach your goals.
Remember that great content always pays off — especially if you choose the right formats and focus on presenting your prospects with unmatched value.