SEO Optimization or Way to the Top of Browser Search
With SEO optimizing your website, you can be more visible and more frequented on Google, and, above all, more profitable. That's no secret. So, what real steps can you take to make your website get to the top of Google search?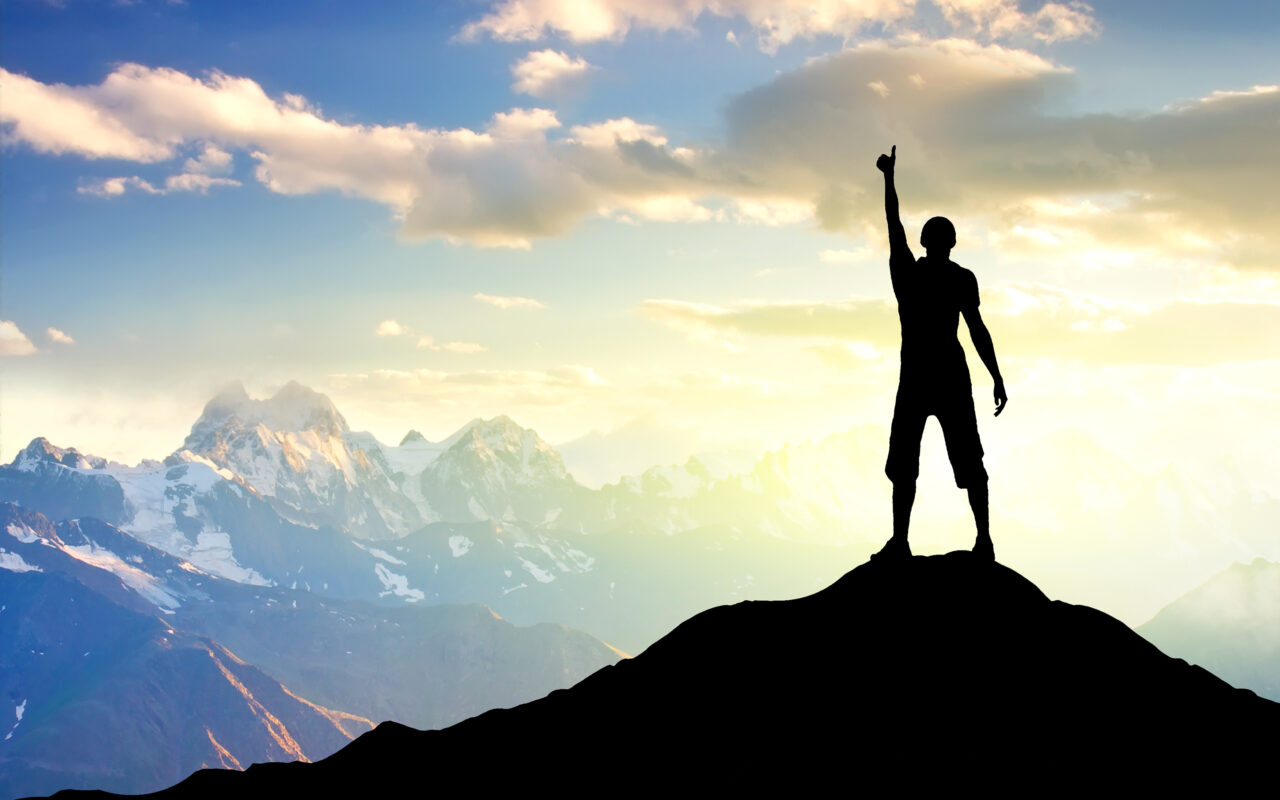 It is true that the purpose of such optimization is to create the structure and content of websites to meet the criteria of Google and other browsers. But let's just say at the very beginning that robotic adherence to all SEO optimization recommendations is not always desirable. The content of the website should always be natural and attractive mainly for the users. After all, Google algorithms are becoming more sophisticated, and the times when results could be achieved without honest work are already gone.
To better understand SEO and untangle the imaginary ball, it is ideal to first divide everything into the technical side of things and so-called on-page and off-page SEO factors.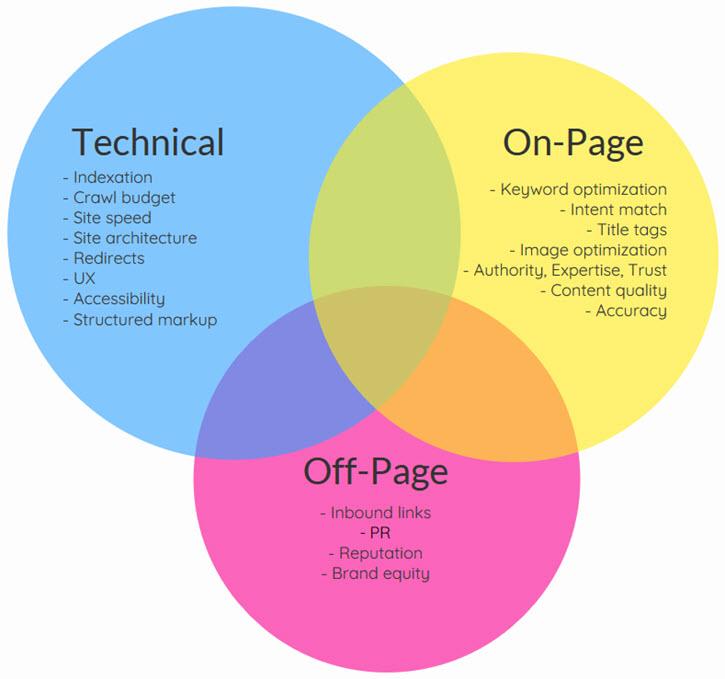 Source: https://www.wordstream.com/blog/ws/2019/05/28/technical-seo
Can you see in the picture how the circuits overlap? Once you start working on optimization, keep in mind that this is how you need to think about SEO, and not just blindly follow a series of recommendations (which of course we will give you anyway, don't worry). For example, analyzing keywords that we'll get to later will be related to indexing and website structure.
Keep an eye on technical SEO
Technical SEO is often a vicious circle. You can learn how to make and manage a website, but you'll probably leave it to the developer. However, not all developers are interested in marketing and SEO, so they will need an accurate assignment from you. So, whether you're starting a new project or getting a revision of your website, you can start ticking off each point one at a time.
The website must be accessible to bots that search through it and then they enter your website in search results. Which they do on a regular basis, by the way. Therefore, the functioning indexation of the website is alpha and omega for the SEO optimization. The easiest way to quickly verify that your website is actually indexed is to enter a command in the form site:yourdomain into Google browser (in our case, site:www.eway-crm.com). The search will result in all pages of your website that Google indexes. However, the more precise and professional approach you do yourself or require from your webmaster is to use Google Search Console, where you can see which pages are not indexed, and you can then solve the problem.
One of the reasons a page isn't indexed may be changing the URL. Now that you know, don't do it. Sure, when switching to another domain, it may be necessary. If you really need to change the URL of your page, use the so-called "website" 301 redirection. You may also delete a page or the customer may misspell when entering the URL directly. In these cases, you should have the so-called 404 error page. There is nothing worse than when a generic error message from the user's browser appears in this case. When a user finds themselves on the 404 page of your website, in addition to marking 404 and explaining the error, it should also include a search and the ability to get to the homepage. And if it is in harmony with the company's culture, it can be brought out in a slightly humorous way. Our director is, for example, a fan of the Matrix, and the following page 404 would certainly interest him.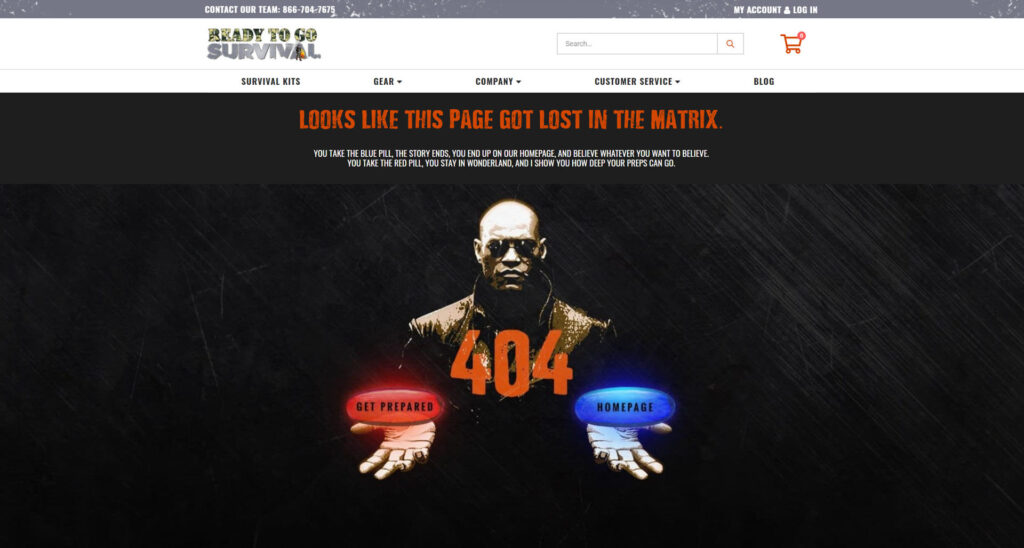 TIP: To see if users search for a nonexisting page frequently, use Google Analytics to track these errors.
If you are setting up a brand new website, the first step you should take is to set up a robots.txt file in which you can enable or disable Googlebot and other bots from indexing certain parts of your website. Typically, indexing of a site administration environment is prohibited. The second step is the creation of a so-called sitemaps that make it easier for bots to index your site and help you get better results. So, make sure that your sitemap contains the most important pages, that it doesn't include pages that you don't want Google to index, and that it's structured correctly.
Google really thinks about users, and therefore one of the very important factors for rating websites is the loading speed. Pages that load slowly can really deter many users. So,if you want to know how Google evaluates the loading speed of your website, use Google PageSpeed Insights. In addition to speed ratings, this tool will also give you recommendations on how you or your webmaster can optimize your loading speed.
For example, optimizing images on your website is very important. Even the largest images in full resolution should not exceed 1 MB. Smaller images should then fit below the 300 KB limit. Reduce the data size by reducing the image resolution or compressing it. Ideally, your website should be able to do this automatically already when uploading images in the administration. Discuss this option with the developer, as it will save you a lot of time and ultimately produce better results and increase profits by working. The second option is to compress images manually, for which you can use, for example, a tool such as RIOT. With it, you can compress the image to the desired size of the resulting file. However, do not overdo it with shrinking. If you reduce the image to a significant extent yearning for faster loading, it will significantly degrade its quality, discourage customers and optimizing will have no effect.
The so-called user experience, or the experience of using your website, is essential for your customers and is, therefore, important for Google ratings. For example, whether your site is responsive to mobile devices is now essentially a necessity.
Another absolutely necessary parameter that your site should have is an HTTPS security certificate. Google really takes care of the safety of users and websites that don't have a security certificate are handicapped in the ratings.
Last but not least, it is important for the user experience how intuitively and conveniently your website can be controlled. A very effective, albeit relatively demanding method, is the monitoring of the so-called heatmaps. It allows you to identify what the user is really watching on the web and how long it will take to find what they're looking for. Apart from heatmaps, you can use user experience research tools to find UX issues on your website. For starters, for example, it is enough to be inspired by the competition and to introduce common functionalities, which are now considered the standard. For example, the button for automatic scrolling to the top of the website, correct menu layout, FAQ, available contact details, etc.
The structure of the website is also closely related to the user experience. However, it also makes it easy for bots to search the web. If the structure of your website is too complicated and chaotic, it will deter robots and, unfortunately, customers. Your architecture should not be too "deep" and the customer should find what they are looking for at a maximum of 4 clicks from the homepage.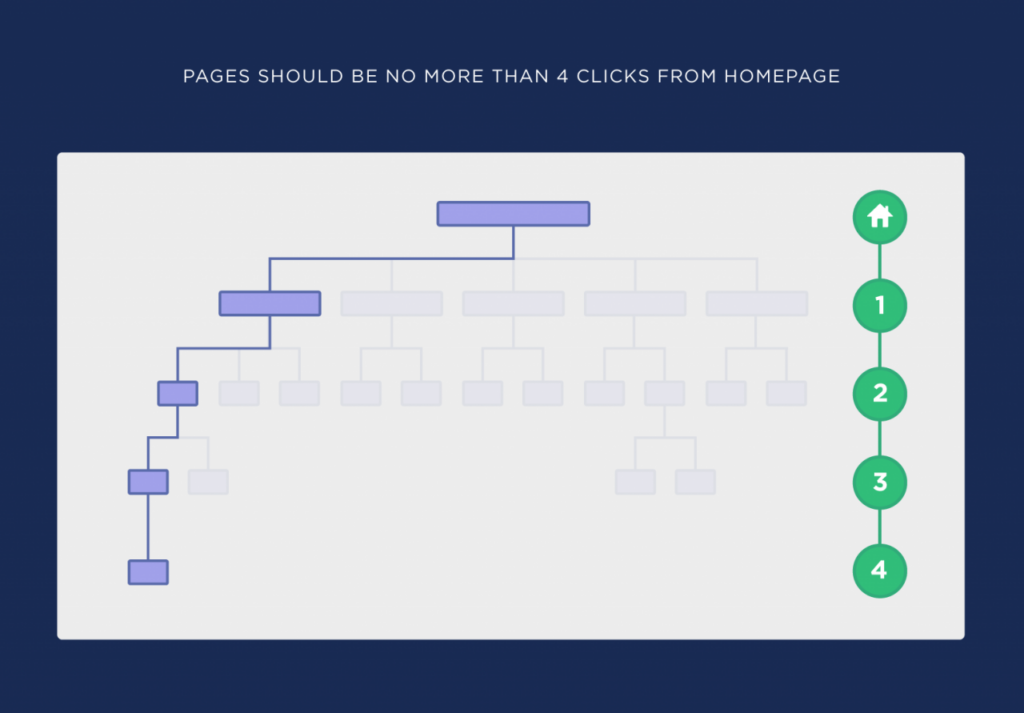 Source: https://backlinko.com/hub/seo/architecture
In addition to a well-crafted site hierarchy, you can make it easier for users and bots to go through your web with internal links  that serve as an alternative content distribution next to the categories that are displayed in the main menu.
On-page factors
The second set of factors that affect your website SEO rating are the so-called on-page factors. As the name suggests, these are the factors that are the content of your website.
What your customers search for on Google is crucial. At the beginning of SEO optimization, you must first analyze the keywords that The Keyword Planner in Google Ads will use for you. For example, the keyword planner helps you create a website structure. For example, if you run a shoe shop and enter "shoes" as the keyword, it will be logical to divide your store's categories into men's and women's, by brand, shoe purpose, or by season.
When searching, focus on the so-called long-tails. This is a term for long and very specific search queries. Search for maximum specific queries, and as long as there are enough search queries for them, try to create a custom category, subcategory, label, or custom page. For example, "Adidas winter women's shoes" are already quite deep in the hierarchy of your website, but there is still a huge number of people interested.
Once you're done with analyzing of your keywords, you can go to the content of the website itself. The basic and most important factors include meta tags – descriptions and titles.

Google changes the maximum number of characters that appear in titles and descriptions quite often. Therefore, it is ideal to have a module installed in the administration of your website that shows you how many free characters are left when filling out the title and description. If the text is longer, the search engine can use a random portion of the page's text instead of your description. Your description and title should contain the main keyword of the page. At the same time, they should be attractive and convincing to users.
As in titles and descriptions, you should use keywords in the file name, titles, and ALT image descriptions that you use on pages. And don't forget to optimize the data size of your images.
Keywords should also appear in the URL of each page. The URL structure should also reflect the structure of your website. This means that in addition to the page name, including the keyword, the URL should contain the name of the category and subcategory under which the page falls without repeating the keyword. At the same time, you should try to keep the URL as short as possible. That the conditions for one URL are too much at a time? It's not that complicated. The URL for the above-mentioned bot example might look like this: shoes.com/womens/Adidas/winter.
When creating the content of your website, consider that Google prefers longer, unique, and original texts that are optimized for that keyword. What does it mean?
Forget the copied parts or the whole text, that's the way to hell. Do not even try to extend the text with a word buffer. It does not interest readers or bots, who are becoming more sophisticated. Make sure that the content is broken down, use titles, bullets, numbering, and important information should be highlighted in bold text or italics. And the keywords are again the crucial thing. Incorporate them into the text to a natural extent, mention them in some subtitles. Again, there is no official recommendation on the frequency of keyword occurrence in the text. It is important that the text still looks natural. However, the recommended numbers from different sources often range somewhere between 1.5% and 3%.
Off-page factors
The last set of factors influencing SEO is the so-called off-page. Although these factors are not part of your website, this does not mean that you do not control them.
Building backlinks is an effective tool for your website SEO. However, links should meet several parameters, otherwise you will collect points that are completely worthless to SEO scores.
Links to your website should be made from trusted websites and relevant to the focus of your web. Definitely avoid the so-called " link farms – webs whose sole purpose is precisely the accumulation of backlinks. As a rule, this practice is penalized by browsers! Last but not least, the link text should match the content of the page to which the link leads. The purpose is for the customer to find what they expect on the page.
It may be a matter of course for you, but also use social networks. Mentions of your website on social networks also have a significant impact on SEO.
The last of all factors influencing the location of your website in browsers is the reputation. Simply, you can be rewarded if your website proves to be trustworthy for a long time. Therefore, it is not worth taking advantage of practices that are penalized by browsers, although they can sometimes seem like an facilitation in optimization. As they say, you'll be the farthest away with honesty.