Influencer Marketing Is Very Effective But Not for Everybody
Influencers are like fish in the water on social media. Unfortunately, it is not always possible to say the same about companies. And so, they are directly offered the services of influencers to use. But which influencer to choose for cooperation? How does such cooperation actually take place? And is influencer marketing suitable for you?
As the term suggests, almost any known person who is able to influence a specific audience can be identified as an influencer. In the past, we would probably look for celebrities, journalists or politicians behind this definition. In influencer marketing, however, we talk about influencers on social networks, whose often the only livelihood and specialization is just reaching out to the audience they have created on social networks.
In cooperation with such an influencer, the company can also be the one who addresses his audience. After all, the preparation of the advertising campaign and its success depends primarily on the company that hires the influencer. At the very beginning, it is important to remember that the influencer offers you only their own space or personality for advertising messages. For example, recall an ad in which Kendall Jenner gave a can of Pepsi to a police officer during Black Lives Matter protests. This cooperation has encountered a wave of benevolent behavior due to the misuse of social themes. However, the risk of a campaign failure to work with influencers may not only threaten in such extreme cases. In addition to good campaign preparation, success depends, for example, on the appropriate selection of influencers.
How to select the right influencer?
The choice of influencer depends on a number of factors. First of all, it is necessary to analyze the demographic composition of the target group and select suitable influencers whose audience will be as close as possible to this target. Each company should consider whether its product or service is in line with the interests or focus of the influencer and their audience. Therefore, it is good to conduct a survey and analyze their previous collaborations, communication style, visual presentation, and other details that should be consistent with your campaign.
Finding a relevant influencer can be more difficult than it may seem at first impression. According to a survey Mediakix.com 61% of marketers say it is difficult to find a relevant influencer for a marketing campaign. This seems to apply to the seemingly unshakable fashion business, in which the most successful influencers, such as Chiara Ferragni, increasingly set up their own brands. It's ideal if an influencer can show you statistics on previous successful campaigns as a reference. Often, the popularity is mistaken for influence on a given audience.
Therefore, the so-called micro-influencers or nano-influencers who focus on a very specific area – e.g. fashion, gastronomy, or computing. While the micro-influencer has less intervention than well-known influencers, their audience is likely to be much closer to your target audience profile, and their authenticity for that target group will also be significantly better. Dunkin' Donuts also executed this idea in its Sipping Is Believing campaign where they used several nano-influencers from Philadelphia, even though they are an international fast-food chain. The purpose of the campaign was to raise awareness of the coffee offering, which Dunkin' Donuts is not associated with, unlike the rival brand Starbucks. The campaign brought success thanks to a clearly defined narrow goal and the choice of micro-influencers, who brought authenticity and an appeal to local patriotism.
How to determine terms for collaboration?
For example, if you've never worked with any influencers, imagine working with an advertising agency. After that you need to create an attractive offer for influencer outreach. You should know that influencers with a good reputation will carefully choose brands to cooperate with. A mutually professional approach is a clear determination of the preconditions for cooperation. As with setting up a banner campaign or PR articles, you'll want to know the exact number of posts and their placements — that is, the channel and format. It is also perfectly fine to agree with the content of the post. But don't want to limit the creativity of the influencer themselves. If you agree on what information appears in the post, what company profile will be tagged in the post, or what hashtags the influencer will use, you will avoid unpleasant misunderstandings on both sides.
How to evaluate the cooperation?
Be sure to set up KPI for your campaign before it starts so that you can evaluate its success once it's finished. Depending on the purpose of your campaign, you'll be interested in various statistics that can be categorized as sales, interaction, and audience engagement.
Sales statistics (ROI, conversion)
If your campaign is focused on sales, then you'll definitely need to track the conversion, conversion rate, and ROI. To effectively track conversions, talk to your influencer to set up their measurements in advance. You can use classic marketing practices such as UTM parameters, landing page on your site, promo codes that the customer inserts in the cart on the e-shop.
Interaction (number of shares, clicks, "likes" or comments)
While interactions aren't statistics, you're doing an ad campaign for, they show you how your campaign was received. If the statistics show that your campaign is working, you know that you've chosen a suitable influencer to work with that relevant to your audience. At the same time, it gives you a signal that you follow this direction next time.
After all, the current trend that companies choose when working with influencers is a long-term cooperation. In that case, influencers are often labeled as brand ambassadors. If you use one face for your brand over the long term, a portion of the audience is likely to build a strong personal relationship with your brand.
Audience intervention (number of views or new followers)
Influencers address a big audience. If the main purpose of your campaign is to raise brand awareness, you'll consider new fans and visitors to your page or statistics about your posts or videos to be key. And that is already in the negotiation of the terms of cooperation. For example, you can agree with an influencer to organize a competition for your product, and participation in the competition will be conditional on "likes" on your company profile. Before you involve any influencers in your campaign, though, you might want to check their Instagram followers count history so you know if they will be a viable asset in your campaignf
So, is influencer marketing suitable for you?
As you've probably already understood, if you underestimate the preparation of an advertising campaign or the choice of an influencer, success will come only by a miracle. First of all, however, you should consider whether your product or business is suitable for influencer marketing at all.
Before you start preparing your first campaign, you should know the weaknesses of your product. Customer reviews and other feedback can be an honest help for you. And if you feel there's a space for improvement here, you should definitely understand manage the crisis communication.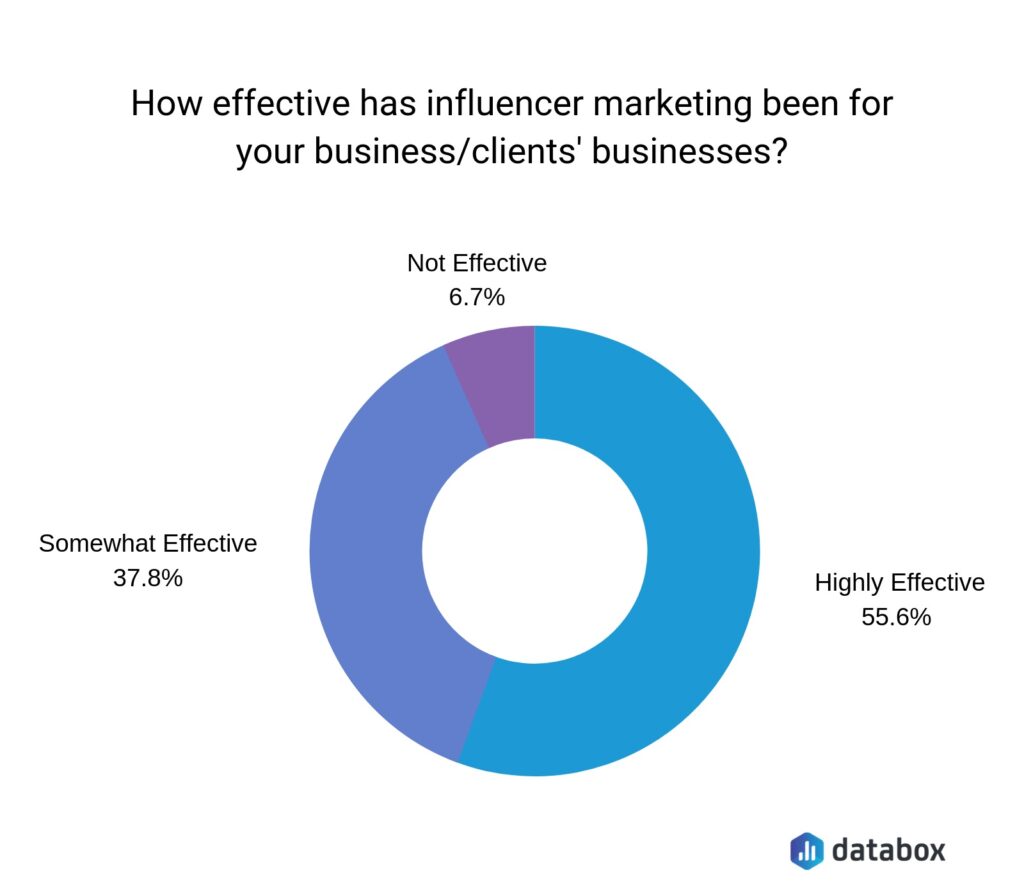 However, we have good news for those who stand behind their product and prepare the advertising campaign really well. Influencer marketing is much less risky than you might think. According to the Databox.com survey, 55.6% of marketers have a very good experience with influencer marketing, while only 6.7% find it inefficient.