How to Prevent Two Sales Reps from Responding to the Same Potential Customer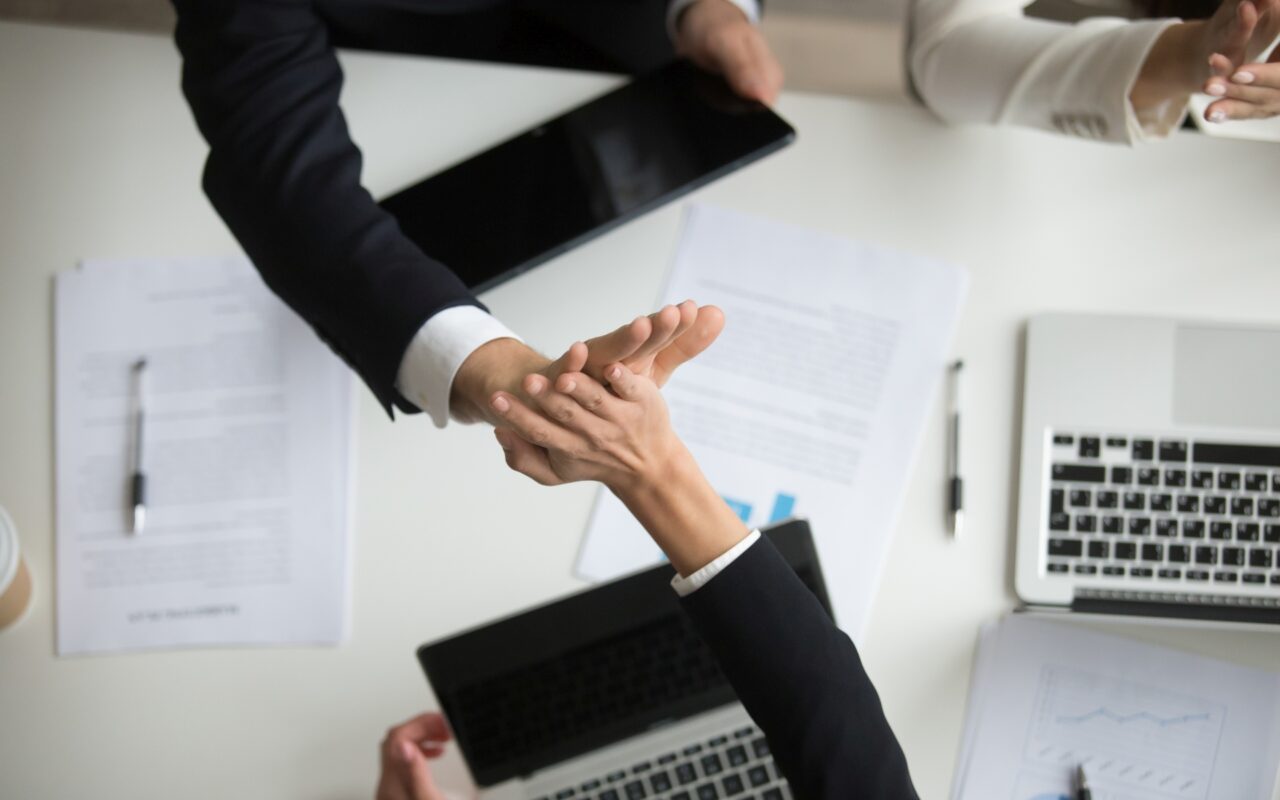 Have you been in the embarrassing situation where two members of your sales team simultaneously answer a potential customer? These mistakes, which can make your company look unprofessional or even lose the deal, can be easily prevented. Communication is the key to a team's success. But even more important is the system. CRM software is a system in which the rules are clearly set.
The advantage of managing business opportunities in CRM software is that sales reps see all of the opportunities together - along with the journals, emails, documents etc. This gives everyone a perfect overview. But how do you ensure that all sales reps should follow the same rules? If a sales rep does not create opportunities in the CRM, some leads may remain forgotten. So how can you prevent it?
Today's modern CRM systems are often connected directly to email clients. Microsoft Outlook is the most commonly used one in business, which is why many CRM systems integrate with it. The better ones offer the option to create deals from emails. It takes just two clicks, but the problem is that someone has to do it manually. So if the sales rep forget to do it, the deal will not be in your CRM. Therefore, the only truly reliable solution is the automatic conversion of emails into opportunities. If you are receiving many leads, it is almost a necessity.
Each company has a common email address to which clients can send their inquiries (eg. [email protected]). So we'll set up an automatic conversion of all delivered emails from this inbox to opportunities. Then the sales reps will just assign an owner to a new opportunity and can start working on it.
TIP: Similar to creating business opportunities from incoming emails in Outlook, leads from a web form can also be automatically converted to deals.
Step 1 – Set up automatic email conversion to opportunity
Let's set up automatic creation of opportunities in eWay-CRM based on incoming emails now. The easiest way to do that is through Zapier. Whether you use Outlook or Gmail, go to the list of recommended integrations with eWay-CRM. We will now set up a connection to Outlook via the Office 365 mail server.
Hover over the Make eWay-CRM deals from new Office 365 emails line and click Try It.

A page with a simple table opens. Log in to your Office 365 and eWay-CRM account. Just click on each drop down and then on the Connect a new account
Email conversion to opportunities is pre-built, so once you're signed in, just click Turn on Zap and you're done.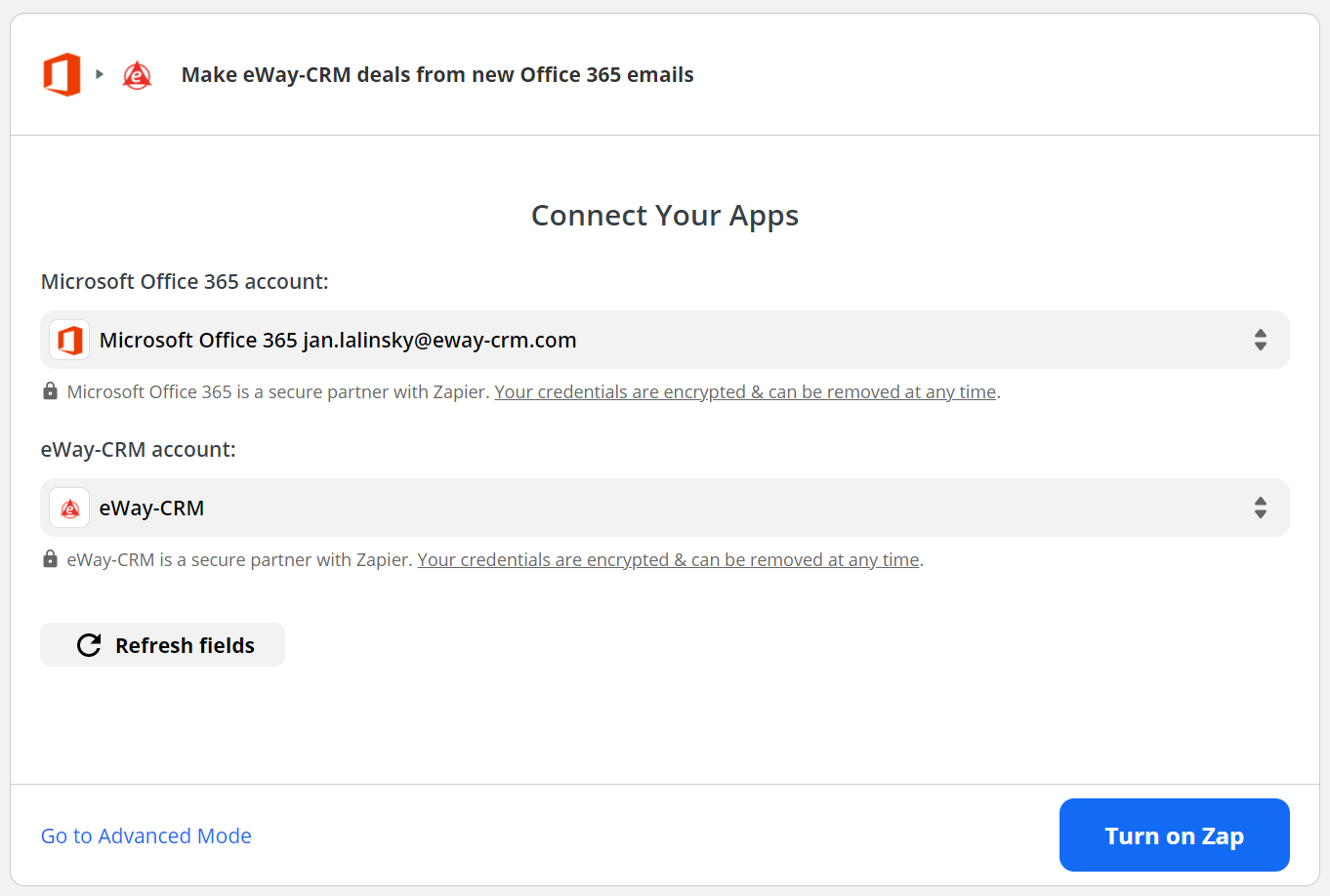 All emails delivered to [email protected] will now convert to an opportunity in which the email, potential customer, name of the opportunity and the date are automatically filled in. This is much easier than looking for a developer to set up a system connection for you!
Step 2 – Assigning sales rep
As soon as the opportunities appears in eWay-CRM, a sales reps should assign a new owner of the deal. Thanks to this, it will be immediately clear to everyone who is in charge of the deal. It's easy!
More advanced integrations
You can also customize the workflow of the emails conversion to opportunities. In this case, select Go to Advanced Mode in the table above.
If most of your leads are returning customers and you would like to have pre-filled existing contacts from your eWay-CRM in the opportunity, all you need is to add one step in the workflow. Or do you want to automatically set up the email [email protected] as a source of leads in your statistics? Add a new value to the list in eWay-CRM and set it in the Referral Source field in the second step of our ready-made workflow. Once you manage to create one workflow, the following one will be a piece of cake.
Compared to the cost of a developer who would program the integration, Zapier pays off as a service, even if you only stick with the default settings of email conversion to opportunity. But there are many more possibilities actually. We will definitely show you more advanced integration options with Zapier in the future. If you're interested in learning more now, please contact our consultants directly.