How Consultations and Trainings Help to Better Results in Email Marketing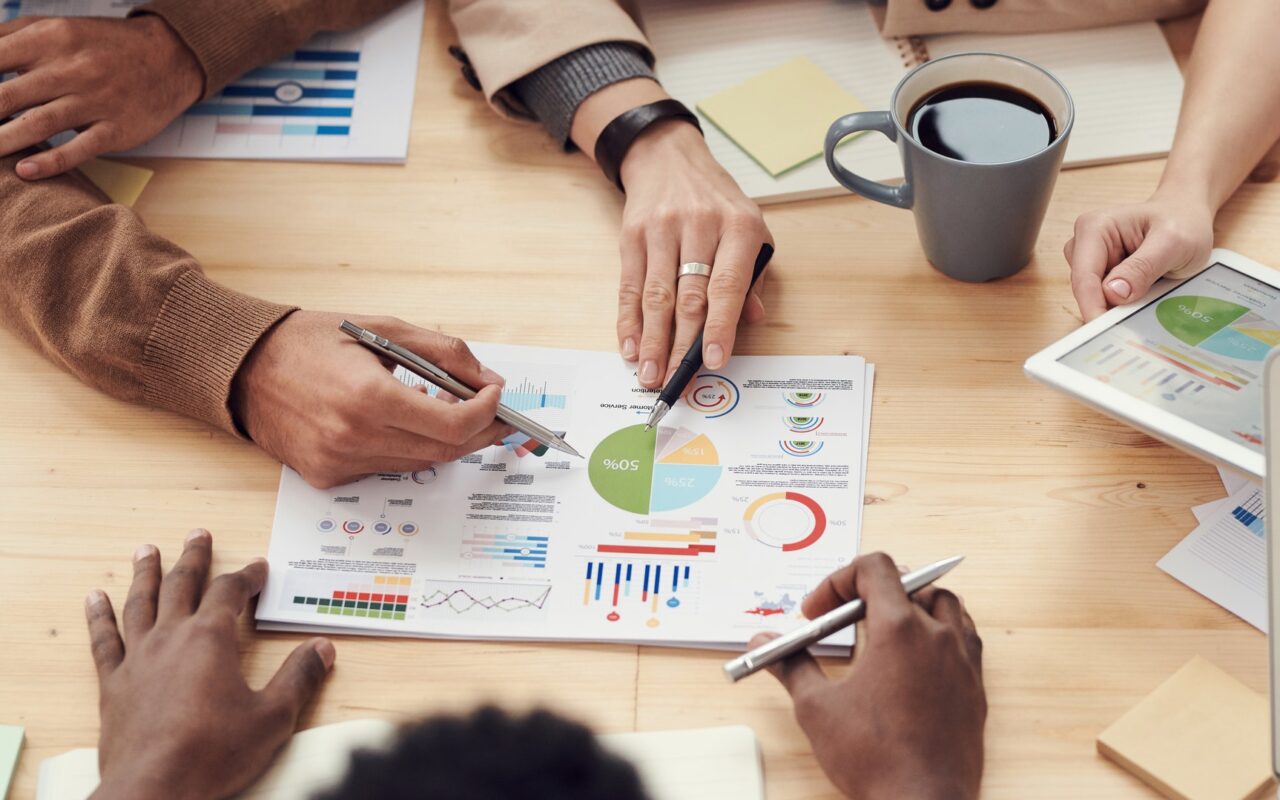 What will a company that uses e-mail marketing but its results do not meet their expectations do? Usually, they will go to a marketing agency or they will fill in the missing knowledge. However, the offer of consultations and trainings in this field is not very wide in the Czech Republic. And this is exactly what Emailkampane.cz has now decided to change in cooperation with e-mail marketing specialist Bozena Peroutkova. Here is an interview with her.
How did your cooperation with Emailkampane.cz begin?
I already came across Emailkampane.cz when I worked for BENU pharmacies. At that time, we were moving from Silverpop to Emailkampane.cz and I met the owner of the company, Martin Stoilov. I didn't think we could work together in the future. When I decided to focus on e-mailing this year, after many years in online marketing, I approached Martin and he offered me cooperation on a training project for their clients.
What is the current offer of similar e-mail marketing training services in the Czech market?
Generally, there are few specialists in e-mail marketing. Especially compared to the number of social media specialists. Many companies contact me that they need e-mail marketing consultations. I feel that the offer of training in e-mail marketing is missing in our country. And it is a shame because training can help companies a lot. Many companies would need at least basic expertise to be able to set up effective e-mail marketing campaigns to achieve the desired revenues.
How do you get new clients? When will companies realize that something needs to be improved?
Usually, companies are aware of this when they have poor results. They request consultations as soon as they notice a low opening rate or the number of conversions. Clients are often surprised at how much room for improvement can be found and how easily it can be addressed.
There are statistics that confirm that e-mailing can be the online marketing tool for companies with the highest return on investment. Do you agree? And why do you think that is so?
That is right. This advantage is certainly realized by companies that have e-mail marketing set up correctly. Then the return on investment is immediate and it shows in the long run. If it is not set correctly, then, of course, this is not the case.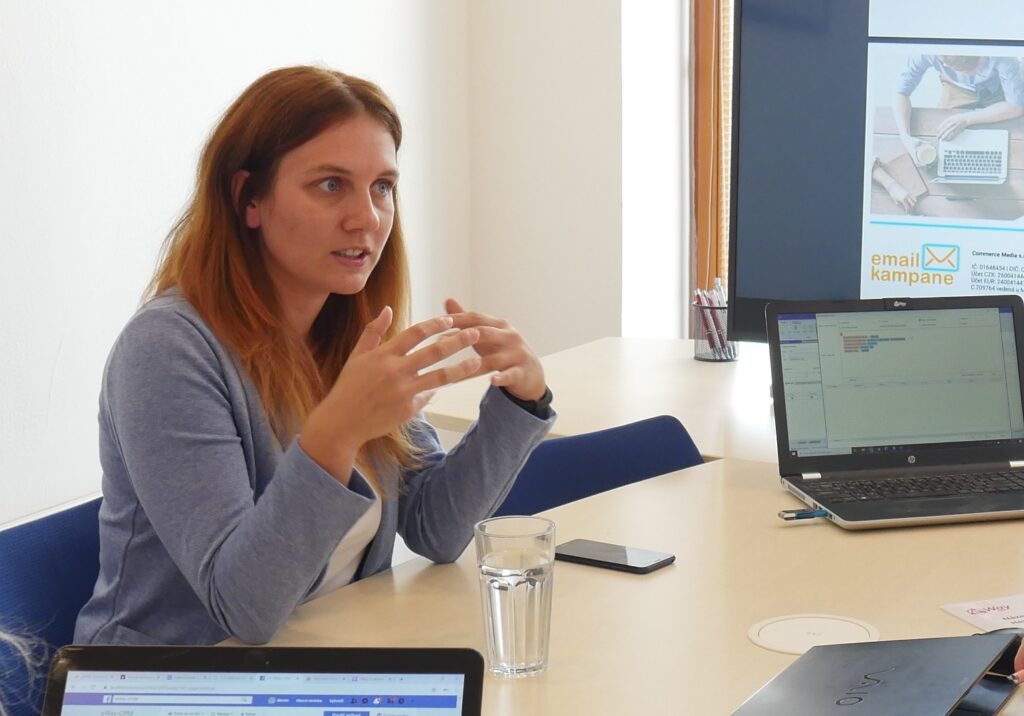 Bozena Peroutkova
What do you think is the ideal setting to make e-mail marketing for a company really effective?
The setting depends on what database the company uses. Many companies buy a database to speed up the process of gaining contacts, but in real life, this is the worst thing they can do. The database is such a gold mine for the company. Once the company convinces the customer to their newsletters, it is good to take care of them and offer them only what they really want. That is why it is important to target content properly. If the company has a diverse database, it is good to adapt the content to each target group. There are really many success factors. Reputation plays also a big role. For big brands with a good reputation, e-mail marketing usually works better from the beginning than, for example, to a new e-shop.
So how specifically can your consultations help companies and what is their process?
Clients can choose from four different types of consultations. All of them contain initial consultation and review of a current situation. We will take a look, how the company sends their e-mail campaigns, how they are using their database and so on.
If the client is interested, based on this initial consultation, we will design such measures that will lead to improvement and higher efficiency. We give all outputs in electronic form, we will discuss it with the client personally or online. We also offer a more complex solution, thanks to which clients will get our know-how and find out how e-mail marketing works.
And finally, we offer a complete solution that includes setting up an overall e-mail marketing strategy. We will also prepare a campaign for the client, choose the right segment, create an e-mail template, and then send and evaluate the campaign. We will check on one or two campaigns if the client really understands the issue and then they can see a positive effect on the results.
And what does your training offer look like?
Unfortunately, our training plans were affected by Covid-19, but we are finishing the preparations now and those who are interested will have the first appointments soon.
The weekly trainings will take place in Prague. Each training will be divided into three blocks and the last one will contain a workshop. During one week all participants learn everything from the basics of e-mail marketing to very advanced features or campaign evaluation. The training will be in small groups so we can pay enough attention to participants. At the end, they will also take a test to verify the acquired knowledge. If they pass, they will receive a certificate confirming that they have become e-mail marketing specialists under the heading Emailkampane.cz.
As an e-mail marketing specialist, you must follow the latest trends. What do you think are the most interesting news in this field?
The current trend is the dynamic content of e-mails - AMP e-mails. This is something that Seznam doesn't know yet, but Gmail already supports it. These can be, for example, interactive forms that can be inserted into the body of a newsletter. The recipient of the e-mail can perform various actions directly in the newsletter.
Another important trend is integration. For Emailkampane.cz, for example, the integration with eWay-CRM is very important. It allows customers to manage e-mail campaigns and at the same time use the CRM system, i.e., manage contacts or manage projects, in one Outlook environment.
One of the latest news was the need for Dark Mode for some e-mail clients. Users were enthusiastic about it, but marketers not, as the appearance of the newsletter would change completely. It must respond to this change so the newsletters are further legible and in line with the brand.
In short, e-mail marketing is evolving every year and there is a need to keep up with the latest trends.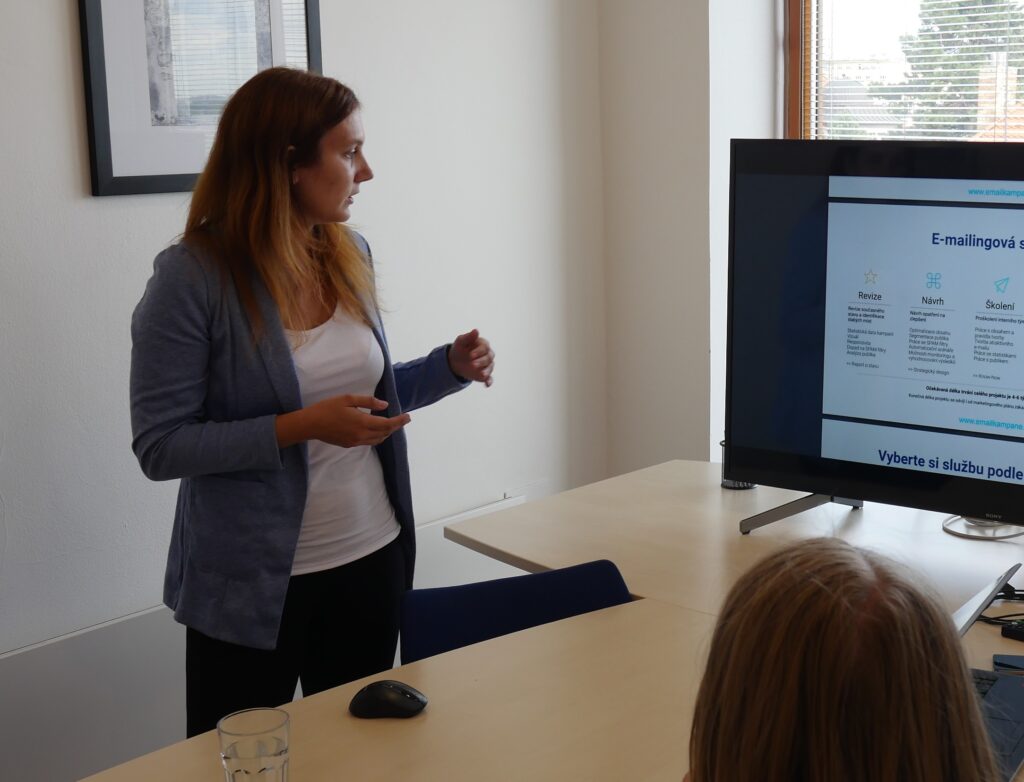 E-mail marketing training
I would say, these are very advanced features. What if a company doesn't dare to do e-mail marketing by themselves? What is your opinion on managing in-house e-mail campaigns compared to outsourcing?
I am not a big fan of neither. If your bathroom tap breaks, you can repair it yourself according to the instructions on the Internet, or save time and pay to a specialist. But if you are a plumber yourself, there is no point in calling someone in.
If we stick to this example, then a lot of companies have a team member that can handle not only e-mail marketing but also PPC campaigns or social networks. Mostly because they can't afford an e-mail marketing specialist.
Therefore, many companies that see the potential for improvement do not currently seek cooperation on a regular basis, but only consultations. As soon as I pass on the know-how to the companies, they are able to manage e-mail marketing by themselves.
When the company decides to contact you what should they prepare to make your meeting as effective as possible?
During the initial consultation, I usually listen to the client. One of my first questions will be what database the company has, how they got their contacts.
Before even going to the first meeting, I will request documents that will help me better understand their current situation. Together we will look at their campaigns and what their results are. I will also ask what they expect from e-mail marketing and why they think it is not working for them now.
During the initial consultation, I analyze the client's situation, and based on that I am able to find out a room for improvement. The next steps depend on which solution the company chooses.
It's basically something like a medical appointment. With diagnosis included.
(laughing)  You could say so. But nothing will hurt you during the consultation and I hope it is more pleasant. I'm trying to understand the client's needs because everyone has different goals. E-mail marketing is diverse, and that's what I enjoy about it. I can have hundreds of clients, but it will always be different.