Stay Organized and Proactive: The TOP 9 CRMs with Outlook Integrations in 2023
Do you want to know a secret for keeping a competitive edge in business? Quite simply, it's staying organized and proactive. Imagine for a moment that you're a sales professional, diligently juggling emails, meetings, and client interactions, all while striving to provide an exceptional customer experience.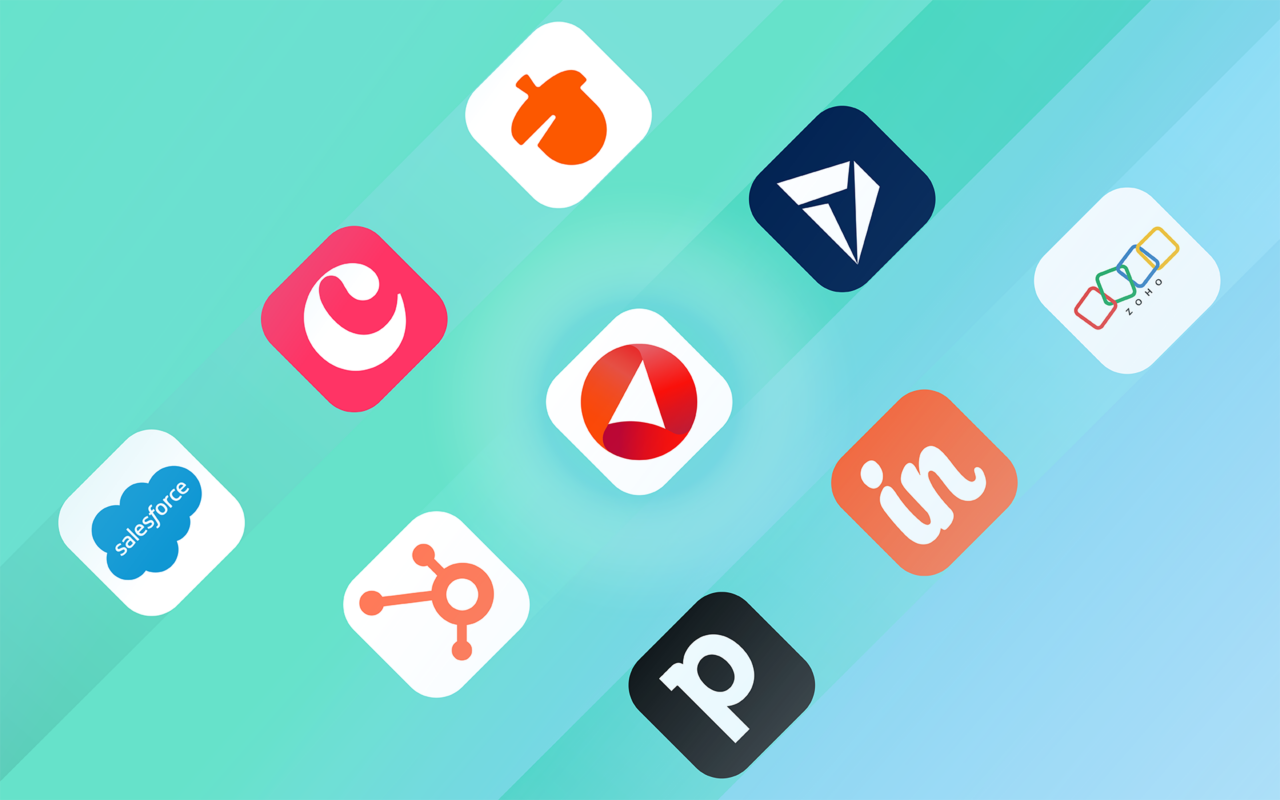 Now imagine having the perfect tool at your disposal—a Customer Relationship Management (CRM) system that seamlessly integrates with Outlook, your familiar and user-friendly environment. This integration allows you to effortlessly sync emails, contacts, and appointments, providing you with a comprehensive view of your customer relationships within Outlook.
In this article, we will discuss the top nine CRM software solutions that offer this valuable Outlook integration - plus take a look at some features of our own eWay-CRM.
The CRM systems we explored include:
We'll delve into how these CRM platforms, coupled with Outlook's familiar interface, empower you to navigate the demanding world of customer relationship management. So, let's explore the power of integration and embrace a more organized and proactive approach in 2023.
"A good tool improves the way you work. A great tool improves the way you think."
Jeff Duntemann, Author and Tech Journalist
1.    eWay-CRM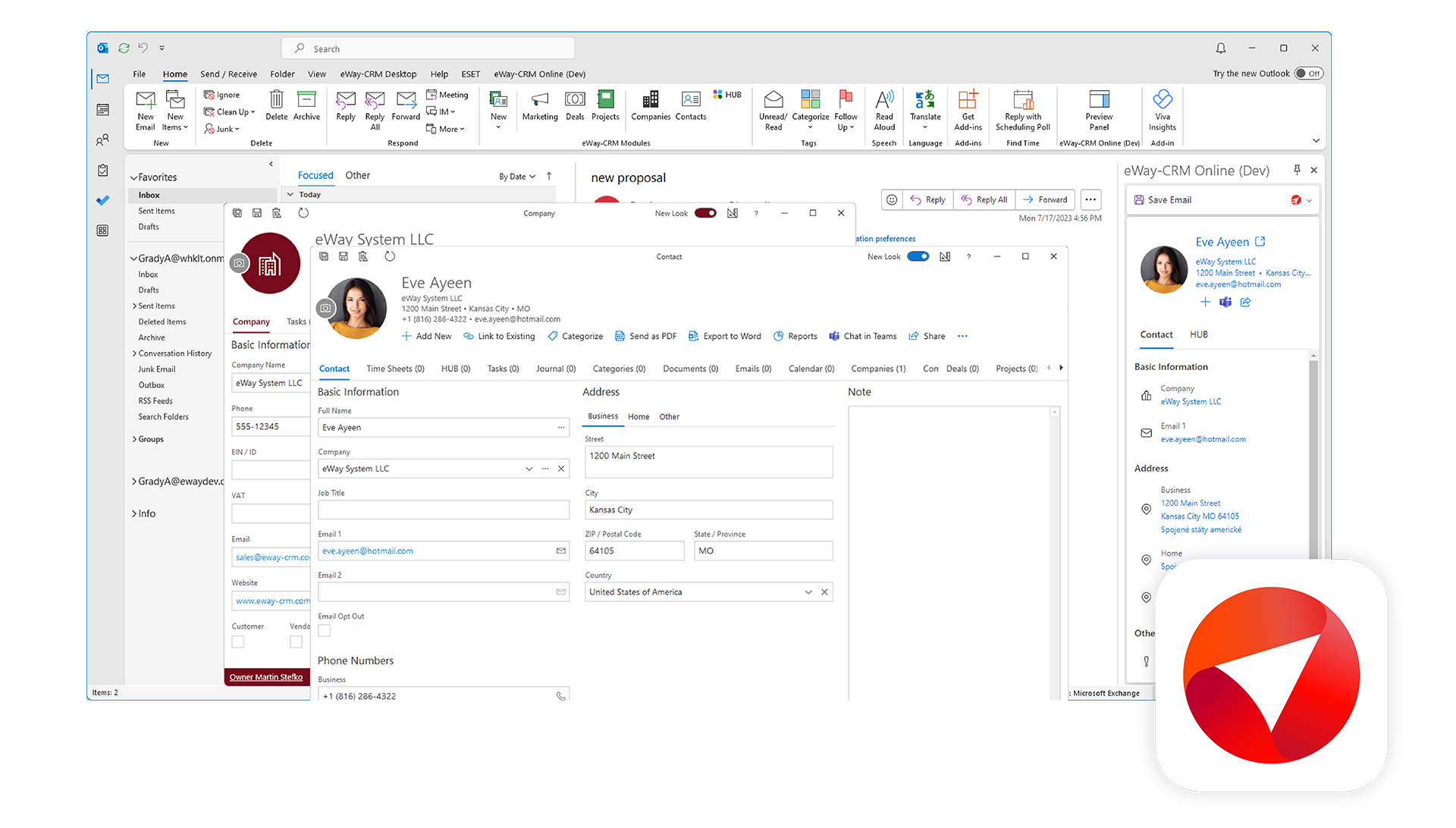 eWay-CRM is a user-friendly CRM solution that operates within the familiar environment of Outlook. It offers a solid set of tools designed to organize your business's contacts, correspondence and sales and marketing resources without requiring advanced CRM knowledge.
With eWay-CRM, there's no steep learning curve. The system is intuitive and straightforward, ensuring that your team can quickly understand and use it effectively. Utilizing eWay-CRM within Outlook means your team can leverage their existing knowledge of Outlook's interface, making the transition effortless.
With team collaboration being key, eWay-CRMs integration with Outlook means that the data that was already existing in Outlook can be easily shared with the rest of the team. Emails and contacts can also be automatically saved and synchronized, plus scheduled meetings, tasks and reminders integrated with a calendar.
Another big benefit is eWay-CRM's ability to sync to your smartphone, meaning that your CRM is available on the go. This makes conversations and leads easy to follow from wherever you are.
eWay-CRM users can say goodbye to the complexities of traditional CRM systems that require hours of training and even more resources to understand the complexity of the analytics. eWay-CRM empowers you to manage sales and customer relationships with ease, all within the simplicity and familiarity of Outlook.
5 takeways reasons why eWay-CRM is the best choice for your business
Everyone on the team can use eWay-CRM - no advanced training is required.
It's versatile. It's a tool for managing customers, deals, projects and marketing, but without the fuss associated with larger and more complex CRM systems.
It integrates with all versions of Outlook, including desktop, web, Mac and mobile.
Start free and upgrade only when you are ready, meaning you are never pressured into making a purchase decision.
It is trusted by 1 500+ companies that use Outlook.
eWay-CRM is a tool that works for you, not a tool your company has to adapt to in order to use.
2.    Hubspot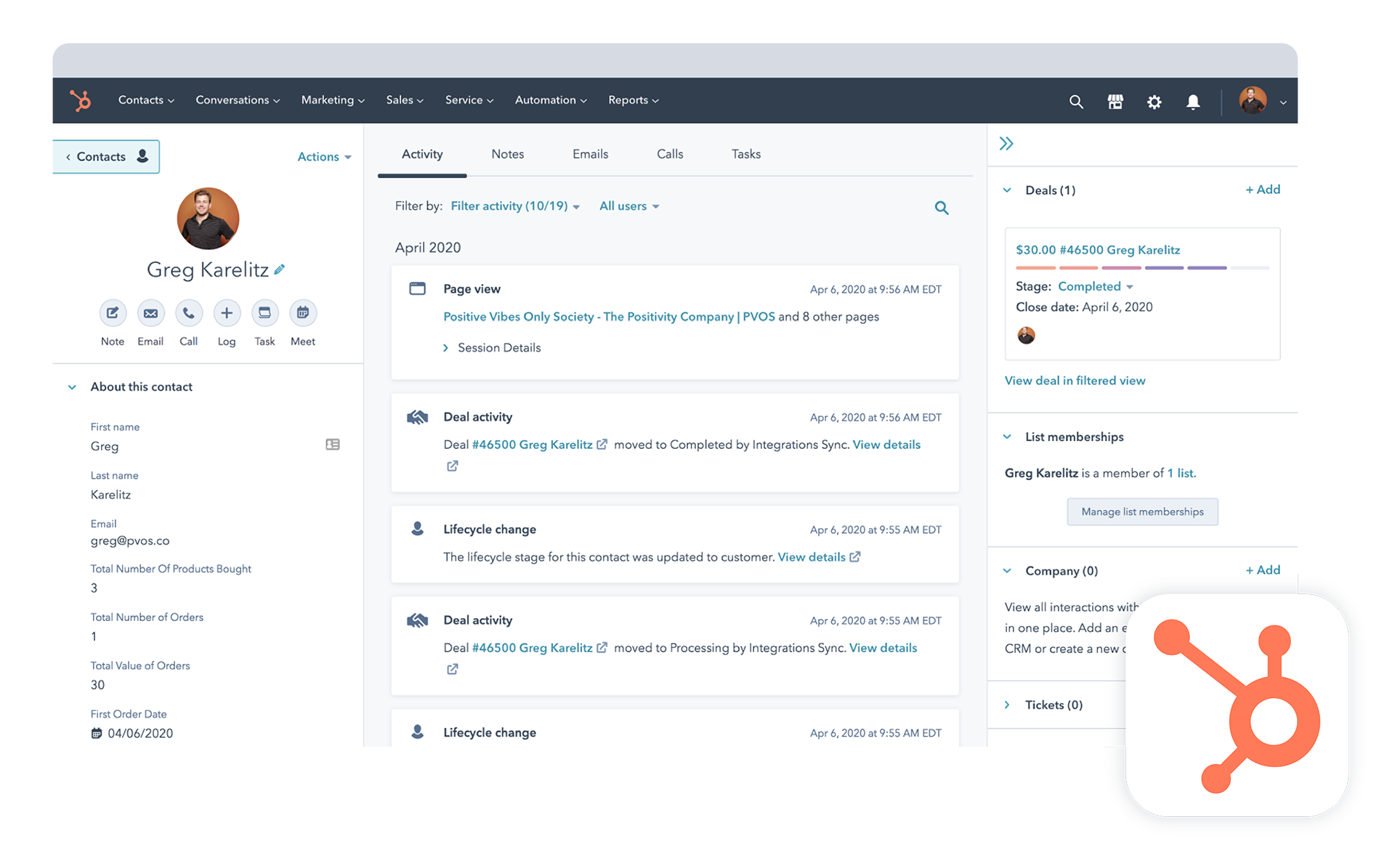 HubSpot CRM offers a very comprehensive suite of features designed to enhance productivity and streamline customer relationship management. In addition to being a CRM that integrates with Outlook, it provides a wide range of tools and functionalities that empower users to effectively manage their contacts, emails, meetings, and more.
One notable feature is email tracking, which allows users to monitor and analyze email interactions. This feature provides valuable insights into customer engagement, enabling users to tailor their follow-ups and communication for better results. By understanding how recipients engage with emails, users can deliver timely and personalized responses.
HubSpot also simplifies meeting scheduling by providing a seamless system that syncs with users' calendars. Users can easily schedule appointments and ensure that their calendars are always up to date. This eliminates the need for manual data entry and helps users manage their time more efficiently.
When it comes to contact management, HubSpot offers a centralized solution for organizing and updating contact information. Users can access and update contact details, ensuring that their database remains accurate and synchronized. This eliminates the need for duplicate efforts and saves valuable time.
By leveraging the features of HubSpot, professionals can better streamline their workflows and deliver improved customer experiences. The platform equips users with the necessary tools to stay organized, proactive, and responsive in managing their customer interactions.
3.    Microsoft Dynamics 365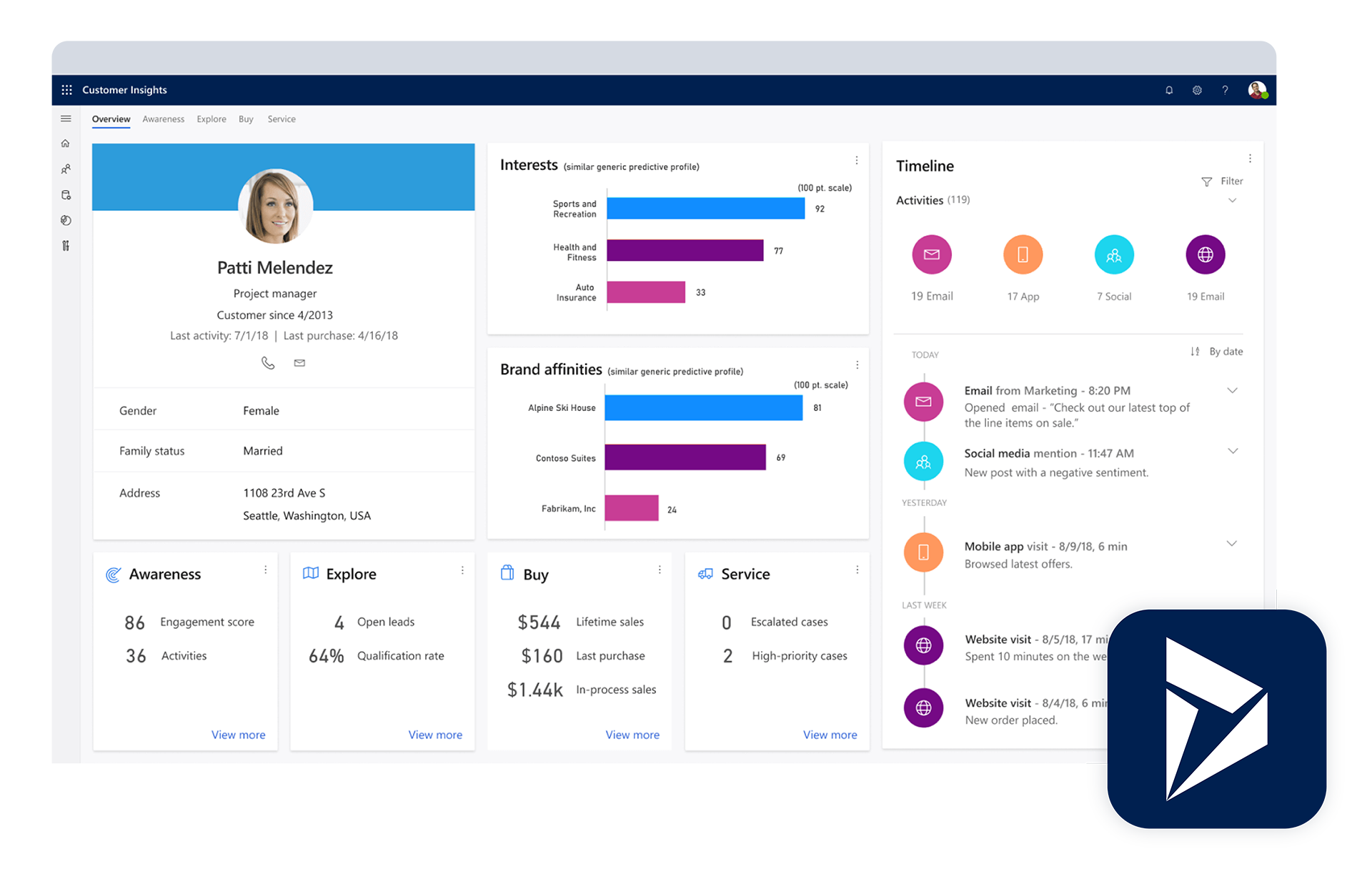 Microsoft Dynamics 365 offers a wide array of features to enhance the capabilities of a CRM system.
One of its notable strengths is its integration with Outlook, allowing users to seamlessly synchronize their emails, contacts, tasks, and appointments between Dynamics 365 and Outlook. This integration ensures consistent communication and customer-related information across both platforms.
Aside from Outlook integration, Microsoft Dynamics 365 provides robust customer relationship management features. It enables users to track and manage customer interactions, including sales leads, opportunities, and customer service cases. With its comprehensive customer database, users can store and access important customer information, such as contact details, purchase history, and preferences.
Dynamics 365 also offers analytics and reporting capabilities, enabling users to gain valuable insights into their sales performance, customer trends, and overall business metrics. This data-driven approach empowers users to make informed decisions and optimize their sales and marketing strategies.
Another notable feature of Dynamics 365 is its mobile accessibility, enabling users to access their CRM data and perform essential tasks on the go. Whether it's checking customer details, updating records, or tracking sales activities, users can stay productive and responsive even when they are away from their desks.
4.    Pipedrive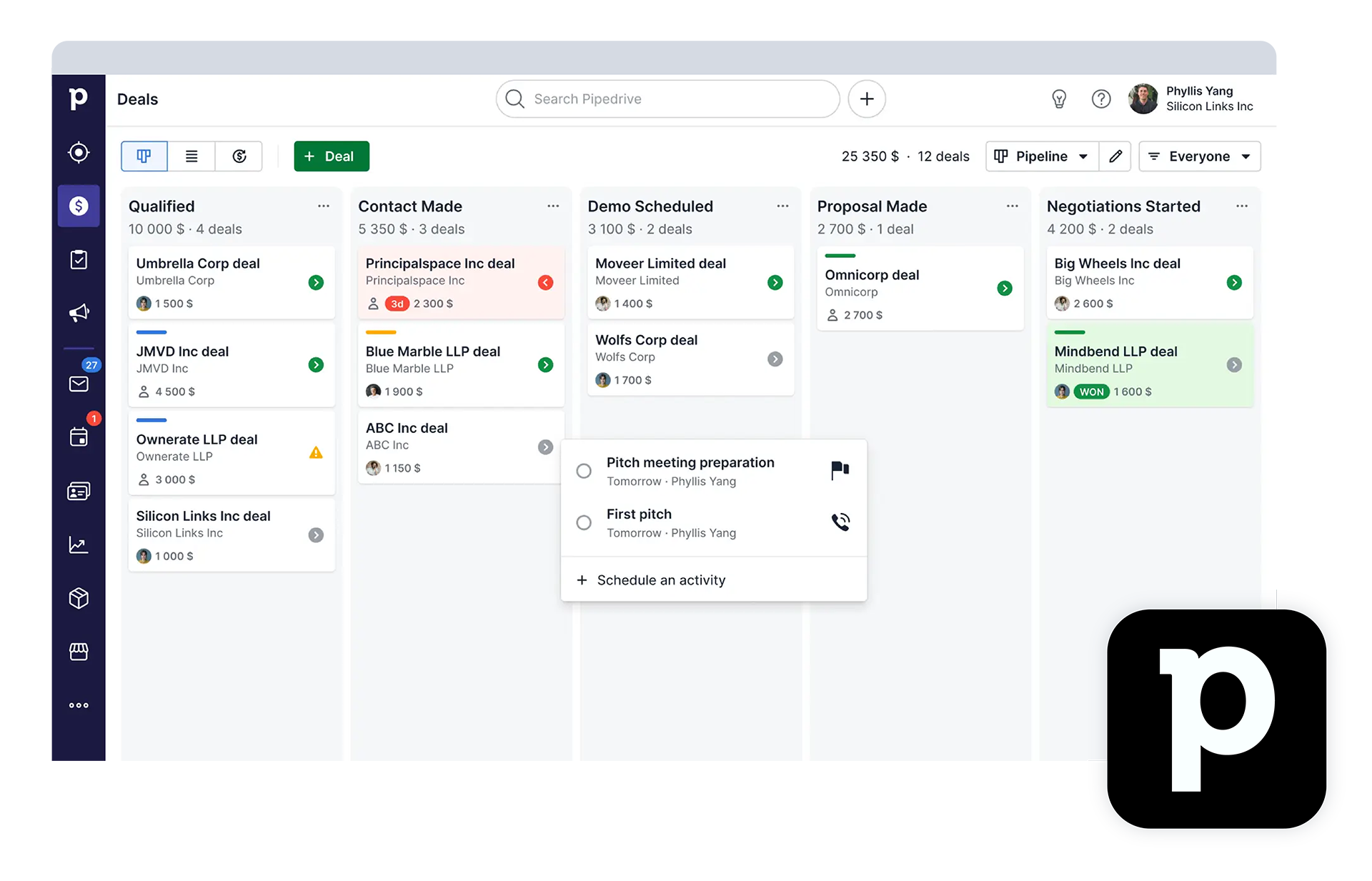 Pipedrive is a CRM that has been designed to empower sales teams in closing deals effectively. Its CRM software integration with Outlook enhances user productivity by helping them to manage customer interactions within the Outlook environment.
By syncing emails, contacts, and calendar events, Pipedrive streamlines workflows and fosters a cohesive and organized approach to customer management. With Pipedrive's visual pipeline feature, sales professionals gain a clear and intuitive view of their sales process.
This visual representation enables teams to track deals at every stage, identify potential bottlenecks, and take action to drive them forward. With the combination of Pipedrive's visual pipeline and Outlook integration, sales teams can more effectively manage customer interactions. The visual pipeline also helps teams stay organized and navigate their sales process with greater ease.
5.    Zoho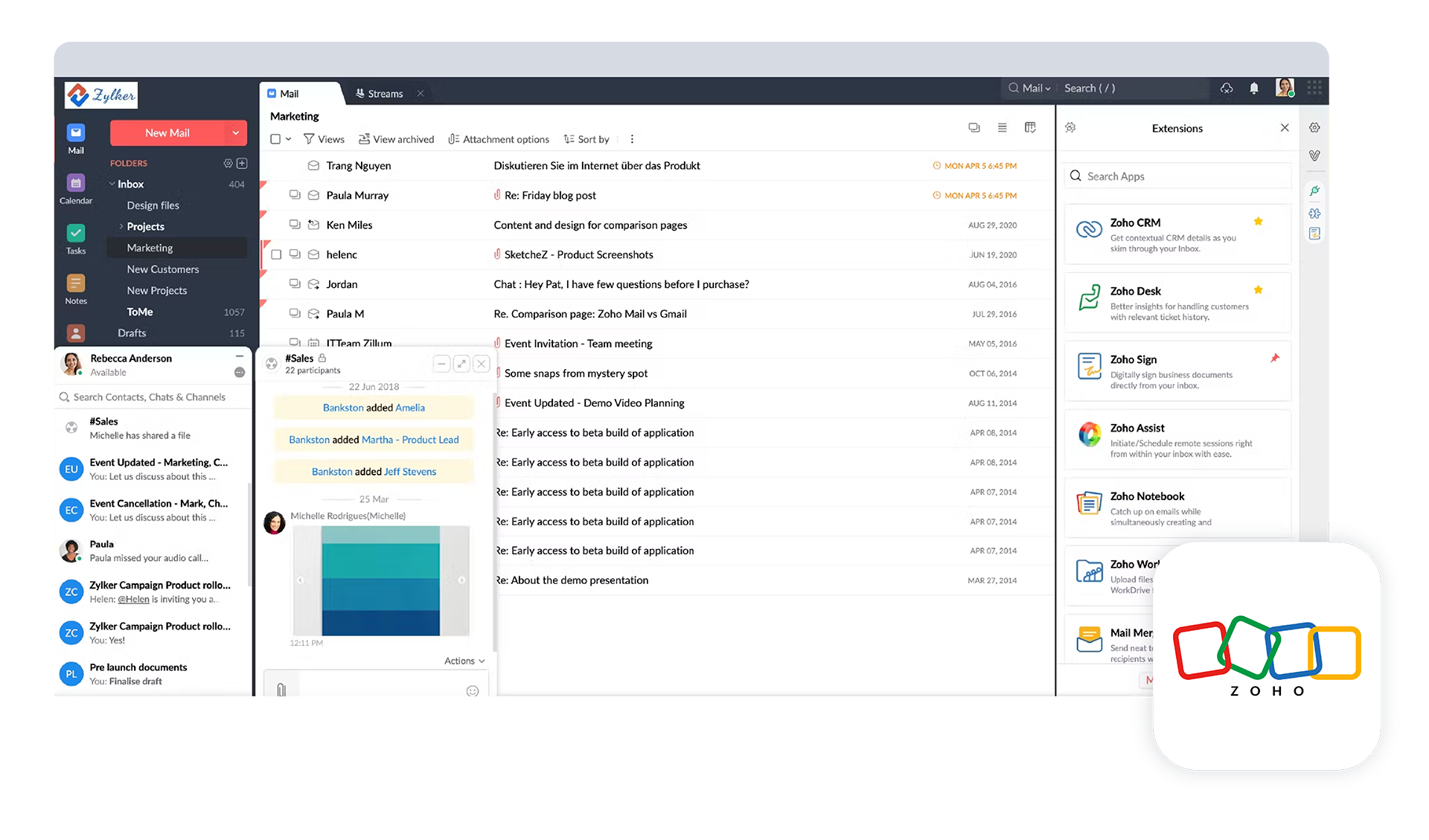 Zoho is another Outlook-compatible CRM platform that offers a range of key features to help businesses efficiently manage their customer interactions and drive success. With a focus on customization and ease of use, it provides organizations with the tools they need to enhance sales, marketing, and customer service efforts.
One of the main features of Zoho CRM is its contact and lead management capabilities. Users can store and organize customer information in a centralized database, enabling easy access to vital details such as contact information, communication history, and purchase records. This feature allows businesses to gain a holistic view of their customers, facilitating personalized interactions and targeted marketing campaigns.
Zoho CRM also offers sales automation tools. Users can track leads, manage opportunities, and automate sales processes from start to finish. With features like workflow automation, email templates, and sales forecasting, it helps streamline sales operations and improve overall sales efficiency.
Another notable feature is Zoho CRM's marketing automation functionality. Users can create and execute targeted marketing campaigns, track campaign performance, and analyze customer engagement metrics. Integration with email marketing platforms and social media channels further enhances marketing capabilities, enabling businesses to effectively reach their target audience.
Additionally, this CRM provides a comprehensive customer service management module. It allows businesses to track and manage customer inquiries, support cases, and service-level agreements. The platform also offers self-service portals, which allow customers to find solutions to their queries independently.
6.    Salesforce
Salesforce is a versatile CRM platform that offers a range of key features to help businesses effectively manage their customer relationships. These features are designed to enhance sales, marketing, and customer service efforts, providing organizations with a comprehensive toolkit to drive success.
Aside from integrating with Outlook, one of the key features of Salesforce is its robust contact and account management capabilities. Users can store and organize all customer information in a centralized database, enabling easy access to important details such as contact information, communication history, and purchase records.
The contact and account management function also allows businesses to gain a holistic view of their customers, enabling personalized interactions and tailored marketing campaigns.
Another notable feature is the sales automation functionality. Salesforce provides tools to streamline sales processes, from lead generation and opportunity tracking to deal closure and sales forecasting. Automation features such as workflow rules and email templates help save time and ensure consistent follow-up, improving overall sales efficiency.
Salesforce comes equipped with marketing automation capabilities. Users can create and execute targeted marketing campaigns, track campaign performance, and analyze customer engagement metrics. Integration with email marketing tools and social media platforms further expands marketing capabilities, allowing businesses to reach their target audience effectively.
7.    Insightly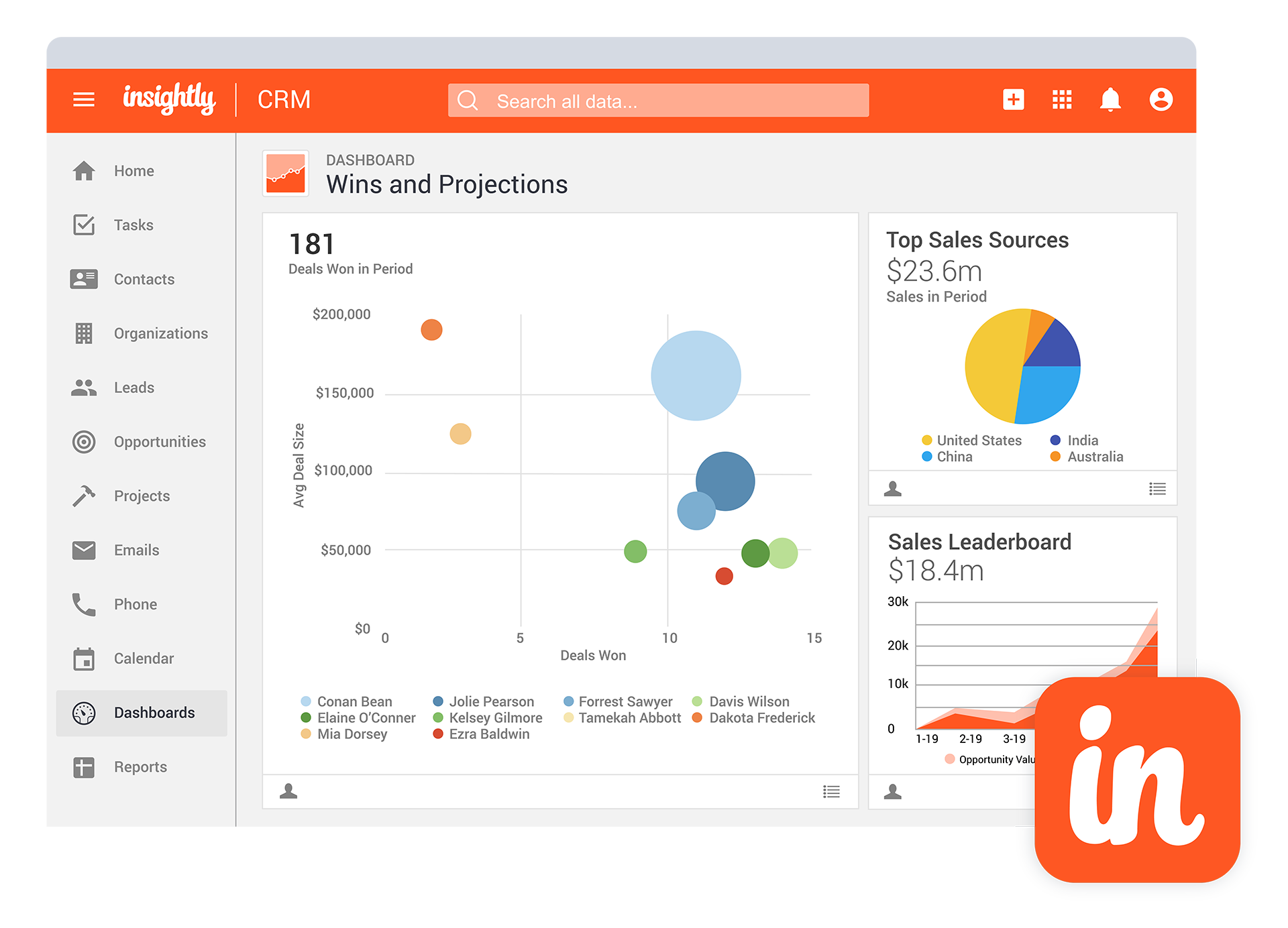 Insightly CRM is another CRM that integrates with Outlook, allowing users to easily sync emails, contacts, and calendar events. This integration enhances productivity and provides a cohesive experience for managing customer interactions.
Insightly is known for its user-friendly platform that helps users organize tasks, track sales, and analyze key metrics to achieve their goals. Users can easily stay organized by effectively managing their tasks and ensuring nothing of importance falls through the cracks. The platform also enables users to track sales progress, providing a comprehensive view of their pipeline and opportunities.
Additionally, Insightly offers robust reporting capabilities, empowering users to analyze quantitative data and generate insightful reports. This user-friendly tool allows businesses to make data-driven decisions and measure performance effectively.
Whether users need to track tasks, analyze sales numbers, or generate reports, Insightly CRM provides a smooth experience and the quantitative data needed to drive success.
8.    Copper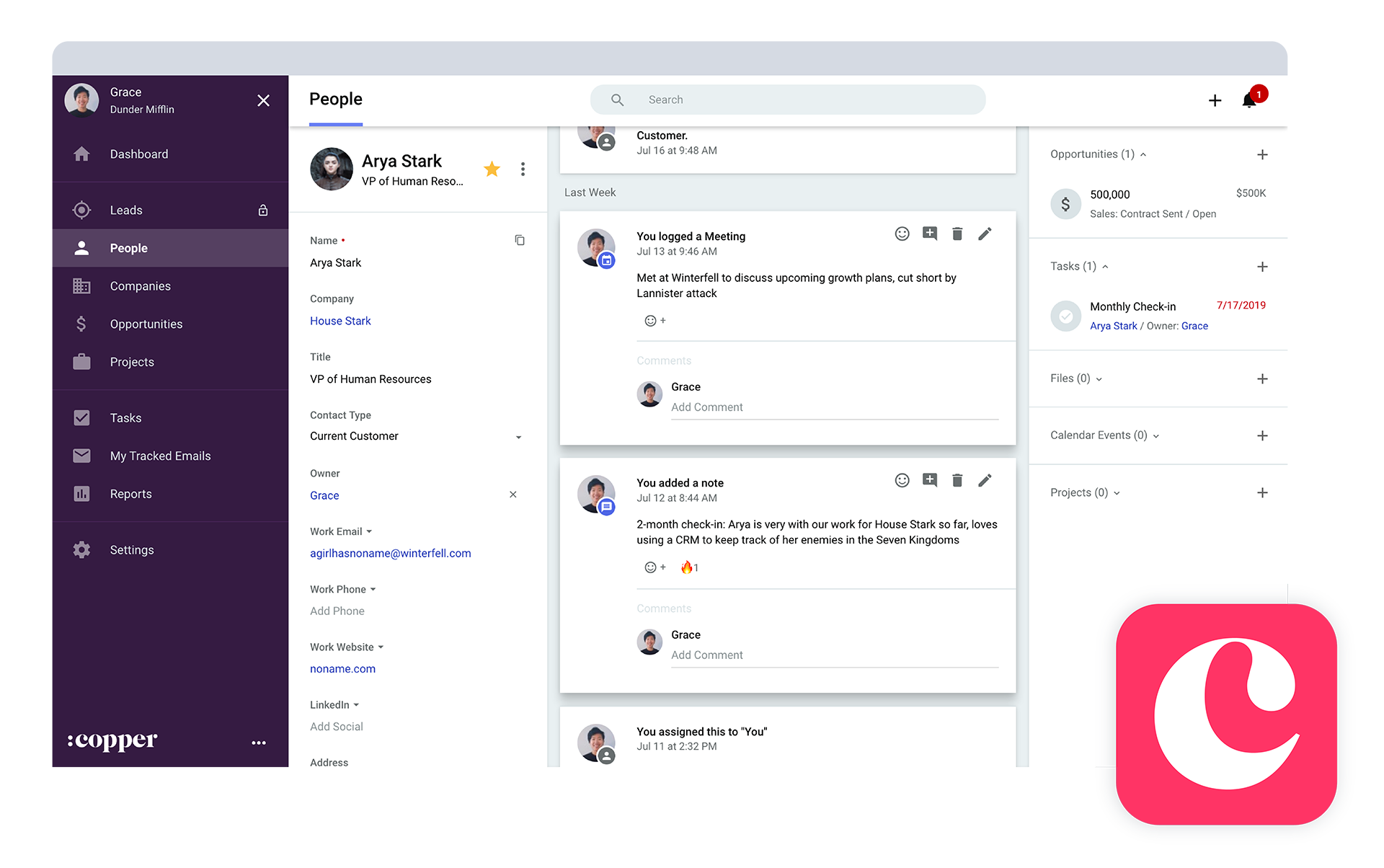 Copper CRM, formerly known as ProsperWorks, is a versatile CRM platform packed with powerful features designed to streamline customer relationship management.
One of its notable features is its intuitive task management, allowing teams to stay organized and track progress effortlessly. The platform offers customizable pipelines, enabling users to visualize and manage sales opportunities efficiently. By automating repetitive tasks, it saves time and boosts productivity, allowing teams to focus on building customer relationships.
Copper CRM also provides insightful analytics and reporting tools, offering valuable data-driven insights into sales performance. Users can generate detailed reports, identify trends, and make informed decisions to drive business growth.
Additionally, this CRM offers seamless integration with various applications and platforms, expanding its functionality and enhancing workflow efficiency. This integrative approach ensures a seamless experience with other essential tools used by businesses.
9.    Nutshell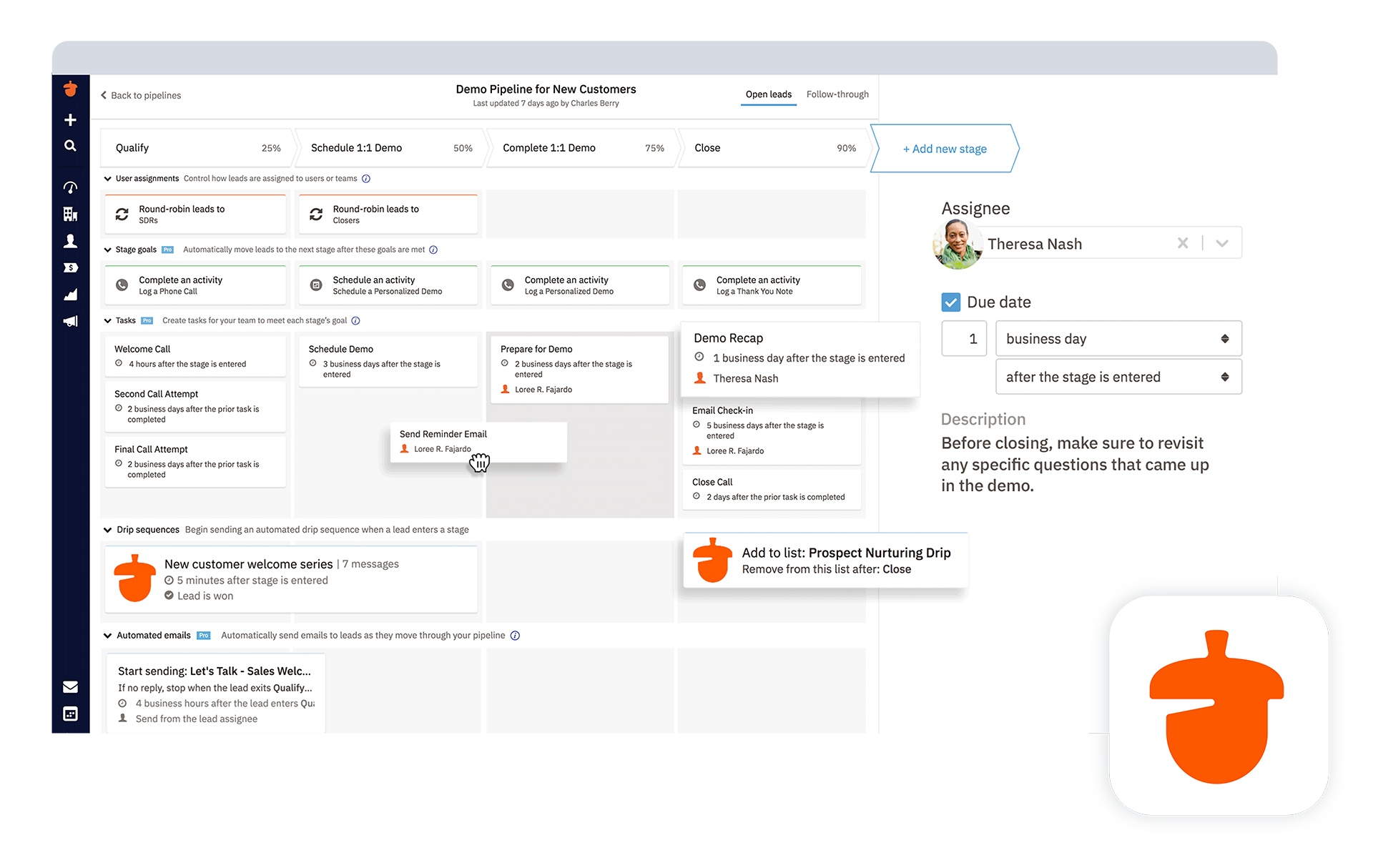 Nutshell CRM is a versatile CRM platform that helps businesses streamline their sales processes and improve customer relationships. With Nutshell, teams can efficiently manage leads, track sales opportunities, and deliver excellent customer service.
The platform features an intuitive interface and user-friendly design, enabling users to navigate and access important information with ease. Nutshell offers a range of essential features, including contact management, pipeline tracking, sales reporting, task management, and team collaboration, all designed to optimize sales performance.
It also integrates smoothly with Outlook, allowing users to sync emails, contacts, and calendar events between the two platforms. This integration simplifies communication and scheduling, promoting efficiency and eliminating manual data entry.
By leveraging Nutshell CRM, businesses can gain insights into their sales process, enabling them to identify opportunities and make informed decisions. The reporting and analytics capabilities provide meaningful data to refine strategies and drive success. Collaborative features allow team members to work together on deals, share information, and troubleshoot more effectively.
Making an Informed Decision on a CRM with Outlook Integration

Selecting the best CRM for your business is crucial, and considering the convenience of CRM Software with Outlook integration is a significant factor in your decision-making process. But that's not all. There are more key factors to consider, including:

Does it have a user-friendly interface that your team will operate with ease and therefore cut down on wasted time and costs involved in the adoption of more complex CRMs?
Does it have loads of features and analytics your company will never need to be able to understand without onboarding tech experts?
Does it integrate with valuable tools such as the PowerBI Sales Executive Dashboard?
Does it have customizability options that cater to businesses with varying needs, such as if you require a simple and straightforward solution?
Can you try it for free to see if it is a good fit before you commit to signing up?

By carefully assessing your business requirements and factoring in the convenience and integration capabilities with Outlook, you can choose a CRM that aligns with your specific needs. Whether you require a simple solution or a more complex CRM, the right choice will empower your business to enhance customer relationships, streamline operations, and drive success.
Discover the power and ease of a CRM that sits right inside your Outlook!