Power BI vs Excel: Which Is Better For Reporting?
Microsoft Excel celebrated its 35th birthday last year. During its existence, it has reached such a dominant position that it has become a standard part of school curriculum. Some start-ups often do not even consider using another, more modern tool to analyze business data. At the same time, Microsoft also offers Power BI, which may represent a new standard of business analysis in the future. So, what are the features of Power BI? And who would win the Power BI vs Excel battle?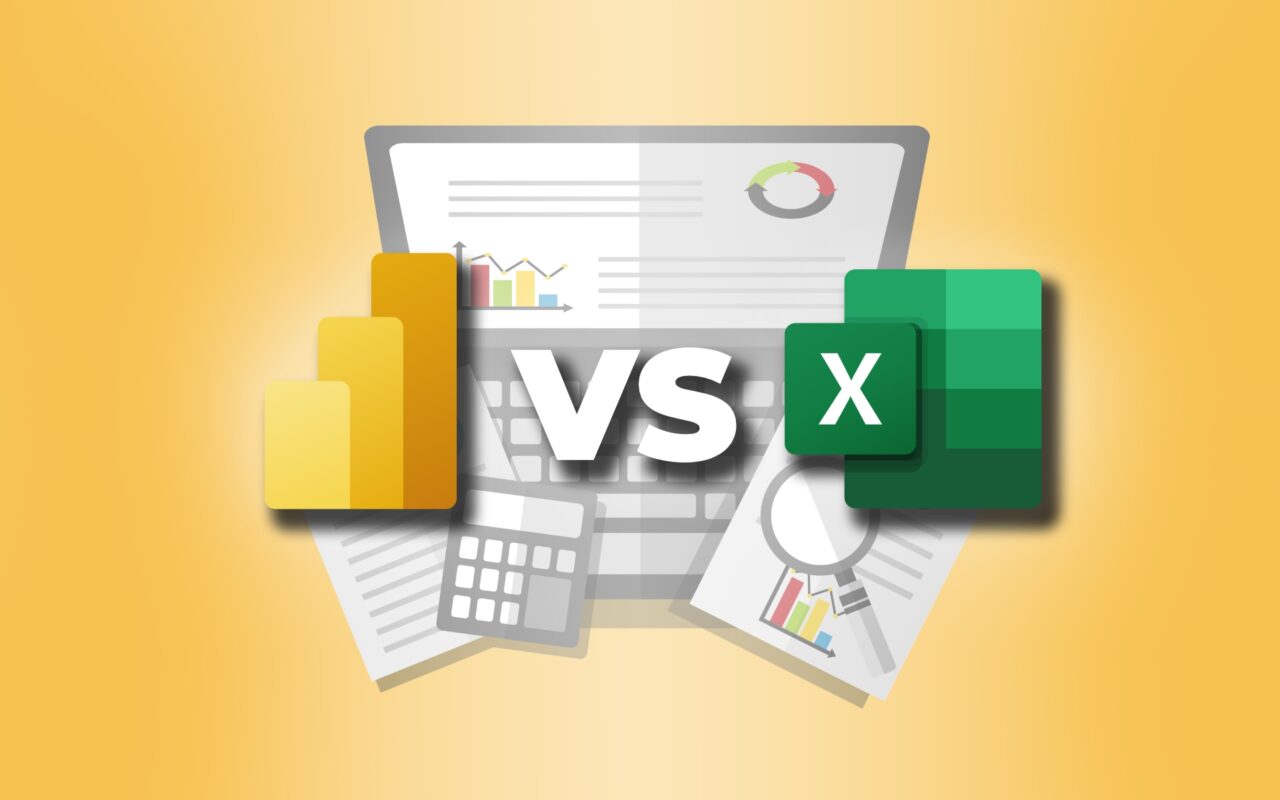 Let's briefly introduce both rivals. Power BI as a junior challenger is designed as an intuitive and attractive tool in which everyone can make beautiful reports without knowledge of working with databases. Power BI automatically updates the data in reports thanks to the integration with CRM, Google Analytics, or accounting systems. The analyst does not have to waste time rewriting and can focus on more sophisticated work.
Fans, on the other hand, are right that Excel is an old experienced brother with which experienced users can do almost miracles. In most cases, however, you need to invest much more time in establishing a connection to the data source, and sometimes you even need to enter the data manually. And that has been overcome already.
Even so, the familiar Excel environment usually suits "old school" users. And it's perfectly fine. For those who are open to innovation Power BI can save a lot of valuable time. Which is one of the many important parameters that can decide the winner of the Power BI vs Excel match. What else should not company forget when making a decision?
To share or not to share?
The classic Hamlet question is out of place in this case. Only except freelancers. Data sharing is a must for anyone working in a team. It is good to send Excel files by e-mail as much as possible when communicating with the client. At the team level, an effective solution needs to be set up so that files are not searched for a long time, so that it is clear which changes made to the report are current, and so that the data does not fall into the wrong hands.
The common solution to these problems in team cooperation is the cloud. You can store Excel files on a corporate server or you can use Microsoft storage. In Power BI, data is also stored on a remote server. Unlike Excel, however, no longer in the form of individual files. You can download the so-called .pbix report from the Power BI online service to the Power BI Desktop, but the reasons why you should fall in love with Power BI are completely different.
Not a single step without a mobile phone
A more and more common requirement for software is the ability to work from anywhere. Officially, Excel and Power BI can be run on all devices, but are both softwares on mobile devices user-friendly? Power BI is clearly on top in this respect.
For example, the morning commute to work can be used to check company results. But who would like to look hard in the tables on the small display of a mobile phone? The Power BI environment is mobile-friendly in the true sense of the word. You can create your custom views for mobile devices, so reports can be viewed quite naturally. You don't have to be a local expert in scrolling and zooming to find important numbers on the display.
There's nothing older than yesterday's report
The old familiar saying about yesterday's newspaper can easily be translated into business analysis. Especially when you know you can have current data anytime, anywhere. Even in this case, however, what is current in Excel pushes Power BI even further.
An Excel spreadsheet located on the cloud is a guarantee that everyone in the team has the most up-to-date version of the report. However, each report is only as current as the data which it uses. In
As mentioned at the beginning, PowerBI allows integration with a wide range of third-party systems. Thanks to this, the data in the reports is always up-to-date. All you have to do is sacrifice some time to set up integration with CRM, accounting systém, or Google Analytics, and the data in the reports will automatically update forever.
Dashboards – great and especially practical report center
Setting up individual reports in PowerBI is generally more time consuming than creating a simple spreadsheet and chart in Excel. If you want to process some statistics only once, Excel will probably be an easier, faster, but also more modest choice.
The selection of charts in Excel is certainly varied but the endless selection of colors and styles is not the most important thing. If you really want to win, Power BI includes a virtual marketplace where you can download hundreds of plugins for free. With the help of new graphic tweaks, you can visually depict any data.
Even more interesting plugins are Power BI apps. After installing the additional application, you will get ready-made dashboards with interactive reports. Thanks to this, for example, the mentioned integration with CRM can be free and practically without work. As with Google Analytics and other systems.
Users who have experience with Analytics will learn interactive dashboards in Power BI very quickly. Filtering business data based on a variety of parameters, such as date, geographic distribution, source of incoming demand, etc., is pretty fast. And also more fun. In the Power BI "control room" you have a map of the whole world in front of you. When you click on Texas, you will see business data from a new perspective. While the search for another Excel file is more like flipping through files on a gray file.
Sure, that's enough. But the analysis is simply smoother in Power BI, so you don't miss anything. If you're still worried, it's no problem to set warnings for alert values for specific parameters. Power BI can warn you about a low number of new requests and so on.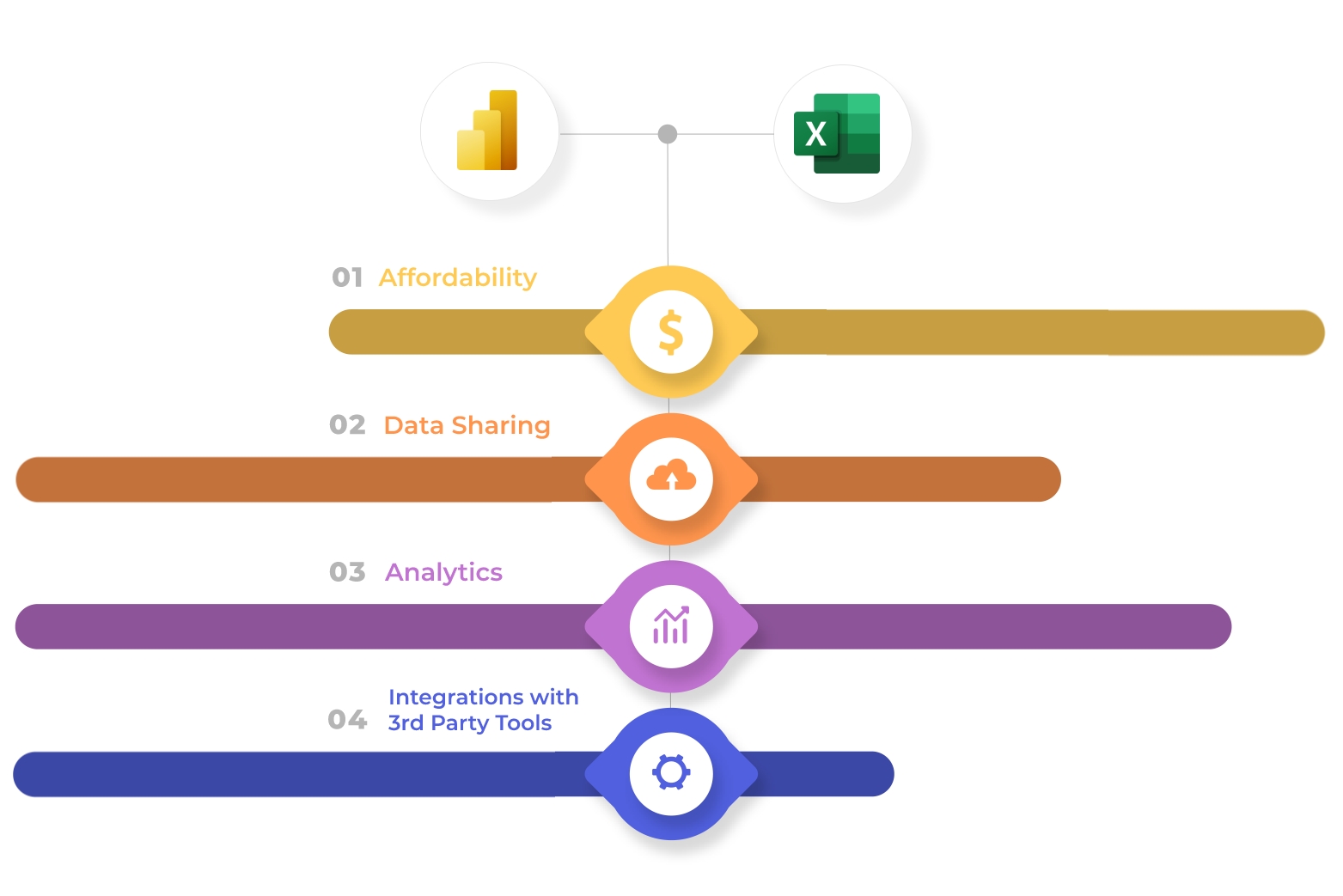 Consider pros and cons
Although Power BI is a great innovation in business, deciding on the winner of an imaginary Power BI vs Excel duel is not really that straightforward. The weighing pan on the Excel side is burdened by relatively simple and fundamental arguments. As the saying goes, "it's all about money." The price of a monthly subscription to Power BI Pro is not dizzying (€ 8.40 / $ 9.99 per user), but some companies simply will not find enough added value in Power BI, despite all its pros.
If you still haven't made the decision think about whether you will take advantages of Power BI. Your profits are not ideal and you need to analyze your business data in more detail? Do you lack advanced knowledge of Excel? Or are you an experienced Excel user and don't want to learn how to work with a new software? Are you using Google Analytics, an accounting , or CRM that is integrated with Power BI? Do you work in a team and solve common problems with sharing and retrieving Excel spreadsheets?
Ideally, your answers to these and other questions should be clear so that the weighing pans tilt to one side. Business data analysis and effective customer relationship management are almost a necessity, whether you are doing business in an industry that was unexpectedly surprised by increased demand in 2020, or in a less fortunate industry where it is necessary to fight for every customer. If you have accurate and clear reports, you know what needs to be worked on.