eWay-CRM 8 Unleashes Enhanced Mobile Integration and Game-Changing Board View Support
Experience the future of CRM software as eWay-CRM 8 takes center stage, redefining the way businesses manage their customer relationships. Discover seamless mobile integration and a brand-new board view that brings a fresh perspective to your company's data. Stay ahead of the competition with eWay-CRM's innovative features.
In the ever-evolving landscape of business, staying ahead requires adaptability, innovation, and the right tools. That's where eWay-CRM 8 steps in as a game-changer. It is set to revolutionize the CRM industry by seamlessly integrating with mobile Outlook like never before and introducing an exciting new feature – the board view.
In this article, we'll explore the new features of eWay-CRM 8 that empowers businesses to streamline their operations, enhance user experiences, and gain a competitive edge. From a new toolbar that simplifies user views to the introduction of colorful categories for efficient data categorization, eWay-CRM 8 is poised to transform the way you manage your customer relationships.
WHAT ARE THE NEW FEATURES?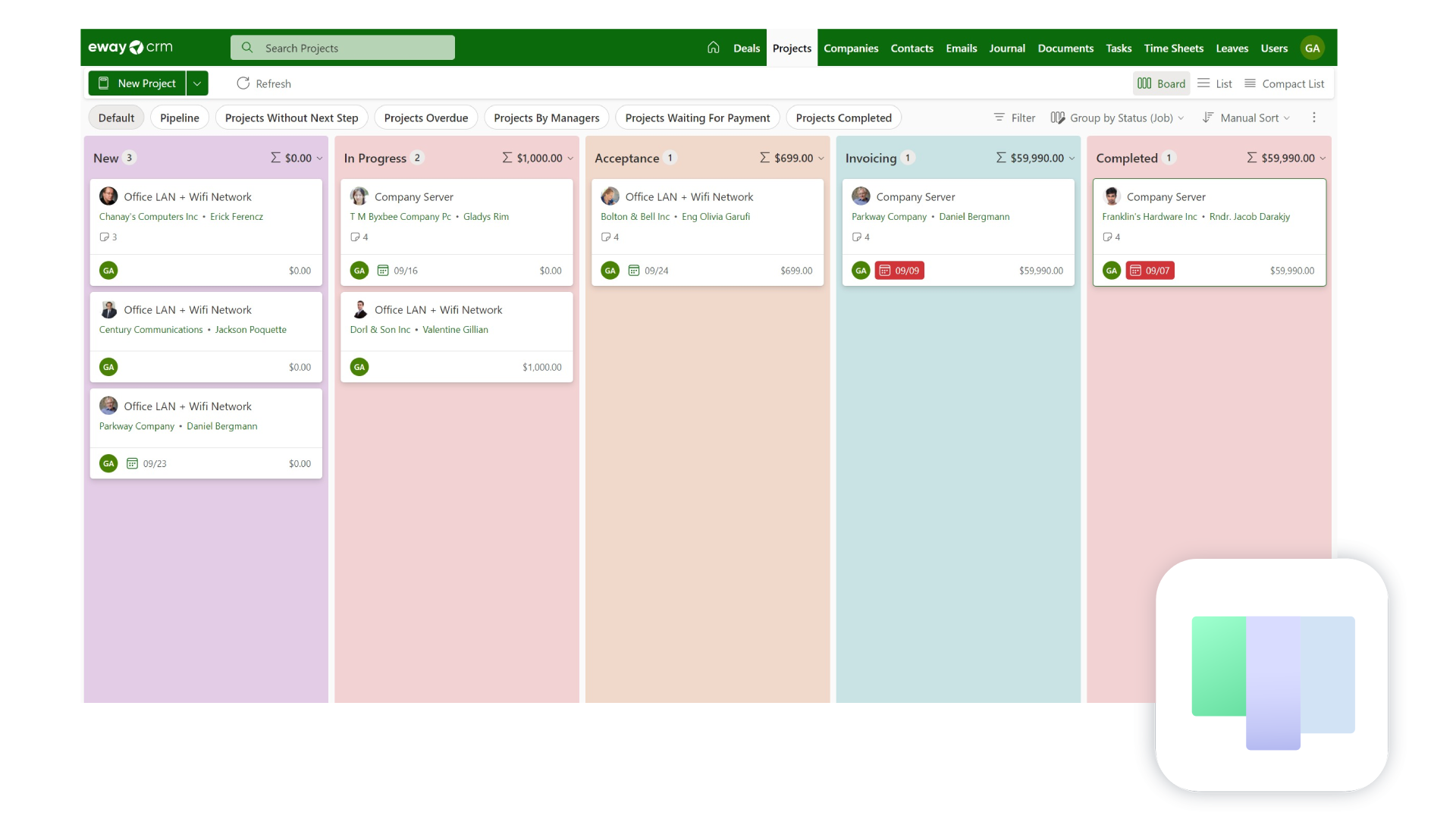 Board View
Take a look at your data from a different perspective and switch to the board view.
Group your data by statuses, owners, due dates, or your own custom fields and drag-and-drop the items as you wish.
Available in all modules!
We want to inform you that
we will stop selling lifetime licenses for eWay-CRM
. Starting on October, 1st 2023 we will be only offering eWay-CRM on a subscription model. If you plan to extend your team or upgrade your licenses and get access to
eWay-CRM Online
,
here is your last chance
. Feel free to think about it
as an investment - the ROI is only 18 months!
If you are a lifetime user, read our FAQ.
Exploring the cutting-edge eWay-CRM's next generation is a breeze! We've unlocked the ultimate Enterprise plan exclusively for our existing users until the end of September, granting them unrestricted access to all the exciting new features. And if you're new to eWay-CRM, don't worry; you can dive right into the Enterprise trial, or if it suits your needs, continue using it for free. The choice is yours!
Ready to experience the future of CRM? Don't miss out! Be among the first to explore eWay-CRM 8 groundbreaking features.