Thanks to eWay-CRM, SONET Can Handle More Business Opportunities
SONET has been providing payment technology services to banks and retailers for over 30 years. In recent years, however, the company has experienced particularly dynamic growth, and eWay-CRM has helped them manage it. SONET is now handling more opportunities than ever before.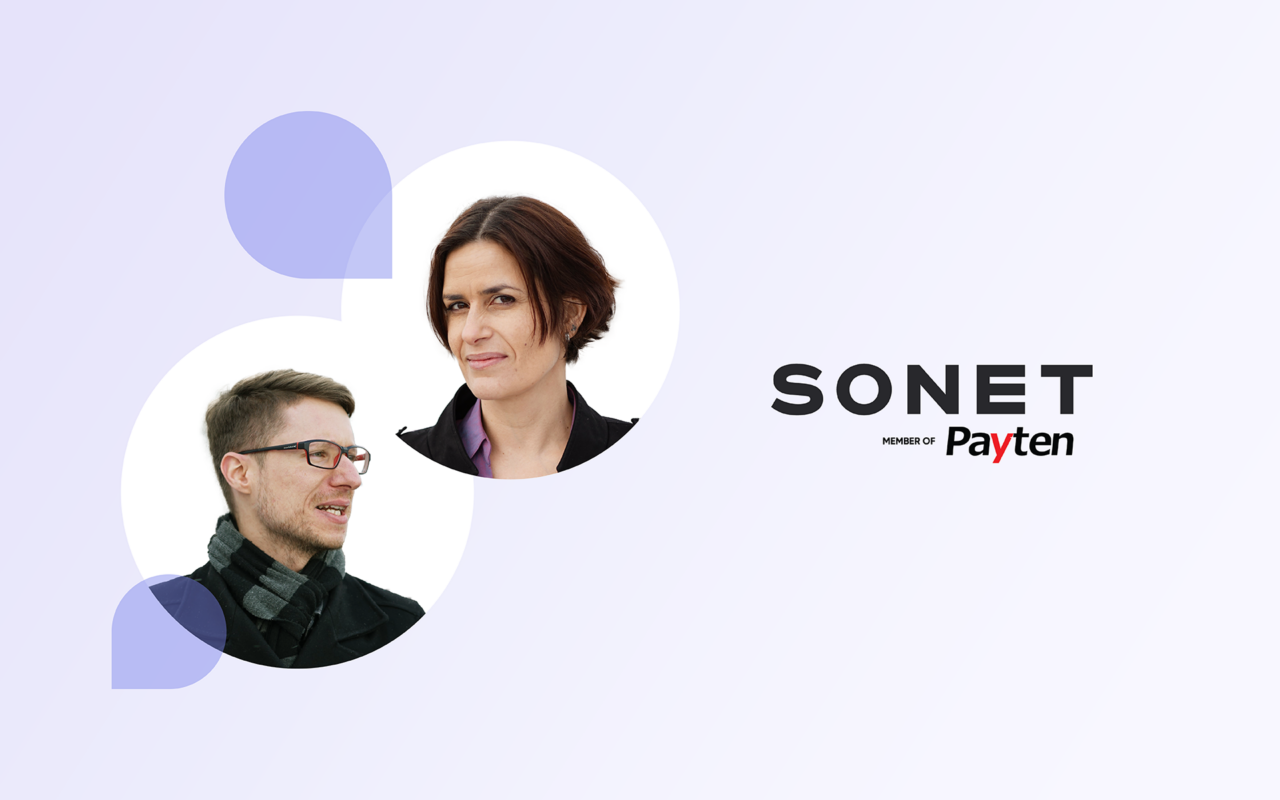 In 2019, SONET became a member of the international Payten Group with an international presence. It cooperates with banking or payment institutions from the Czech Republic, Slovakia, Hungary, and Romania and is currently expanding to other markets. Recently (partly due to Covid) there has been an increasing number of inquiries for its self-serviced terminals.
We spoke with the company's marketing manager, Kamila Dmitrukova, about the services SONET provides, how the company is growing, and how eWay-CRM has helped them manage the growing number of business opportunities. Back-office manager Roman Simik gave us a more detailed look at the implementation of eWay-CRM.
What is included in your payment technology solution?
Kamila Dmitrukova: We are a technology partner of major players in the field of payment card acceptance. Our technology enables payment cards to be accepted in many stores, especially in the Czech Republic or Slovakia, but you can also find our smart solutions in less traditional places. They are integrated in a wide range of service and self-service devices, such as self-service coffee vending machines, pay-point machines, dispensers, or other self-service devices integrated into the Smart Cities system.
Roman Simik: These are also parking systems, tankers at petrol stations, ticket machines, charity kiosks in churches, smart toilets in cities, ordering systems in fast food chains, self-service car washes, and more recently, charging stations for electric cars.
KD: We also create so-called smart payment technologies, such as parking systems with card identification. We do not only provide payment technologies, but we also service the payment terminals and provide complete technical support for all of the above.
RS: From the beginning, SONET has focused on software development and providing comprehensive services that make it easier for customers to use our technologies (service, support center, development of customer-oriented applications, etc.).
Why did you start looking for a new CRM software?
KD: We have multiple partners involved in each solution. For example, someone supplies the HW of the ordering system, someone supplies the management system, and we have to integrate our payment terminal into it. There are dozens of such projects going on at the same time and we were looking for a CRM software to handle them. We wanted to manage all possible inputs and statuses of projects and orders.
RŠ: With the growing number of business cases, we needed to keep a centralized record of much of the information we needed. For example, whether there has been contact with a given potential partner if a contract has been created, or an invoice has been paid, and so on.
Did you have any specific requirements for the selection of the CRM software?
RS: Our priority was the connection with Outlook, to ensure comfort and also security. The references of other users have also been very useful for us.
How do you work with eWay-CRM in the sales department? Have you made any customizations in the deals module?
RS: In the beginning, we worked purely with the default settings, which we tried to customize in some way until practice made clear that we would need to customize a bit more.
I personally have the advantage of working most actively with eWay-CRM. I am often at the source of business cases that are then converted into projects, and we can say that I am in some sort of supervisory role. At the same time, I can customize eWay-CRM. So I was collecting suggestions and implementing them straight away.
We took advantage of the covid era when there weren't so many projects and we had more time to customize eWay-CRM. Nowadays we wouldn't have the time to do it to such an extent. You could say that we have completely revised the initial specifications. The sales environment has been continuously developed based on user experience and at the moment we can say that eWay-CRM meets all our needs.
The main goal was to keep the information centralized and protected for SONET's needs. Then we wanted to automate the business opportunities by using limiters in the workflow. For example, a business opportunity cannot be closed or converted to a project until a mandatory activity is completed or closed. In turn, each project has its own specifics. All of this was created based on user experience.
Have you used any of our tutorials in your customization?
RS: I'm more of a do-it-yourself kind of person. Sometimes it was trial and error, sometimes I used your knowledge base. But I have to say that there are a lot of things that are intuitive in the administration interface. In 90% of the cases, I did it myself or with the help of the knowledge base.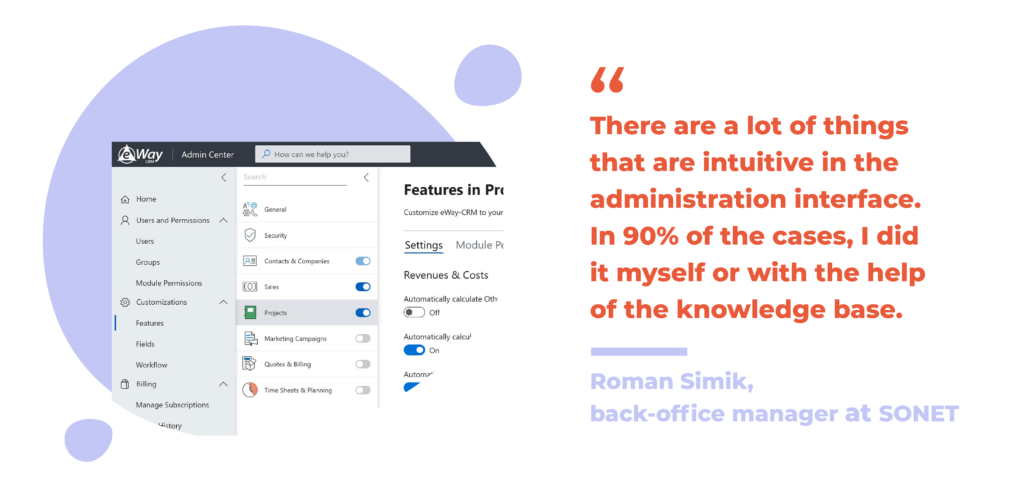 What is the biggest benefit of eWay-CRM from your point of view?
RS: I perceive the centralization of information and the reduction of errors (we have eliminated errors in processes) as a great benefit. If something is forgotten, today, thanks to eWay-CRM, we can trace everything back and correct it.
We see eWay as a tool that helps our business and doesn't "bother" it. So it gives our sales reps more options. Immediately after a meeting, they can record important information that the back-office staff needs to continue their work. Personally, I am passionate about any kind of record-keeping, so my job now is to transfer that enthusiasm to others. After a while, everyone realizes that it also benefits them by making their work easier and information more accessible.
Did the work with tasks take a similar form for you?
RS: Sales representatives do not see this as a priority due to their work activities. They have a lot on their plate. So I mostly hand over the tasks to them. This helps us to keep the contract documentation or invoicing in order. Before, a sales rep would send an email or physically go to the next office. That's fine, but we wouldn't be able to trace back to see if an invoice or contract was created and who created it, or who possibly changed any details.
Do you also use conditional formatting or filters to help you navigate your to-do list?
RS: Yes. In projects, opportunities, and other modules, there are filters created by me that I have shared fully with everyone, and conditional formatting is also set up. It actually behaves like a classic Excel. We also have previews set up for export purposes. I often need to pull data from eWay-CRM and forward it to our Support Center, for example, because these colleagues are working in other systems.
Our sales reps, in turn, have customized their opportunity overview to suit their needs. I did not interfere with that. And I'm glad I didn't because it has shown to be a useful tool for them. I can see that they've set up what they want to track there and they follow the internal rules when working with workflow, which is the most important thing for us.
To make sure no one misses anything I also set up notifications that come via email to everyone who is part of the selected project. So the colleagues setting up the project have learned to add everyone involved in it to the team. So as soon as someone creates a journal in the project, a notification will come to the others.
We use this when someone uploads a contract to a project, for example, to let others know that the contract has arrived. But it doesn't have to be just for documents. Our billing department, for example, attaches a journal to a project when it converts a document to the paid status, just to be safe, even though there are notifications about that as well.
We've been looking for a long time at how to communicate the necessary information for a project, as I personally am not a fan of communicating information via email or other communication channels. And during the Covid period, when we were all working from home, we figured out that a journal is a great option to share important information about a project.
KD: Exactly, we now find all the information in one place and faster. After the covid period, we are getting more business cases and eWay-CRM allows us to handle them faster. This gives our salespeople more time to pursue new business opportunities, and our business grows faster.

So is it fair to say that after the end of Covid there was a kind of boom?
KD: I guess like for everyone, Covid was challenging for us. During Covid, a number of shops and restaurants had to reduce their operations and consequently the volume of transactions through their payment terminals. On the other hand, many restaurants introduced delivery services or take-out windows, preferring contactless card payments or the now very popular SoftPOS (payment terminal as an app on a mobile phone). Although many restaurants were threatened by closure, many adapted to the new times and trends and were able to continue thanks to our payment technology.
And as far as self-serviced terminals are concerned, I have to say it's really been a boom because many businesses have realized that they don't even have to have that kind of staff. You just have to have a self-serviced solution with a contactless payment terminal. This protects their employees during a pandemic and reduces their operating costs in the long run. Many have even opened self-service kiosks to extend their opening hours. So with the covid era, the trend in payment methods has shifted a lot towards self-serviced terminals.
Fortunately, the implementation of eWay-CRM came at the right time for us. Thanks to Covid, there was less work to do on orders, and we were able to spend the time we saved on implementation. And now that the business has really taken off, we honestly can't imagine what it would be like without eWay-CRM.