How to Keep Employees in Small and Medium Sized Companies Happy
Have you ever come across the job position of a happiness manager? Large companies around the world are often hiring specialists to take care of the happiness of their employees. In small and medium-sized companies, creating a separate position would seem absurd, but that does not mean that even small companies should not do it. A happier team is a more productive team.
Multinational corporations and other large companies have a budget that allows them to attract job seekers to various benefits or a fabulous salary. However, statistics show that happiness cannot be bought, as more than a third of employees would be willing to give up part of their salary to be happier at work.
The working environment in large companies is often impersonal, employee relationships can be strained, and the workload is often stereotypical. There are simply a lot of stress factors, and by hiring happiness managers, large companies try to capture what the management of small companies can handle on their own.
The question is, however, whether the management of small companies really deals with the so-called happiness management. This is because small businesses can be an ideal environment for many employees. But the mere fact that the company is small does not guarantee a good quality working environment. In addition, as the company grows, the challenges increase. How to deal with them? And how to keep employees in small and medium-sized companies happy?
It pays to trust employees
The management of small companies often has a problem leaving the responsibility to their employees. Naturally, they do not want to give up control over their work and vision. But the path to success does not lead through micromanagement. The management still has their hands tied in this way, even though they have hired a specialist to whom they should have left part of the workload and gained time to devote themselves to the further development of the business.
On the other hand, employees feel recognized and do not lose motivation when the management do not monitor their work even in the case of marginal matters. They even usually manage to fulfill the vision of leadership when they are entrusted with a certain responsibility and feel trust. As a result, they are much more willing to identify with the company's vision, brand, and product or service that the company offers.
But beware, almost no employee will shine with happiness when, as they say, they are thrown into the water. The basis for mutual satisfaction is training. Part of the training should be a thorough acquaintance of the employee not only with the company's vision, but of course also the job description. The new reinforcement will be faster for the company and will feel more needed in the new environment.
How to build good working relationships
Employees need to feel not only the confidence of management, but also be accepted as a part of the team. For many small companies, the work team gets used to it from the beginning so much that it may later have a problem hiring new talented colleagues. It is important not to let this situation grow over your head and work on building relationships.
But don't worry, if it doesn't fit your budget or most colleagues don't look enthusiastic, teambuilding doesn't have to be just events like paintball, escape games, or a spectacular corporate party. To break the ice between the old and new colleagues, it is enough for everyone to go for a beer together. Meeting together outside the work environment can sometimes work wonders.
You don't even need to leave the office to create a positive atmosphere. In eWay-CRM, for example, the so-called Pizza Friday has proved its worth, during which the whole company gathers, talks about  successes so far and ends the whole week with an informal pizza session. Employees will also appreciate when colleagues remember their birthdays. Little attention, refreshment and congratulations from colleagues are usually more beneficial to an individual's work ethic than a large corporate party. After all, maybe your grandmother said modestly, "It's enough for me to be remembered."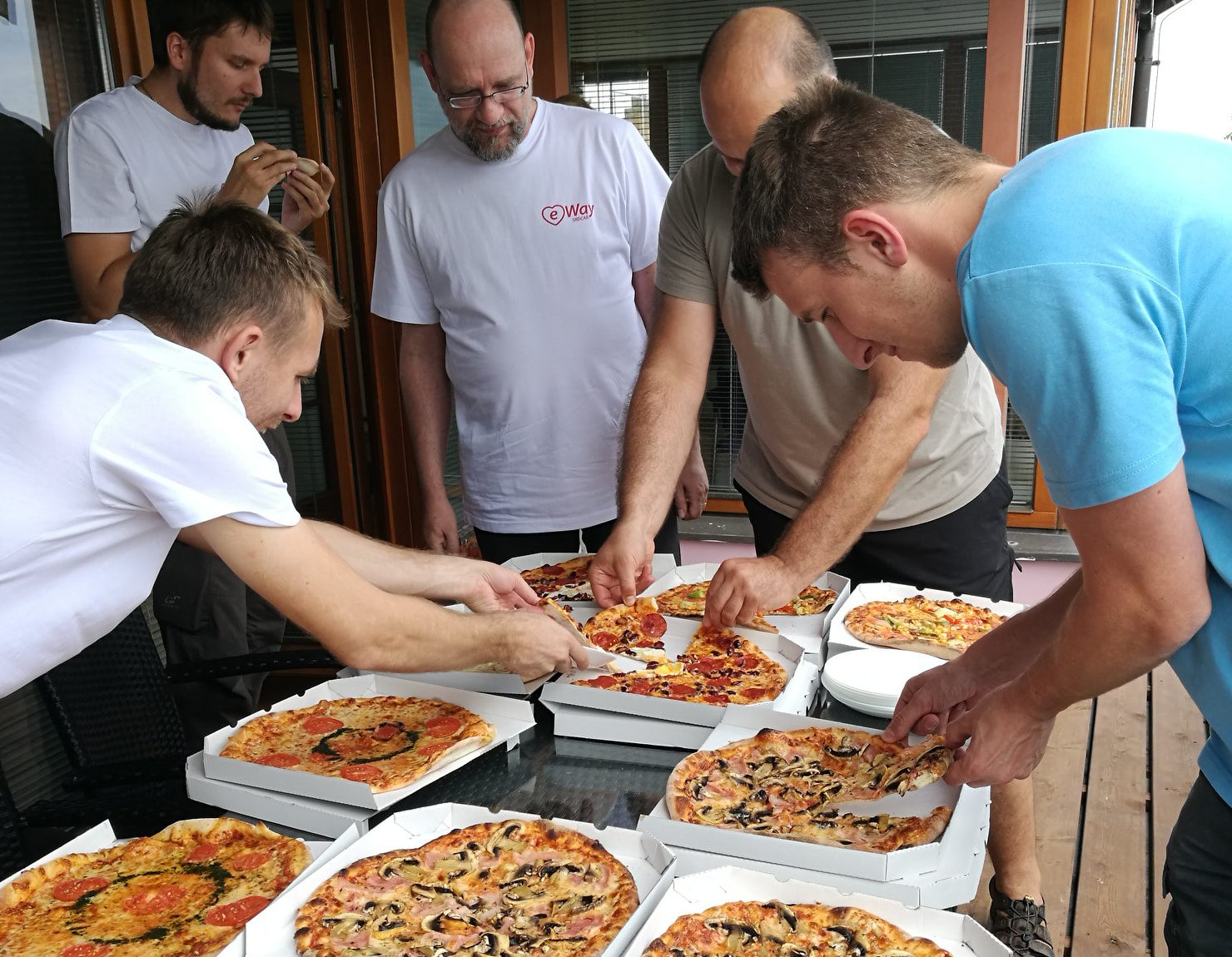 Pizza Friday in eWay-CRM
Diverse workload is a mutual advantage
In small companies, this is not as common as in the corporate world, but some employees sometimes burn out. If the company can offer the employee a change of job position, they will not lose an employee who knows the company environment. However, a much more pleasant scenario is when an employee expresses an interest in changing jobs, which better matches their abilities and ideas. Similarly, in eWay-CRM, for example, project manager David Pejsek started as a tester.
If a company discovers unexpected skills in an employee, they does not necessarily have to change the job position. A typical example of such a win-win situation is helping the eWay-CRM marketing department with audio post-production of eWay-Podcasts, which are sometimes performed by developer Jan Spilka. The development of eWay-CRM for Outlook fulfills it, but he is happy that he can also use his sound skills. If you also have your Jan in your company, it is definitely worth giving him space.
Balanced work and personal life
Strict eight-hour working hours do not guarantee work efficiency. Most employees perform just as well with flexible working hours. During the coronavirus crisis, many companies have even found that even a home office is not a barrier to productivity.
It is sometimes difficult for employees, whether for family or health reasons, to combine regular working hours with private life. They are therefore much happier when the employer offers them  flexible working hours or the home office.
It's not just about work benefits
As you can see, there are many ways to make your employees or colleagues happier. As well as there are many reasons to do so. You don't necessarily have to be a company the size and budget of Google and start building a pool in the office or coming up with other benefits to get employees. Sometimes it's really enough to remember their birthdays. But if you really want a tip for a good benefit, get a quality coffee machine and good coffee in the office. Believe that your team, as well as ours, will appreciate it.