From Project Manager to Professional Athlete. When Dreams Come True.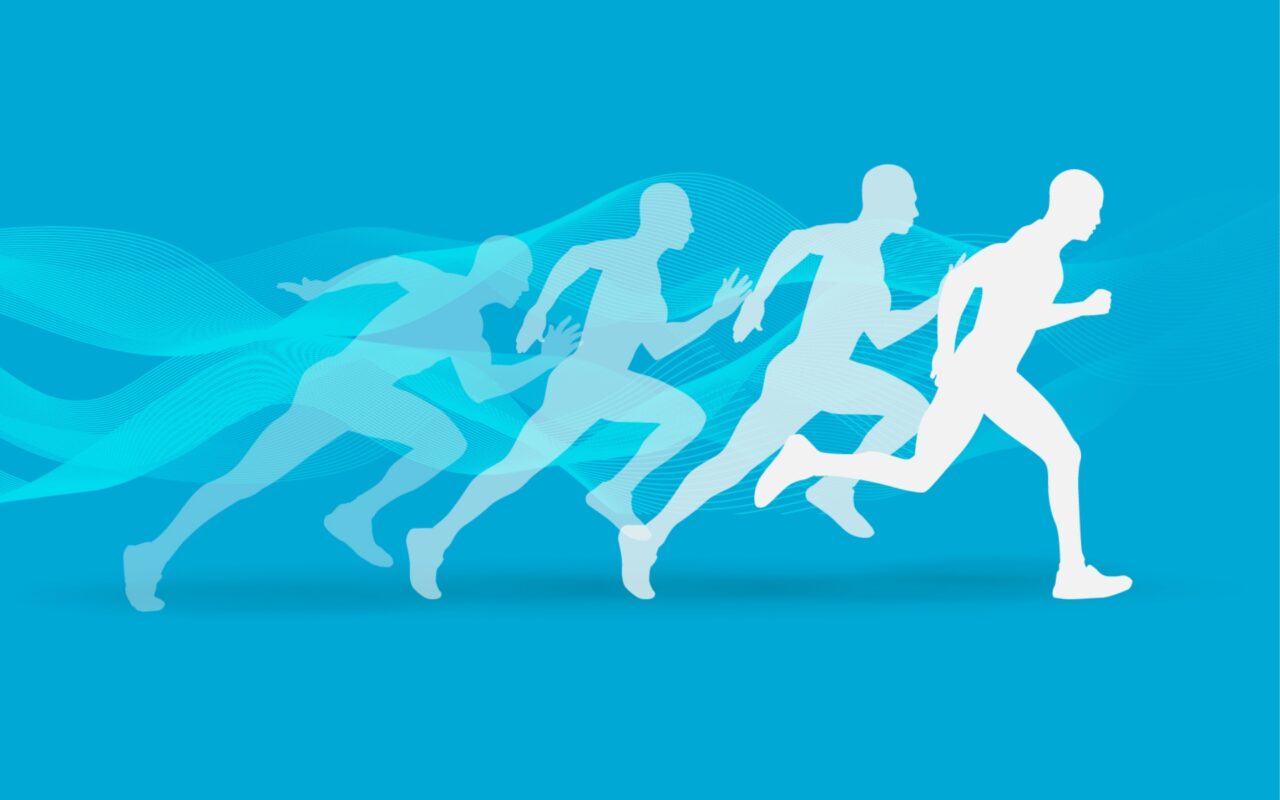 When someone leaves a company after 10 years, they usually have a good reason for it. Just like our project manager David Pejsek, who decided to make his dream come true. In his case, however, he would rather run after his dream, as he decided to become a professional athlete. Take a look at how the decision was made, or how difficult it is to combine the work with a demanding training program.
Thanks to last year's interview, it is known that you compete in triathlon. However, our clients do not know yet that you have decided to leave eWay-CRM and devote yourself fully to the career of a professional athlete.
Some know that.
And those who know are those with whom you have closer ties?
Not really. I simply had to let clients know that I'm leaving eWay-CRM. I didn't tell everyone I was going to do sports. Some clients asked what I was going to do, so I told them. But it's not something I'd tell everyone.
But some were surprised, weren't they?
They were. All of them. (laugh)
It is not so common that a project manager would take the path of a professional athlete.
Exactly. Surprisingly, everyone supported me. But I expected them to tell me I'm crazy. They may think so, but they don't say it. (laugh)
And what were the reactions in our company?
Also positive. Everyone supported me and told me to go hard for it if that's how I feel.
When did you decide to do this?
I decided about 3 years ago after a meeting with a client from BOKI Industries, who is a biker and is close to professional teams. He knows people around Ondrej Cink, which is currently our best Czech biker, who is also training for the Olympics. And before we said goodbye at a meeting, we talked about triathlon. He told me that triathlon is a tough sport, and if I want to be successful I'll have to sacrifice a lot.
Then I realized he was right and I started training systematically. All the time, I thought I would be able to combine that with work. Jan (note: CEO of eWay-CRM) supported me a lot, but I didn't make it. Sometimes I even argued with my trainer when I canceled my workouts because I needed to go to work earlier or stay longer. I often made phone calls during training. When the coach told me that she was going to New Zealand for a year, I realized that, unlike me, she was doing something for her goals. But that crucial decision was still growing in me.
That utterly brutal shock came one late night at the office. There were Jan and his wife and son whom I remembered as a little toddler came to pick him up. And suddenly a three-year-old guy came to the office. At that moment, I realized how time flies. 3 years passed and nothing happened.
Are there other racers dealing with a similar dilemma?
They are. We don't have many athletes who make a living just by sports. Even the fastest Iron Man in our country, Petr Soukup, has a real job. He races in the season and is a physiotherapist when not racing. Most competitors that I know work eight hours a day but their work requires nothing more.
How do you manage the demanding training and work of a project manager at the same time?
Now I have completely different training sessions but before I trained in the morning from 6 am to 7:30 am, then I ran to the office, I worked until 7 pm, I took a nap at home till 9 pm and then I trained at night. So, I got home at midnight, took a shower, cooked for the next day, and went to bed.
Your new colleague Marek is now taking duties over from you. How did the transfer of your work agenda go?
I went with him to as many meetings with clients as possible. And he had learned a lot even before. Marek is very clever, so I don't have to explain a lot of things to him. It took me some time to teach him to manage the system so that he knew where and how to set it up for his clients.
How many years have you worked for eWay-CRM?
Less than 10 years.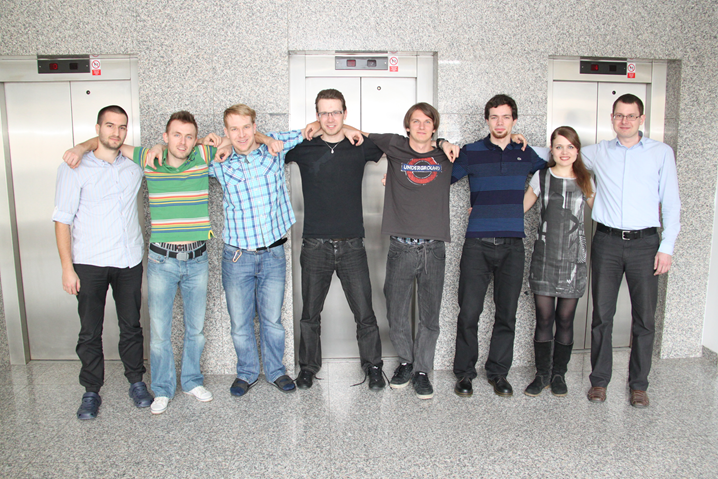 David Pejsek (in the middle) with eWay-CRM crew in 2013
You started in the company as a tester. Did you go straight from this position to the position of project manager?
In the meantime, I was at the helpdesk. This is quite close to the work of a project manager because you already see client requirements that you have to deal with in some way. Communicating with clients via the helpdesk or in person is no longer such a big step.
Would you recommend to someone who wants to work as a project manager to work first for a helpdesk or as a tester?
It seems logical to me. I had a big advantage then, and I'm very grateful for that because I wasn't thrown in at the deep end. I was able to test how eWay-CRM works and talk about it with Roman (note: CTO of eWay-CRM). I was then able to handle client requests easily. At that time, I had the advantage that I had the opportunity to get to know the system in many ways and benefit from it.
At the same time, you were there when eWay-CRM grew. Did it influence your work?
eWay-CRM has grown incredibly over the last 10 years. Implementation is much easier. At least technically. But at the same time, we also have much bigger and more demanding clients. When I started implementing eWay-CRM, I considered 5 users to be a big project. Today we are talking about dozens of users.
10 years is a long time. New features, such as the new wizard for import from Excel, will help you with the implementation.
That's right, these are the features that make eWay-CRM even better.
But project managers still won't lose their jobs. As the standard of CRM systems shifts, new, more demanding client requirements are certainly emerging.
Implementation can be more and more demanding. But surprisingly, a lot of large clients don't even want to implement the system in full, and all they need to do is implement Companies, Contacts, Opportunities, and Diaries. And sometimes, on the contrary, I have 5 users with one license and we improve every detail.
So, isn't it that the bigger the company the more demanding the implementation team?
The implementation is not just introducing the system and setting some functions. A client who has 20, 30, or 100 users is challenging, especially in terms of support and user training. And then it is true that the larger the client, the more difficult the implementation.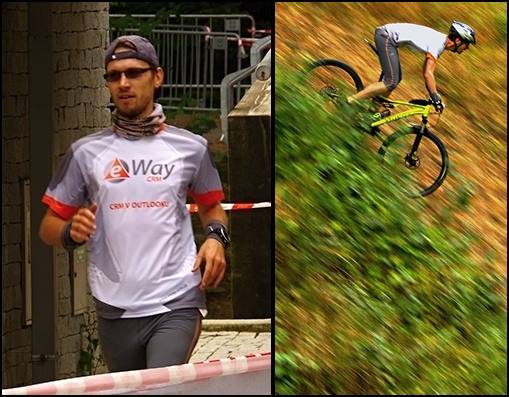 David Pejsek during the Czech Republic Duathlon Championship 2016
Let's go back to the triathlon. What about training and racing at the moment?
Bad. No dates are certain yet, so the next season is out of the question so far. But the workouts are fine. I have far more time and I train with a clear head. And most importantly, winter is just beginning. Winter training is great because the races are still far away and you don't have to work so hard on your form. You work on the basics, you build a sports base, so training doesn't hurt that much. I really enjoy winter training. It's such a training holiday.
How is it possible? Soccer players have always said that winter training is cruel.
Soccer players are funny. (laugh) No, I'm kidding. If you are targeting a training plan for a specific race, it is divided into several sections. The first is the adaptation of the body to what awaits it. This means that when you run, you should run more kilometers at lower intensities. This is how you build the foundations. And at this time of the year, around November, it always begins. I have time to listen to podcasts, music, and think. That's why I enjoy winter training. But maybe that's the specifics of endurance sports. I don't know what soccer players do.
Speaking of endurance, in the last interview you talked about the ultramarathon. And I'm amazed that there wasn't a question, what was the longest race you ran?
104 kilometers during the Silva Nortica Run. I did it in less than 14 hours. But the race was not so demanding. The total elevation was about 1500 meters.
Right, 100 kilometers is nothing. (laugh)
No, the distance surely was long. When I started I couldn't imagine what it meant to run an ultramarathon. The longest race I had run before was about 23 kilometers up. And I felt pretty good. After this race, I signed up for another 60 kilometers long. And there I found out what an ultramarathon is. Even though it was challenging, I enjoyed it. So, I started every other week in similar races, and then it ended up at Nortika.
Have you thought about what you will do after you decide to take a rest from the bike, swimsuit, and your trainers?
No. Not at all. I have no idea what will happen. This is a closed door. We'll see what happens when I come and open it.