Martin Cechak: We Are Working on a CRM Solution for Fishing Competitions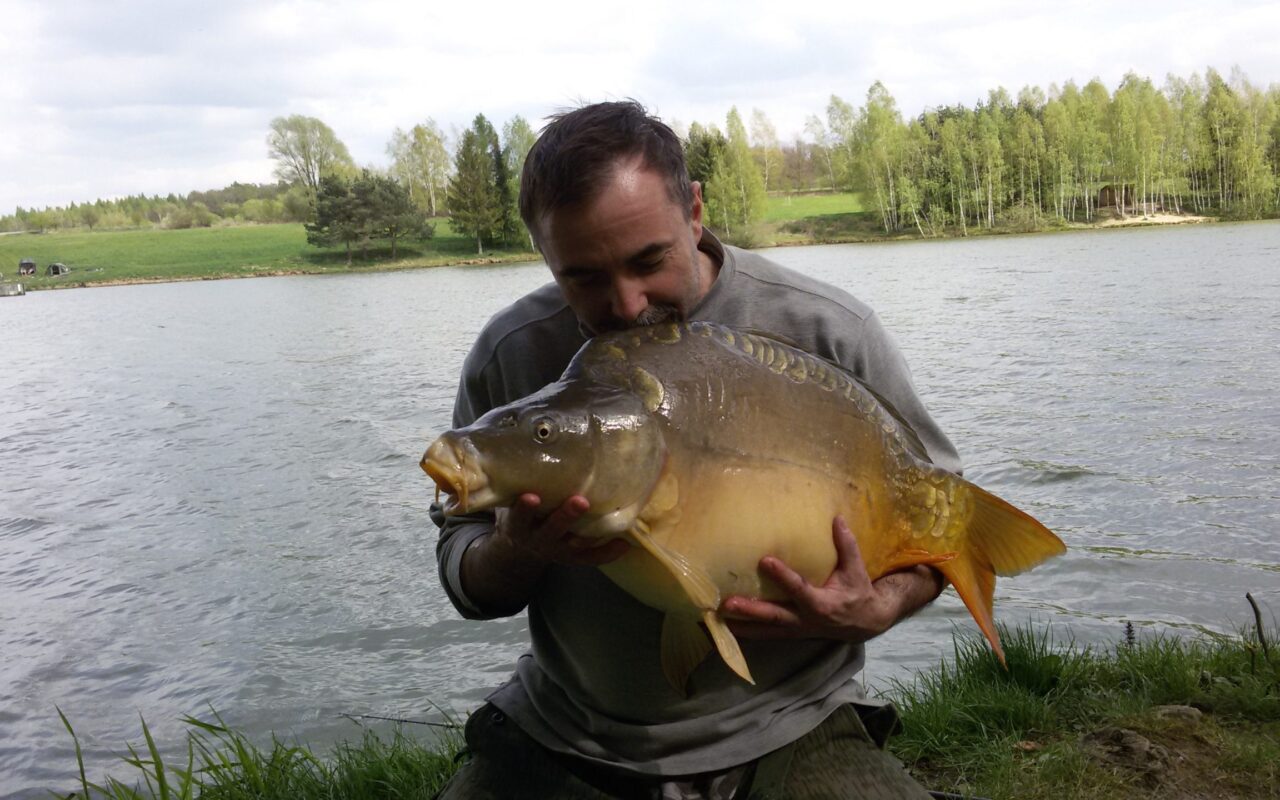 In their free time, our employees are engaged in exciting activities. Our team includes a dancer, an actress, a guitarist, a triathlete and also a fisherman Martin Cechak, who works for eWay System as Sales Manager. And believe it or not, Martin found a solution of how can fishermen use eWay-CRM.
How did you get fishing?
I started fishing with my son about nine years ago. Especially my son, Jan, fell in love with it. And I have always made him company, so fishing got under my skin as well.
How did it go at the beginning?
At first, we were excited about every catch, especially my son, who was 10 years old at the time. On the other hand, I was a top-level sportsman, and it had never crossed my mind to go fishing. Before, I saw fishing as something static and boring, but today I know that it's a very adrenaline-fuelled, action-packed and often physically demanding sport.
How did you learn to fish?
Initially, we studied video tutorials on the internet. Later, we joined a fishing team in which we gained experience. Then, we became members of another team and Jan immersed in his fishing career.
Martin with his catch
Do you fish in the Czech Republic or abroad?
We live in Moravia, so we fish mainly there. Specifically, we fish carp, so our natural environment are ponds, rivers or private grounds. We also visited some fishing places abroad.
Do you practice recreational fishing? The so-called "catch and release"?
Yes, we use this technique because it is fish-friendly.
How often do you go fishing?
I do not go so often anymore, but there were times when we went fishing three times a week.
Is your fishing season over in winter?
We fish all year round, so even in winter. It has its magic when there's snow everywhere, and you manage to pull out a big fish. It's a breath-taking experience.
And are you allowed to fish during the winter months?
In private grounds and union ponds and rivers, it is possible to fish all year long. Once, we went fishing on Christmas Eve, and we caught a carp. It was great!
And did you release it?
This one, we did not.
Do you enjoy eating fish?
I love carp and zander. In general, I do not eat sea fish that much. What I like most about fishing is the silence and calm. After a day at work, I prefer to be alone and in peace as it is an excellent counterbalance to the never-ending hustle and bustle of the modern world.
What happens if a fisherman catches a protected fish?
Of course, we do not see into the water, so fishermen must release both protected and small-size fish. The rest is at everyone's discretion. Usually, most fishermen do not release trophy fish.
Is a photo regarded as a trophy?
Yes, but a picture is not the main thing. It is not easy to catch a fish, and for me, it is the challenge that fascinates me. It is about the fishing experience.
Do you like fishing competitions?
Competitions are not my priority, but everyone finds his own way in the world of fishing.
What do you think is the highlight which can a fisherman reach in the Czech Republic?
When it comes to carp fishing, it is about the size of the carp you catch. Carp is a very clever animal, and it is difficult to catch one. The most valuable, of course, is fish from rivers or large grounds as they have many possibilities to escape.
And what is your fishing dream?
The biggest carp, which I managed to catch weighed 21.80 kg. It would be great to catch a carp with 25-28 kg.
And what about your son?
He has gone much further. Recently, he caught a beautiful 9 kg koi carp in a huge ground.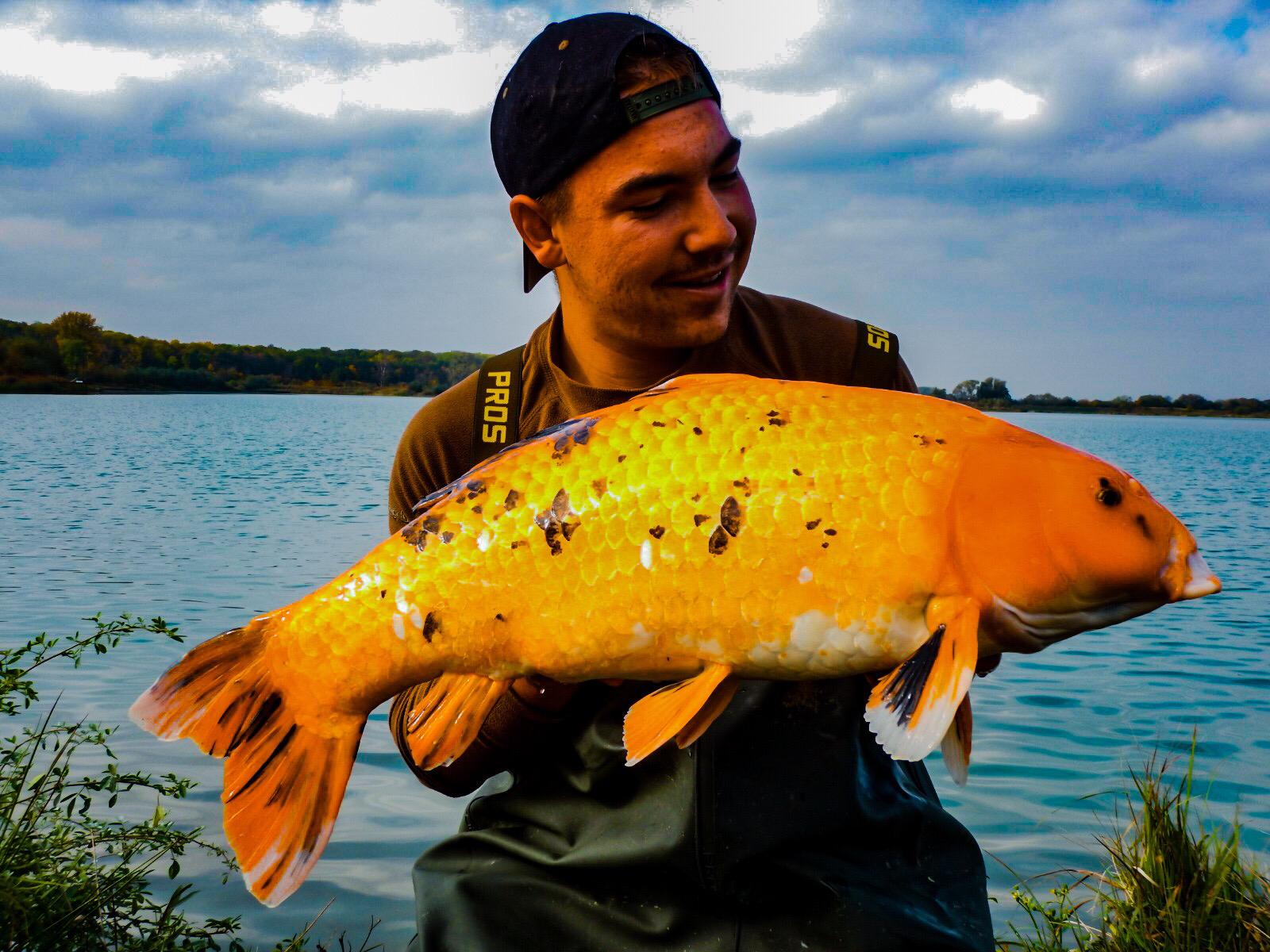 Jan and amazing koi carp
When it comes to fishing, many people know Jakub Vagner. How do you perceive his footprint in the Czech fishing?
Certainly, he put the Czech fishing scene on the map, and it is great that he managed to do so. He has been involved in fishing for a very long time, and he still catches big fish and organizes fishing competitions, in which we participated as judges.
It is great that Jakub Vagner brings fishing to children. Do you also work with children?
I think that it is very important that we have a new generation of fishermen. It is great that Jakub dedicates his time to children and tries to organize various activities. And my son participates in this. He collaborates with Jakub, who, among other things, founded a fishing camp for children.
And what about you? Would it be interesting for you to devote to fishing on a professional level?
It would be great if I could work for eWay System and fish at the same time. (laughing) I could take my laptop to the water, sell eWay-CRM services and fish at the same time, it would be a dream.
Could you offer eWay-CRM to fishermen?
This is a real situation, because we prepare an eWay-CRM solution for a fishing competition, namely for the European Carp Championship Stairs 2 Hell 2020. Next year should be held with the support of eWay-CRM, which will be used for the registration of a total of 100 teams from all over Europe, registration, payment procedures, organization and other purposes. For instance, this year, under severe conditions, the participants caught 60 fish with weight over 15 kg, the heaviest catch weighed 25.88 kg, 72 % of teams managed to catch a scored fish. You will not find these numbers in any European competition, and that's why we need a high-quality tool, such as eWay-CRM.
This is a very creative use of the CRM system. Do you think it demonstrates its versatility?
Of course. This is a tremendous opportunity to improve and professionalize these activities because each organizer has to deal with similar issues as if he was the manager of a company. He must keep participants' records with basic data which must be covered by GDPR and must delegate certain tasks relating to the organization of the competition. It is also necessary to evaluate the results and provide outputs. The organizer might want to send hub e-mails with the invitation for the next year, etc. In this regard, eWay-CRM has enormous potential.