Interview with Co-Founders of eWay-CRM
Correctly, quickly and flexibly organized processes are the key to success in all spheres of human activities. And when it comes to business teams, perfectly managed processes are an absolute must. Modern technologies are of great help to many companies. Roman Stefko and Jan Lalinsky are the co-founders of the company eWay System which developed a CRM software used by successful businessmen not only in the Czech Republic but also abroad. The software was developed in cooperation with the owners of the company MEMOS Software. A few years later, eWay-CRM became an independent company, and after two years, its owners managed to buy out MEMOS because their wish was to become a purely Czech company that is strongly committed to its customers. Its owners are very passionate about their job and, as they say about themselves, when they decide to achieve something, they do not stop until they reach their goal.
How did the idea to develop eWay-CRM system come into your mind? Why is eWay-CRM part of Microsoft Outlook?
Roman Stefko:
It was not our idea. The idea was born in MEMOS Software where we both worked as students. I started working for the company when I was 16, Honza was a little older. MEMOS was developing a simple CRM system for a law firm whose employees were used to work with Outlook.
Roman Stefko
Jan Lalinsky:
The idea emerged in our parent company MEMOS Software, which worked on a CRM system for a law firm whose employees used Outlook. MEMOS liked that idea, and, therefore, decided to adapt the software to the needs of other companies. Initially, our CRM system was purely custom-made. We worked with a basic system, which was common to all companies, and developed specific modules according to the demands of individual clients. In short, we developed a unique eWay-CRM for each client. About 12 years ago, MEMOS offered me a position as a product manager. I managed to transform the entire concept into one package, which we adapt to the needs of our clients without complex programming. Shortly after, we launched a new company together with MEMOS and Roman Stefko.
What is the difference between eWay and other CRM software programs?
Roman Stefko:
The main advantage is that our eWay-CRM is embedded into Outlook. Outlook brings us simplicity; its users are able to use eWay-CRM without any difficulties. Therefore, it is not necessary to invest big amounts to money into the training of its users. Moreover, we developed a unique offline system, which distinguishes us from other CRM systems. Currently, we are working on the development of a mobile application and web access, which are the must in today's world.
Jan Lalinsky:
Our main advantage is that our system is very complex. There are not many CRM software programs on the market available for small and medium businesses that offer such polished client management as eWay-CRM. We provide a complete solution and a full set of modules. The entire process starts with a marketing campaign focused on a potential client. Marketing activities generate Deals which transform into Projects which give us feedback which can be used for future marketing campaigns. That is under the Client or Contact, where you can see the whole history.
How would you describe the 'value for money' offered by eWay-CRM?
Roman Stefko:
Our system saves a lot of money when it comes to the training of employees. eWay-CRM can be purchased or rented. Moreover, we have a private storage cloud, thanks to which our users do not need servers. In the US, clients prefer subscriptions for a certain period, while Czech customers choose to buy the license.
Jan Lalinsky:
As I said, our software is complex and simple. Other CRM systems, the cheap ones, are focused on one specific activity, for example, on trade activities, but they do not offer a complex set of services and modules. Companies need to grow, and in order to do so, they need to use complex CRM software programs. We should not forget to mention the big players who have comprehensively covered the agenda, such as Microsoft CRM, SalesForce or ZOHO. Our company is able to compete with them and offer better prices. No wonder we were chosen among top 20 CRM software programs offering the best price and performance in the world.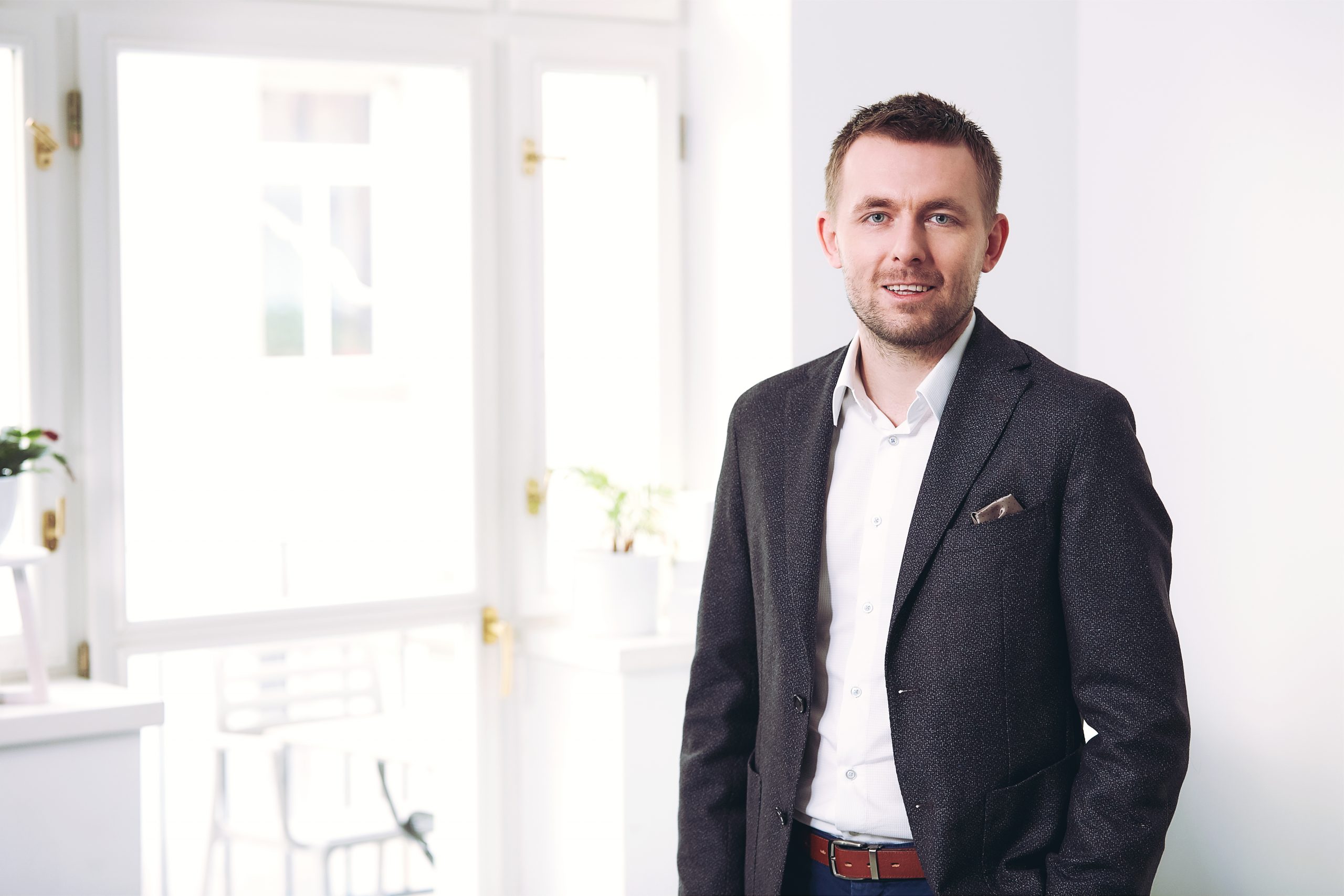 Jan Lalinsky
What are your plans for the near future?
Roman Stefko:
We are working on web access. This is our most significant innovation for the coming months. And we will try to simplify the purchasing process.
Jan Lalinsky:
We mention the web client for the first time today. Hopefully, we will manage to release a new version with many new features at the turn of the year. When it comes to our company, we would like to strengthen our growth and international expansion, mainly to the United States.
And what about your position and strategy on foreign markets?
Roman Stefko:
We have many clients in the US. Therefore, the transition to a US cloud was very important for us, and we managed to do so with flying colours. I am proud of us. Currently, we are looking for the best way to enter various foreign markets.
Jan Lalinsky:
We want to become a strong global player, and we adapt our business strategy to this goal. We decided to find success in the US market. It is very difficult, but we like challenges as they move us forward. Whether we like it or not, most innovations and trends are born in the US. We established a team whose members focus on American clients. We implement their feedback into the Czech know-how, and that is how we slowly but surely make progress.
You run a small business, so you meet every day and know each other very well. How would you describe your character?
Roman Stefko:
We both need drive. We are both leading figures; we like to attract the crowd and be the leaders for our employees and give them our positive energy. Moreover, we are both very persistent, and if we want to achieve something, we do not stop until we succeed.
Jan Lalinsky:
We need motivation; we pull together and always do our best. We both work on weekends, on holidays, on vacation (note: he is on vacation when giving answers for this interview). We want to achieve something big that goes beyond the borders of the Czech Republic. We are like bulldogs ...