Making of website is no longer just for developers. Thanks to CMS systems, small and medium-sized businesses tend to manage, and sometimes create their web pages on their own. In this case, however, it is necessary to think that the creation of the site is quite an extensive project. So how do I create a website? And which CMS system to choose?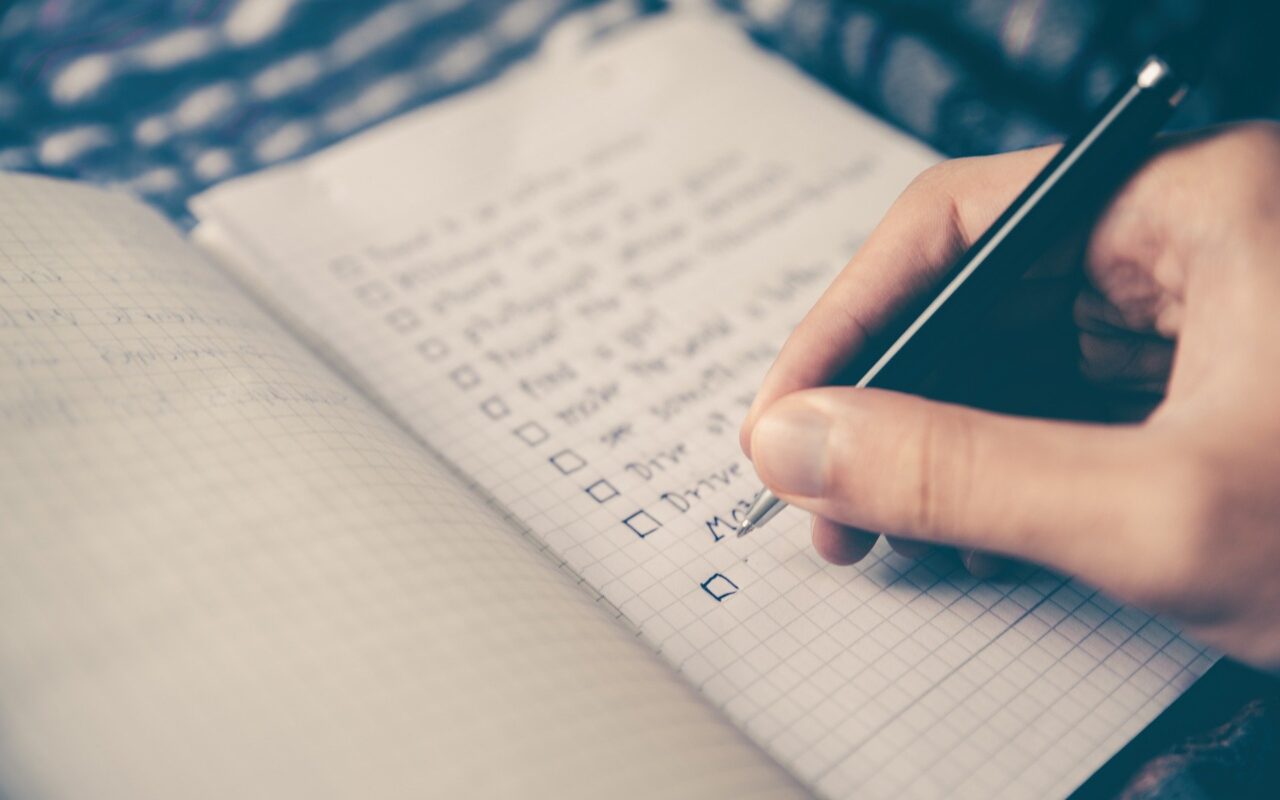 The days when ordinary HTML-written websites were enough as corporate presentations are long gone. Web technologies have since undergone incredible development and very often medium-sized businesses also have websites that are an unimaginable organism for the common mortal. The website itself is written in several programming languages. You can add databases with which the site works or links to third-party systems. All this requires very sophisticated know-how, behind which stands an unimaginable number of hours of development.
But technological progress has gone so far that even small and medium-sized businesses can create relatively advanced websites without a deep knowledge of programming. They are made possible by increasingly user-friendly tools, led by CMS systems, or editorial systems.
However, as the demand for developers' knowledge gradually decreases, the demand for knowledge of marketing or graphic design have continued to grow. Therefore, if you want to create user-friendly, attractive and popular sites, you do not need to be a developer, but rather a website builder and a manager who will get ready for the project on behalf of the new website.
Systematic Procedure
If you work systematically, you'll get a better result, and much faster than when improvising. Plan and assign tasks to colleagues, graphics, developers, or SEO specialists from a marketing agency. It pays to prepare a systematic procedure in advance even if you decide to create the site yourself using the mentioned CMS systems or alternatively you can try page builders for your WordPress website.
To get an overview and organize work on the new site we can use the table that Viktor Janouch came up with in the publication Internet Marketing. You may know from experience that it's usually worth writing everything down and gradually ticking it off. So let's go through the individual points of the table.
Setting the target
At the very beginning of the new site creation project, the site targets should be named. In other words, you need to be clear about the purpose of the site. As obvious as this may seem, this step is very important. For example, if your site is supposed to inform mainly about your services, it will be important to think about any questions your customers may ask.
Do you want your website to function as a presentation of your products or services? Is the goal to raise awareness of the solidity of your business? Or do you create an e-shop and want to sell through it? There can be many reasons for the existence of a site and you need to choose one or two main ones.
Who will visit your website?
The website is a marketing tool and, as with all other marketing tools, you need to know what your target audience is.
What is the profile of your typical customer? Will employees, job seekers, business partners or journalists and PR managers come to your website? Each of the user groups will search for completely different content.
What visitors to the site should do
If you already know who you're creating a site for, take on the user role. Imagine what they are looking for on your site and make it easier for them to reach their goal.
Do you expect an order from the customer? Try to make the whole process as intuitive as possible. If customers are to contact you by phone, your phone number should already be on the main page. Or do you expect a potential customer to send you a request and then contact them yourself with a specific offer? In this case, it will be ideal to have a request form from which you can get demand directly to the CRM system.
Main topics of the site
Most of the time, customers will answer this question. Do they want to know what you're offering? How much does your services cost? Do they need to get in touch with you? Share this information clearly in the menu on your website.
This means that you can create Products/Services, Price List, or Contacts. If you're looking for work force for your business, you can also create a Careers page. Do you have an interesting history as a company? Then you can create a About Us page. You may even often work with the press. In this case, the site deserves a media section where journalists or PR managers can find, for example, your logo design in print quality. The possibilities are really limitless.
Key words analysis
There are several ways to attract potential customers to your site. For example, they can search for you on Google or the List based on a keyword.
And it's by analyzing your keywords to see what specific terms your customers can find you under. For example, they can search for "pizzeria Kansas", "CRM in Outlook" or "cheap laptops". It depends on your business. You can use Keyword Planer in Google Ads to help you analyze it.
Analyze your competition
As they say, the neighbor's grass is always greener. If a competitor can inspire you in something, and most of the time they really can, look over the fence.
Let's say you offer printing services. You will definitely include contact information and price list on your website. Most companies, however, won't want to send an order right away. They want to send you a request, and if they don't see a request form on your site, they might leave the site right away. So what is such a form supposed to look like? Take a look at the competition's website and you'll find that in addition to the name, e-mail and phone, they also have fields for dimensions and number of pieces in the poster printing form. This will make the user experience more pleasant, leave a professional impression, and the communication will be faster.
Define the website structure
Once you've identified the parts of your your site, now it is the time to startputing all the parts together. In practice, this means that you should prepare a wireframe for developers. A successful site should be particualrly clear for users. This means that it should be based on the principles of the UX design.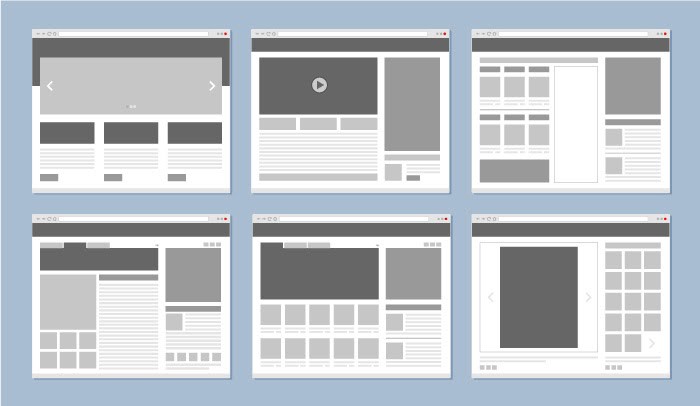 Source: https://medium.com/thinking-design/wireframe-examples-for-websites-mobile-apps-b5fab9f9971b
One advice above all – important information should usually be at the top. The deeper the information is on the website, the less likely the user is to reach it. For example, the menu should be almost always at the top in accordance with this principle.
Other elements of websites such as blocks of text or buttons are already individual, industry by industry, business by business. Maybe you can still go back to analyze competition. For example, if there is a phone contact on the start page on the van rental website, they probably have a reason for it.
Design
Do you have an empty concept of your site or wireframe in front of you? You can start filling it. What should your site design look like? What to focus on?
The visual style should be in harmony with your brand. Keep the design consistency when you create a logo or other visual content. The text should be clearly divided into headings, paragraphs, and so on, and it should be easy to read.
Content
You may have an idea of the content of your site as soon as you're dealing with previous points. Now it's time to fill the web with text, functional forms, buttons, images, and so on. Not only at this point, you may find that the whole process does not go in a flawless chronological way, and you will return to the previous points. Some heading or text may be too long. So you'll go back to the design and maybe reduce the font, or you'll need to rearrange the content on the page.
SEO on-page
Analyzing keywords as mentioned above is the basis for SEO, or site optimization for browsers. However, the analysis itself is far from over, if customers are to stream to your site through browsers, you need to focus on your site's content from the point of view of SEO – in other words, focus on the so-called on-page SEO factors. This means, for example, that your site's headline, individual page names, alt labels of the images used, and other parts of your site match the search terms.
In any case, SEO needs to be considered when developing a website. Most websites are relatively easy to manage in the administration environment, which is now a common thing to use. However, the ability to modify individual SEO factors must be in the assignment for the developers of your site. If there is no one in your company who would deal with this issue, it is ideal to contact a SEO specialist.
TIP: If you want to focus on this issue, read the article on SEO optimization, which will help you (not only) in the beginning.
Web testing
A thorough testing of the website before launching it is very important. Your site should not be tested by potential customers, as any shortcomings may discourage them and a bad first impression will always be a bad impression.
You may find that images don't display properly in some browser or on mobile devices, the form doesn't work, or the search doesn't work properly. There are really a lot of mistakes you can come across.
Website launch
Before launching the site, you should not only have the site tested as such, but also make sure that the SEO settings (especially the robots.txt and sitemap.xml files) are set up correctly so that Google indexes your site from the beginning. Google offers a number of custom procedures and tools to review and, if necessary, correct this setting.
SEO off-page
You still need to pay attention to the mentioned on-page SEO factors even after the launch of the website. At that moment, however, you should also pay attention to the so-called off-page factors. The most important ones are the so-called link building or building backlinks to your web site.
You can register your company and your website in online catalogs of companies, publish articles on third-party servers, or even establish cooperation with an influencer.
Continuous checking of site functionality and SEO
Checking the functionality of your site and indexing it on Google should become a regular routine. It often happens to companies that their website does not appear on Google (beware, this often happens when renaming pages or switching to new hosting) or, for example, adding goods to the cart stops working on the e-shop. The sooner you find out, the less damage there will be.
The frequency of inspections should depend not only on the time you are available to do it, but especially on how your website generates a profit. An e-shop with dozens of orders a day will of course be affected a possible blackout much more than, for example, a hairdresser's in a small town in Alaska.
Website traffic tracking
You'll probably use the most widely used Google Analytics tool to measure and analyze the traffic, your site's user data, behavior, sales, and other statistics. If so, make sure the Google Analytics tag is set up correctly on your site before launching it.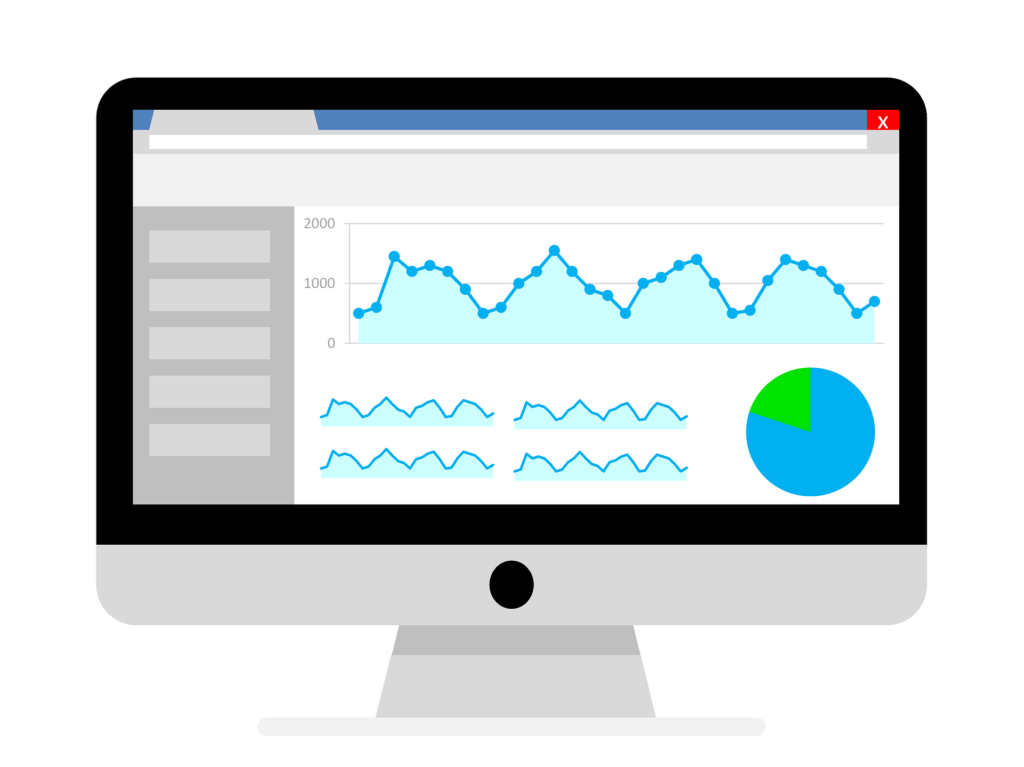 Website traffic analysis
Website traffic analysis is a very comprehensive topic. In addition to the number of visitors, you can, for example, track which pages customers leave most often or how long they stay on that page. From this data, you can deduce where your site's vulnerabilities are.
SEO analyses
You can assess the success of your SEO strategy based on what keywords from browsers users came to your website or how high your website appears in a browser rank for specific keywords.
Some search terms, such as "pizzeria Alaska" will require patience, and if you don't get to the first page of Google in six months, you're probably not doing anything wrong. However, if you optimize your site for the term "pizzeria Kodiak, Alaska", the results should appear significantly earlier.
Web changes
As with many other projects, in the case of website creation, the individual phases are highly interconnected. The individual points alternate and repeat, especially after the launch of the website. However, the harder you work from the very beginning, the greater the chance that you will not have to pay attention to the last point of site change during heavy traffic. And it really saves you a lot of wrinkles.
The advantage of CMSs? It works even without development
Website design really seems to require a wide range of knowledge. Fortunately, if you need to make changes to the site after you run it, development is not the knowledge you will need. The current standard is the previously mentioned CMS system, the solution which includes a user-friendly administration environment of the website, where you make modifications without knowledge of programming languages.
CMSs also offer add-ons that make work much easier for users:
Templates - a predefined look of the web page, which can be customized as needed. Often include intuitive editors, which allow the user to easily add, remove, move or edit individual elements of the page using drag-and-drop. Maybe the days of CSS and HTML codes are gone. Creating websites with these platforms entails intuitively dragging-and-dropping elements onto blank internet canvases.
Plugins / modules - additional functions that are easily installed in the administration environment, such as forms, SEO optimization, security plugins, analytical tools, live chat for vendors with customers and many, many more.
Widgets - pre-prepared individual elements that work with templates and plugins. For example, you can place a form in the sidebar of a website with a single mouse click.
With some exaggeration, we can say (this is not always true however) that for a long-term website management, all you need to do is study the basic principles of SEO, improve your work with Photoshop or outsource a designer from time to time, and learn to work with the CMS.
Selecting a suitable CMS
If you decide to create a new website, all you have to do is decide which CMS to choose. Currently, the most common systems are WordPress, Joomla and Drupal.  For comparison, we can also include Wix or Squarespace, which are not CMSs installed on your own server. However, as website editors, both Wix and Squarespace have become relatively popular recently. So, there is a chance that some companies are considering it as an alternative, so it certainly deserves a place in comparison. Later, you can speed up WordPress to ensure a better user experience with your website.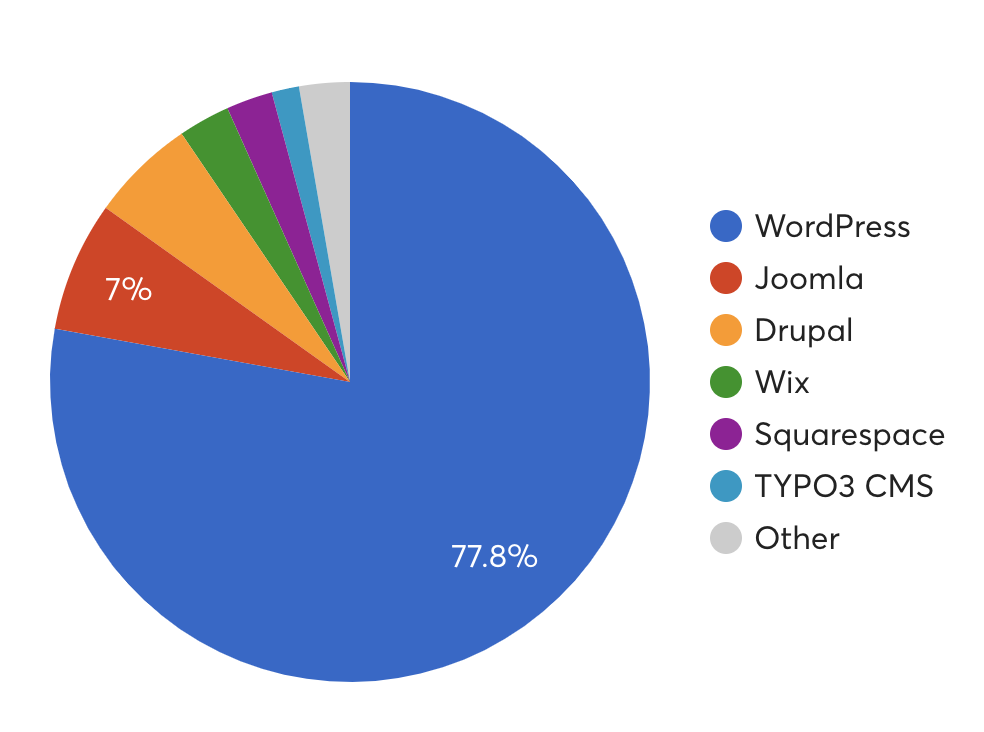 The most popular CMSs. Source: https://medium.com/@datadrivendesignnashville/the-data-says-wordpress-is-the-most-used-cms-in-the-world-3c6dcf4bfe45
Services such as Wix and Squarespace have a number of disadvantages compared to WordPress and other CMSs. The main one is the price, which starts at € 8.50 per month for Wix and even $ 12 per month for Squarespace. Although Wix complements the offer with a cheaper package for € 4.50 per month, in this case you will have to have Wix advertising on your website, which does not look professional. In contrast, with classic CMSs, you only pay for your own hosting.
Despite the higher price, users often like Wix and similar services for their very simple and intuitive operation. Unfortunately, this is the only advantage compared to WordPress, Joomla and Drupal.
Both Squarespace and Wix are very limited in their SEO optimization capabilities, a sacrifice that few companies can accept. Compared to WordPress, Joomla and Drupal, the offer of templates and plugins is also limited, so the company is not always able to completely adapt the site to its needs.
WordPress, Joomla or Drupal?
Given that we are always looking for the ideal solution for small and medium-sized companies, at a time when we narrow the selection of CMSs to WordPress, Joomla and Drupal, we will probably still be interested in similar parameters as in the case of Wix or Squarespace. If you agree and are looking for a simple solution, unfortunately it will not be Drupal. Drupal is a system that is more suitable for large companies, which usually develop large and complex websites. Drupal gives developers a lot of freedom in this respect. If you are looking for a ready solution, Joomla or WordPress will be better for you. They are similar in many ways.
The advantages of WordPress result from the fact that it is the most widespread of all CMSs. For example, the offer of plugins and templates is clearly the widest. There are around 50,000 plugins available on WordPress, while Joomla lags far behind with just 8,000 available plugins.
If you are demanding and find out that you really need to modify your template or some plugin, there are many times more developers of freelancers who specialize in WordPress than those specialized in of Joomla and Drupal.
In addition to the benefits of being the most popular CMS, WordPress has one benefit that explains why it is the most common one. It's a fact that WordPress is the most user-friendly. Most hostings today are even "WordPress-ready" and you don't have to worry about the technical settings of the server at all. Just install WordPress.