eWay-CRM vs. Hubspot CRM: The differences are hidden in the details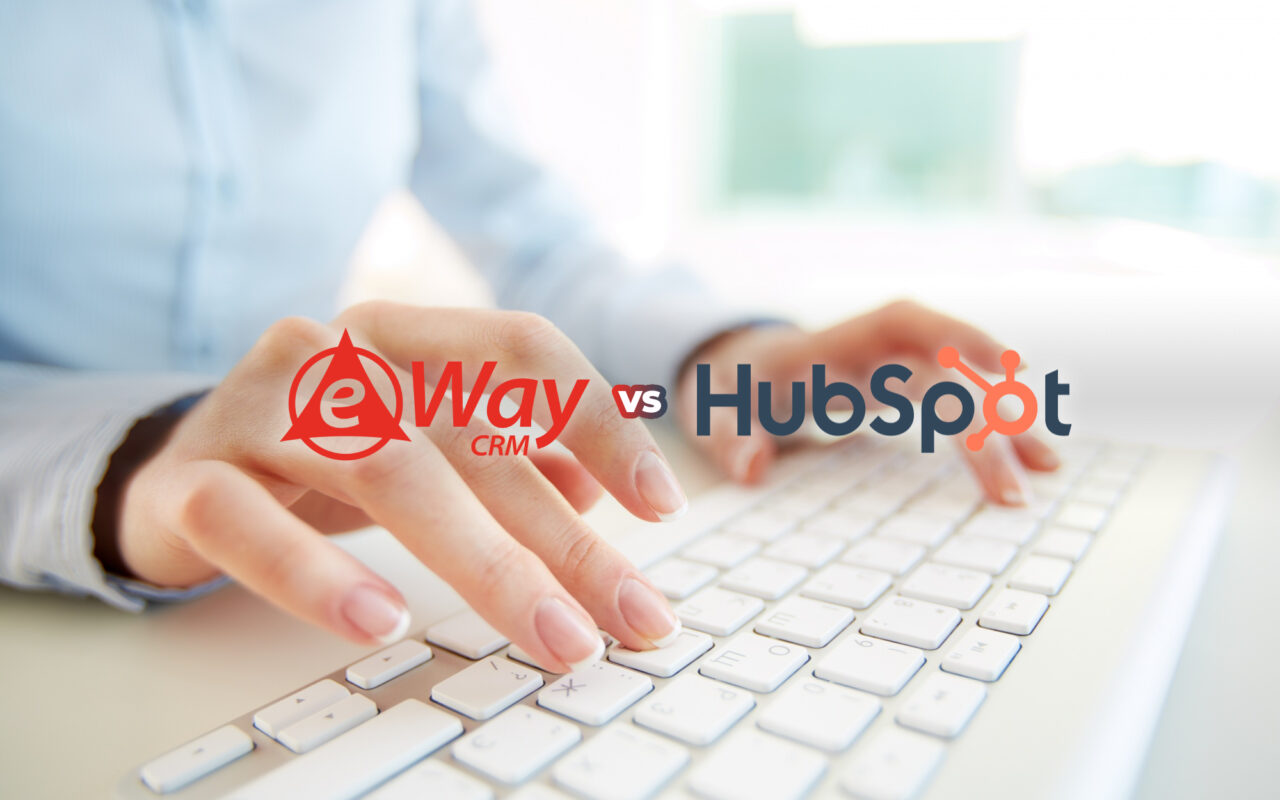 There is a golden rule that applies to comparing CRM systems (e. g. eWay-CRM and Hubspot CRM) – test, test, and test again. By that I mean testing on real data (specific clients and business opportunities). Random clicking will provide the impression of the visual part of the system, but you will not learn much about its functions and limitations. Does that sound like a waste of time to you? I also thought that before I was intrigued by a polished presentation and after the implementation of the system, I was not pleasantly surprised.
At eWay System, we recently started talking about the redesign of one of our products, the free version of eWay-CRM. We think that supporting small businesses or independent company specialists who want to work effectively is important. So, we looked at other free CRM systems and we selected only those that are free, just like eWay-CRM. The best possible for our comparison is the Hubspot CRM platform turned out to be the best comparison.
My first impression of the Hubspot CRM was simply "wow". I created an account, installed the Gmail plugin on Google Workspace, and started testing. You will see the difference from the very first moment. Hubspot is a classic cloud CRM that is available from a browser. On the other hand, you need Microsoft 365 (Outlook) to run eWay-CRM. Surprisingly it works in the web version of Outlook like Hubspot, but there must be a classic desktop Outlook version behind it. Thanks to this, however, eWay-CRM also works offline. Which is useful when I work from home and the internet connection starts to drop at peak times. I haven´t used it in the office yet, but when I work in my home office, it suddenly started to make sense.
Customer care
My first impression of customer support was great on both sides. A Hubspot representative contacted me immediately by email. Surprisingly, nobody bombed me with sales calls. I had some difficult questions about the specific implementation and the answers came within 24 hours.
It was similar with eWay-CRM. Clients are contacted by a sales representative who identifies the client´s needs in order to guide them to the right functions.
Dark mode
eWay-CRM
I didn´t find out how to turn on the dark mode in eWay-CRM. There was an article on the blog mentioning that it has been available since version 6.0, but it didn´t help me much. However now I know a year earlier it was available even on mobile phones.
So, I went to the most experienced person on the development team. My colleague Stepan told me that since eWay-CRM is a part of Outlook (Microsoft 365), it is possible to switch Outlook to dark mode. Then it should work in eWay-CRM as well. I googled and found a page with vague instructions on the Microsoft website. However, with some imagination I managed to switch the Office suite (Microsoft 365) to the dark mode.
Note that not only Outlook but the entire Microsoft Office suite (Microsoft 365) will switch. Plus, it scared me a little bit at the very first. After changing the settings, Outlook, and all other applications from Office 365 (Microsoft 365) restarted without warning. Unexpectedly I also tested dark mode in Word or Excel. I am not happy with it, but it is an adventure.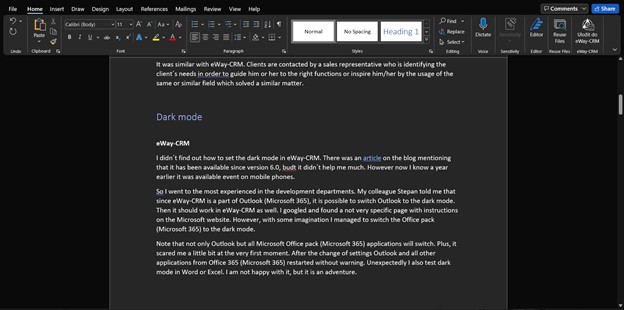 Hubspot
Similar detective work was waiting for me at Hubspot. The first thing I found was a plugin for Google Chrome. However, I didn´t want that, so I kept looking. A second article was for programmers. Finally, for the third time I found the Hubspot community page with a discussion from July 2021 saying that Hubspot doesn´t offer a dark mode.
The conclusion for setting the dark mode is that having only the environment of the CRM system in dark mode, is not possible in either case. In both, it is partially feasible under certain (and different) conditions.
Establishing a business case
I was curious about how much time it takes to establish a completely new contact or new business case. Every company has different needs, but I will focus only on how it goes in the marketing department at eWay System. For comparison within Hubspot, I took a fundraising activity from a non-profit organization.
eWay-CRM
In eWay-CRM you can start with an e-mail as a source to create a new order. Through the menu below, I would click of the right button to convert the e-mail into an opportunity. At that point you will see the business opportunity window.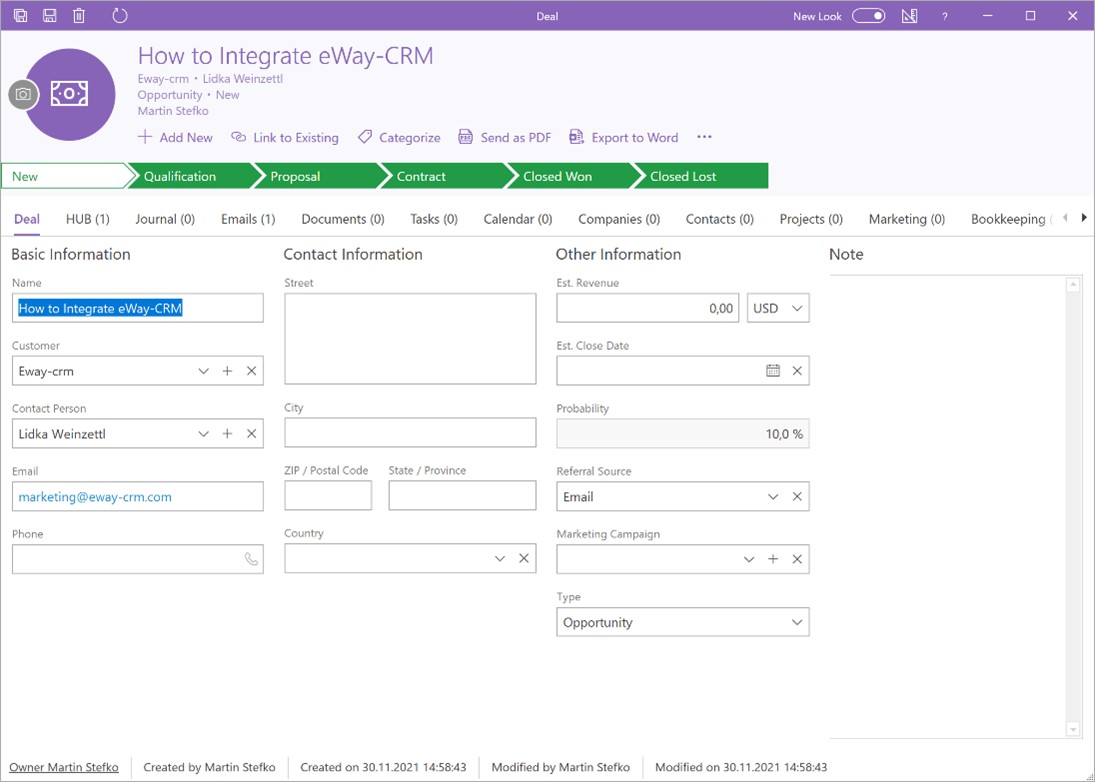 Because I need a marketing version, I must switch to another option in the Type filed – Blog. An e-mail from Outlook will be automatically copied to my account in eWay-CRM and the basic information will be prefilled. Then I can write some general information in the note text box. If necessary, I will add a new Task following the business opportunity. Finally, I change the status in the workflow bar and click on Save and Close.
I´ve set up all my emails to match business opportunities before. It doesn´t work 100% accurately, but I can safely find most emails under the right company profile and follow business cases. This way of creating business opportunities has its minor shortcomings in the form of possible duplication. However eWay-CRM can mark emails in Outlook from contacts which are already in the stored directory, and thus prevent this as much as possible.
The alternative path leads from the eWay-CRM menu in Outlook in the top bar through the establishment of a new company. Then I can add an e-mail to the company profile, which I will manually drag between the windows in the laptop. I could also assign it to a company or a business case, but the manual journey seems to be faster.
For each business case it is possible to create a Task or and automatic Task directly in the business opportunity, company or contact cards, which is created whenever a new business opportunity appears. As a result, no client request is left unanswered, and no order is lost.
Hubspot
After logging into Hubspot, I can set up a category or section that I would like to see on the first homepage. These can be visualized performance reports (dashboards) or any of the main categories. I welcome this method of adjustment, even though I later found out that none of the variants suits me. Maybe I will choose the right dashboard later.
On the journey leading to a new business case, I have to go through a few clicks. I go to the Contacts category where I choose the Companies section. The "Create Company" button will display a form for entering a web address or a company name. I love the ability to retrieve business information after entering a web address. Then I can edit the data and add anything I need.
After that, a company profile will open, and I can add records for other categories (Contacts, Deals, Ticket, Attachments and Related Companies). It is nice to be able to quickly add a contact via +Add in the right column for each section. Unfortunately, the new window will first offer me the option of "Associate existing", so I have to click on "Associate new". Each contact can be connected to only one company. However, this may limit some users (eWay-CRM allows interconnection of contacts across companies).
After filling and saving, the contact card will open, which already offers an extended entry of activities (Activity, Notes, Email, Calls, Tasks, Meetings).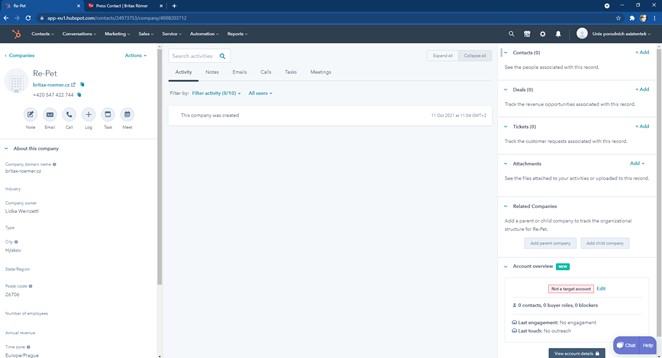 The ability to send e-mail directly from the Hubspost platform is actually fairly pleasant, which is similar to sending e-mails with the option to monitor directly from Outlook in eWay-CRM. However the free version of Hubspot has one disadvantage of automatical inserting the Hubspot logo and text at the end of the email. (Fortunately, eWay-CRM doesn´t add anything like that.)
Edited with HubSpot.
Even in Hubspot I can continue to create a task for the next steps leading to the processing of a business case.
In conclusion
It takes a while to look around. I use Hubspot occasionally for a few weeks and I am still discovering something. I have been using eWay-CRM daily for several months and from time to time I discover something new.
The conclusion I took from this was that choosing a CRM system requires several weeks or months of daily usage. Testing it for only one day isn´t appropriate. There is a lot to learn. Intensive testing would be tiring and still there is not enough time to find out something crucial. My advice is to set aside an hour every day for testing.
Would you like to know more? Further comparison of functions is available on the respected independent portal Capterra.