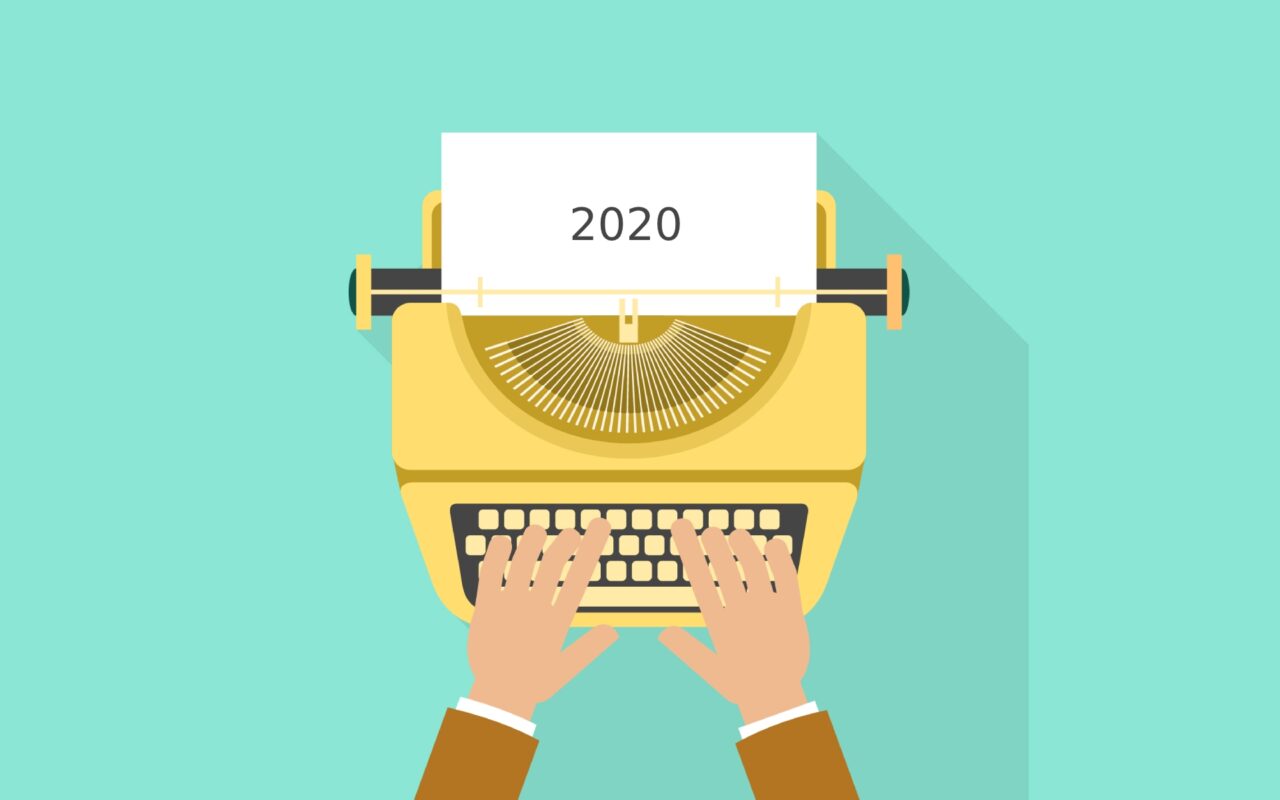 This year came with great challenges for us all. Some were extremely successful, others fought for survival. Some did not manage to handle inquiries, others had to look for a new business. When we tried to evaluate 2020 in our eWay-CRM, we realized that it is a mixture of amazing stories that are connected with each other. And they all have one thing in common - a good ending.
At lunch yesterday, we realized that each of us would see this year's story differently. We found a lot of answers to the question "what we managed to do this year". After half an hour of excited: "Well, yeah. After all, I forgot this a long time ago ", we had a problem choosing from the list. This is even though we didn't lay on a bed of roses.
New offices
The environment makes the ambiance. And it has been fresh and relaxed since the beginning of the year, as we moved to new offices in the center of Prague in January. We grow vegetables on the spacious terrace. Our office manager Patricia always smiles and cares for everything here. Morning coffee with a view of Prague is idyllic from here. That's why we drank over 70 kg this year, despite all the lockdowns. Without them, it would certainly be much more. On the contrary, those who drag it into the evening and take care of American clients enjoy unmistakable sunsets. However, judge for yourself ...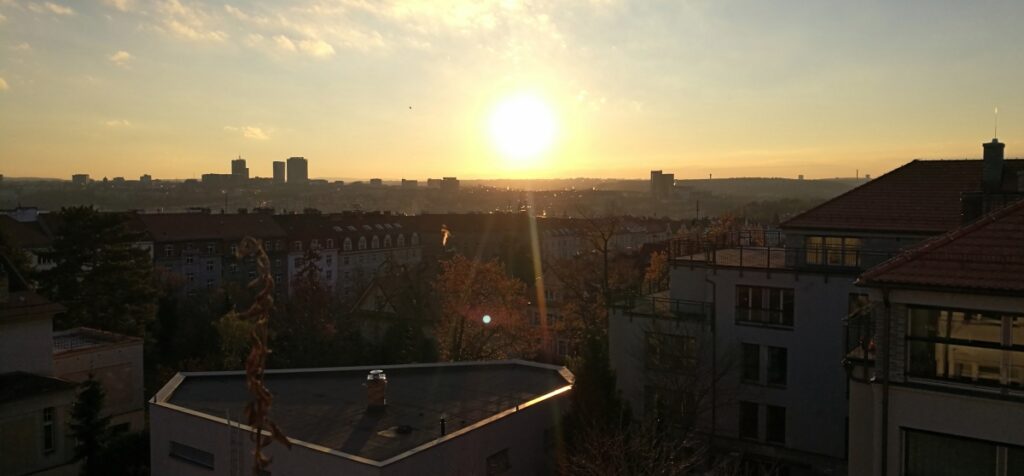 In the summer season, the terrace even saved us in a way. We are better used to epidemiological measures when a working meeting is in the fresh air. The same for company celebrations, such as the honor of including eWay-CRM in the FrontRunners ranking. The joy of success just tastes best when celebrated together. Ideal on a Pizza Friday, where we enjoy pizza as well as success.
In the end, the most important thing for us is that we have a lot of daylight in our offices. Thanks to the natural supply of vitamin D, we are always fresh and full of ideas about what to do in 2021.
Anytime, anywhere (and save)
The days when we used to spend our 8 hours by the computer with a 30-minute lunch break are long gone. We live in a time of flexible working hours, home office, part-times, freelancers (or add any buzzword of your choice). People want to be free and decide when and where they will work. This requirement goes hand in hand with the eWay-CRM philosophy - anytime, anywhere. Even offline.
And this is exactly what the new eWay-CRM is like. It no longer matters if you are in the office, at home on a Mac, or walking your dog. With Outlook, web, and mobile apps, you can easily take a device and work. You can also use your children's tablet on a family vacation (if they let you).
What you don't have to worry about on the go is the security of your data. Security is one of our priorities, and we crowned our efforts with success when we got the ISO 27001 security certificate at the beginning of the year. It was not for free, we got it on a second try. But it has definitely paid off, and although ISO 27001 dictates to us to make things more complicated from time to time, we know it's for the better.
We have communication encrypted, passwords properly secured, and our latest move in the form of implementing CloudFlare as a kind of firewall to our cloud has reduced the number of attacks on our servers to zero. Yes, to zero. But yet that's not the end...
Growing community
We at eWay-CRM have always done things a little differently. We don't have traditional sales reps or a marketing department. In the United States, the title of the Customer Success Manager job appears more and more often, which describes our approach perfectly. In the Czech Republic, the "customer success manager" may sound a bit funny, but this is exactly what each of our Sales Managers and Marketing Managers has been doing for 12 years. Our team focuses on how to help the client grow. We do not sell CRM, but we teach people how to achieve their goals with our eWay-CRM.
To teach users how to put more speed into business, we create educational content - we shoot instructional videos, write how-to articles, record podcasts, and so on. This year, we have expanded the team with people who are able to create valuable content. With their contribution and increasing content, the eWay-CRM community is constantly growing.
Regular visitors to our blog may have noticed that we have focused a lot on e-mail marketing this year. No, it's not a coincidence. The new e-mail campaign distribution guide is beautiful and user-friendly. But our goal is to make your campaigns not only widely used but most importantly successful. That's why we've focused on helping even less experienced users become real experts.
Readers' interest in this topic increased, for example, by an interview with Bozena Peroutkova from Emailcampaigns.eu or eWay-Book Digital Marketing Step-by-Step, which self-taught the basics not only of e-mail marketing but also other areas of online marketing. For users, we have prepared a practical article on How to get e-mail marketing statistics directly from CRM, thanks to which you can learn how to make e-mail marketing campaigns more effective.
We are currently working hard to use reports and advanced analytics. We managed to connect eWay-CRM with PowerBI, thanks to which you can easily reveal, for example, the results of your business team without knowing how to work with spreadsheets. But also much more ...
Private stories
In the end, we tried not to write a cliché such as "people make eWay-CRM for other people", but we couldn't resist. The private stories of our team this year were so interesting that we just have to share them. When our project manager David decided to leave Way-CRM after 10 years to fulfill his dream and become a professional athlete, we thought he would deserve an Oscar.
This year, our CEO Jan published a book - General Theory of Employment by Keynes in Czech. It also doesn't happen every day. Also, he became the father of a second child and from time to time appears in a track suit at work. Doing sports to be healthy.
There were several new fathers in our company this year. Our CTO Roman became the father of his third son, the businessman Tzanko has a tiny daughter at home, and the developer Jan became a father of a desired son (although colleagues in the office regularly assured him that he would have a third girl).
But we also celebrated pettier victory. Our developer Adam officially became a cold water swimmer a week ago when he bathed in the icy water of a local lake, our copywriter Ondrej recorded a DJ set for one of the world's largest channels, and last but not least, our office manager Patricia finished The Last of Us 2 in a single weekend, which she had been looking forward to for so long.
And why are we mentioning even the smallest successes? In our opinion, no success is negligible. Smaller successes make the big ones. That is why we wish you a lot of small and big successes in 2021. With eWay-CRM!