10 Effective Strategies for Turning More Website Visitors into Customers
Investing efforts into boosting conversion rates is essential for the long-term success of your enterprise. After all, knowing how to attract your target audience and convert website visitors into customers unlocks essential business opportunities.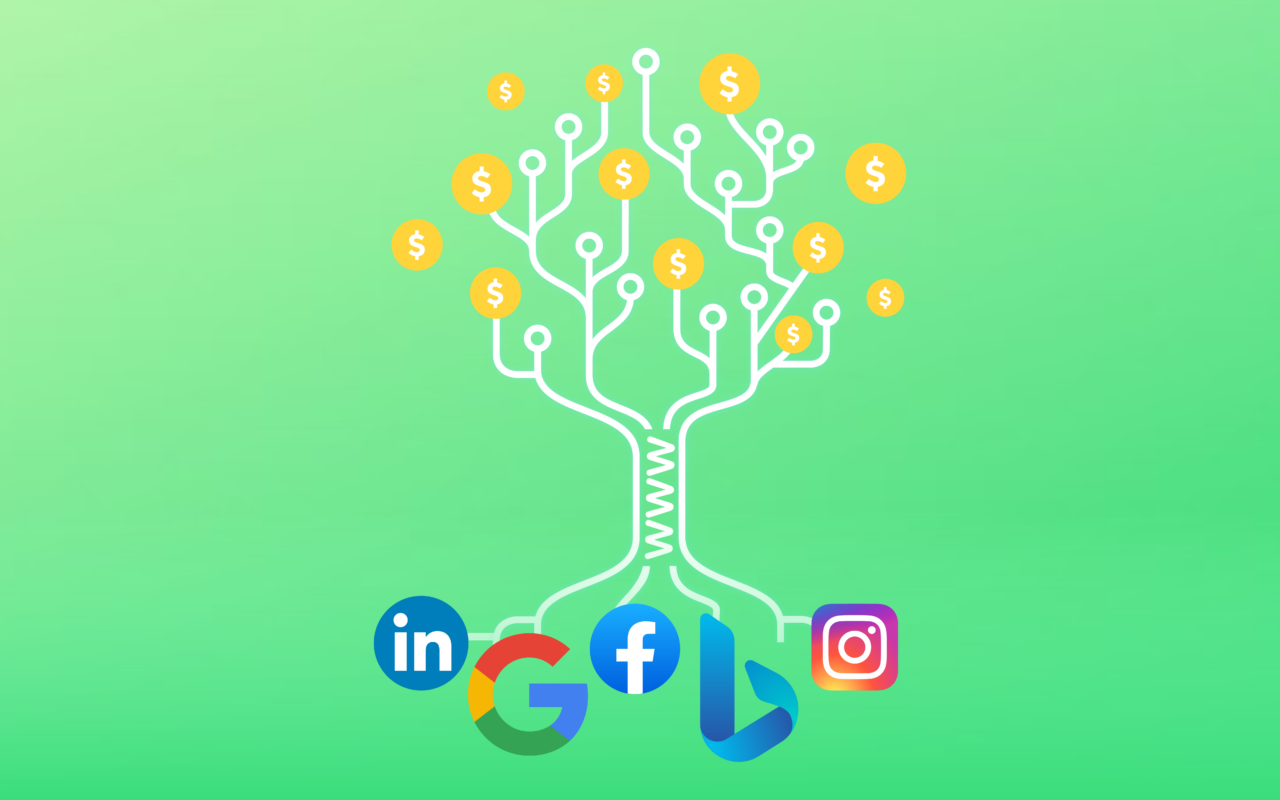 A great customer conversion strategy won't just add value to your company in terms of revenue and profits. It can also be the key to expanding your reach, uncovering growth opportunities, and even be a way to diversify your offer.
But converting web visitors into customers comes with many challenges. Your organization may be competing against a lot of rivals.
You may be experiencing low conversion rates due to ineffective web design or marketing practices. Or — especially if you run a B2B organization — you may have to manage a particularly long or complex buyer's journey.
If you want to convert web visitors into customers, here are effective strategies to help you accomplish your goals.
Table of Contents:
Optimize Landing Pages to Appeal to Your Target Audience
Directly Address Customer Pain Points
Create an Emotional Connection
Highlight Your Brand's Credibility
Get More Out of Your Conversion Elements
Calls to Action
Use Pricing Strategies to Assign Value to Your Services
Lead Capture Elements
Use Written, Visual, and Interactive Content to Boost Engagement
Publish Blog Posts That Prioritize User Value
Videos & Visuals Enhance Product Understanding
Consider Investing in Interactive Content
Deliver an Unmatched Browsing Experience
Final Thoughts
Optimize Landing Pages to Appeal to Your Target Audience
The most effective strategy you can adopt to convert web visitors into customers is to optimize your landing pages in a way that will appeal to your target audience.
Defining your buyer personas is the best way to get started when implementing this tactic.
Once you've identified the people you want to offer your solutions to, consider going a step further in ensuring that your products and services delight your target audience.
1. Directly Address Customer Pain Points
Data shows that, when landing on a website, consumers form first impressions lightning-fast. Even though most of these initial beliefs are based on design elements, you should still do your best to compose and position your primary value proposition in a way that has the highest chance of inspiring web visitors to convert.
Use the most prominent sections of your landing pages — the first screenful, in particular — to address customer pain points. That way, you'll immediately establish your brand's understanding of their problem and showcase its capacity to solve it.
If you want to ensure that a high percentage of people landing on your site convert into customers, use the hero section of your landing pages to demonstrate how your business could be the best option for your audience.
For an excellent example of a business using this conversion-boosting strategy, check out BaseLang.
On its Real World Program page, the brand asks prospects whether they freeze when they come face-to-face with Spanish speakers. By demonstrating that it's aware of this common user pain point, BaseLang effectively creates an opportunity to present its product and highlight its unique value. This, in turn, increases the chances of a casual web visitor turning into a paying customer.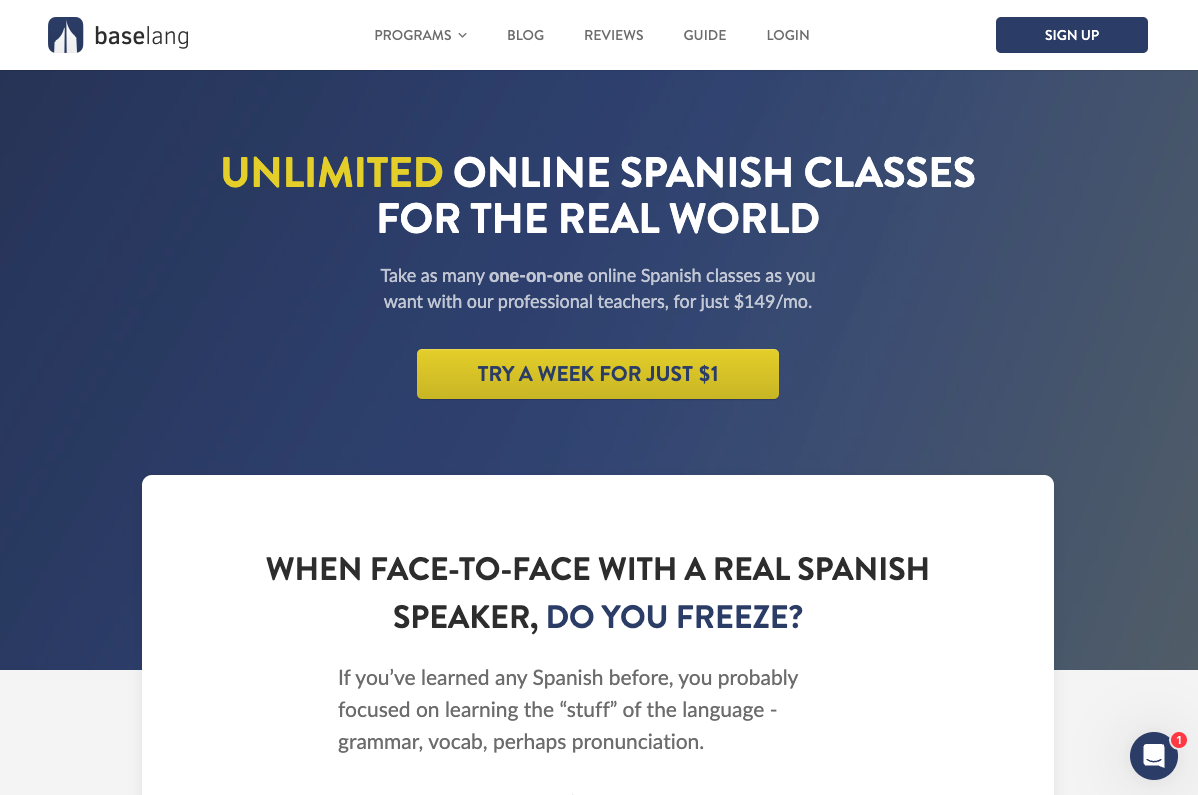 2. Create an Emotional Connection
Another excellent way to ensure your site appeals to potential customers (and converts) is to encourage emotional connections between your target audience and your brand's solutions.
Scientific research shows that feelings of familiarity and intimacy boost purchase intent. And when they're combined with perceived usefulness, the effect becomes more powerful. This proves converting website visitors depends on your capability of building a positive relationship with your target audience.
There are many ways you can encourage web visitors to form emotional connections with your brand.
For instance, you can employ relatable imagery. You can call your prospects' attention to the positive emotions they can expect to experience once they start using your products. You can even remind them of their frustrations, using the negative emotion to highlight that your solution could be the key to eliminating them.
This is what Harvest does on its Employee Time Tracking landing page. The copy reminds visitors of the fact that most workers hate using similar software solutions due to their complexity, resulting in a waste of resources for their employers.
3. Highlight Your Brand's Credibility
To make your site appealing and successful at converting website visitors into customers, don't forget to use design and copywriting techniques to highlight your brand's credibility.
In the age of (almost) endless choices, consumers have to do a lot of research before they can be sure they're investing in a solution that genuinely works. If you want to guarantee that they understand the benefits of investing in and using your products, highlight your brand's credibility and dedication to presenting consumers with great solutions.
There are several ways to position your business as trustworthy, which will encourage converting website visitors into customers. In addition to the traditional conversion-boosting strategy of using social proof, you can also show off trust signals.
And if you want to take things to the next level, you can do what SomniFix does on the Science page of its website and use actual scientific research citations to back up your claims.
Get More Out of Your Conversion Elements
An absolutely vital strategy for converting website visitors into customers is knowing how to get more out of the conversion elements you use on your homepage and landing pages.
4. Calls to Action
To secure good conversion rates on your website, you need appealing CTA buttons. This doesn't necessarily have to be a resource-intensive task. To get good results, it's enough to adhere to the best practices of designing CTAs:
Ensure sufficient contrast between CTA buttons and their background.
Surround them with adequate negative space, as this ensures that they're attention-grabbing.
Position conversion-driving calls to action in highly noticeable and logical places, such as near your USPs.
Utilize short, easy-to-understand, and action-oriented copy.
Maximize the conversion potential of CTA buttons with trust-inspiring microcopy.
Don't be afraid to repeat CTAs whenever logical, especially if it helps your website visitors achieve a more intuitive browsing flow.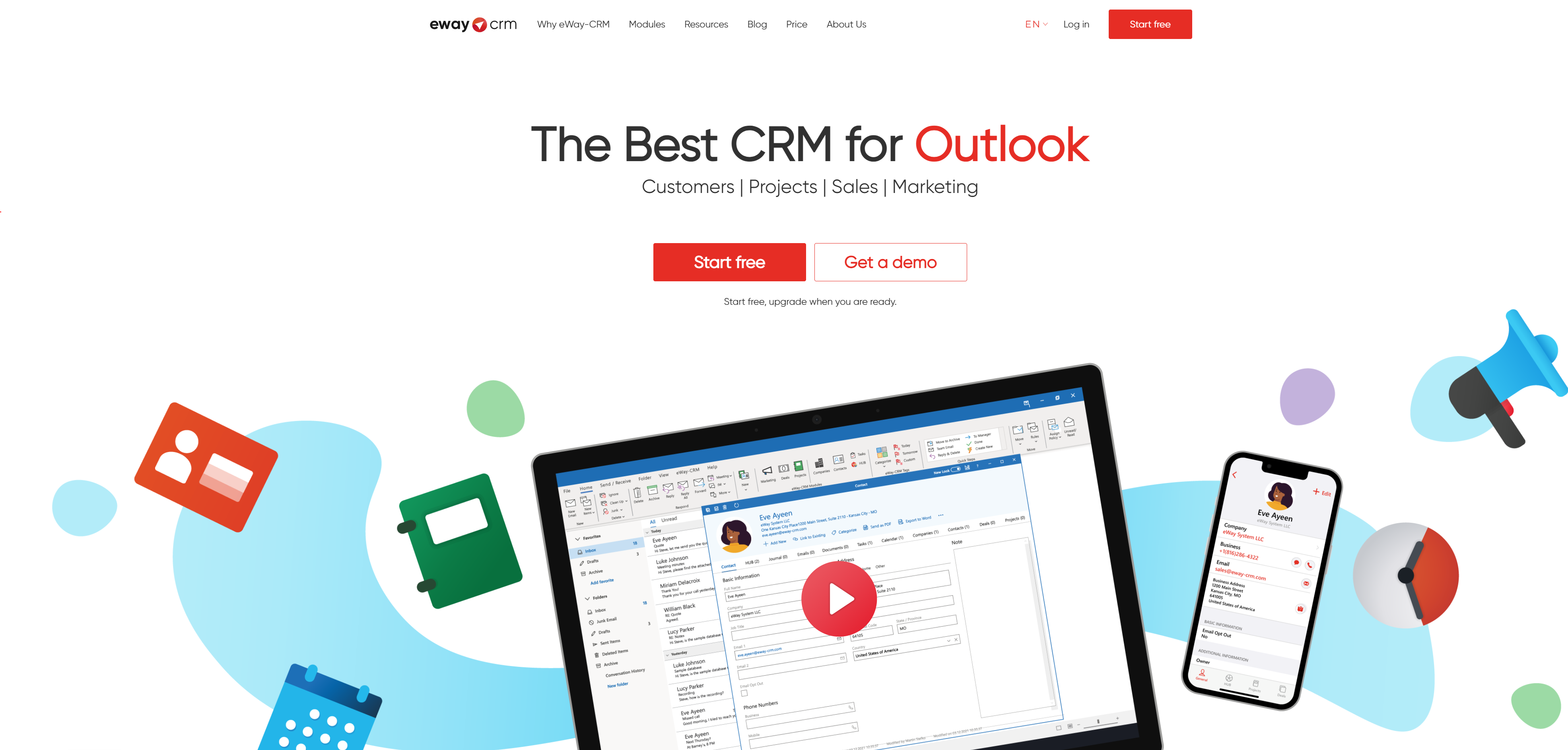 5. Use Pricing Strategies to Assign Value to Your Services
Your pricing page is another essential aspect of your site you must look at when trying to turn more website visitors into customers.
As a resource intended to help consumers in the lower stages of the sales funnel make their purchasing decisions, pricing pages play a crucial role in supporting (or harming) conversion rates.
If your goal is to effectively associate your products and services with value, employ the right pricing strategies to ensure web visitors recognize that value.
Price anchoring is one super-effective tactic for doing this.
By defining a price point that will establish the value of your offered solution and guide your prospects' decision-making process, you can effectively use price anchoring to convince customers to act on their fear of missing out.
Example of this conversion-driving tactic in action comes from the ecommerce brand Ché Studios.
On product pages, this business utilizes the price anchoring technique to assign an initial value to items. Then, by following up that price with a lower, discounted sum, Ché Studios effectively influences website visitors to convert. The brand ensures that they understand they're getting a more expensive item for a fraction of the cost.
What's even more impressive about this brand's conversion-boosting strategy is that it utilizes additional small but impactful design elements to awaken consumers' fear of missing out. Notice the "Hurry, Only 3 Left!" reminder right above the "Add to Cart" button.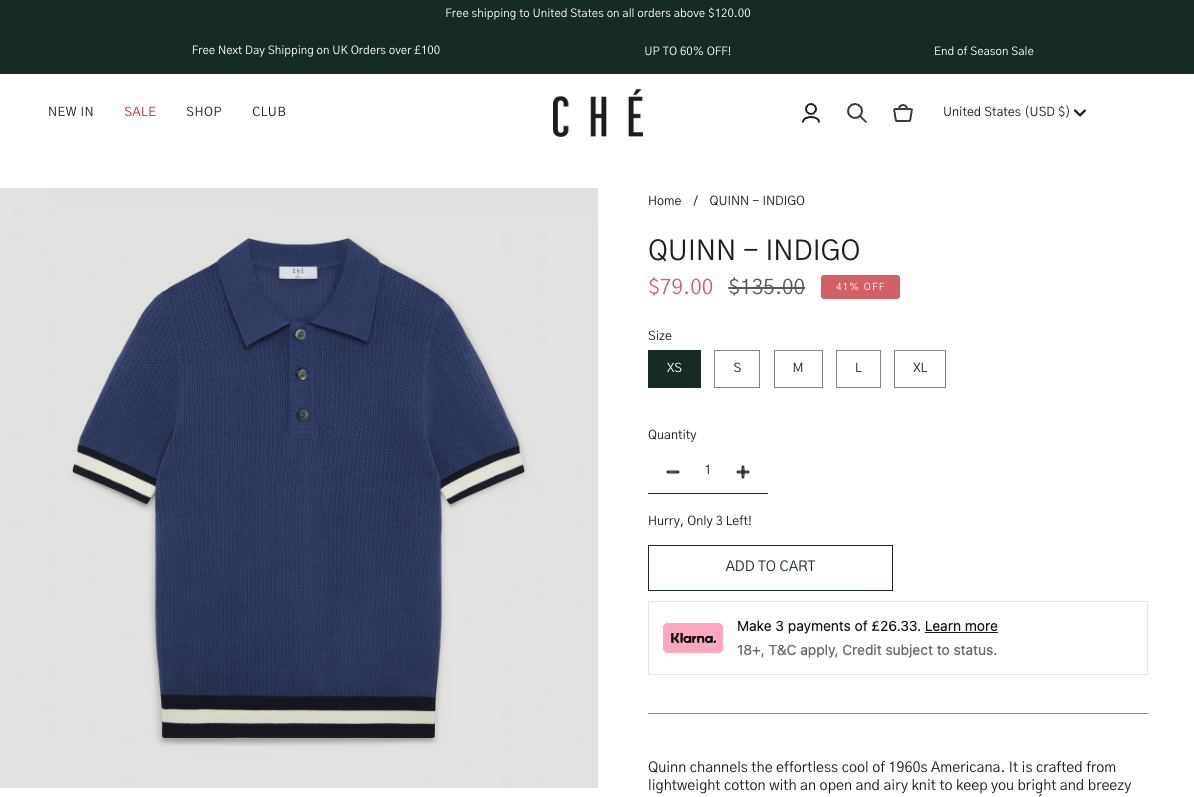 6. Lead Capture Elements
To succeed in converting website visitors into customers, don't forget that not all of your prospects will be in the decision stage of the buyer's journey when landing on your site.
Instead of risking the possibility of turning potential buyers away with aggressive sales techniques, enrich your web pages with lead capture elements. That way, you'll gain new email newsletter subscribers and unlock the opportunity to slowly (and effectively) nurture leads into loyal customers.
Use Written, Visual, and Interactive Content to Boost Engagement
Optimizing your sales copy and combining it with the right conversion elements is an excellent way to turn more website visitors into customers. To maximize your chances of getting leads to invest in your solutions, explore ways to boost engagement rates first.
Engaged consumers are more likely to remember your brand — which is crucial, seeing that brand recall influences purchase intent even more than baseline brand awareness. Plus, when they're immersed in the content on your site, web visitors are also more likely to find the value they seek. This helps you move them along their buyer's journey and (hopefully) convert them into customers.
There are multiple ways to maximize user engagement to convert website visitors.
If you want to get the best possible results, it's not a bad idea to look at your site content and see how effective it is at capturing and retaining consumer attention.
7. Publish Blog Posts That Prioritize User Value
One of the best strategies for converting website visitors is to present them with content that delivers genuine value.
By publishing blog posts that help your audience on their path to solving pain points — no matter their position in the buyer's journey — you can give website visitors additional reasons for choosing to buy from your brand.
Content that prioritizes user value builds brand trust. It showcases expertise and dedication to customer satisfaction. And it can even be used to create a market for your products — especially if you target search terms in the upper stages of the funnel.
For example, by publishing educational content, you can effectively target consumers in the early-awareness stage of the customer journey.
Take a look at The Buy Box article on Aura. If you look at this resource, you'll notice it does several things right:
The article presents readers with plenty of objective information without being purely focused on producing a transaction.
It teaches consumers how to solve their pain points without spending any money.
Towards the end of the article, it presents them with a ready-made solution to winning the Amazon Buy Box — Aura's Repricing tool that automizes the complex procedure.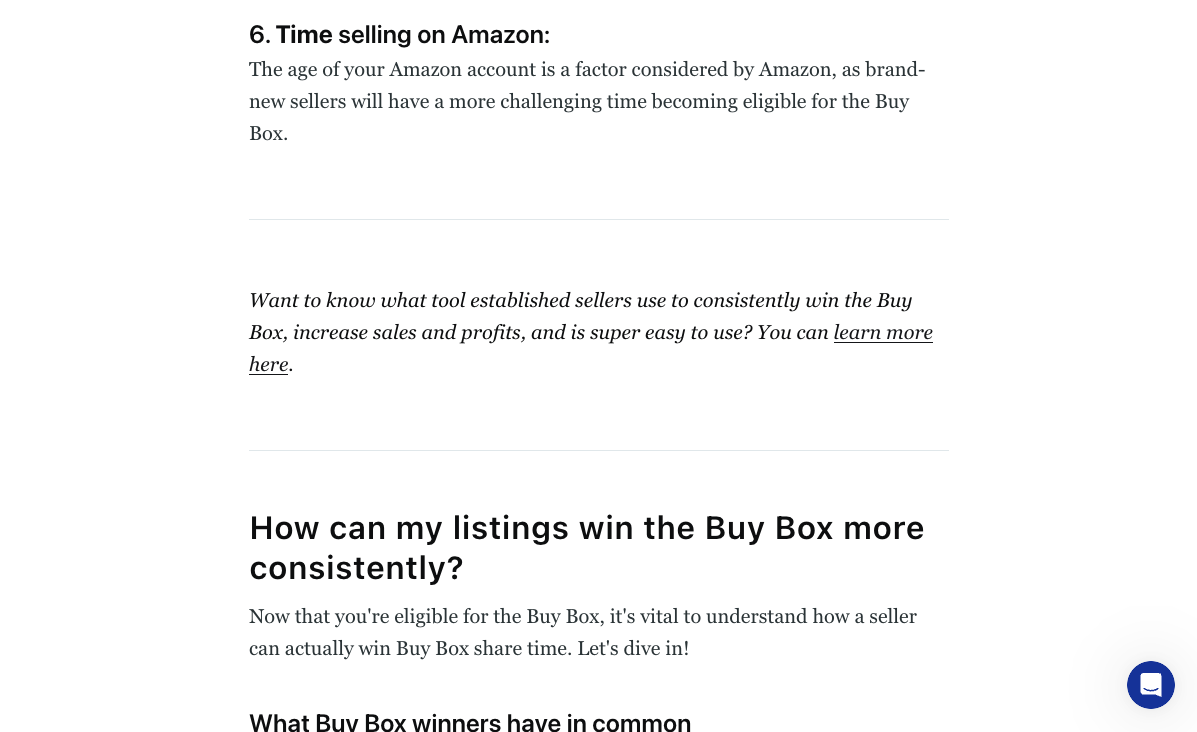 8. Videos & Visuals Enhance Product Understanding
In some cases, the inability to engage web visitors will come from something other than your lack of trying. Complex product features and poor product understanding can be the underlying cause of less-than-perfect engagement rates.
Fortunately, this is a conversion obstacle you can overcome quite easily. All you need to do is employ formats that drive comprehension.
By using images, illustrations, and screenshots, like on the Workday Human Resources Management page, you can maximize your target audience's chances of seeing value in what you have to offer. And that's how you'll also maximize your chances of converting website visitors into paying customers.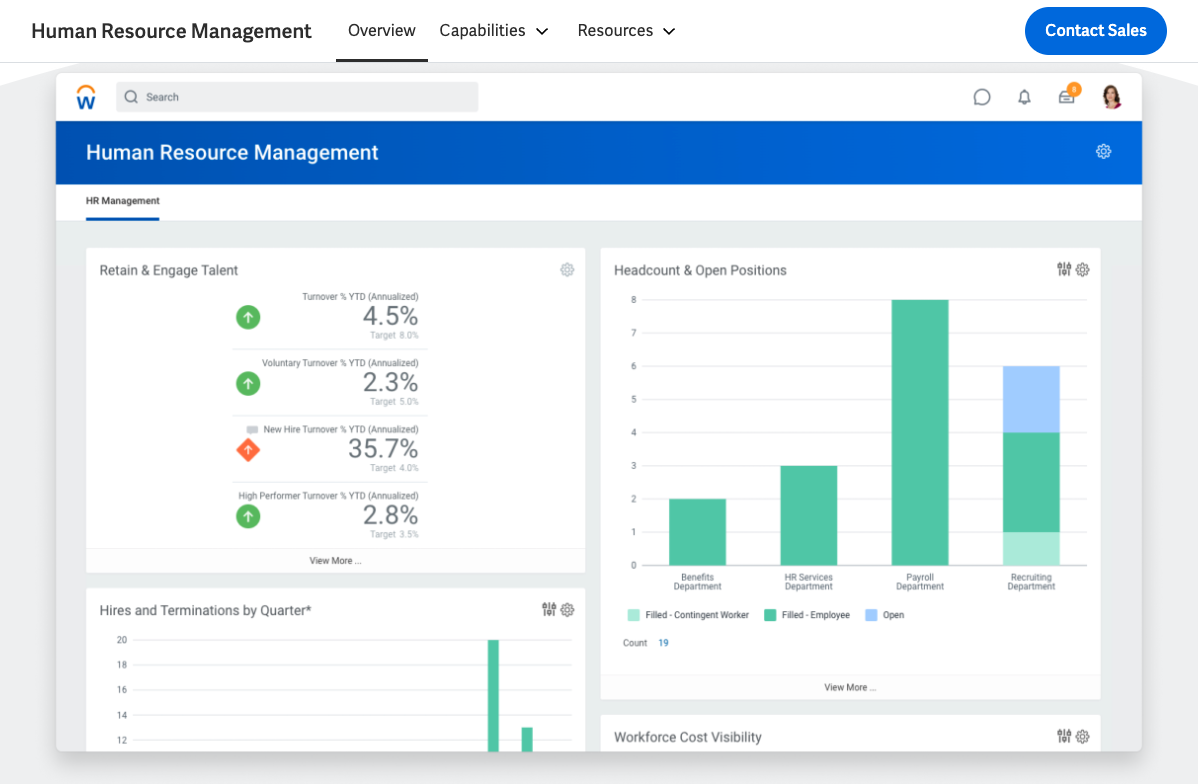 If you want to get even better results in terms of user engagement and product understanding, consider enhancing your site with explainer videos. They are proven to be 96% effective at successfully delivering product information to users.
This is what GetSafe does on its Medical Alert Systems page. It includes a 3.5-minute video that explains the concept of medical alert devices to non-expert website visitors looking to invest in their at-home safety.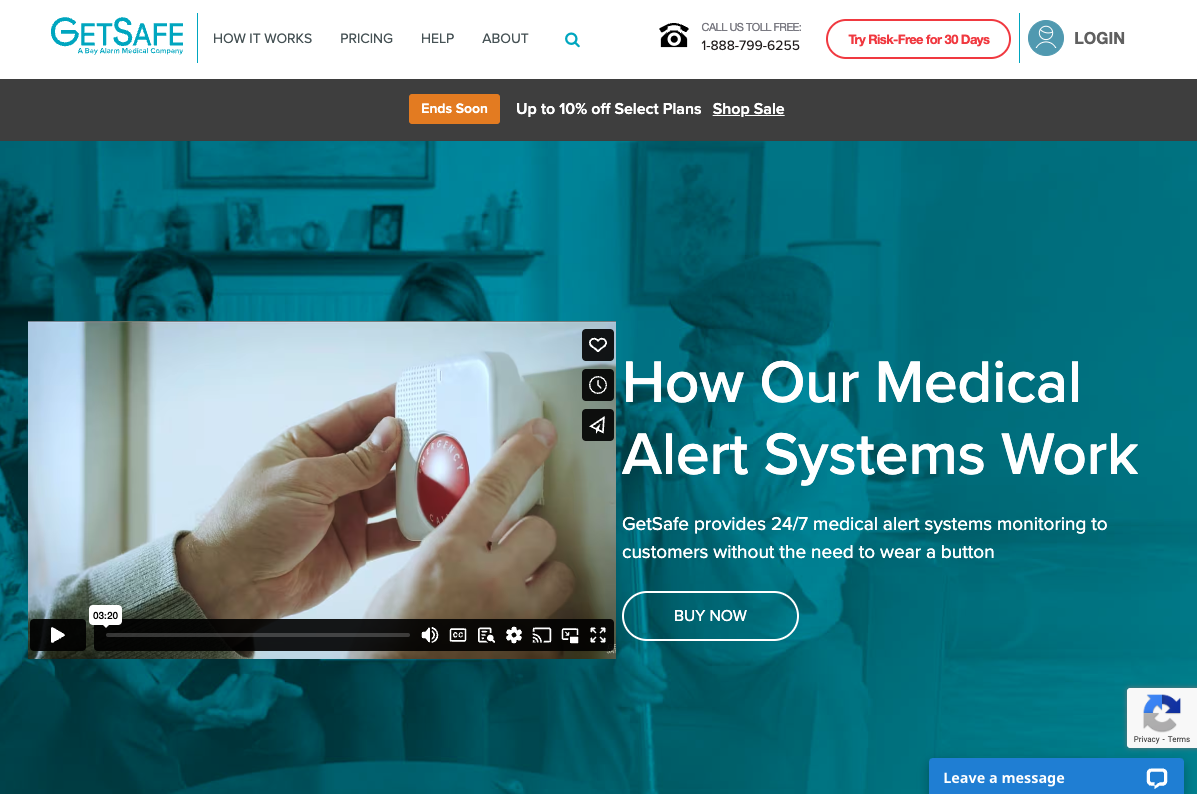 9. Consider Investing in Interactive Content
Don't underestimate the power of interactive content in allowing you to present your audience with hyper-relevant personalized info.
Research shows that interactive content can lift engagement by more than 50%. On top of that, it can be an excellent way to create resources that will deliver value to consumers in different phases of the buyer's journey.
Example of how easily you can utilize this format, check out the eTraining homepage. In the hero section, this brand asks a simple question and allows prospects to choose an option from a drop-down menu.
By using interactive website feature, eTraining effectively shortens the buyer's journey, ensuring future customers are presented with solutions relevant to their pain points. Moreover, each of the results pages includes a handy course demo, further aiding product understanding and maximizing the site's conversion potential.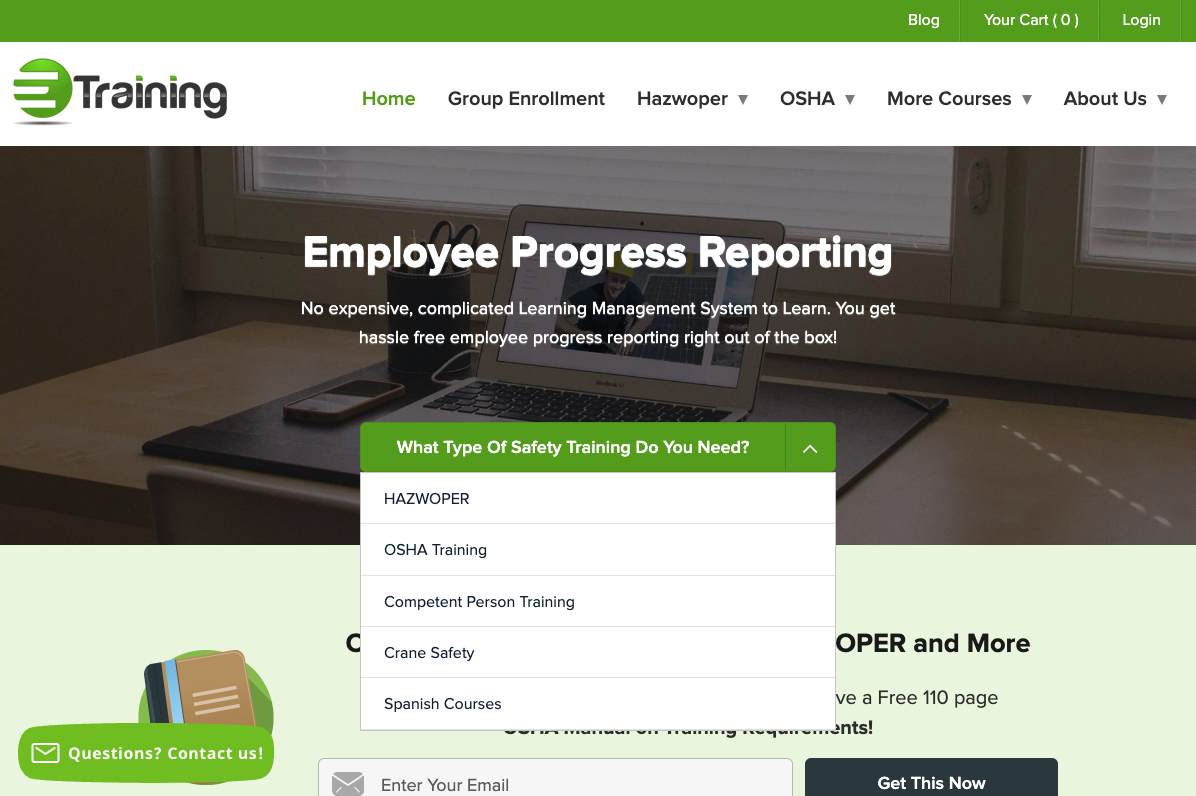 Deliver an Unmatched Browsing Experience
Don't forget that how your site performs will directly impact your success in converting website visitors.
Google has found that even a one-second increase in page load speeds leads to a higher probability of a bounce.
Adobe's research shows that 30% of consumers will stop viewing content if it doesn't display well on their current device.
When aiming to convert customers, you should find ways to address all of these issues. But don't just stop there. To deliver an unmatched browsing (and shopping) experience to web visitors, explore additional ways to delight them.
By showing prospects that getting in touch with your sales team will deliver a personalized and positive customer experience, you can effectively inspire them to convert into leads.
If you check out the Trustshoring homepage, you'll find a captivating and authentic message in the chat bubble. The brand's founder speaks directly to potential customers, showing how well he understands the pain points experienced by Trustshoring's target audience.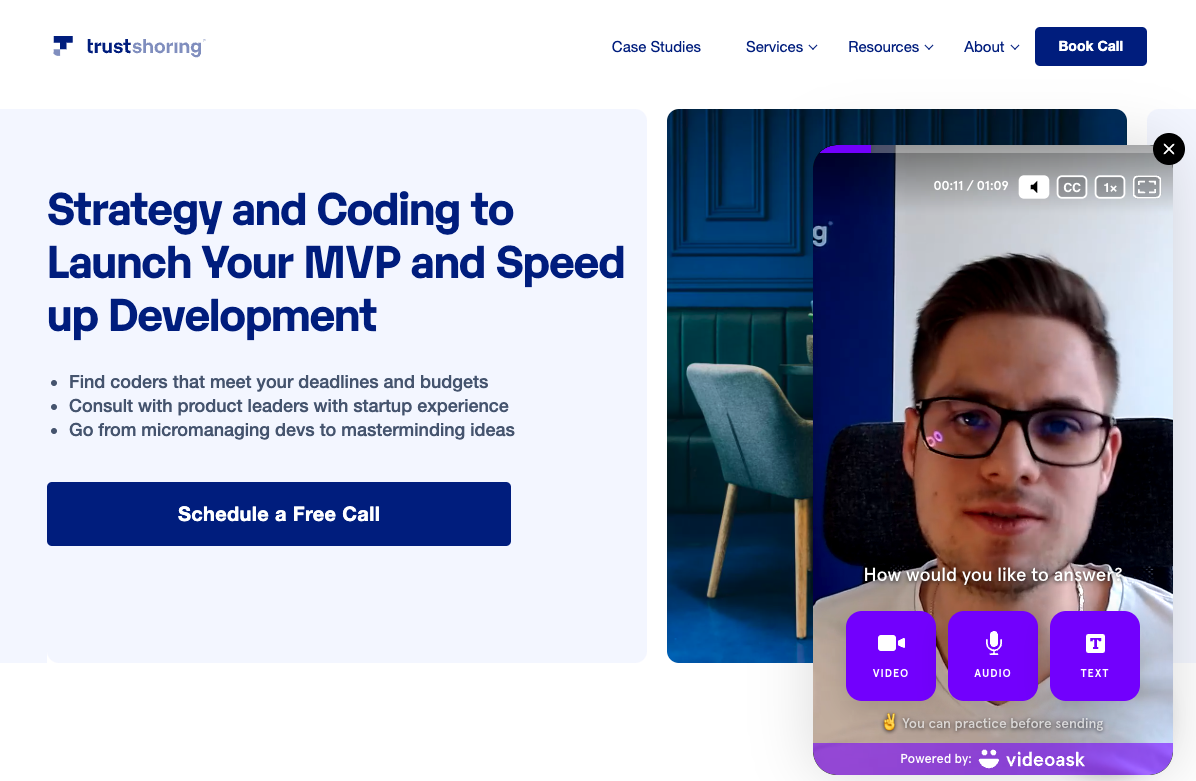 You can explore opportunities to transform "boring" parts of your site into engaging and enjoyable pages your future customers will love to see.
This is what Discord does with its 404 page, which features a fun animation and humorous text. It ensures that the hiccup in its customers' browsing experience doesn't lead to a bounce or disappointment but rather a fun detour.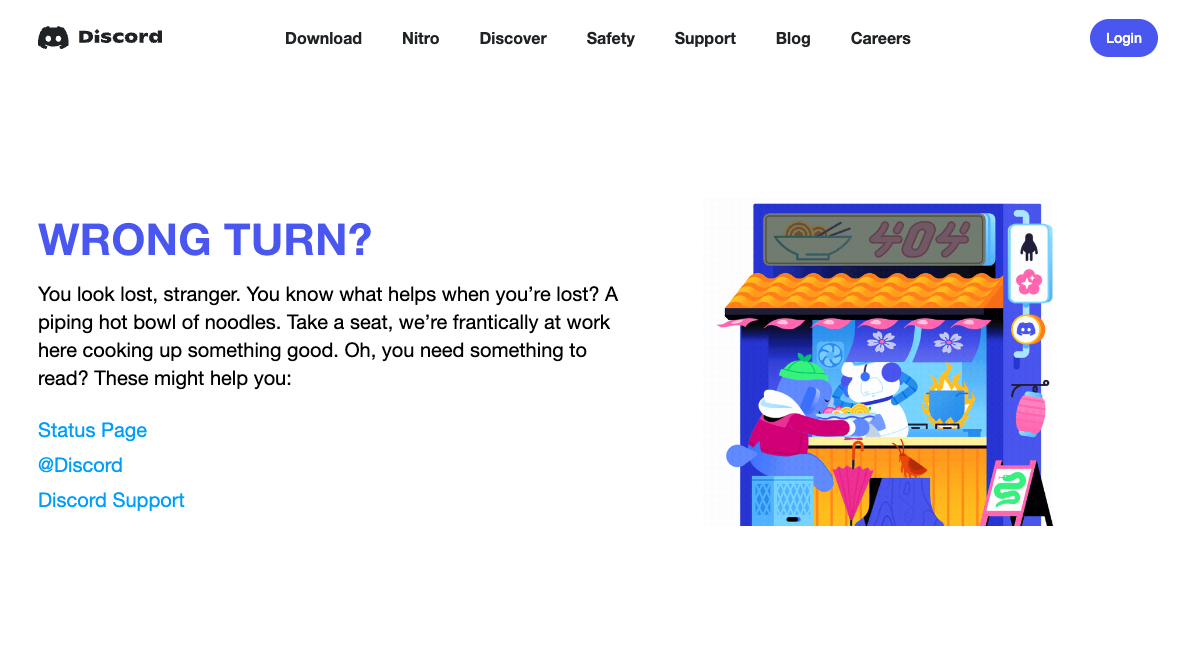 Final Thoughts
We have covered the most effective strategies for converting website visitors into customers.
As you start implementing these tactics, don't make the mistake of trying to use all of them at once. Instead, make your website optimization journey a gradual improvement.