Top 8 CRM Software Picks for Independent Consultants in 2023
Have you ever felt overwhelmed juggling client details, upcoming meetings, and a plethora of emails? What differentiates independent consultants who manage their tasks with effortless grace from those constantly playing catch-up?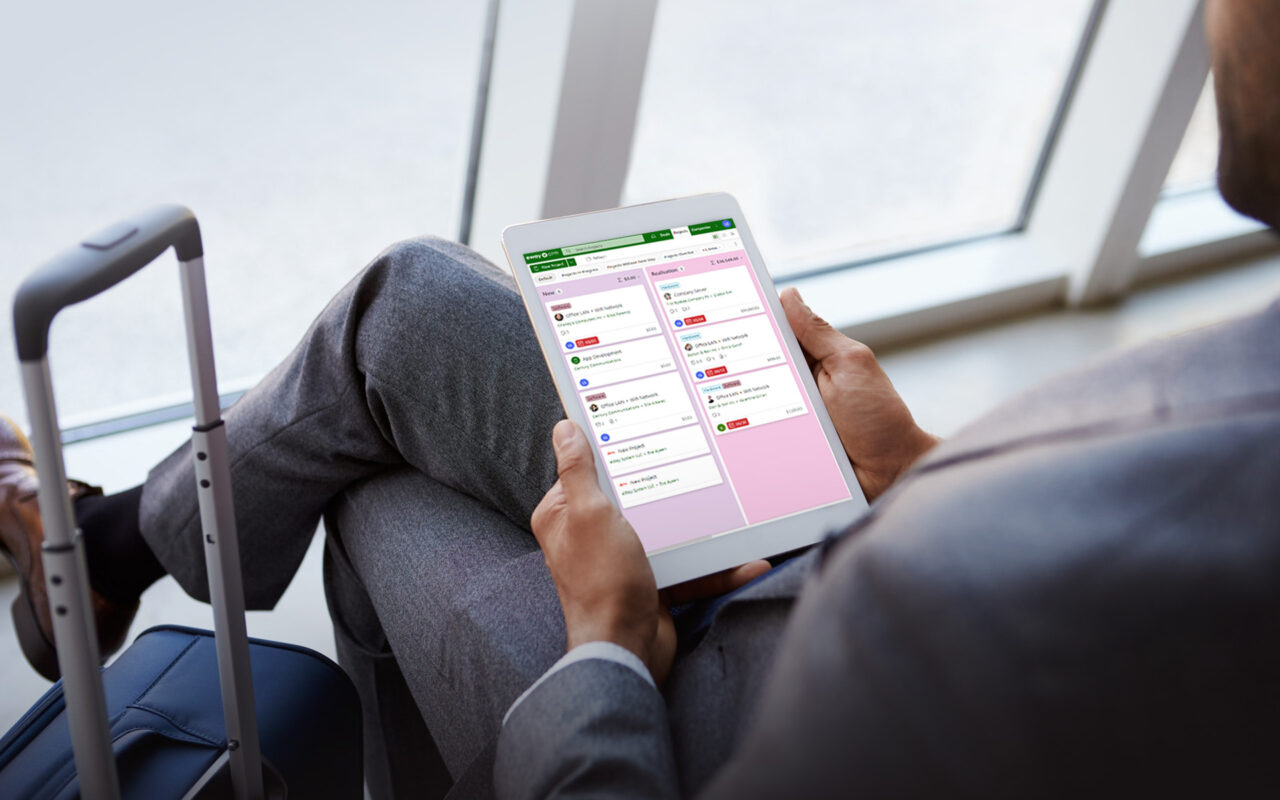 As 2023 marches on, the key isn't just talent—it's often the smart adoption of a Customer Relationship Management (CRM) software. For many independent consultants, the right CRM isn't a luxury; it's the backbone of their operations, ensuring they never miss a beat. In fact, 11% of all CRM users are consultants.
But while the market offers a multitude of CRM options, how do you pinpoint the one tailored to your needs?
Looking at the best CRM software for consultants, one name that has carved a niche, primarily because of its seamless integration with Outlook, is eWay-CRM.
The Common Challenges of Independent Consultants
Being an independent consultant can be incredibly rewarding. You're your own boss, you shape your growth trajectory, and every project you take on is a testament to your unique skills.
And with this work trend on the increase with 16.9 million Americans describing themselves as digital nomads, the challenges are common and demand a dynamic solution.
Some of the challenges independent consultants encounter:
Client Management: Unlike large firms with dedicated teams, an independent consultant often has the dual role of client acquisition and relationship maintenance. Juggling multiple clients, each with distinct needs, preferences, and histories, can become a maze without the right tools.
Information Overload: From project details and deadlines to emails and feedback, there's a constant influx of data. Without systematic organization, vital information can slip through the cracks, leading to overlooked tasks or unsatisfied clients.
Time Management: With responsibilities spread across acquiring new projects, servicing existing clients, and personal brand-building, efficient time allocation is crucial. The challenge lies in prioritizing tasks without sacrificing quality or missing deadlines.
Lack of Automation: Manual data entry, updating client information, and tracking follow-ups not only consume time but also increase the scope of errors. The absence of automated processes can result in redundancy and inefficiency.
Communication: Ensuring consistent and timely communication with clients is paramount. However, with a range of communication channels—from emails and calls to meetings and presentations—it's easy to miss or mix details.
Scaling Up: As consultants grow their clientele, the need for a structured system becomes more evident. Transitioning from a few clients to many, without robust support, can be overwhelming and messy.
These challenges, though formidable, aren't insurmountable. In fact, the solution often lies in leveraging modern tools, specifically tailored for consultants. Enter CRM software—your potential game-changer. But why is it so transformative? Let's explore.
Why Independent Consultants Need a CRM
Every professional thrives on efficiency, but for an independent consultant, efficiency isn't just a buzzword—it's the lifeline. Given the diverse responsibilities one has to manage, it's essential to have a system in place that simplifies, streamlines, and secures client interactions.
Here's why CRM software becomes an indispensable ally for independent consultants:
Centralized Data Repository: Instead of scattering client information across spreadsheets, notes, or sticky reminders, a CRM offers a single, unified platform. Everything from client history and email correspondence to future meetings is accessible in one place.
Task Automation: Time is of the essence, and CRMs recognize that. By automating repetitive tasks, such as data entry or follow-up reminders, consultants can focus on what truly matters—delivering quality service and building relationships.
Enhanced Client Relations: With all client information at your fingertips, personalizing your interactions becomes effortless. Whether it's remembering a client's birthday or referencing a past project detail, CRMs help add that personal touch.
Efficient Project Management: Juggling multiple projects? A CRM helps track progress, deadlines, and feedback for each, ensuring nothing is overlooked.
Lead Tracking: Identifying potential clients and nurturing those leads is simplified with a CRM. You can seamlessly monitor your interactions, gauge interest levels, and strategize follow-ups.
Scalability: As your consultancy grows, so does your client list. A CRM provides the scalability to accommodate this growth, ensuring your operations remain smooth and organized.
In the sea of available CRM options, how does one choose the best CRM software for consultants? Our top pick, especially for those familiar with the Outlook environment, is eWay-CRM. Let's delve into its features and understand why it stands out.
1.    The eWay-CRM Solution
Navigating the realm of CRM software can be daunting, especially with numerous options vying for attention. Yet, one name consistently surfaces as a top solution for independent consultants: eWay-CRM.
Let's break down its unique proposition, especially its remarkable synergy with Microsoft Outlook.
Seamless Outlook Integration
The beauty of eWay-CRM lies in its integration with an already familiar platform – Outlook. Consultants often find themselves toggling between various apps and software, but eWay-CRM eliminates this hassle.
By embedding itself within Outlook, it makes client management as intuitive as checking an email or setting a reminder.
Such seamless integration not only saves time but also reduces the learning curve significantly.
Features Tailored for Efficiency:
Shared Contact List: Building and accessing a shared contact list becomes straightforward. Synchronizing this list across different devices ensures everyone's on the same page.
Easy Email Additions: With eWay-CRM, adding emails to the system is a breeze, ensuring no communication slip-ups.
Task Management: Be it notes, meetings, or follow-ups, organizing tasks is greatly simplified.
Project Management and Sales Modules: Beyond just contact management, eWay-CRM offers a comprehensive project management tool and tracks deals within its sales module.
Built-in Email Marketing: This tool can be a boon for consultants looking to expand their reach or maintain client engagement.
User-Centric Approach
eWay-CRM isn't just about features; it's about user experience. The free version, eWay-CRM Free, is a testament to their commitment to user needs. Catering to consultants, startups, or those with limited budgets, it provides general functionality without the price tag. As users recognize its value and seek more, upgrading becomes a natural choice.
With the numbers also showing that 81% of CRM users access their CRM from multiple devices, the mobile and cloud versions of eWay-CRM provide this necessary functionality.
Pricing Flexibility
One of the standout features of eWay-CRM is its adaptive pricing model. Beginning as a free model, it offers users the freedom to upgrade when they feel ready. The paid plan, starting at a competitive $20/month/user, ensures you get value for every dollar spent.
This model is especially advantageous for independent consultants who may have fluctuating income streams.
Standing Apart from the Crowd
With giants like Hubspot or Zoho dominating the CRM space, eWay-CRM has carved its niche. By leveraging the familiarity of Outlook and offering user-friendly features, it positions itself as an ideal tool for consultants looking for efficiency without complexity.
2.    monday CRM
monday CRM, building upon its background in project management, offers a CRM solution tailored for various professional sectors.
Features at a Glance
monday CRM uses a visually structured interface, where consultants can employ color-coded boards and custom workflows to organize client interactions.
With this CRM, consultants have the option to custom-design forms for data collection or feedback. The data, once entered, integrates into the CRM system.
Consideration Points
Learning Curve: Some users might find the initial acquaintance with Monday CRM's vast features slightly challenging. However, persistence typically results in mastery.
Pricing: Consultants, especially those just commencing their journey, might perceive Monday CRM's pricing as relatively higher compared to entry-level CRM solutions.
Pricing Details
Monday CRM follows a tiered pricing structure. While it doesn't come with a permanent free version, a trial option is available. The cost increases from the Basic to the Standard, Pro, and finally, the Enterprise tiers, each offering an expanded set of features.
3.    Zoho CRM
Zoho CRM, an offering from the Zoho Corporation, has been a steady name in the CRM space for years. Catering to diverse business sizes and types, Zoho CRM has been utilized by various professionals, including independent consultants.
Features at a Glance
Zoho CRM touts a suite of features designed to streamline and optimize customer relationship management. This includes lead management, analytics, multichannel communication, and sales automation tools.
Its AI-driven assistant, Zia, offers predictive sales analytics, lead scoring, and even sentiment analysis, potentially helping consultants prioritize their outreach efforts.
The platform also offers a high degree of customization options. Additionally, as consultants grow and expand their operations, Zoho CRM's scalability features can be of assistance.
Consideration Points
Complexity: The depth and breadth of Zoho CRM's features can sometimes translate to a longer learning curve, especially for those unfamiliar with the Zoho suite.
Cost Concerns: While Zoho CRM offers different pricing tiers, each with its own feature set, the more advanced tools come with the higher tiers, which might be a consideration for budget-conscious consultants.
Pricing Details
Zoho CRM's pricing starts with a free version for a limited number of users, followed by tiered pricing models that increase in cost and features, from Standard to Professional, Enterprise, and Ultimate.
4.     Bitrix24 CRM
Bitrix24, with its multifaceted suite of business tools, has established itself as a considerable presence in the CRM landscape. Known for both its CRM functionalities and collaboration tools, Bitrix24 is used by various entities, from businesses to independent consultants.
Features at a Glance
Bitrix24 CRM stands out with a combination of customer relationship management tools, task and project management, and communication tools – all under one umbrella. This amalgamation can offer independent consultants an integrated workspace.
It facilitates a range of automation options, such as sales funnels, rules-based lead management, and marketing automation tools, which could streamline operations for consultants.
Consideration Points
Interface Complexity: Bitrix24 offers an array of tools and features that cater to various business needs. However, this can result in an interface that feels crowded or cluttered. New users might find themselves spending additional time familiarizing themselves with the platform's layout and navigation, potentially impacting initial productivity.
Integration Hurdles: While Bitrix24 supports a range of integrations, setting up and ensuring smooth interoperability between the platform and third-party tools can sometimes be challenging. Independent consultants without extensive tech backgrounds might find this process less straightforward than with other CRM platforms, potentially necessitating additional help or resources.
Pricing Structure
Bitrix24 offers a free basic version, followed by tiered pricing structures, ranging from their Plus, Standard, and Professional plans. The feature availability and user limits vary across these tiers.
5.    Pipedrive CRM
Pipedrive has emerged as a popular CRM choice for those focusing intently on sales processes and pipelines.
Features at a Glance
Pipedrive prides itself on simplicity and visual sales pipeline management. Its interface allows users to easily manage deals, track communication, and progress sales through distinct stages. Its advanced tiers come with automation features that can help consultants manage routine tasks and keep the sales process flowing with minimal manual intervention.
Pipedrive also provides options for customization of fields and stages, ensuring relevance to a consultant's specific workflow. Plus, as a consultant's clientele and operations.
Consideration Points
Niche Focus: While Pipedrive's sales-centric approach is its strength, consultants needing broader CRM functionalities might find it slightly limiting.
Potential for Overwhelming Novices: While Pipedrive's interface is intuitive, its myriad of features and customization options can sometimes be overwhelming for consultants new to CRMs. This rich feature set requires an investment of time and effort to navigate and optimize, potentially leading to a steeper learning curve for those unfamiliar with such platforms.
Pricing Breakdown
Pipedrive employs a tiered pricing model, starting from the Essential plan and progressing to Advanced, Professional, and Enterprise plans. Each step up introduces additional features, with the price reflecting these inclusions.
6.    Keap CRM
Previously known as Infusionsoft, Keap has rebranded itself while maintaining its commitment to serving small businesses and professionals with comprehensive CRM and marketing automation tools. Many independent consultants have tapped into Keap's ecosystem to nurture client relationships and automate key processes.
Features at a Glance
Beyond its basic CRM functionalities, Keap stands out for its robust marketing automation, email marketing, and e-commerce capabilities. This makes it more than just a CRM for some users – it's a holistic business management tool.
Keap is also renowned for its drag-and-drop campaign builder which consultants can use to design intricate client journeys, automate follow-ups, and even trigger specific actions based on client behaviors.
This CRM offers a modular approach, allowing consultants to customize their toolkit. As their needs evolve, the platform is adaptable enough to grow alongside them.
Consideration Points
Learning Curve: Given Keap's extensive feature set, some users might find it a bit overwhelming initially, especially those new to marketing automation.
Adaptation to Advanced Marketing Features: Keap's emphasis on advanced marketing automation can be a double-edged sword. For consultants who primarily need straightforward CRM capabilities, the plethora of marketing tools might seem excessive or confusing.
Pricing Outline
Keap operates on a tiered pricing structure, starting from Keap Grow and advancing to Keap Pro and Infusionsoft. Each tier introduces new functionalities, with the price points adjusted accordingly.
7.    Salesforce CRM
Salesforce, a behemoth in the CRM world, is a name synonymous with large enterprises and intricate sales processes. Its prominence isn't limited to corporate giants, though. Independent consultants have also leveraged Salesforce's capabilities to streamline their customer management and sales workflows.
Features at a Glance
Salesforce offers an extensive array of CRM tools, including lead and opportunity management, forecasting, reports and dashboards, and artificial intelligence via their Einstein platform. This AI platform offers predictions, insights, and recommendations, aiding consultants in making data-informed decisions.
Salesforce is modular, allowing users to tailor their CRM environment. With the Lightning platform, even non-developers can create bespoke apps and tools.
Consideration Points
Complexity: Salesforce's vast capabilities might appear daunting to solo consultants or those unfamiliar with sophisticated CRMs.
Cost Dynamics: Salesforce's premium tools and features come with a considerable price, which may challenge the budgetary constraints of independent consultants.
Pricing Model
Salesforce's pricing begins with their Essentials plan, suited for smaller businesses, and escalates through to their Professional, Enterprise, and Unlimited plans. Each tier has its set of features and pricing.
8.    HubSpot CRM
HubSpot, recognized for its inbound marketing philosophy, has extended its expertise to offer a holistic CRM platform that not only aids in customer management but also integrates marketing, sales, and service hubs.
Features at a Glance
Beyond the foundational CRM tools, HubSpot is popular for its free offerings, lead analytics, email tracking, and integration with its acclaimed marketing tools.
It is lauded for its marketing automation capabilities, allowing consultants to set up personalized email sequences, lead scoring, and more.
HubSpot is designed to scale. As consultants grow their client base and services, the platform can be extended with more advanced tools and features.
Consideration Points
Depth vs. Breadth: While HubSpot provides a broad toolset, some consultants might find certain features lacking in-depth functionalities.
Platform Complexity: As HubSpot has evolved, its platform has expanded to offer a plethora of tools beyond CRM, from marketing to sales to customer service. For some independent consultants, navigating this ever-expanding ecosystem can become daunting.
Pricing Breakdown
HubSpot's freemium model is attractive to many. From the free CRM, prices advance with the Starter, Professional, and Enterprise packages across its various hubs.
Investing in the Best CRM Software for Consultants
Selecting the right CRM isn't merely about lists of features or pricing tiers. For independent consultants, the decision can significantly influence workflow efficiency, client relationships, and, ultimately, business growth.
In this landscape of varied CRM offerings, a CRM like eWay-CRM emerges as a strong contender for consultants. This is largely due to its user-friendliness and scalability. In addition, its intuitive Outlook integration offers a seamless experience, especially for those already accustomed to the Microsoft ecosystem.
The ultimate choice boils down to individual needs, tech familiarity, budget constraints, and growth ambitions. As independent consultants, the quest isn't just for a tool but for a reliable business partner that evolves alongside one's enterprise.
Take the time to explore, test, and reflect. And remember, the best CRM isn't the one with the most accolades, but the one that effortlessly integrates into your daily grind, amplifying efficiency and elevating client relationships.