Integration of eWay-CRM and WordPress? It Cannot Get Any Simpler…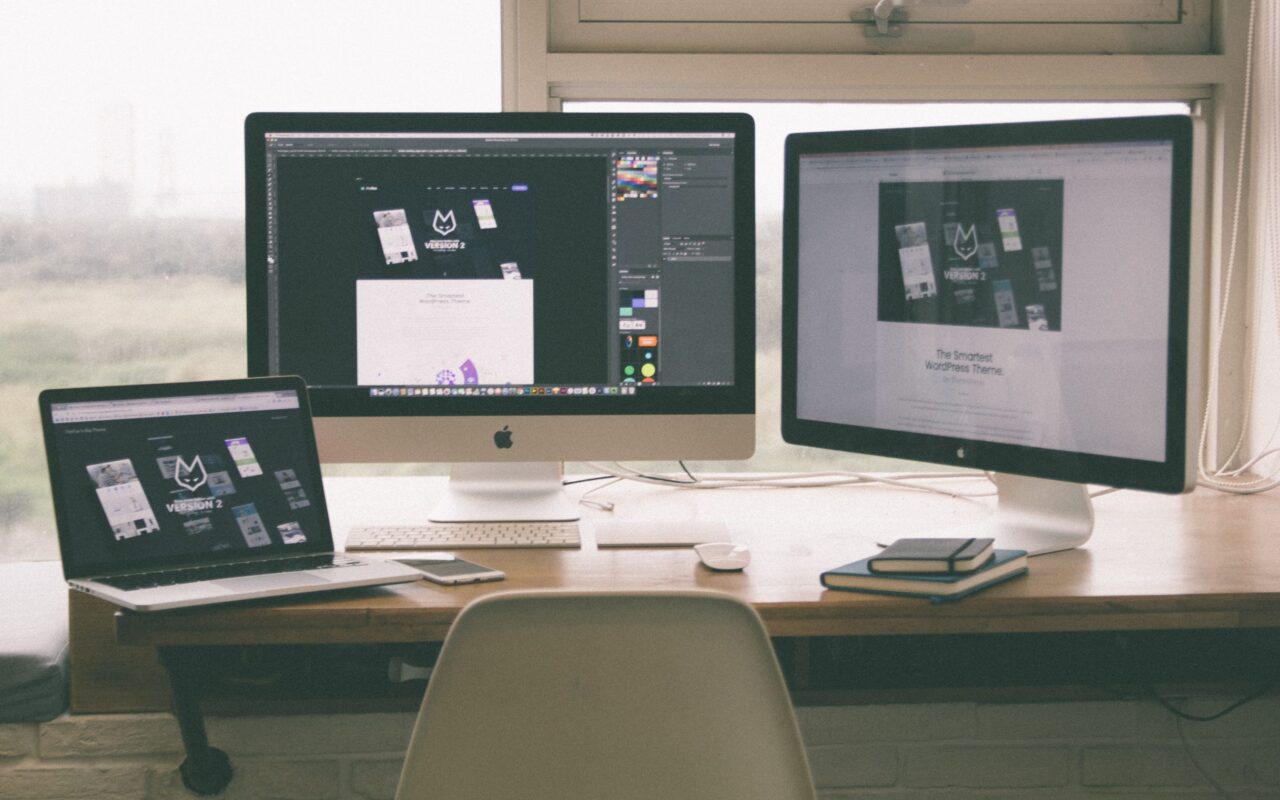 Last week we informed you about advantages of integration of eWay-CRM and WordPress, the most popular website builder, designated for creation and administration of Contact Form 7. Now we will present more details about its installation.
The installation of the plugin requires one basic thing. You must create a new user in eWay-CRM. The user must have necessary user permissions to create new deals. Creating a new user does not mean that the company has to buy another license. The user has just to be active without an obligatory additional license. New deals will be created in eWay-CRM, i.e. data of web visitors will be copied from Contact Form 7.
The data stored into eWay-CRM usually copy the data that the web users entere into Contact Form 7. Usually the users enter contact data and add some requirements and questions about the web and its administrators. You can change or extend the number of fields in the form through the plugin administration as well as you can define which fields are obligatory and which do not have to be filled in.
Simple installation, intuitive control
Installation of eWay-CRM Extension for Contact Form 7 is as simple as installation of any other extension of WordPress. You must click on Plugins and then click on Add Plugins and enter eWay-CRM.

To install eWay-CRM Extension for Contact Form 7 you just select Install Now. Now at your WordPress you have the extension that copies the data entered by your web visitors into Contact Form 7. This form is also an extension of WordPress. You can install it the same way as eWay-CRM Extension for Contact Form 7. If you want both programs to interact you have to have them both installed and active, which can be done by clicking on blue Activate.

After the plugin is activated the user automatically sees the plugin administration interface. It is also available from the side menu of WordPress in Settings and eWay-CRM Extension for Contact Form 7. The new user must log in his/her user name and password, through which the data entered by the web visitors in the web form will be copied into Deals.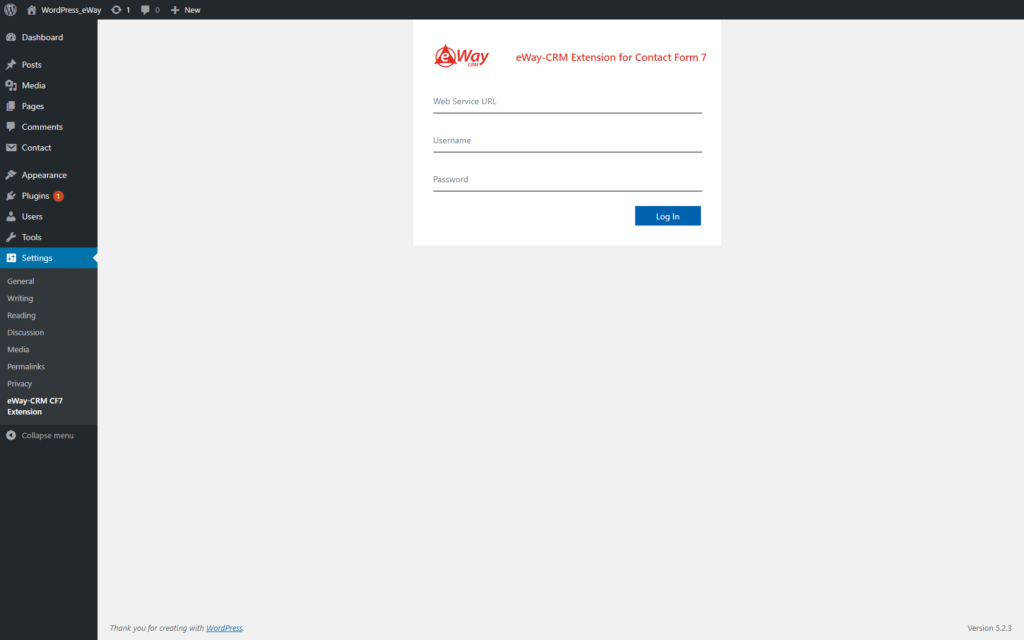 Besides the user name and password you have to enter Web Service URL. It is the address of a web service, where users log into their Way-CRM account. That is also the only way to synchronize the necessary data with the server. You can find your web address in eWay-CRM in eWay-CRM Settings in Connection and in the line Address.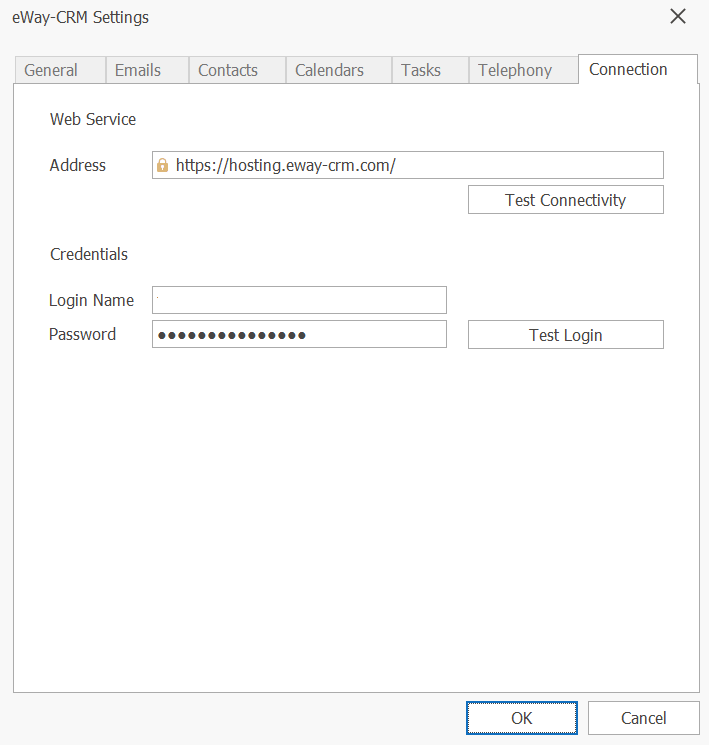 If your company uses more active forms on one web, all the entered data is copied through Deals into eWay-CRM. Thus, the web administrators can track a wide range of factors from people interested in a meeting to regular customer services or special services for VIP clients who could access the web page with a password or in another way.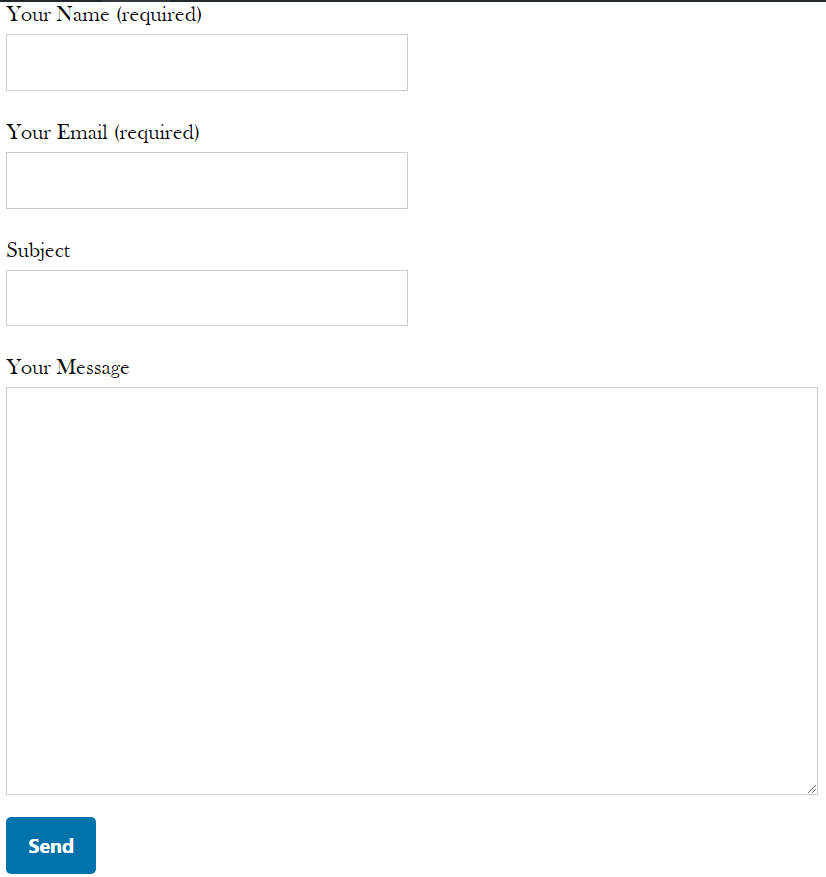 Number of tracked items depends on your needs
The default setting of the web form generates visitor's name, contact e-mail and message. After eWay-CRM Extension for Contact Form 7 is activated all the entered data is automatically copied into a new deal in Deals in eWay-CRM. The deals are created by the user whose account is set just for this function.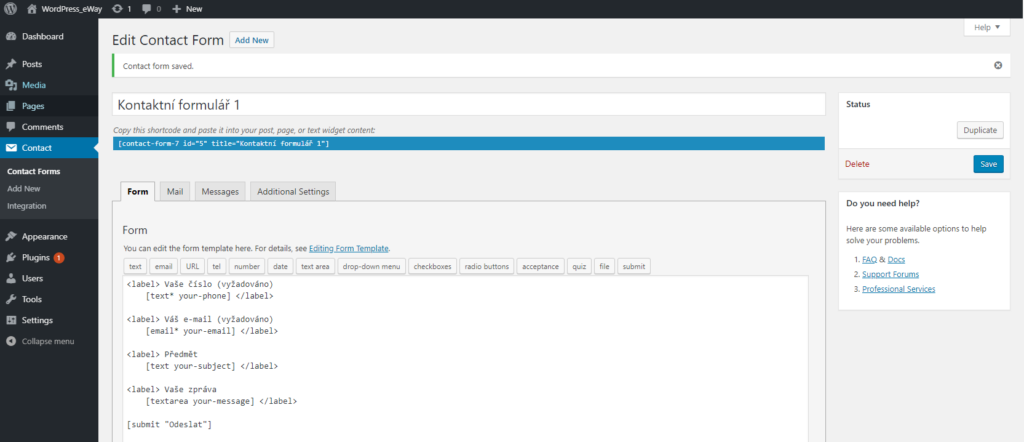 In Contact Form 7 administration you can add other fields such as in the above picture where the phone number is obligatory. The form may require any kind of data such as calendar for a trial ride or personal data necessary for clothes selling. If the item is obligatory, it is necessary to attach a star to it (see above). There you can see text*, which means that your new field is a text and the star means that it is obligatory.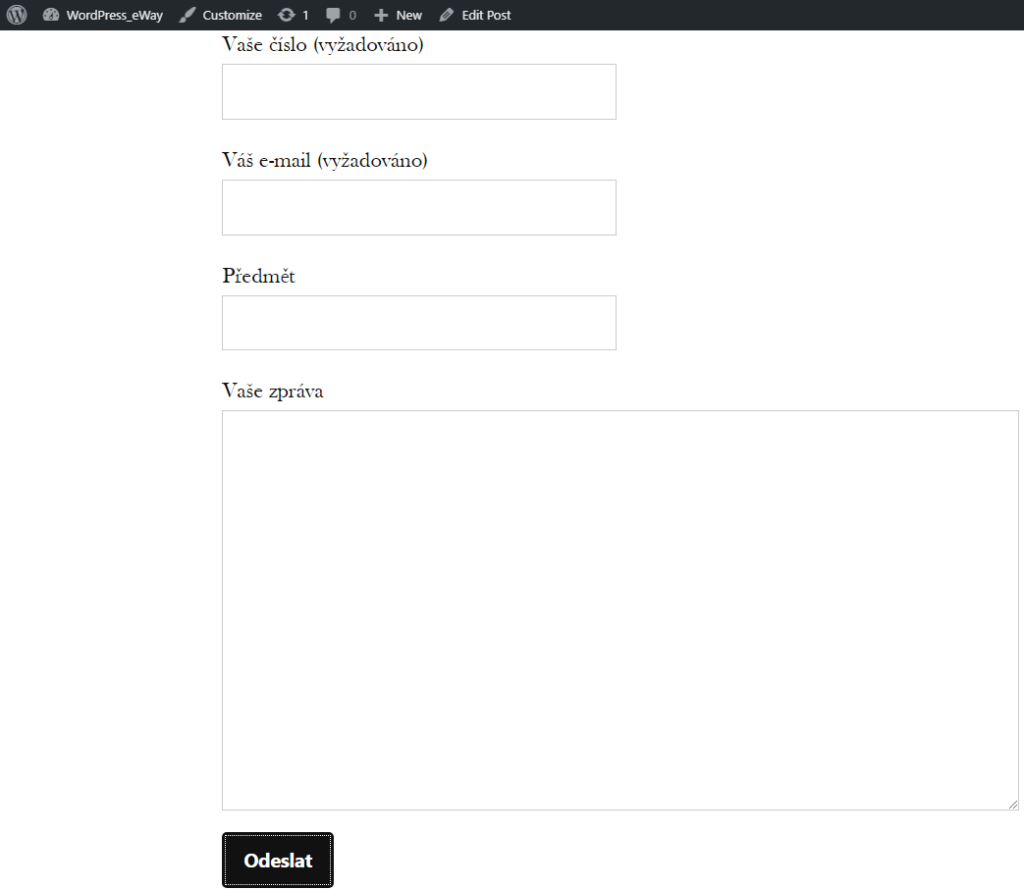 You must enter these new fields into the administration of eWay-CRM Extension for Contact Form 7. You can find all synchronized items that you have set in Mapping in eWay-CRM Extension for Contact Form 7. You add the newly tracked field by clicking on Add Field. On the other hand, you can delete unwanted items by clicking on Delete Field. If you want to restore the default setting just click on Restore to Default on the right. In the default setting only three basic items, i.e. name (or identification number), e-mail and message are copied into eWay-CRM. For the default setting see the picture bellow.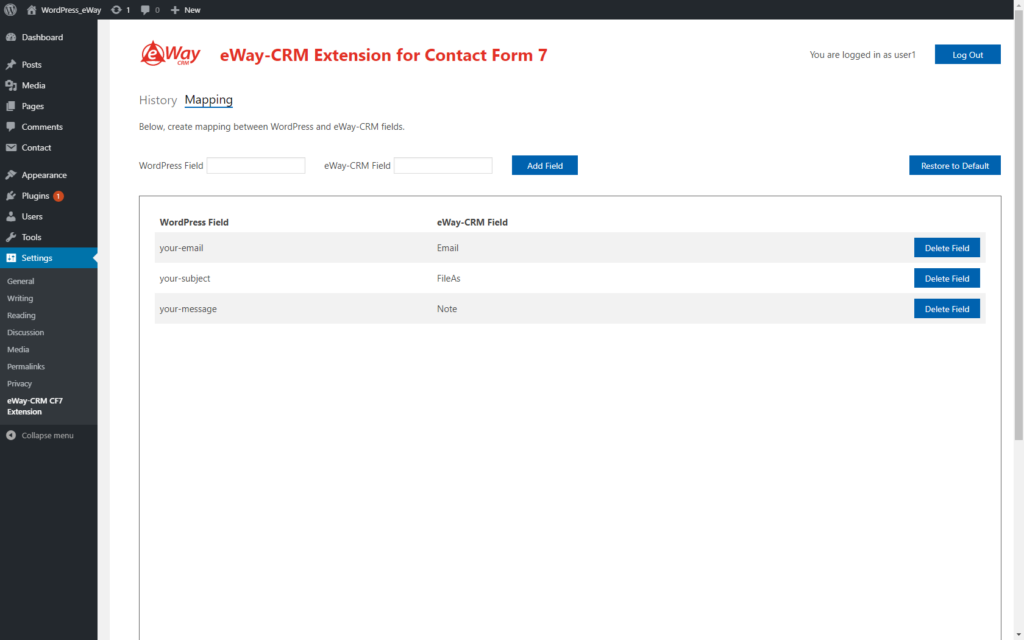 Besides the primary integration function with eWay-CRM, whose items are in Mapping, you can also use History. In History the users can trace the history of all changes. Changes are saved in a text in the address book, where also eWay-CRM Extension for Contact Form 7 is installed in your computer.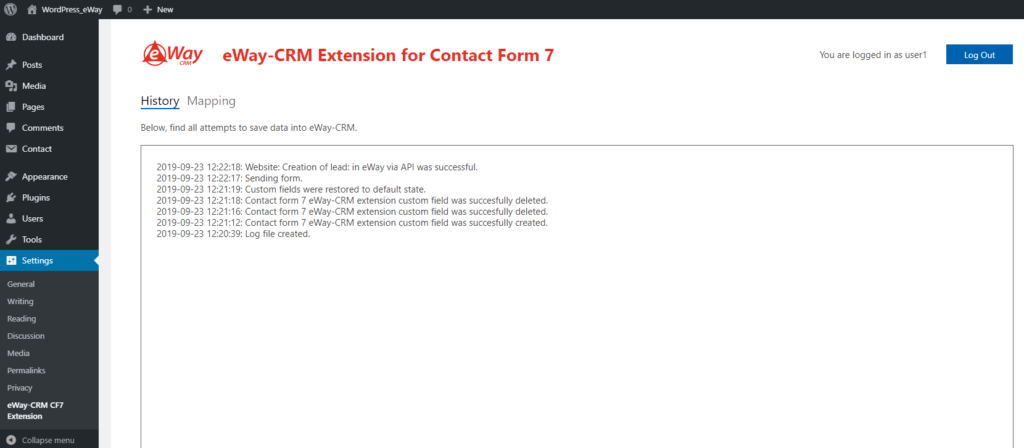 Vote for other news!
We created eWay-CRM Extension for Contact Form 7 based on our clients' requirements. Certainly it is not the last extension that our people have developed. You can share your tips for other functions and extensions of eWay-CRM on our web in the feedback section.
Meet your clients' requirements.
Be effective. With eWay-CRM!