Why people choose eWay-CRM over Outlook Customer Manager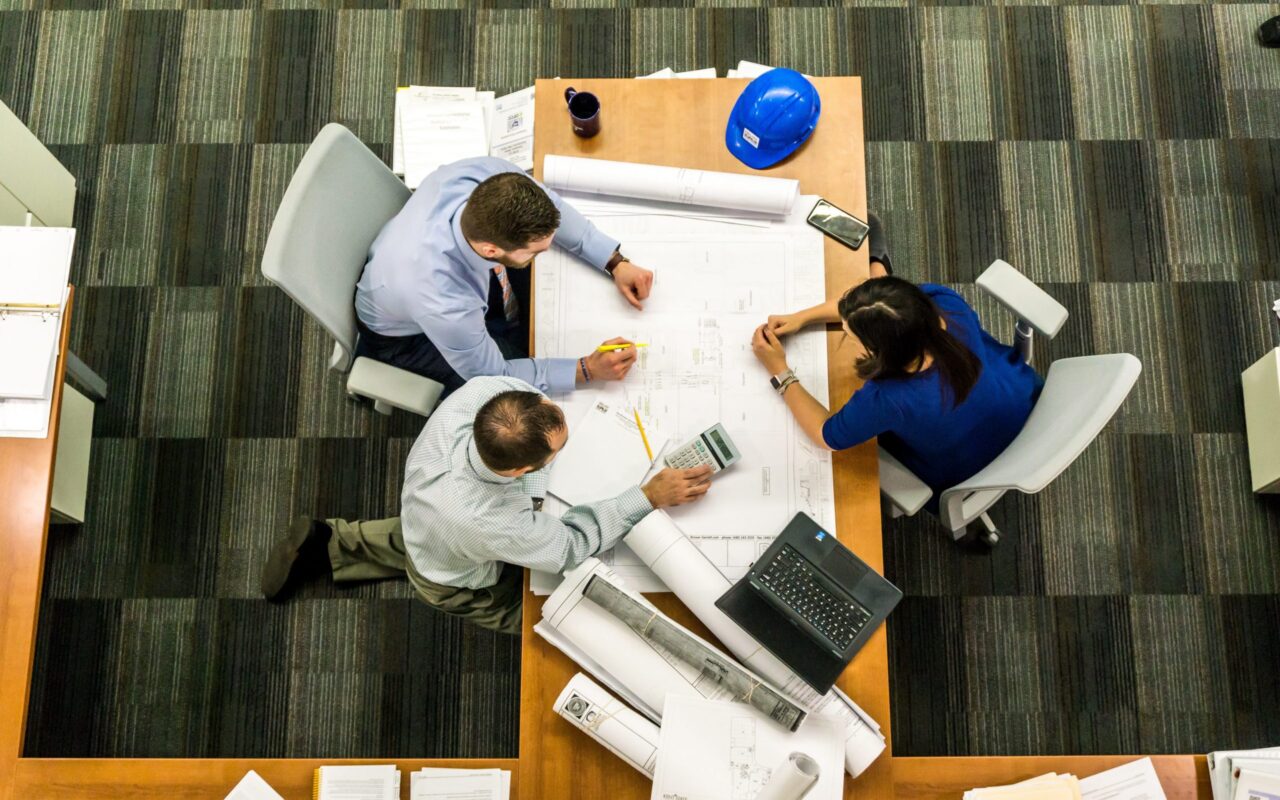 Microsoft introduced a new CRM solution for small to medium-sized businesses – Outlook Customer Manager (OCM). The product is a successor of a well-known and outdated Microsoft Business Contact Manager.
In this article, we are going to highlight strengths and weaknesses of the product and compare it with our eWay-CRM.
Business Contact Manager Successor
OCM is a Microsoft Outlook add-on available only to Microsoft Office 365 Business Premium subscribers. It allows users to create and manage contacts, organizations and deals. People can also schedule and track meetings, phone calls and attach files. But OCM lacks functionality to support the sales process and create management reports.
Most SMBs needs the following features for a successful sales process:
Working with contacts.
Users needs a simple tool to store business contacts and tracks their activities such as calls, emails, meetings.
Projects and tasks management.
Every project consists of a large number of tasks to be remembered and executed at a given time. It is also useful to combine subsequent tasks into projects that are easy to track and follow.
Email integration.
People like sending emails directly from a CRM tool and organize them by contacts and projects. This is a must-have feature for every CRM user.
Secure data storage.
Required to avoid data loss. There should be no need for significant technical support since small to medium-sized companies want to save on support costs.
Custom workflow support.
A CRM tool needs to cover all business processes. Each company has its own sales pipeline that shall be integrated with a CRM tool. (You can read also this article How Can Deal "Value" Field Contribute to Your Sales Pipeline in eWay-CRM)
Mail Merge feature.
Provides the ability to quickly build your contact list, send a personalized email and collect feedback.
Let's compare OCM with eWay-CRM and look at how it complies with the above-mentioned requirements.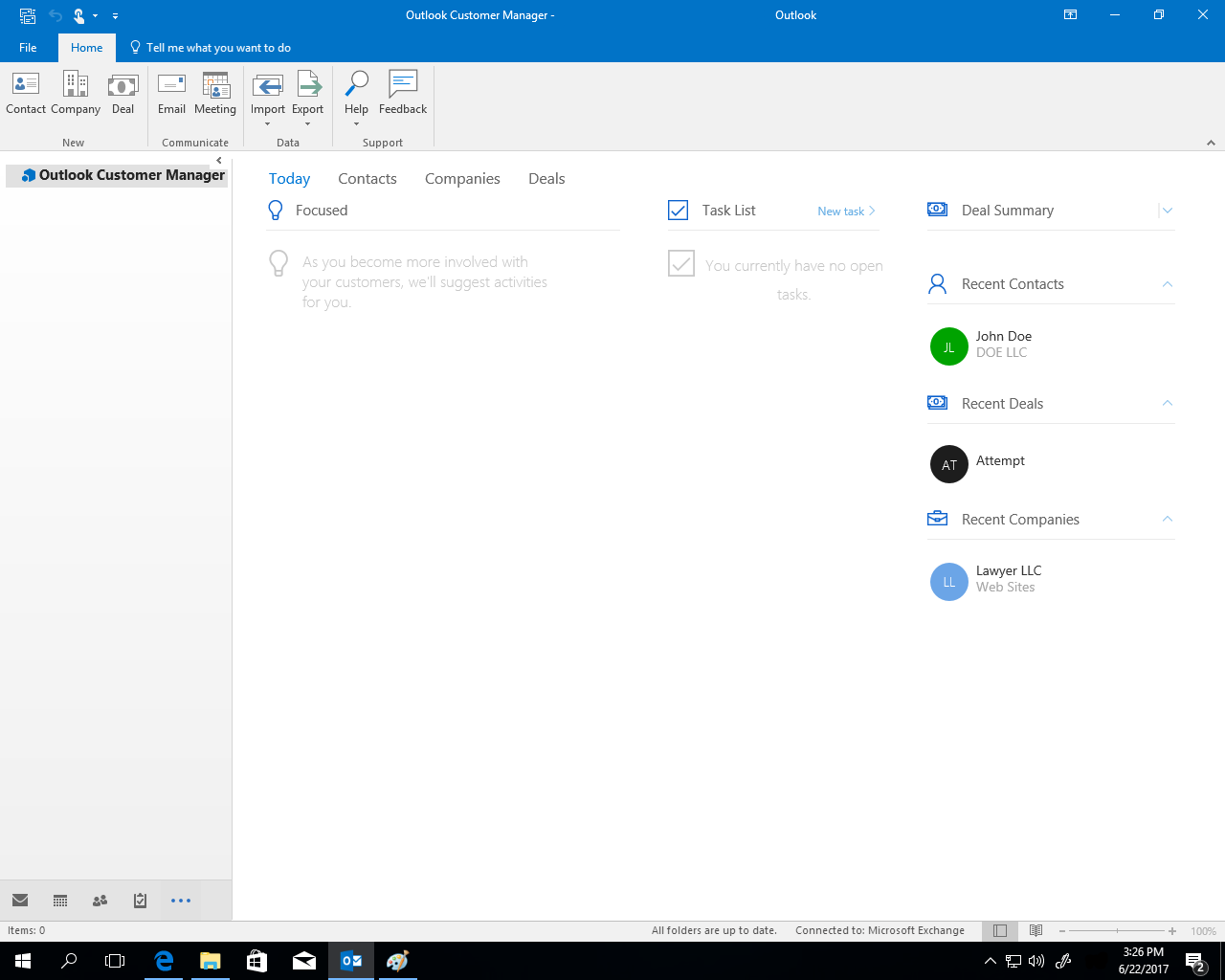 Work with Contacts
Your first step in every CRM should start at a Contacts module ‒ it is the place where all critical information is stored. In OCM, users work with Outlook contacts only. They can add a company and bind any sales activity (e.g., emails, phone calls, notes) thus making interaction consistent and transparent for all OCM users.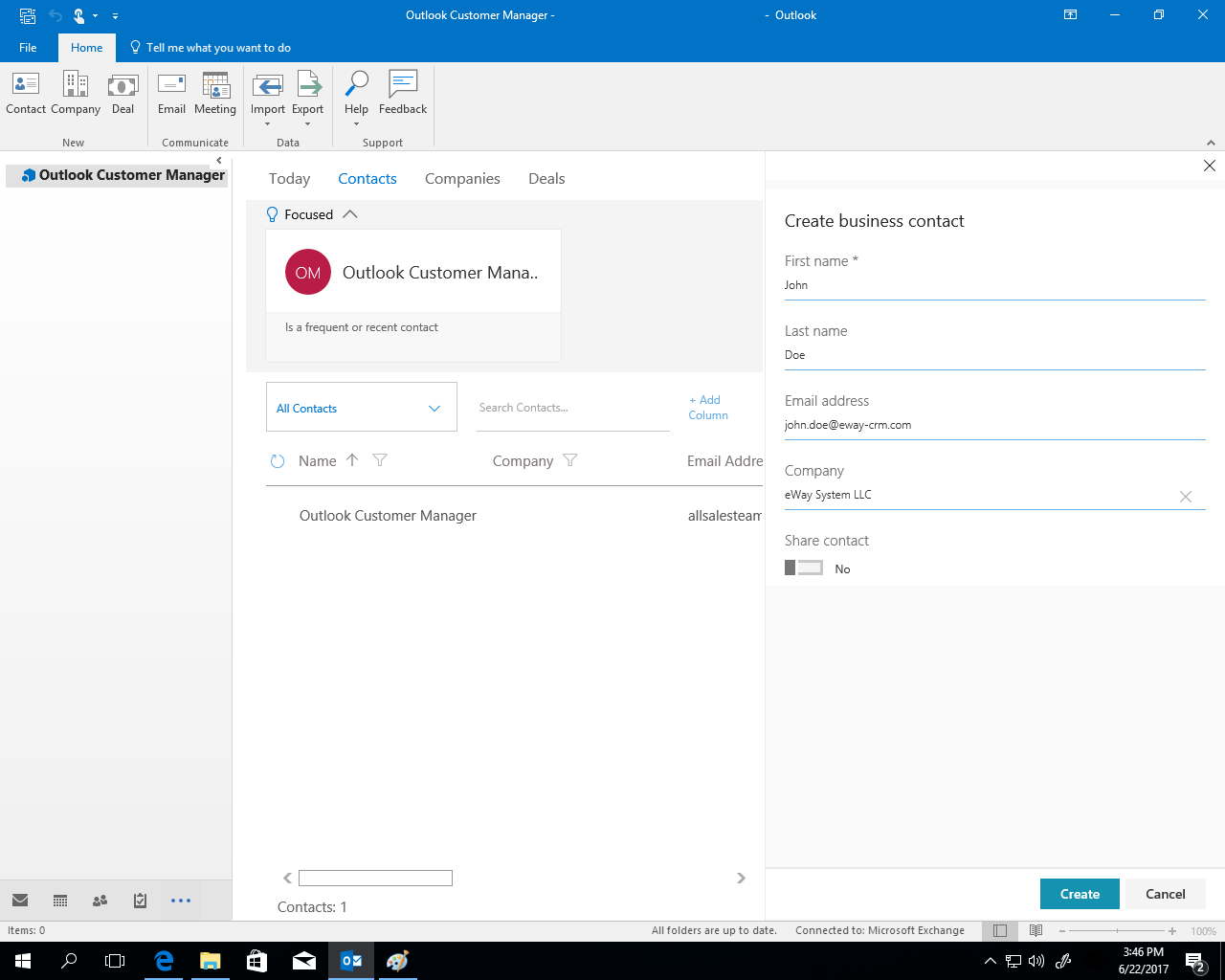 You can create a new contact from the received emails or add them in manually. This method allows you to create your company's contact list, but you cannot restrict access to a particular contact – all sales team members have access the entire contact list.
eWay-CRM makes contact management more flexible using a dedicated contact module with customized table views. You can find it on the eWay-CRM ribbon along with the rest of the modules. You can also set up various access rights based on the roles of the team members.
OCM shows all activities related to contact via email in the reading panel or by searching the contact in Outlook. Using eWay-CRM, you can see all company-related activities in the dedicated Companies module. In case contact is linked to a company, all contact entries will be linked to the company card allowing you to review the communication history with all the company's contacts.
In eWay-CRM, you can search for information in any column of the table using built-in filters. Combine column filters to get more precise results. OCM has only Outlook-based global search that is more difficult to use in case if you need to build a more complex query. eWay-CRM allows to filter and group data as needed. You may also want to use the built-in filters for most popular reports (e.g., Deals by Statuses, Overdue Deals, Deals Without Next Step, etc.)
Project and Task Management
CRM apps work with customers and help the handling of internal business processes. OCM uses a built-in Outlook tasks component to create, track and assign tasks to other team members. You can use the Outlook calendar to create a meeting or time-critical task adding external customers as "attendees".
With OCM you can earmark deadline overdues and unanswered emails from the most important contacts via pop-up banners and notifications in the "today" section. But there are no flexible sales goals or sub-projects for complex deals. You can only set the deal sum, priority, close date and deal stage.
With eWay-CRM you can track projects with your customers – for example, delivery of a product or service. The projects feature is also suitable for working with support issues. With the workflow feature, you can set up your business processes and let eWay-CRM automate the agenda.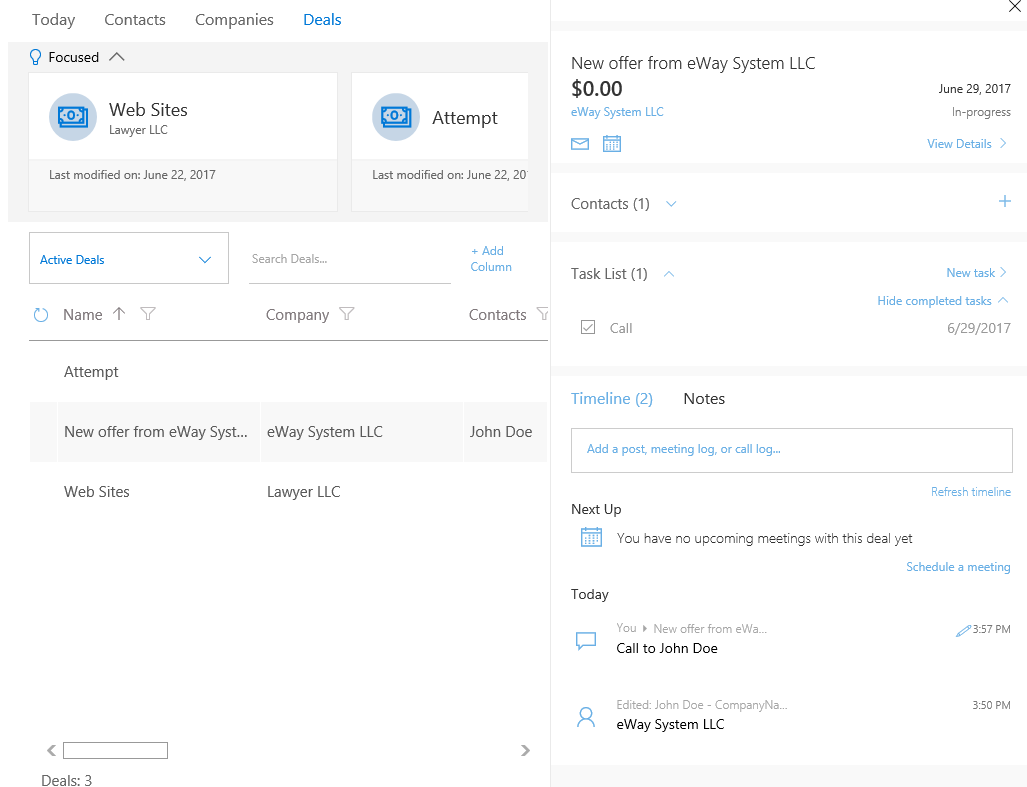 eWay-CRM has a separate deals module to track the sales. Your sales managers can be notified when the deal reaches the final stage with the "closed lost", so they can control the sales pipeline.
In OCM you can share deals information with your sales team, so its members can help each other even if the responsible manager is not available. But you cannot split the team into small groups for particular customers to improve the co-working efficiency. This is only available in eWay-CRM with the project teams feature.
Email Integration
To avoid unanswered emails and upset customers, you should be able to bind all customer interactions to his/her contact card. You can also create new contacts using incoming emails. It is an easy task for both eWay-CRM and OCM: Just click Add as contact link in the OCM contact window, then select the required company and enter the missing details that OCM has not found. It is also possible to save the email to the OCM database to avoid data loss (if a user deletes the source email).
OCM adds new fields into Outlook email and the contacts interface, so you can easily have an overview of the text steps required. eWay-CRM doesn't have these features yet.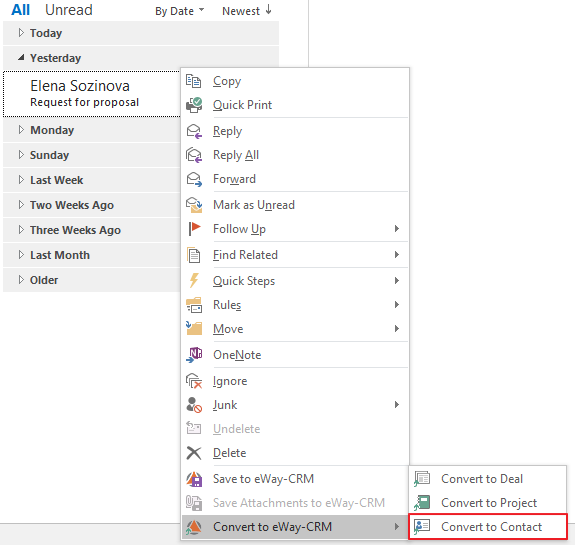 Secure Data Storage
Since CRM systems store all company data, it is so crucial to keep this data well secured.
Being a small part of Outlook, OCM does not have a separate database. The data is stored in the Office 365 Cloud. Microsoft Cloud limits you to backup and storage strategies due to the process being uniformly standardized.
eWay-CRM mainly runs in the Cloud or can be installed on a local server(s) based on the client's requirements. In times when hackers publish stolen photos from iCloud and other miscellaneous Cloud-based incidences, it can be "nice to have" company data under a local IT environment.
All emails and documents saved in eWay-CRM are copied (from Outlook into the CRM database). In the event of a user deleting an email / document from her/his Outlook, it will remain in the eWay-CRM database.
Software Customization
Every business is a unique entity. CRM software has to have the ability to be flexible enough to meet the business requirements.
OCM allows adding a few custom fields of fixed data types to a contact card. It also offers a separate task pane that can show customized info about deals and contacts., but OCM doesn't offer custom sales pipelines of attached documents' version history that is important for multi-staged and sprawling in-time deals.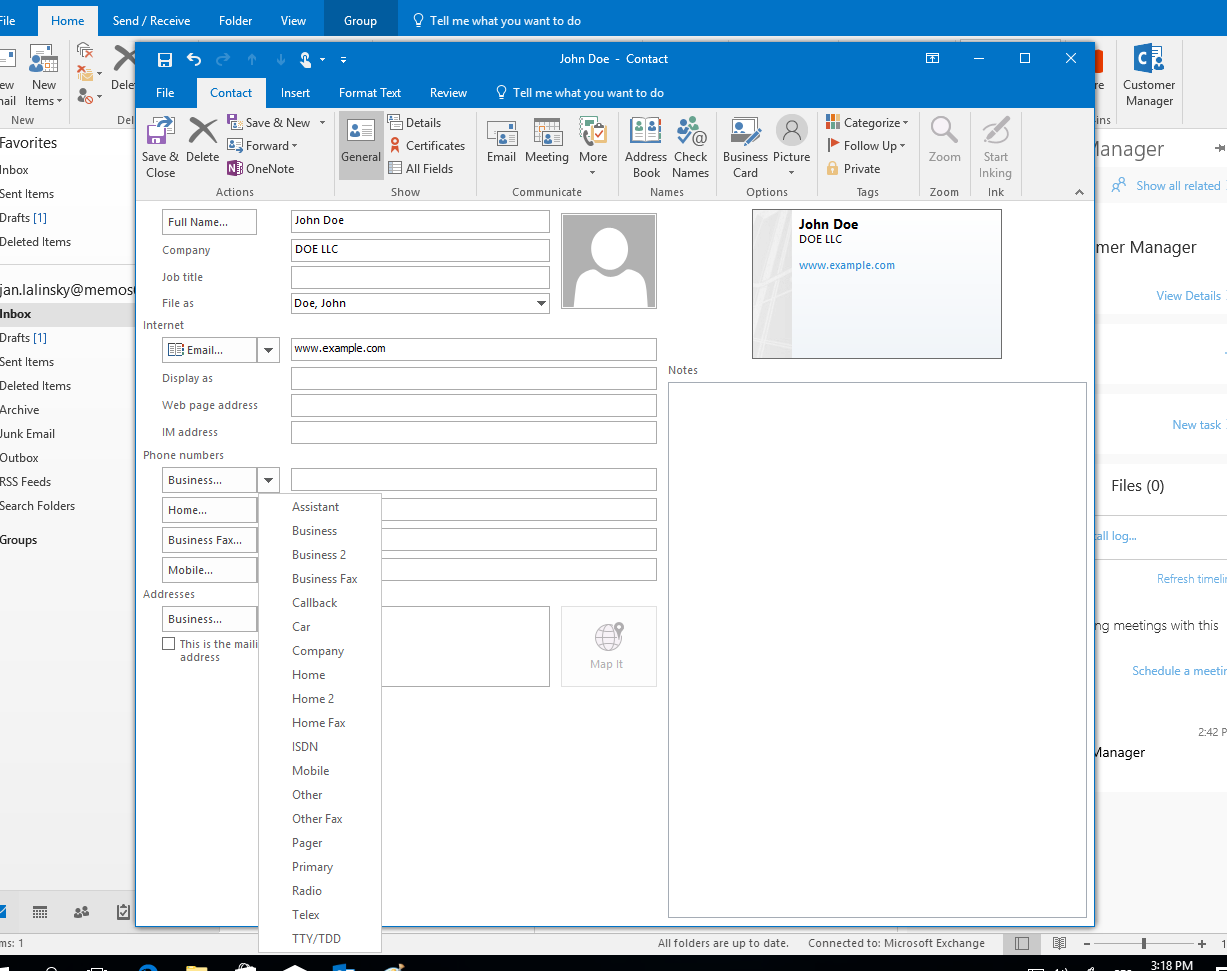 With eWay-CRM you can create many custom fields of any type (text, number, drop-down menu, date, relation, checkbox, note). You can place the custom fields anywhere on the dialog using the embedded form designer.
In addition, you can set up various user permissions, customize workflows, drop-down menus, hide unnecessary modules or fields. eWay-CRM Administrator Settings allows you to tailor the software that truly fits your company's needs.
Mail Merges and Marketing Campaigns
Small to medium sized businesses need a tool to create marketing campaigns enabling businesses to stay in touch with their customers.
OCM allows sending individual or bulk emails from your own email address. But we advise against using this approach for marketing emails since you will be marked as a "spammer" by Internet mailing systems instantly. It will be difficult to whitewash yourself in the public domain.
eWay-CRM has a professional marketing module allowing you to create campaigns and send bulk emails using a third party engine that makes sure your emails are delivered timelessly and flawlessly. You can use a click-tracking system, where an unsubscribed metrics or the number of clicks and impressions is used. You can also link a campaign to Google Analytics to get complete statistics and evaluate marketing strategy effectiveness.
Pricing and Requirements
OCM is available free for Microsoft Office 365 Business Premium subscribers. Lower pricing plans do not contain the feature. As of early 2017, OCM was available for iOS as well.
eWay-CRM is available in two editions:
Free – It is designed for single user use and comes with 200 MB of storage space in the Cloud.
Premium – On Demand or On Premise (see the current pricelist). For those who need to share data with other users, use mobile applications or more than 200 MB of space.
You can either leverage 10 GB of storage space in the Cloud or on your own Windows server. You can also use eWay-CRM on Android or iOS to keep productivity moving forward.
Comparison Table and Summary
Now you know all the strengths and weaknesses of Microsoft OCM as compared to eWay-CRM, so you can make a decision. We have presented the product features in the comparison chart below:
| Features | Microsoft Outlook Customer Manager | eWay-CRM |
| --- | --- | --- |
| Customer contact list management, global search | + | + |
| Customer activities history | + | + |
| Task management | + | + |
| Calendar support and meetings appointments | + | + |
| Projects or complex task support | - | + |
| Sub-projects and subtasks support | - | + |
| Project teams | - | + |
| Customized sales pipeline | - | + |
| Email integration | + | + |
| Ability to have a separate CRM database | - | + |
| Unlimited custom contact fields | - | + |
| Documents version history | - | + |
| Marketing campaigns support | - | + |
| Easy to learn UI (interface familiar to Outlook users) | + | + |
| Android app | - | + |
| iOS app | + | + |
| Free license | - | + |
Have a look at How eWay-CRM Works
Start a FREE 14-day trial and test eWay-CRM in your business environment! If you have questions left or want to get an online demo – feel free to contact our sales team.