Academy
Compare Avidian Prophet with eWay-CRM
Statistics says that CRM pays back $8.71 for every dollar spent. Microsoft Outlook is the basic business tool for communication with customers and partners, that's why many people want CRM software to be integrated with Outlook. 
Apart from integration with Outlook, they are looking for a user-friendly system with all necessary functions on board. Moreover, its integration with the existing business infrastructure should be easy and affordable. Avidian Prophet CRM has already helped many organizations in their daily routine. eWay-CRM, an alternative to Avidian, also has a lot to offer to small and medium businesses. Let's have a look at how they work.
First Steps
Avidian Prophet uses Microsoft Exchange or Office 365 as the base app. You have to purchase and install either of them to start using CRM, so the implementation cost will increase. In turn, Exchange requires a proper configuration, so you might need IT staff to deal with it. Avidian offers a cloud service as a workaround, but it's available only for subscriptions that start from $55/month.
eWay-CRM needs only Microsoft Outlook for proper operation. It has a light server application that is not required to be installed and you can use its free 10GB cloud service. The cloud is available even for the freeware eWay-CRM Edition for single users. There is also a full 30-day trial to evaluate CRM before purchasing.
How It Works
Both CRM systems are integrated with Microsoft Outlook and expand its functionality. But eWay-CRM creates additional fields in the client's contact card using its own contact module: the history of emails, calls, purchases and other interactions are at a single place. It works with Gmail, Yahoo and other email services. You can add 8 types of custom fields to store information that is of extreme importance to your business.
The number of unique fields is unlimited. That also helps to prevent staff mistakes. For example, an eWay-CRM user can't enter the date of birth to the phone number field. You can set important custom fields as mandatory among default ones and move redundant information under a separate tab. Nevertheless, extra information may make a great profit.
Prophet gives an access to CRM data via the Search Menu and a filter set. While the functionality is similar to eWay-CRM, you have to recollect contact or business details to access CRM data. Prophet has a limited number of custom fields, and there are only 3 types of data you can enter. Moreover, custom data is cut off to a separate tab, so each time you need to find useful info, you have to switch.
eWay-CRM stores documents, emails and client cards in a separate database, and they don't disappear even if someone deletes data from Outlook or the computer. All images have previews, so even odd-named files are easily recognized.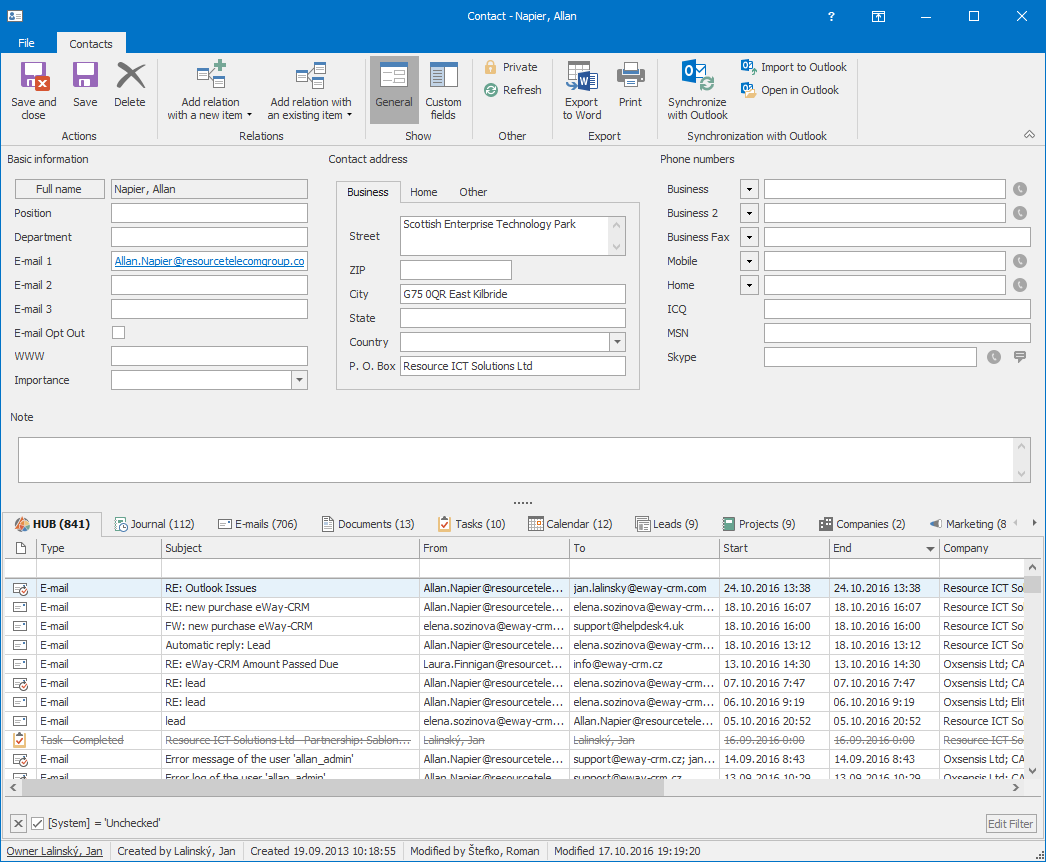 eWay-CRM Contact Card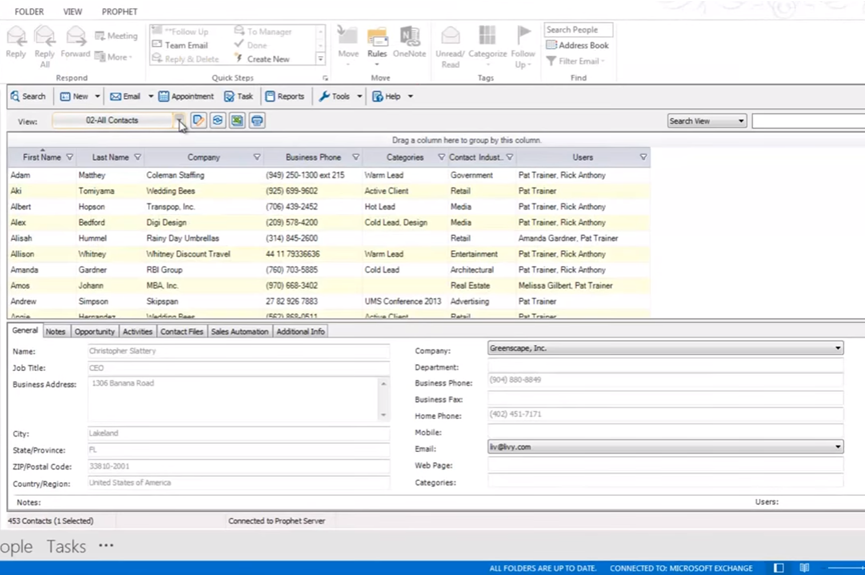 Avidian Prophet Contact Card
Avidian Prophet data is stored in Exchange Public Folders and the CRM system uses direct links instead of file copies. Thus, if someone accidentally deletes a file, data will get lost and vanish from the CRM system. Since the public folders solution is outdated now, professionals don't recommend building business processes on its basis.
Data Entry
eWay-CRM allows creating a contact from an incoming email as well as a copy or save attachments to the database. Besides, you can manually select which contact cards should be involved in eWay-CRM, so private emails will not mix up with business correspondence. CRM also adds Save to eWay-CRM button in Microsoft Word and Excel, so you don't need to upload invoices and report back and forth.
With Prophet you have to upload and attach new client cards and documents manually. Synchronization with Outlook is automatic only, so you need to move your personal emails to a separate app to avoid mixing.
Marketing
Both eWay-CRM and Prophet can create mailing campaigns. Prophet uses templates but supports only group emails, which makes mailing a bit limited. The sender in Prophet is local user's Outlook, while eWay-CRM uses a special service on the server. That also minimizes the risk of falling into the spam folder.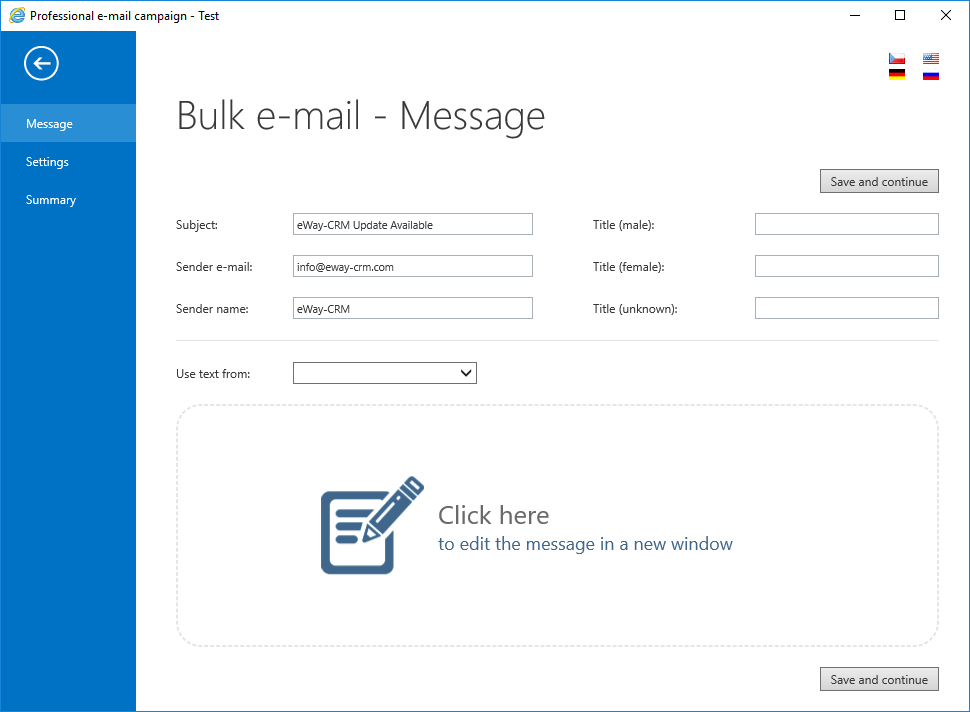 eWay-CRM can add variables to emails based on the contact card: e.g., gender, age, address, price converted into the local currency, name, etc. This makes email delivery more personal. You can choose target groups based on any criteria, including custom fields. While sending marketing emails, you may want to attach a file or give a link to a website. Flexible filtering allows you to make individual offerings and make your customers feel special.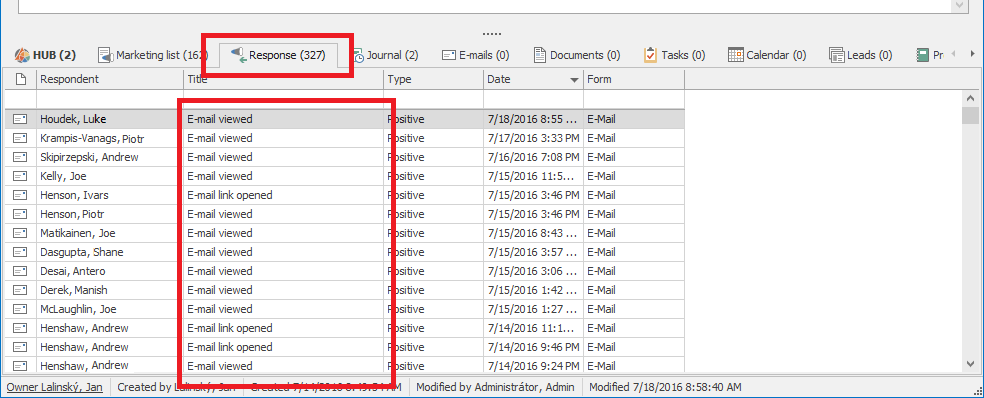 eWay-CRM also focuses on feedback collection. You can see how customers read your emails, what links they click and why they unsubscribe. Moreover, an email campaign can be associated with Google Analytics getting information useful for business. The statistics you get helps evaluating financial rentability of campaigns and taking well-considered decisions.
Projects
Even though any CRM has workflow features, Avidian offers a limited number of tools which help covering all aspects of a modern company. At the same time eWay-CRM keeps an eye on all business activities. You can set up a multi step system, which controls the workflow from supply and contract drafting to delivery and warranty services. Any participant of a business process will automatically get appropriate emails and calendar entries for each step. Every task becomes a stepwise to-do list with workarounds for all possible cases and emergencies.
You can also protect customer's personal info by limiting the number of fields which an eWay-CRM user can see. For instance, a courier needs to know only the phone number, address and desired delivery time, but a sales team manager should get all the data available. Avidian Prophet cannot control access to separate client card fields.
As for production and delivery, eWay-CRM does more than just informs your staff and sends invoices to customers. You can control supply and task distribution, check items in stock and even figure out future purchases. eWay-CRM tracks post-sales activities in the same way, so the business runs like clockwork. And if you make a mistake, you can change the process without ruining the workflow.
Mobility and Offline
Tethered sales guy soon starves, so distant access to CRM is highly critical. Avidian has mobile apps for iOS and Android, but they work only when connected to the Internet.
Currently, eWay-CRM team are working on mobile apps, which are to be released in the nearest future. As for now, you can use built-in mobile features. If the calendar, contacts and email apps on your mobile device are synced, they will contain client general information and notes. Moreover, the PC app constantly synchronizes all CRM data and doesn't require connection to the Internet, so you can work on board the plane, for instance. To access data offline in Prophet, you need to save a customer and companies card manually but the amount of such cards is limited.
Cost
CRM developers provide the technology in different ways. For instance, Avidian sells 4 editions of Prophet, and the minimum bill is $600. This sum is deduced in the following way:
The edition price ranges from $25 to $125 per month per one user.
The billing model is an upfront annual charge, so the initial investment requires about $300-1500 per user.
Prophet Team Edition, which has the minimum set of business-critical features, costs $55 per month.
That is why the realistic initial cost starts from $660. If you want additional features and active support feedback, the cost will increase.
eWay-CRM has only one fee-based edition which costs $28 per month per one user. It's billed monthly, so the initial investment is low. At the same time you can install CRM on any number of devices, so that you can work using your office desktop, home computer and laptop without purchasing extra licenses.
Conclusion
Obviously, there is no best solution. Two things that define the champion are peculiarities and demands of your business. Avidian is strong in sales, but it can be not enough flexible for other activities. eWay-CRM facilitates an individual approach to every customer and business data collection, but it is also handy when the sale process is finished. We accomplished a chart comparison, so you can evaluate CRM systems yourself.
Avidian Prophet CRM
eWay-CRM
Implementation Requirements
Base Platform
Microsoft Outlook
Software Requirements
Microsoft Office 356 or Microsoft Exchange with Outlook
Microsoft Outlook only
General Features
Email Sending and Tracking
Yes
Synchronization with Outlook
Automatic only
Automatic or manual for selected contacts
Info Display Mode
Via Search Menu
Directly in the item card
Add New Customers from Email
No
Yes
Data Import from Email, Microsoft Office Word and Excel
No
Yes
Technical Support
Yes
Yes
Advanced Features
Automatic Mailing Service on a Special External Server
No
Yes
Advanced Marketing Campaigns Management
No
Yes
Post-sales Activities Tracking (projects)
No
Yes
Mobile Client
iOS, Android
Under development
Offline Access
Manual only
Yes
User Data Access Control
Global for each user
Global and individual for each type of field
Data Storage Technology
Exchange Public Folders
Separate database
Emails and Documents Deletion Protection
No
Yes
Document Versioning
No
Yes
Licensing Terms
Free Edition
No
Yes
Trial Period
30 days
30 days
Billing Period
1 year
1 month
Lifetime License
No
Yes
Monthly Cost (per user)
$25-125
$28