Successor to Microsoft BCM
eWay-CRM is an amazing successor to Microsoft Business Contact Manager (BCM). It helps companies manage their customers, sales, marketing and projects. With eWay-CRM, you can run your business through Microsoft Outlook.
With Business Contact Manager no longer running in Office, eWay-CRM can provide you with a great BCM replacement. But we are much more than that. Have a look.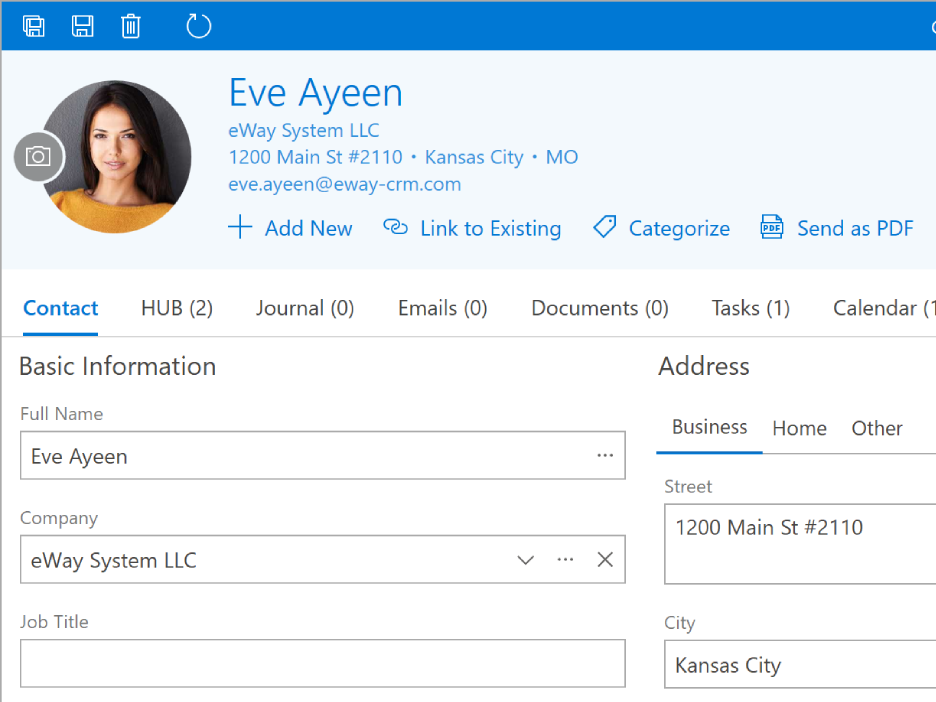 Enjoy the Full Potential of Microsoft Outlook
Manage customer relationships, Track projects and tasks, Work as a team. With eWay-CRM, you can get the most from Outlook.
eWay-CRM adds a set of toolbars into Microsoft Outlook to access new modules – Companies, Business Leads, Projects, Marketing Campaigns, Documents, …
eWay-CRM also integrates with your Emails, Calendar, Tasks and Contacts. Our Outlook CRM adds buttons into Microsoft Word and Excel so that you can save a document into eWay-CRM in just one click.
Well-Known User Interface
eWay-CRM looks and feels familiar to you because we made eWay-CRM a part of Microsoft Outlook.
Our Outlook CRM Software works with every version of Outlook. No matter if you are still running Outlook 2003 or if you upgraded to Outlook 365. eWay-CRM is compatible with all of them.
People don't learn anything new. Whatever they know, they will use it. Since eWay-CRM is also a Microsoft Outlook Add-in, the switch from Business Contact Manager is very easy.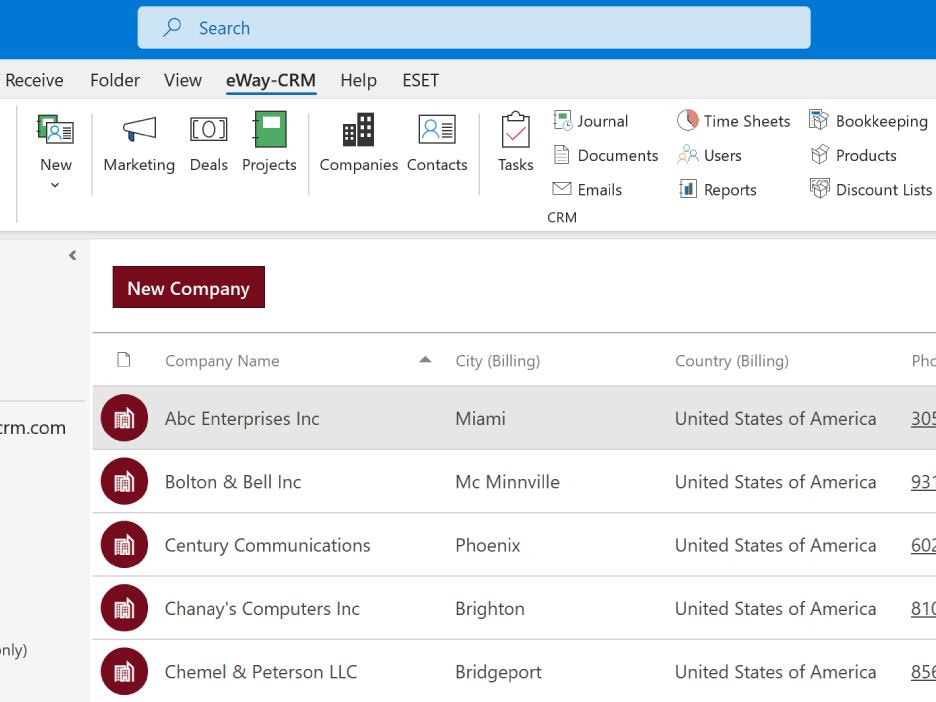 Amazing Integration with Outlook
Single workspace. Collect, organize and share all of the information important to your business with software you already use.
Microsoft Outlook for Teams. Make e-mails, calendar events, notes and documents immediately available to your team.
Drag and drop documents to eWay-CRM. Working with an open Word or Excel file? Just click a new button Save to eWay-CRM that will appear there. No need to use a shared network folder and worry about a broken link! You can even delete a saved document from your computer. It will stay in eWay-CRM.
Do you have a meeting in your calendar and want to save it to eWay-CRM? You can tie it to a contact or lead, or you can convert it to your timesheet to track your time.
Quickly Create Business Leads / Projects from Emails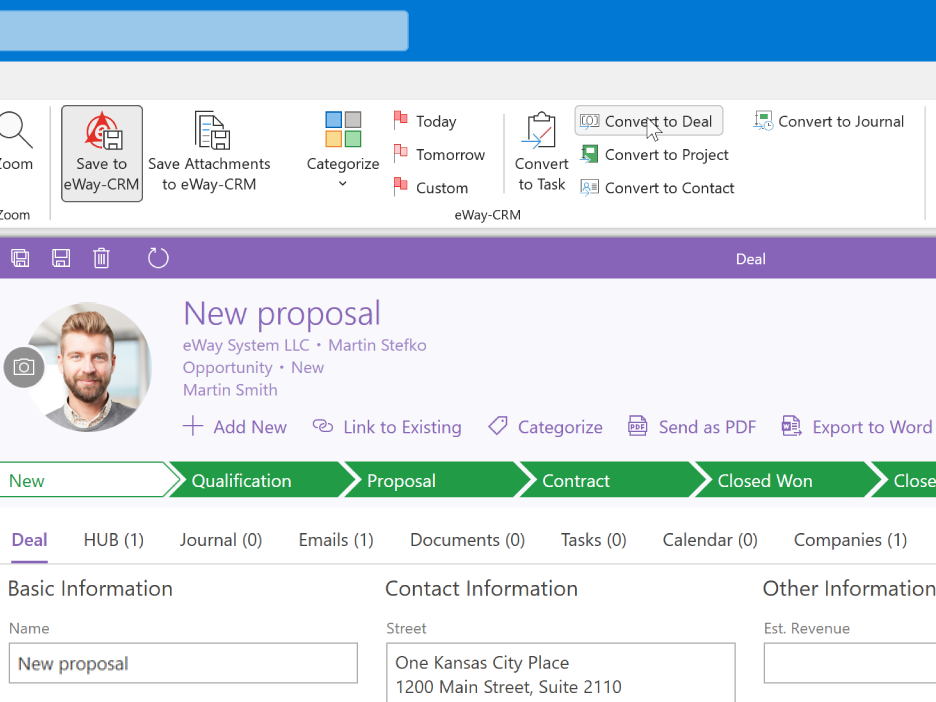 Get Familiar with Customer/Project History in Two Seconds with HUB
eWay-CRM has a wonderful feature called HUB. There you will find all communications in one place, sorted chronologically. It's like a customer relationship timeline. Emails, phone calls, meeting minutes, tasks, calendar events, invoices—everything you need to know in order to get familiar with the client in two seconds.
HUB is not just about the customer. It's everywhere. Open a deal to get to the deal HUB. There you will find everything about the particular business opportunity.
Open a dialog of your team member. HUB is there too. There you will find the work timeline of the particular employee.
Interested in everything that was done within your organization? Have a look at the company HUB.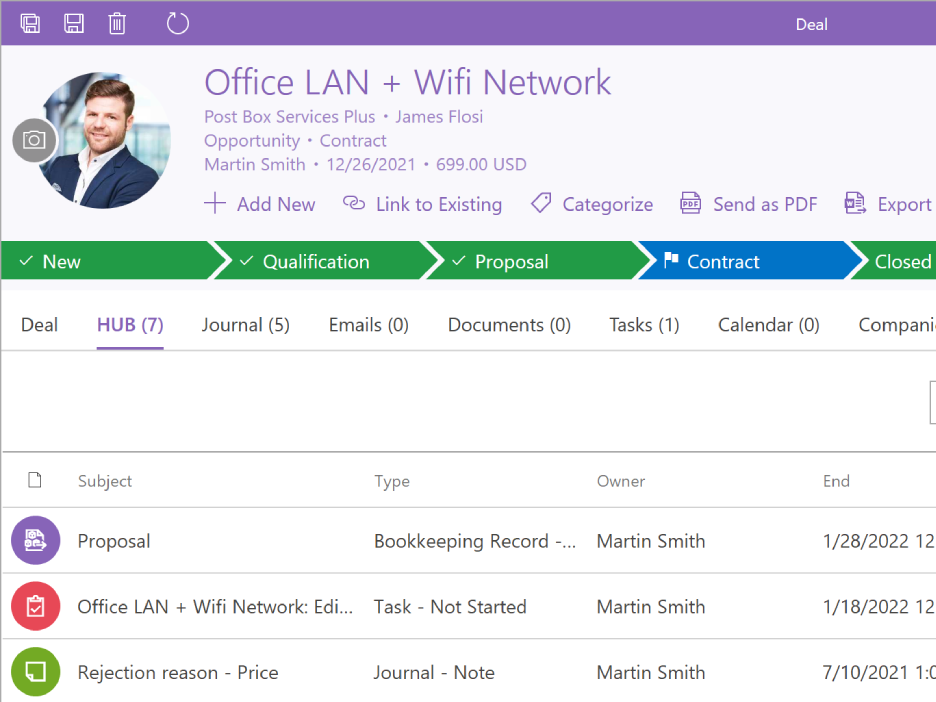 Professional Bulk Email Feature Included
With Professional Email Campaigns, you have mass email feature embedded right in your CRM software.
How about one tool where you can keep all your customer database? You can easily filter recipient by any criteria, use them to build a marketing campaign and send a professional bulk email. Besides, eWay-CRM can:
Collect feedback and track responses
Send attachments
Send emails even if your Outlook is closed
Link your campaign with Google Analytics
Track unsubscribe reasons
Set up delayed sending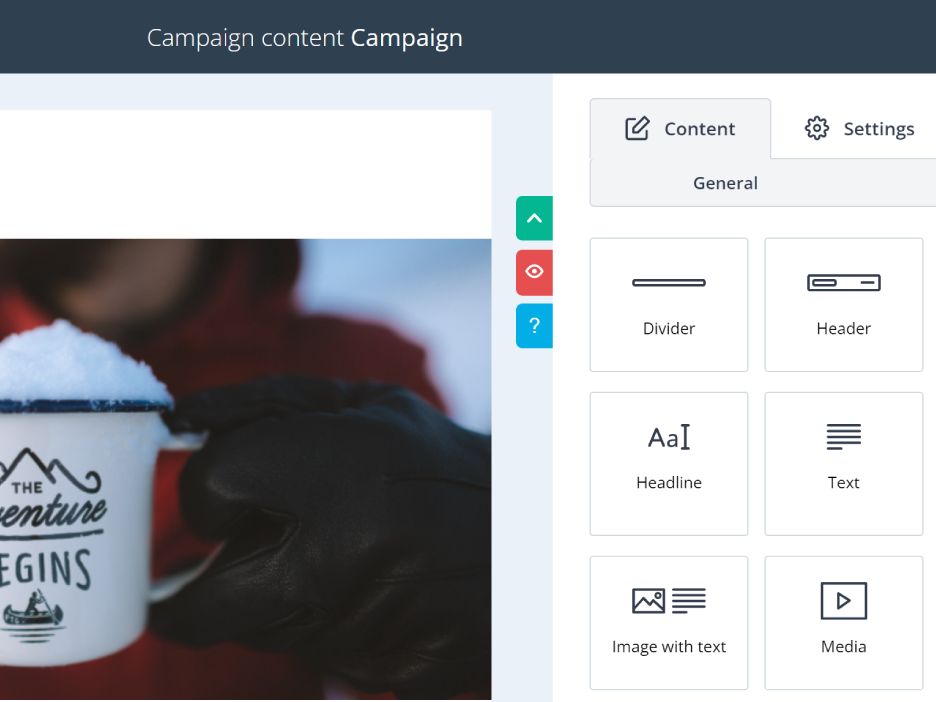 Advanced Project Management Module a Part of eWay-CRM
It doesn't end with sales, does it? You have to make sure the product / service is delivered. You have to make sure the job is done.
eWay-CRM has a module to track post-sales activities (e.g. jobs, implementation, delivery). You can convert a lead to a project or link projects right to contacts.
eWay-CRM will automatically copy all communications from the lead to the project so that the delivery team know where to start.
With the workflow feature, you can define a list of steps the project manager and his team has to follow in order to successfully finish the job. Our CRM software will keep an eye on important deadlines and milestones.
Sales department has access to up-to-date information on how the project is going even after sale was made.
Communication history, Tasks, Documents, Timesheets, Deadlines, Budgets and much more. eWay-CRM has a professional project management module embedded right within.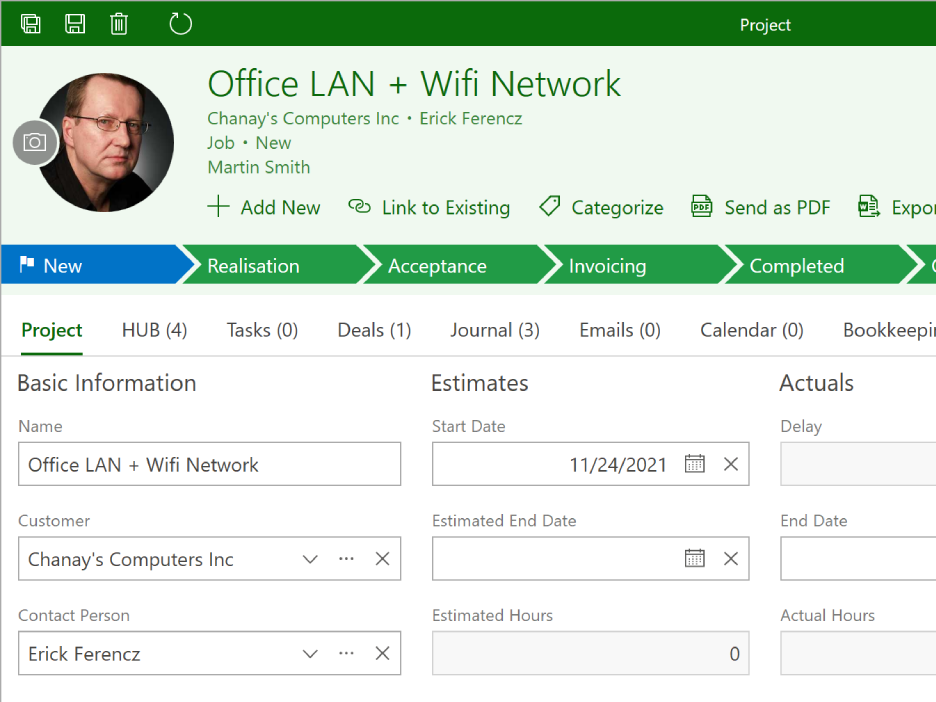 Data available on the go
Keep your eWay-CRM data on the fly. Access them whenever you want, wherever you are. Enjoy our iOS / Android apps.
Search the history of communications, read notes and emails, open documents. They are all in your smart-phone.
Make photos, notes, plan follow ups. eWay-CRM Mobile has it all.
Learn more about eWay-CRM Mobile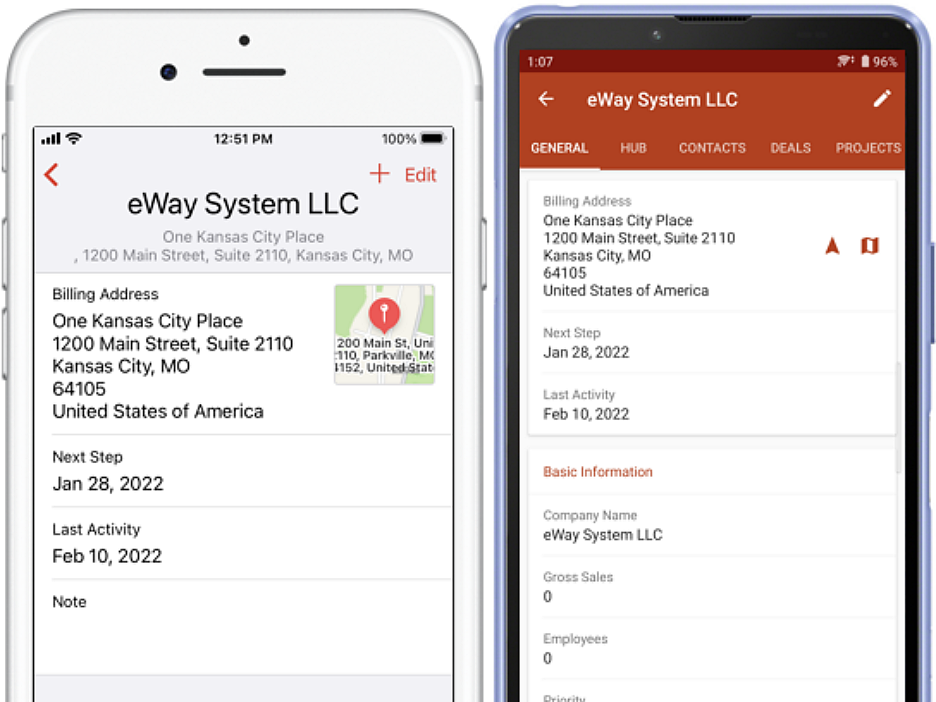 Do you use a Mac? No problem.
eWay-CRM Web is an online app that runs inside a web browser. You can use any device that's by hand to access your data.
eWay-CRM Web contains all the important modules and features. Contacts, Companies, Deals, Projects, Communication History and Tasks. Custom Fields, Workflows, Permissions and much more.
It's the best options for those who use Mac or need to use a home PC from time to time.
Learn more about eWay-CRM Web
And much more
Advanced administration settings to adjust the software to your specific needs. Create custom fields, change permission policies, add drop-down menus. Customize our CRM software so that it fits your business.
Easy to implement. eWay-CRM is also an Outlook CRM Software. Since it is similar to Business Contact Manager, the switch is very easy and people get familiar with eWay-CRM very fast.
eWay-CRM is always going hand in hand with new Outlook releases. Looking forward to upgrading 2016.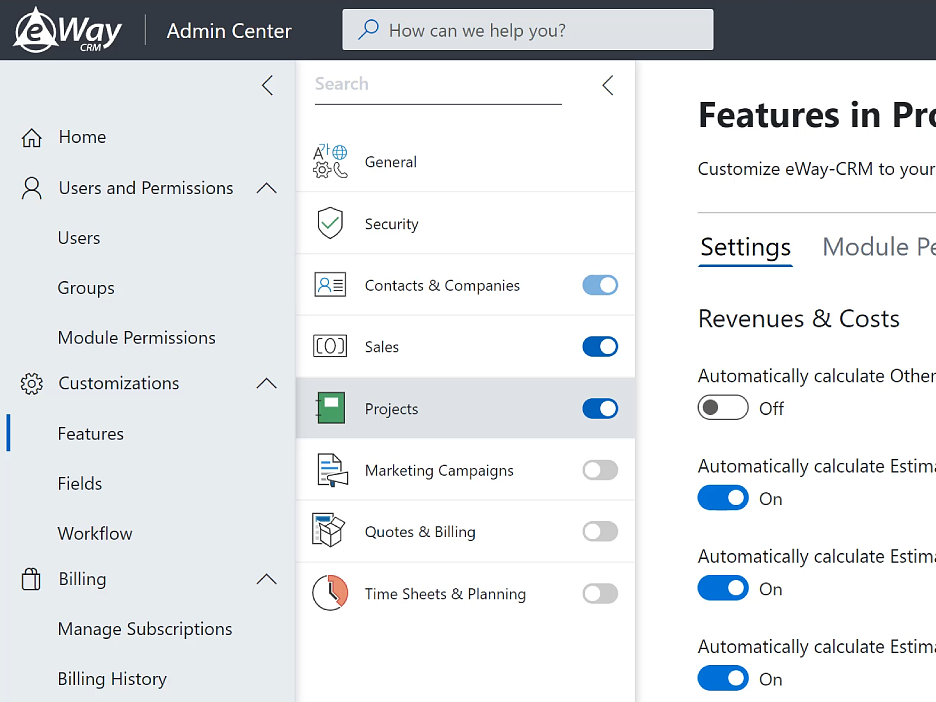 Try now!
Click the button below and download eWay-CRM for free.
You can also book our consultant. We will make a demo just for you.