Easier to Implement
eWay-CRM does not require Microsoft Exchange, Office 365 or SharePoint. Instead, eWay-CRM uses its own synchronization mechanism. It takes care of data exchange between individual users smoothly and easily through Microsoft SQL technology. No more hassle with public folders in your Outlook!
eWay-CRM offers only one edition with no limitations in functionality. Why should you struggle with what package you need? eWay-CRM has all features inbuilt by default!
And, of course, you can work with data in the offline mode. For example in your car after a meeting. eWay-CRM will sync data once an Internet connection is available.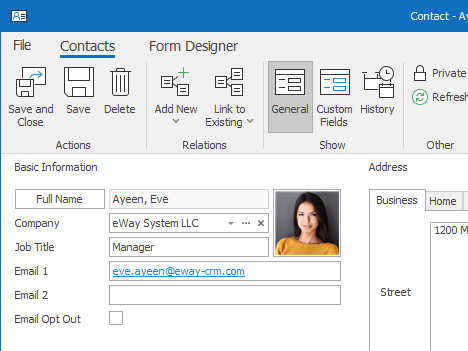 More Cost-Effective
Because eWay-CRM works with any email client (Google, IMAP, POP3), this may significantly decrease your initial investments in CRM software.
eWay-CRM offers only one paid edition with no limitations in functionality. No need to pay more for advanced features!
Customers are billed monthly, and they are free to cancel their subscription at any time. Of course, you can also install eWay-CRM On Premise and save money in the long run.
If you are a single user or you are not ready to roll out eWay-CRM yet, you can still use eWay-CRM Free and take advantage of advanced features.
Moreover, eWay-CRM can be used on multiple devices under the same user account. No need to pay for additional licenses to work with data on your PC in the office, laptop on the road and computer at home!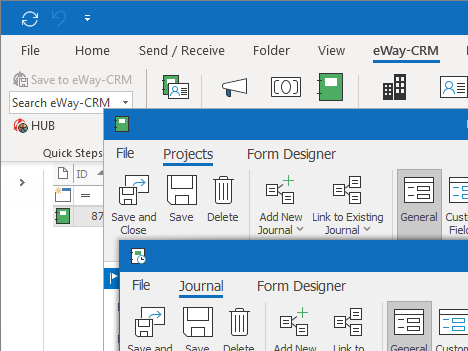 Easier to Store and Search Data
Create contacts or leads right from emails! The new contact will be pre-filled with data from the email.
Drag and drop documents to eWay-CRM. Working with an open Word or Excel file? Just click a new button "Save to eWay-CRM" that will appear there. No need to use a shared network folder and worry about a broken link! You can even delete a saved document from your computer. It will stay in eWay-CRM.
Do you have images? You can see previews right in our CRM. Moreover, you can save attachments right from emails!
Do you have a meeting in your calendar and want to save it to eWay-CRM? You can tie it to a contact or lead, or you can convert it to your timesheet to track your time.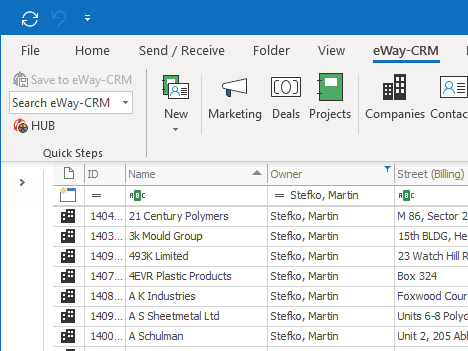 Get Familiar with Customer/Project History in Two Seconds with HUB
eWay-CRM has a wonderful feature called HUB. There you will find all communications in one place, sorted chronologically. It's like a customer relationship timeline. Emails, phone calls, meeting minutes, tasks, calendar events, invoices—everything you need to know in order to get familiar with the client in two seconds.
HUB is not just about the customer. It's everywhere. Open a project to get to the project HUB. There you will find everything about the particular project.
Open a dialog of your team member. HUB is there too. There you will find the work timeline of the particular employee.
Interested in everything that was done within your organization? Have a look at the company HUB.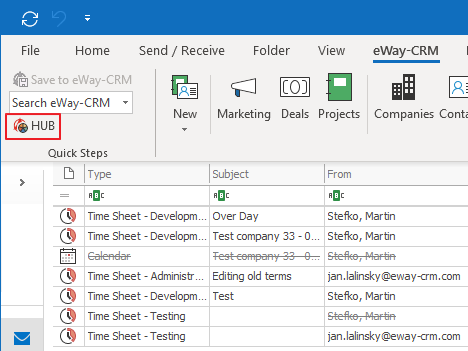 Professional Bulk Email Feature Included
With Professional Email Service, you have mass email feature embedded right in your CRM software.
How about one tool where you can keep all your customer database? You can easily filter recipient by any criteria, use them to build a marketing campaign and send a professional bulk email. Besides, eWay-CRM can:
collect feedback and track responses
send attachments
send emails even if your Outlook is closed
link your campaign with Google Analytics
track unsubscribe reasons
set up delayed sending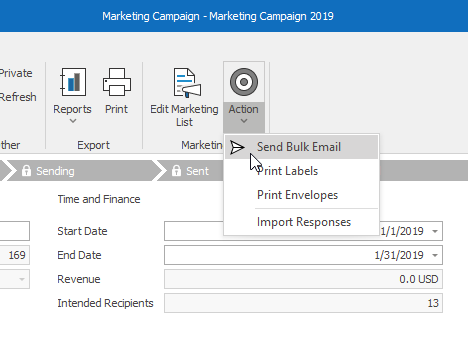 Advanced Project Management Module a Part of eWay-CRM
It doesn't end with sales, does it? You have to make sure the product / service is delivered. You have to make sure the job is done.
eWay-CRM has a module to track post-sales activities (e.g. jobs, implementation, delivery). You can convert a lead to a project or link projects right to contacts.
eWay-CRM will automatically copy all communications from the lead to the project so that the delivery team know where to start.
With the workflow feature, you can define a list of steps the project manager and his team has to follow in order to successfully finish the job. Our CRM software will keep an eye on important deadlines and milestones.
Sales department has access to up-to-date information on how the project is going even after sale was made.
Communication history, Tasks, Documents, Timesheets, Deadlines, Budgets and much more. eWay-CRM has a professional project management module embedded right within.
Extended Custom Fields, Workflows, User Permission and Much More
Custom Fields better than ever. Our CRM system has plenty of field types (text, number, date, drop-down menu, hyperlink, etc.) to support all the various data you want to track. How about to make a hyperlink field that points right to your Dropbox™ folder?
Besides, there is no limit to how many fields you can create.
eWay-CRM is flexible enough to meet advanced requirements. You can create your own workflows to set up a company process for all your employees. Workflow will automatically keep an eye on all mandatory fields and generate follow up tasks.
You can set up advanced user permissions or notifications about lead expiration, project deadline, project costs, invoices overdue and even more.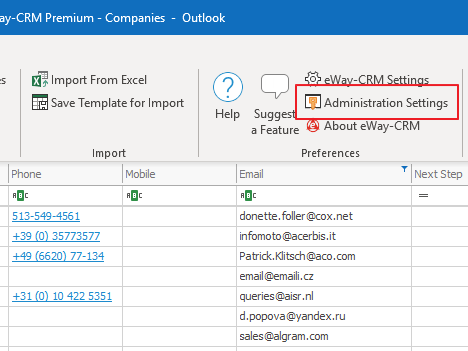 Try now!
Click the button below and download eWay-CRM for free.